March 30, 2023
Reading Time:
4
min
BitmartExpo Review: Who Is Behind This Scam Broker?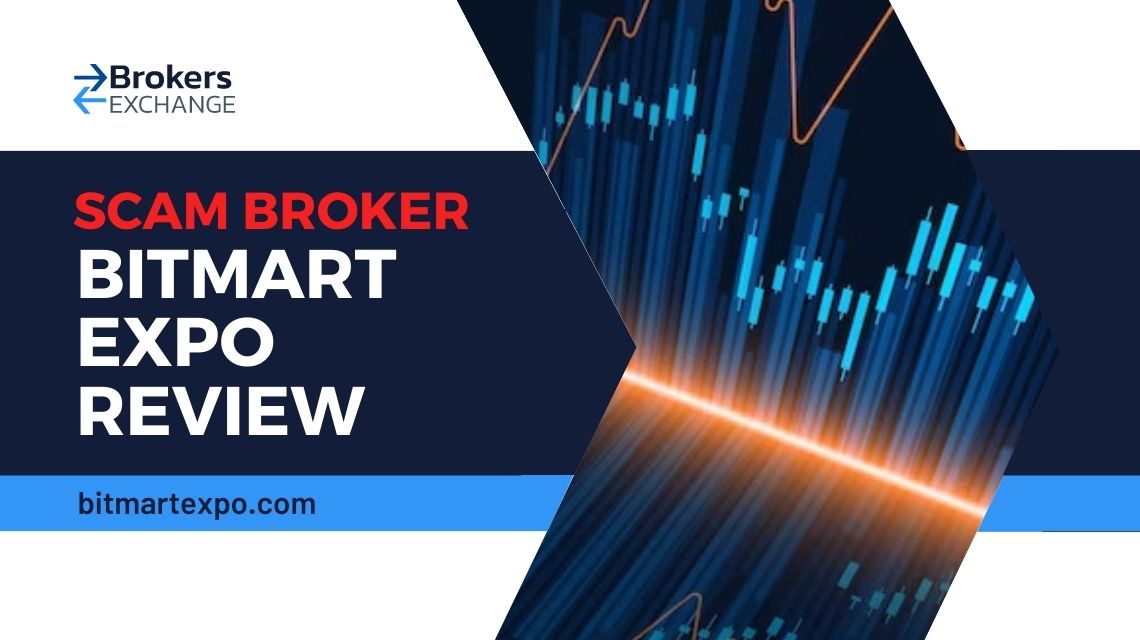 BitmartExpo Review, Once scammers from around the world realized cryptocurrency is not just a fad, they started searching for a way to get a piece of the action. Nowhere is this more obvious than with BitmartExpo, a scam that tries to mimic Bitmart, a very successful crypto trading platform.
The problem with BitmartExpo is that you can steal a name, but you can't steal trading authorization. This scam broker even lies about having a license from a number of different regulators. Have a look at our BitmartExpo review to find out how to spot scammers yourself!
As well, stay away from the trading scams XBTFX, Pioneer Markets, and CertaInvest! Furthermore, before investing, always investigate the history of internet trading firms!
| | |
| --- | --- |
| Company | BitmartExpo |
| Website | bitmart-expo.com |
| Address | N/A |
| Email | N/A |
| Phone | N/A |
| Minimum Deposit | $250 |
| Leverage | 1:100 |
| Bonuses | Various deposit bonuses |
| Regulation | Unregulated |
| Warning | N/A |
Licensing and Security of BitmartExpo
When dealing with online brokers, the most important aspect is fund security. This is an important topic for discussion, as licensing conditions differ from one jurisdiction to another. BitmartExpo is not bothered by any of this, they are an anonymous company with no regulation whatsoever.
There are many dangers when it comes to online trade. Financial regulators worldwide have set up a series of safety nets in order to mitigate the inherent risk of such a volatile market. BitmartExpo falsely claims to be regulated in Cyprus, by an agency called CySEC.
First, let's take a look at what standards CySEC has imposed on brokers based in Cyprus:
730,000€ or more in starting capital

An insurance scheme of 20,000€

Leverage for forex is restricted to 1:30, 1:5 for cryptocurrencies

Client funds can't go into a negative balance

Client funds must be in segregated bank accounts

All bonuses are forbidden

All transactions must be reported on a regular basis
Because Cyprus is a member state of the EU, additional regulation is put in place in accordance with the MiFID agreement. These safeties guarantee the financial security of the trader.
Of course, we have checked the CySEC database for whether BitmartExpo does indeed have a trading license. There wasn't much surprise when we found out there was no company under that name registered in Cyprus. 
After that, we checked with other regulators, namely UK's FCA, Italian CONSOB and German BaFIN, but we haven't found BitmartExpo in any of them. This is good enough proof that BitmartExpo is an unregulated and illegal company!
BitmartExpo
Trading Platform Overview
While the now-defunct website was active, BitmartExpo used to advertise its Web Trader platform. Regulated brokers still use this old trading platform as a backup, but scammers like BitmartExpo capitalize on the platform's obsolescence.
Web Trader functions in such a way that allows frauds to manipulate all the market data. They will show unreasonable market ups and downs, to make their victims believe they are making a very lucrative trade. Novices will be encouraged to make more deposits, in fear of missing out on an excellent business deal.
Successful legitimate brokers mostly offer other software solutions, such as MT4 and MT5. MT4 is a program with a long and proven track record, with its launch date set in 2005. Since then it has seen major incremental improvement, making it one of the fastest trading platforms to date. 
MT5 is a newly developed program for markets that trade more than just forex. Its automated trading solutions are cutting-edge, incorporating stop signals and expert advisors.
BitmartExpo Account Types 
We couldn't find much concrete information about BitmartExpo accounts, mostly because the website is shut down. We can tell that there have been a couple of account types, but these only differed by the amount of money needed for a starting deposit. 
Many swindlers use the tricks they picked up from pyramid schemes – the idea that the more money you spend, somehow the more money you will earn. Of course, there is no demo account.
The most basic account at BitmartExpo required a deposit of $250 to begin trading. These would go incrementally up until you reach the $50,000 professional account. You should keep in mind that honest broker companies usually require less than $100 of initial deposit. Some of them offer micro accounts where the minimum deposit is as low as $5!
Deposits and Withdrawals Methods
Some fraud forex brokers advertise a large number of financial channels, in order to appear legitimate. All the information about trading conditions is hidden behind a paywall, so you wouldn't be able to tell for sure what methods are available until you make an account.
Once you've logged in for the first time, you'd find out that there is only one method of payment available – cryptocurrency transfer. Crypto is not just some passing trend, but a legitimate means of payment. 
The only problem is that crypto transfers are untraceable! Because scammers like the ones of BitmartExpo use anonymity to hide their tracks, they go hand in hand with crypto payments.
Withdrawals are also a pain in the back. Scammers usually create a pseudo-legal document that outlines the terms and conditions. This document gives them ample excuse to deny any withdrawals or place outrageous withdrawal fees on any transactions.
How Is the Fraud Set Up?
In order to attract customers in as short a time as possible, swindlers like BitmartExpo advertise unbelievably great market conditions. They usually offer hefty bonuses and leverage that goes through the roof. For an inexperienced trader, these sound like great deals. The reality is completely different.
You will be hard-pressed to find anything about this anonymous company before you make an initial deposit. Only once you've given the money to the scammers do cracks begin to appear. At this time, it is quite too late. The scammers will deny any withdrawals, or subject them to exorbitant fees! In the end, you'd be considered lucky if you managed to get any of the money back.
BitmartExpo
Summary
BitmartExpo is a fraudulent entity that has stolen the name of a reliable crypto trading platform, Bitmart. The scammers behind ButmartExpo have also lied about being regulated by CySEC. This dangerous enterprise only exists to steal client money.
BitmartExpo trading platform is barely functional and encourages further spending through falsified market data. Once the deposits have been made, it is nigh impossible to get the money back. The scammers have invented a myriad of tricks and rules that allow them to deny withdrawals.
FAQs About
BitmartExpo
Broker
Is BitmartExpo a Regulated Broker?
No, BitmartExpo lies about their regulation by CySEC. They are an unregulated broker.
Is My Money Safe with BitmartExpo?
No, your money is at risk with such a dangerous fraudulent company
Does BitmartExpo offer a Demo?
No, all trading accounts on BitmartExpo are live, and there is no demo.