September 17, 2023
Reading Time:
5
min
Blue Guardian Review: Learn if blueguardian.com Is a Good Choice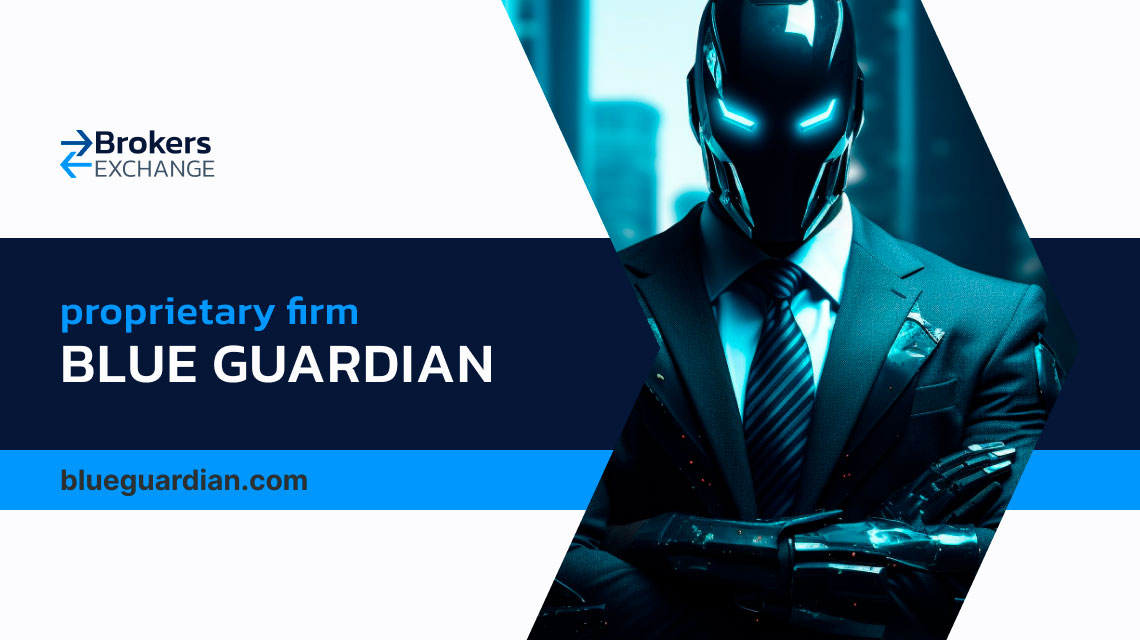 Prop firms are becoming more popular each day and that is an invitation to many scammers to try their luck in tricking traders. Despite the fact that prop firms don't require regulation, the problem is if they are partnered with an unreliable broker, like for example Flowxseat. 
Our Blue Guardian review will introduce to you a reliable prop firm partnered with a regulated and reliable broker, Eightcap.
Who Is Blue Guardian?
Blue Guardian is a prop firm located in the UK, established in 2019. With Blue Guardian, you can trade in various financial instruments, with the opportunity to grow your account to a maximum of $2,000,000. 
The company was originally founded in 2019 to be a Forex Signal provider and an educational institution. Finally, in June 2021, the firm rebranded and Blue Guardian prop firm was born.
Blue Guardian
Reliable Broker Must Have
Legal name
Blue Guardian

Transparently displayed in the disclaimer or legal documents

Regulation
No regulation expected

Within your legal jurisdiction – local regulator

Registered in
2 Highlands Court, Cranmore Avenue, Solihull, West Midlands, England, B90 4LE

Your country or the country whose license applies in your legal jurisdiction 

Established
2019

The older the domain – the higher the possibility the company is trustworthy

Website
www.blueguardian.com

Domain should be from local or international zones, no .xyz, etc.

Financial Authorities Warnings

None

Contacts

Phone, email, social media, web form

If a withdrawal is possible
Yes

Yes

Fees

Evaluation fee
15% profit cut

Transparent fees – list of spread and commissions

If Active on Social Media
Yes

Often present on social media

Investor Protection
No

Compensation fund
Regulation Info
In general, prop firms are not required to be licensed because they are not brokers and they don't deal with clients' funds directly, therefore, regulation is not necessary. However, in this instance, Eightcap is responsible for adhering to regulatory rules. 
Luckily for traders, Eightcap is regulated by 2 top-tier and 2 familiar authorities, FCA (UK), CySEC (Cyprus), ASIC (Australia), and SCB (The Bahamas). Eightcap is also registered in London, so UK traders are in for a real treat if they choose Eighcap as their broker. 
Restricted countries from using Blue Guardian's services include:
Blue Guardian Broker Profile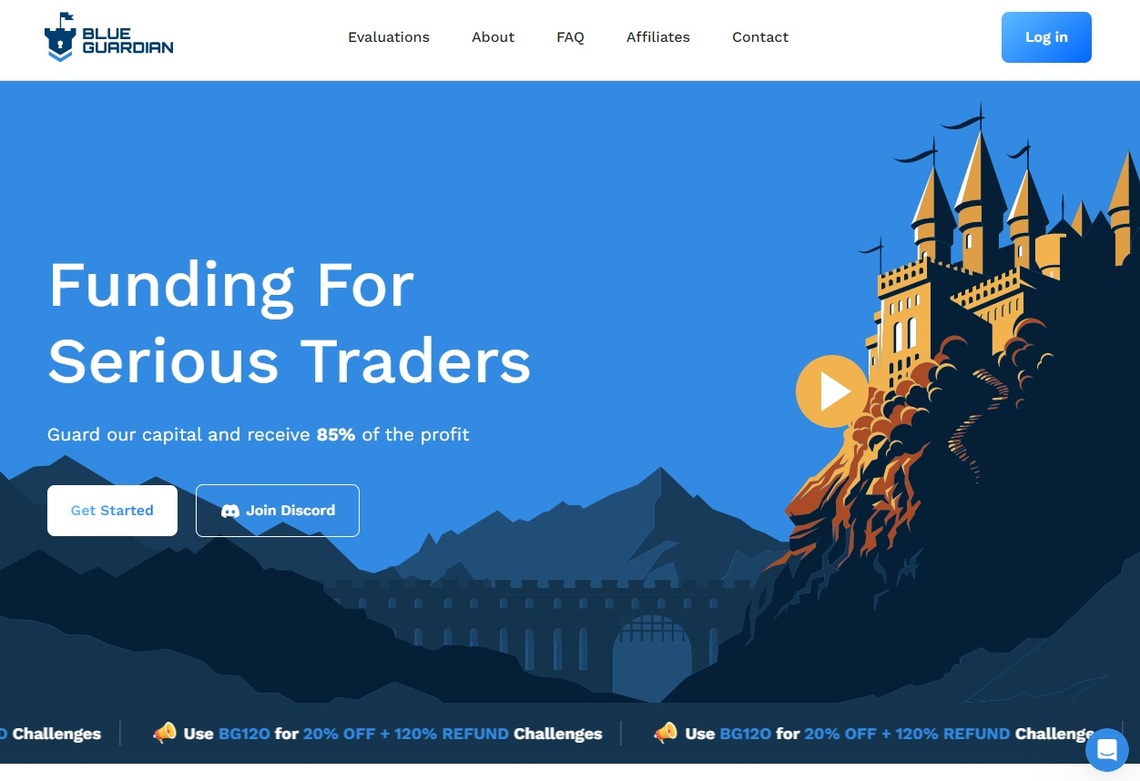 Blue Guardian Funded Traders' funded accounts are not live accounts. These Funded Accounts exist solely in a simulated environment, utilizing real market quotes sourced from liquidity providers. FX, FX exotics, indices, gold and commodities, and cryptocurrencies can all be traded. The trading goal is to hit the profit target. You are given the option of a funded account if the profit target is met after all positions have been closed.
A trader becomes eligible for a payout 14 days after making their first trade on the funded account and 14 days after making their first trade after withdrawing. Your account amount must be greater than the starting balance and there must be no violations to qualify for payouts on funded accounts. All accounts provided by Blue Guardian are demo accounts with virtual funds.
Trading Platform
MT4
Account Types
10k, 25k, 50k, 100k, 200k

Financial Instruments On Offer

Forex

(EURUSD, EURGBP, USDNOK)

Cryptocurrencies

(BTC, ETH, XRP)

Indices

(S&P 500 Index, Dow Jones Industrial Average, FTSE 100 Index)

Commodities

(Crude Oil, Natural Gas, Corn)

Maximum leverage
1:100
Minimum Deposit
No deposit
Commissions/Bonuses
$6 per lot
Mobile app
Yes
Desktop app
Yes
Autotrading
No
Demo account
No
Education or Extra tools
None
Is Blue Guardian Safe To Trade With?
Unlike Solana Markets, Blue Guardian is a prop firm with a proven track record of paying out their traders. Furthermore, the Trustpilot reviews speak for themselves and praise the firm for great work. Blue Guardian seems like a reliable firm with many benefits and we definitely recommend them. 
Despite the fact that regulation is not required for prop firms, it is still important to check which broker will keep your funds. If the broker your prop firm is using is unregulated, be aware of the potential risks of never receiving your profit payout. 
Traders Share Their Experiences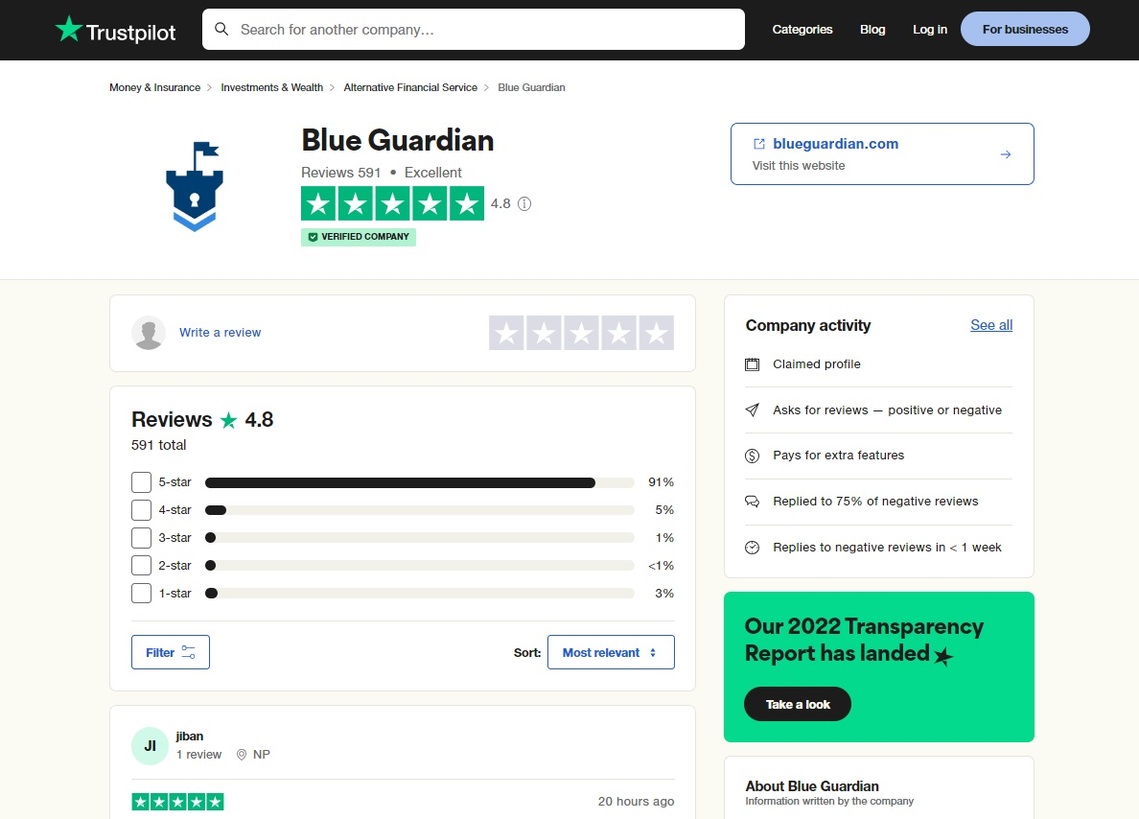 On Trustpilot, the broker earned an overall score of 4.8 based on 500+ reviews. Only 5% of the reviews are unfavorable and everyone else is very satisfied with the Blue Guardian prop firm. The bad reviews focus on how traders don't get the evaluation after purchasing and the customer support of Blue Guardian never replies to the queries. 
Since the firm is not using real funds, only virtual, there are some comments about that and how inconvenient it is. Overall, their Trustpilot reviews are pretty impressive, considering the firm was established in 2021.
Who Are the Traders They Cater To?
Traders from various nations are clients of Blue Guardian, including the US, the UK, Canada, South Africa, and India. With their affiliate program, great reputation, and various benefits, they attract traders to join the funding program. If you are skilled and know your way around trades, you are a perfect addition to Blue Guardian and its funding program. 
Deposits and Withdrawal Methods
The evaluation can be paid via credit or debit cards through Stripe. Cryptocurrencies through the Coinbase platform are also accepted and the firm is responsible for the funding and liable for the losses of your trading account. The evaluation fee you paid for the account is completely refundable after you receive your first payout. 
All of the trader's positions must be flat, meaning no open trades and no open orders should be active to receive a payout. The payouts are processed within 1-2 business days to the same payment methods used for paying the evaluation fee. 
Weighing the Pros and Cons
Pros
Cons

Unlimited max days and 0 minimum trading days

Associated with a regulated broker

Holding trades overnight and over the weekend

85% profit split

High Expectations

Profit Targets
Can I Make Money While Trading Online?
It is possible to make money through trading, but it's important to keep in mind that there are dangers involved and that results cannot be guaranteed. A little bit of luck, along with education, discipline, and commitment, are all necessary for trading success. 
We would like to introduce to you our AI trading bot, which is revolutionizing the trading industry. It uses cutting-edge technology to evaluate previous pricing data and chart patterns, giving you insightful information that will improve your decisions. Use it to provide recommendations for the best times to purchase or sell based on a technical analysis. 
Don't pass up the chance to improve your trading approach. Give us a call right now if you want to be one of the 100 traders who will get a free 14-day trial of our AI bot and can experience the difference for themselves!
FAQ
What Is Blue Guardian?
Blue Guardian is a prop firm trading in FX, FX exotics, indices, gold and commodities, and cryptocurrencies.
Is Blue Guardian A Scam?
No, Blue Guardian is actually a reliable prop firm, using a regulated and transparent broker.
What Broker Does Blue Guardian Use?
Blue Guardian is partnered with Eightcap, a very reliable and reputable brokerage company.