February 05, 2023
Reading Time:
4
min
Solana Markets Review: Who Is Behind Solana-Markets.Com?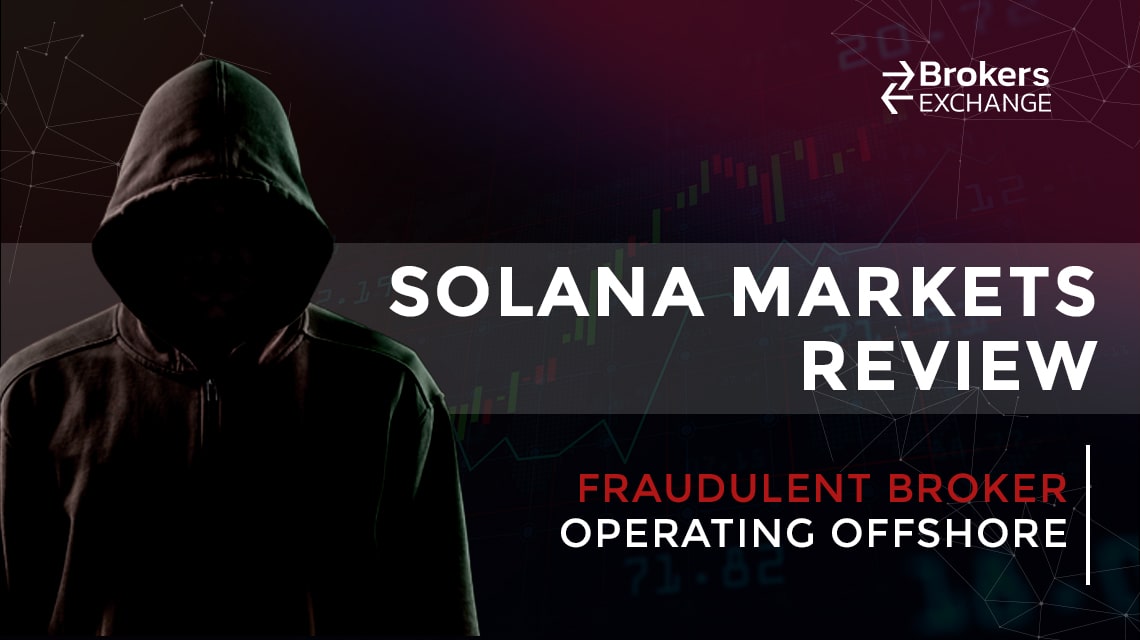 The Solana Markets Review starts off by examining key facts about the company, listing warnings about it, and elaborating on what lies behind its appealing website.
Company
Solana Markets
Website
Solana-Markets.Com 
Address
109 Pitt St, Sydney NSW 2000, Australia & One Canada Square, Canary Wharf, London, UK, E14 5AB
Email

[email protected]

 
Phone
+61279086618 & +442070972560
Minimum Deposit
$10,000
Leverage
N/A
Bonuses
N/A
Regulation
None
Warnings
FCA, CONSOB
Judging by the company's name, it is allegedly connected to Solana, a famous public blockchain platform managed by Solana Foundations. Yet, there is no valid evidence that the fraudster is really part of Solana. The "about us" section on the website provides little to no concrete information about the broker.
In addition, warnings were issued about this scammer by prominent regulating bodies such as the UK's Financial Conduct Authority (FCA).
Contrariwise, you should avoid doing business with suspicious brokers such as Nerostrade, Ranytrade, and Profitly Trade.
Warnings: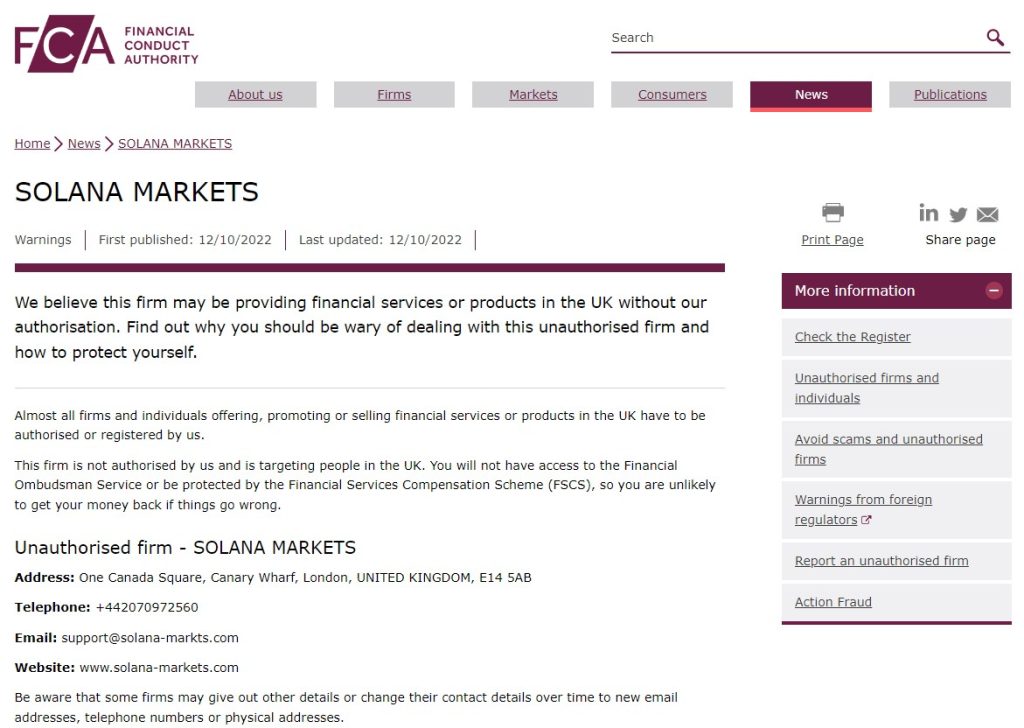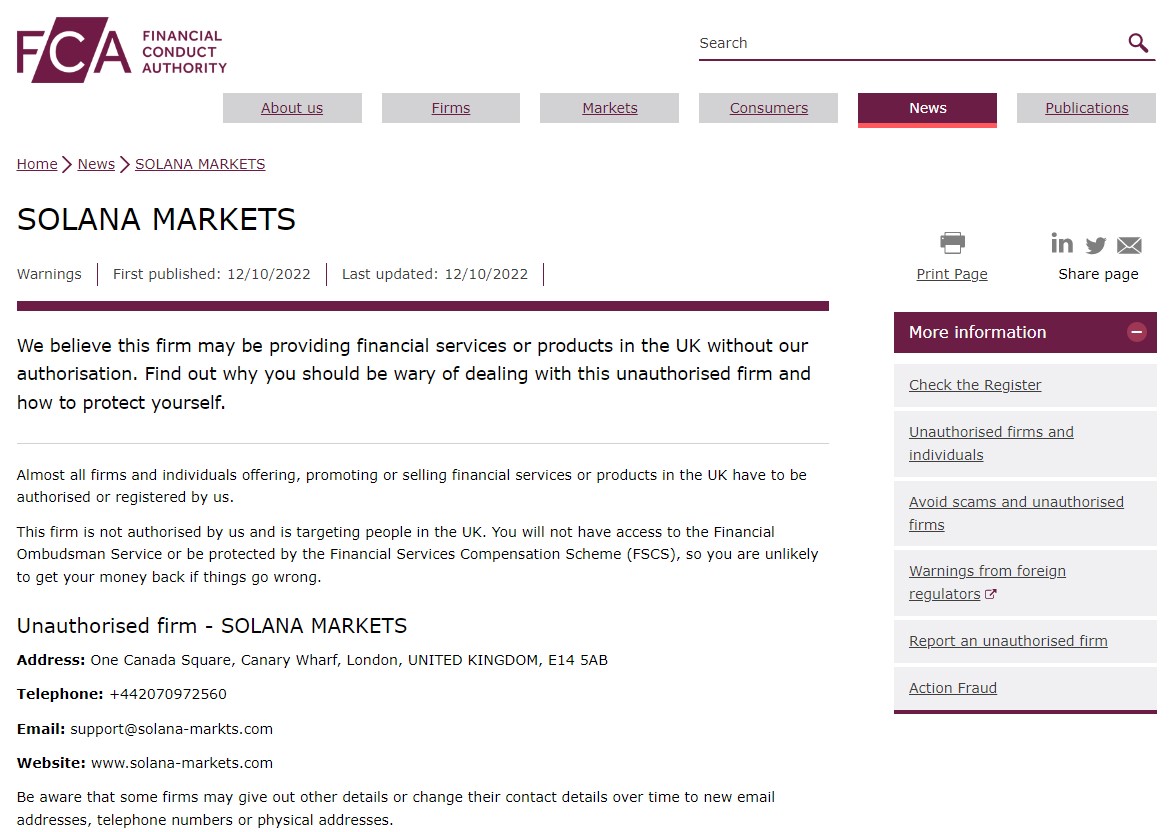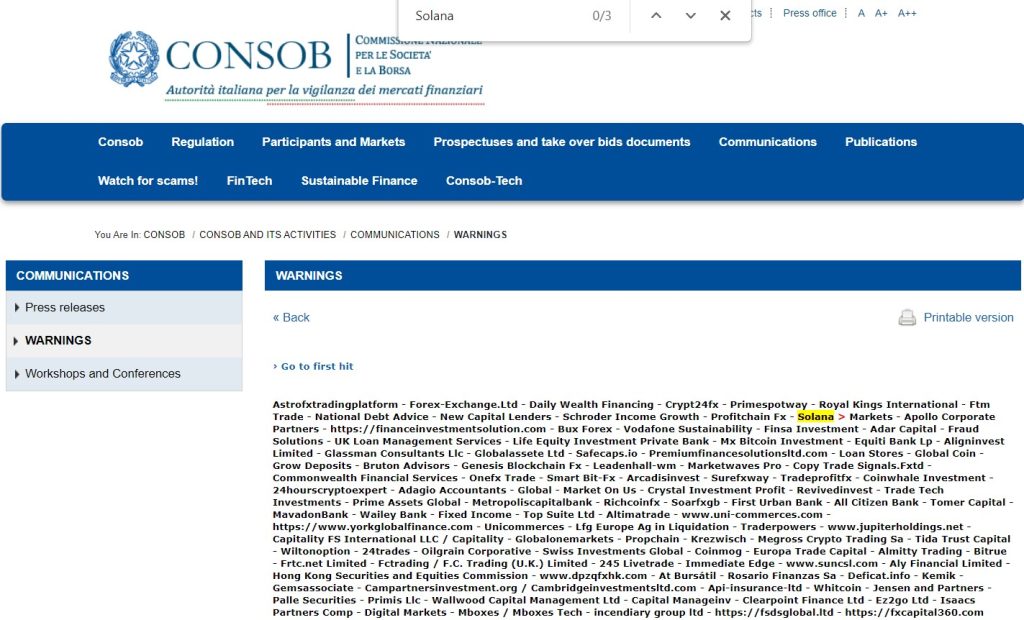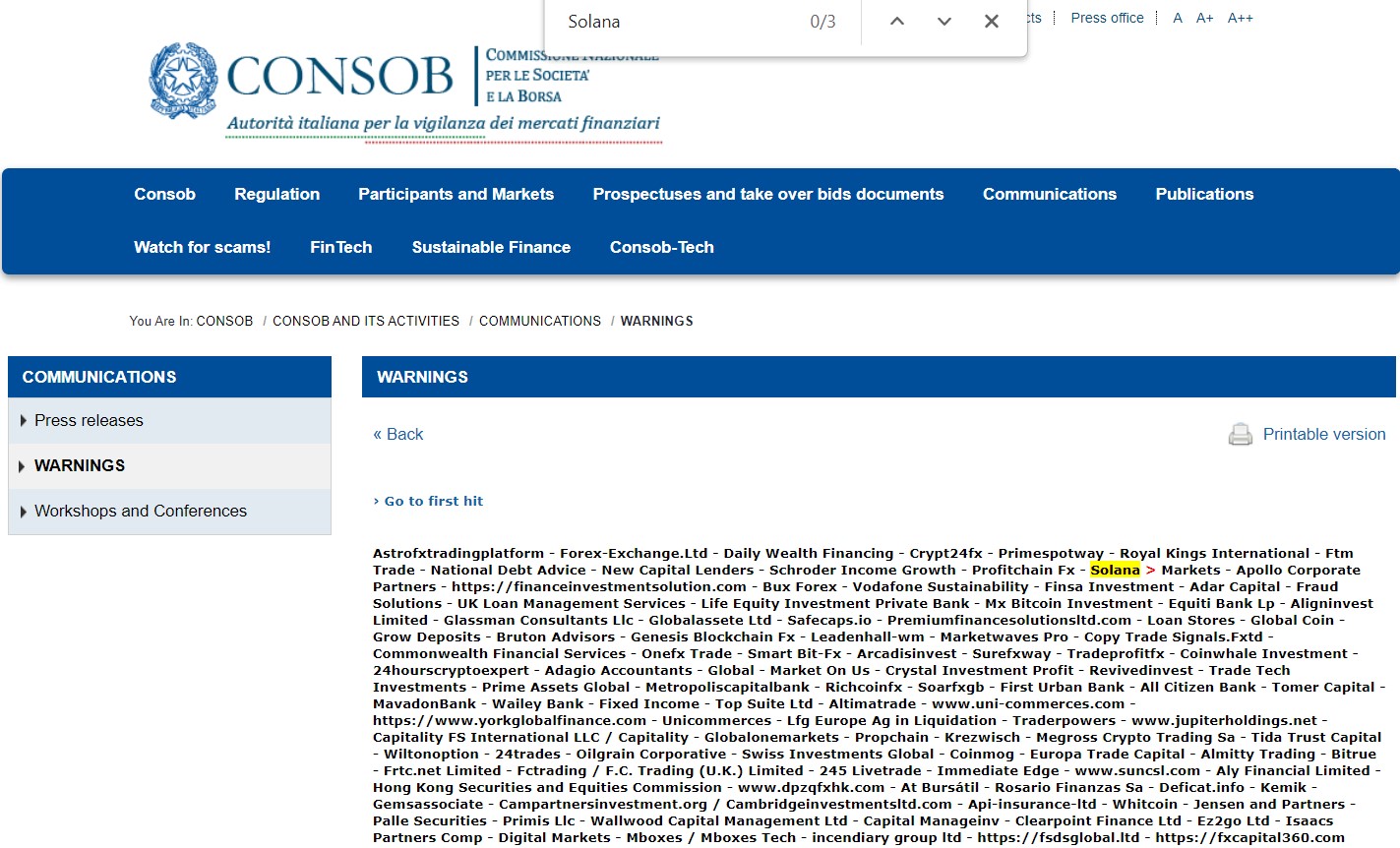 Licensing and Security of Solana Markets
The company's website contains a comprehensive "terms and conditions" section, an "information and high-risk warning," a "legal disclaimer," etc. In spite of all this, the illusion of doing it by the book was shattered by the mentioned warning issued against this fraudulent broker.
It provided two addresses, one in the UK and one in Australia. The UK is among the most heavily regulated states in the world and having its regulating authority blacklisting you is certainly not a good look. Solana Markets states that it offers bonuses, which is prohibited in the UK and Australia.
Also, there are no records of Solana Markets on the website of the Australian Securities and Investments Commission (ASIC). It is therefore safe to assume that we are dealing with an unlicensed scammer. Without being regulated, the phony broker poses a risk to all.
Solana Markets Trading Platform Overview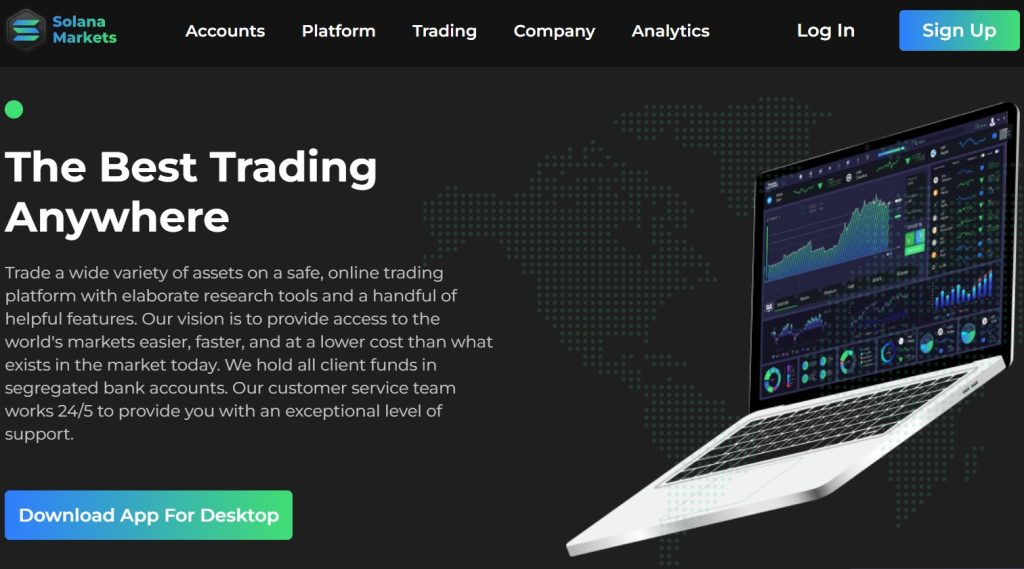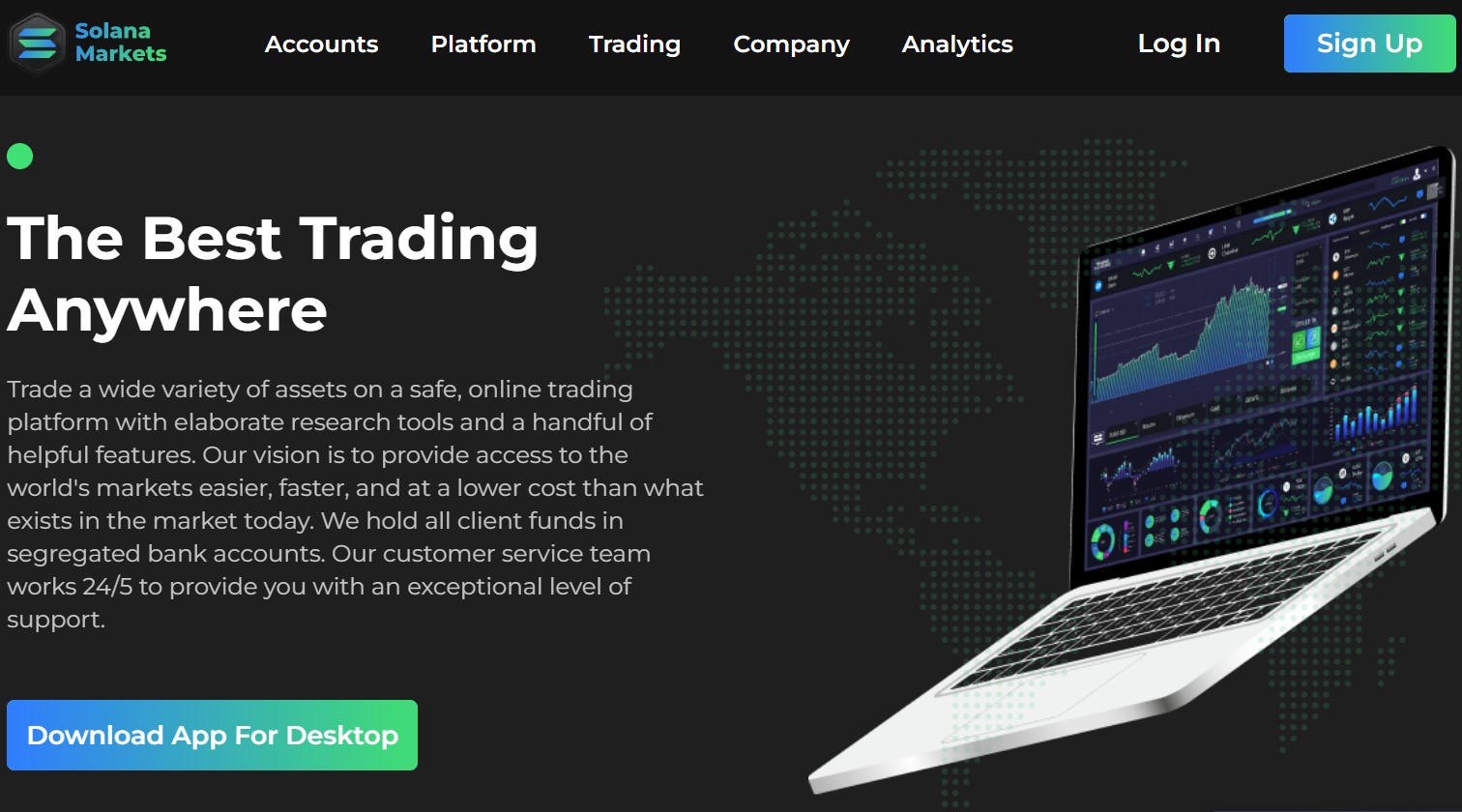 Solana Markets offers three trading platforms – the WebTrader platform, the desktop platform, and the mobile platform. We strongly advise you to avoid downloading the latter two because it is possible that the files contain malware.
When it comes to WebTrader, the company's main platform for trading, it does provide clients with some basic features and does not look that bad. 
On the other hand, it lacks the advanced tools necessary for true trading experience. Moreover, such a browser-based platform can easily be manipulated in order to steal your money.
Deposits and Withdrawal Methods
The "Deposit" and "Withdrawal" sections on Solana Markets' website contain texts about the company's policy regarding deposits and withdrawals but rather obscure information about the methods themselves. 
It mentions payments via credit or debit cards, wire transfers, and "any other accessible" option in the client's country. Next, in terms and conditions, it states that the broker will "process withdrawals within the first 30 days of an account being opened," that the minimum withdrawal amount is $50 and that there are no fees.
There are five account types. The standard account requires clients to make a minimum deposit of $10,000, which is obnoxiously large even for an unregulated fraud. 
How Is Fraud Set Up?
Most fraudsters operate in a similar fashion; they will try sweet talk in order to draw you in and present their amazing offer to you. Upon making the initial deposit, you fall victim to their scheme. Every subsequent investment that you make will be detrimental as your funds are getting depleted and your pockets are filling up.
In the case of Solana Markets, it offers hefty bonuses to persuade you to keep investing but cleverly conditions them with complex clauses. A company offering bonuses where they are banned (UK & Australia) clearly indicates that you're dealing with fraud.
The good thing is that if you have deposited money via credit or debit card, you can request a chargeback at the issuing bank within 540 days. Wire transfers require a recall to reverse the process but it is only possible if the transaction has not been completed.
There is no shame in getting scammed. What is important in that situation is to remain composed and find a way to report the wrongdoers. We can assist you with that.  
Solana Markets Summary
Solana Markets is an unregulated broker;
It lied about being part of the Solana Foundation;
The FCA issued a warning about this fraudster;
The scammer demands an incredibly large minimum deposit of $10,000;
It offers desktop and mobile platforms as well as WebTrader.
FAQs About Solana Markets Broker
Is Solana Markets a Regulated Broker?

Solana Markets is not a regulated broker and even has a warning issued against it.
Is My Money Safe with Solana Markets?

Your money is not safe with Solana Markets because the broker is unregulated.
Does Solana Markets Offer Demo Account?

Solana Markets does offer a demo account for each of its five account types.