June 01, 2023
Reading Time:
3
min
Our CA Trade Capital Review Brings You the Truth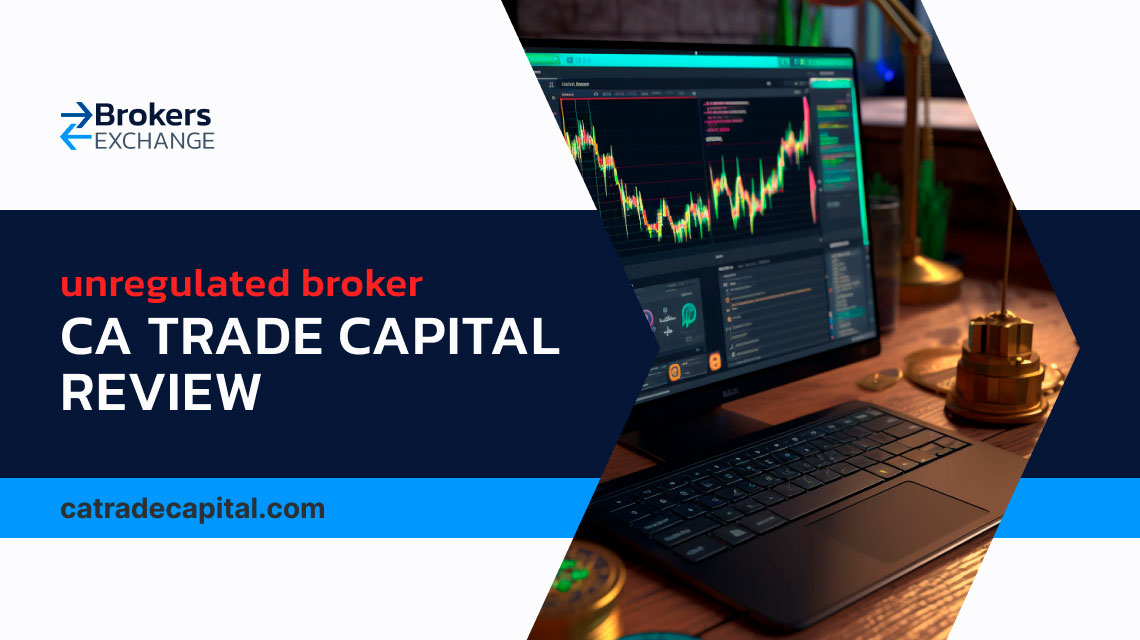 Dealing with shady brokers can be hard to do on your own. But that's why we are here. We created a CA Trade Capital Review so that you wouldn't have to spend your valuable time investigating them. In our review, you will find everything there is to know about this broker.
| | |
| --- | --- |
| Company | CA Trade Capital |
| Regulation | No regulation |
| Warning | N/A |
| Website | catradecapital.com |
| Address | N/A |
| Email | [email protected] |
| Phone | +1 6474771657 |
| Minimum Deposit | $500 |
| Leverage | N/A |
| Bonuses | N/A |
CA Trade Capital
Regulation and Security
When you visit a broker's site, the first thing you should look for is confirmation about regulation. However, when we first examined CA Trade Capital's site, we were shocked by the utter lack of information.
As you saw in the table above, this scammer gave little to no information about anything. Unsurprisingly, we couldn't find anything about their license, which means they are basically admitting to being unregulated.
Forex trading licenses are hard to get, and because they are so valuable, brokers like SolidusX who have them will make sure that's the first thing you see.
There is absolutely no reason why you should start doing business with CA Trade Capital. You don't know anything meaningful for your needs, like leverage or if they give bonuses, and you would only be exposing yourself and your money to risk.
Broker's Trading Software Overview
When it comes to trading software, CA Trader Capital offers only a web-based platform. By now, we have all learned that WebTraders are far inferior to the industry standard MT4 and MT5 platforms.
CA Trader Capital's software gives you only basic capabilities like tracking your history and setting pending orders, while MT4 gives you 30 in-built tools for technical analysis. Those include advanced features that have a real impact on how you trade and on making profits.
Moreover, there is nothing to say that you can even trust their platform in the first place. They could easily be manipulating what you are shown, meaning that you might think your money is being traded when that's not the case in reality.
Deposit and Withdrawal Process
Like with many shady brokers like 365TradingFX, CA Trade Capital only accepts deposits via Bitcoin. If you are new to the forex trading world, this payment method has its good and bad sides.
Let's first cover the pros. The main positive of crypto is that it has no borders. This means you have no restrictions when making payments internationally as you do with other payment methods.
Also, crypto allows you to make payments without having an intermediary bank. This way, you evade some fees you would otherwise have to pay.
Now for the cons. Undeniably the biggest flaw of this payment method is that you have no claim on the deposited funds. Once the payment is processed, you don't have any means of filing for a chargeback like you would with a credit card transfer.
This is the main reason why fraudulent brokers prefer this type of payment. They get your money and disappear with it forever.
Account Types at CA Trade Capital
CA Trade Capital gives its customers a choice between four options:
Basic – $500-$5,000

Pro – $5,000-$25,000

Premium – $25,000-$50,000

Elite – $50,000-$100,000
As you can see, the minimum amount you must invest is $500 and high minimum deposits are usually a sign of a scam. Even worse are these five-figure investment requirements. We wouldn't give that kind of money to just anyone, would you?
How Does the Scam Work?
Scammers have different ways of getting their money, but the principles are more or less the same. You can expect an outrageous offer that would make you think – Are these people crazy? And that right there is your cue.
Propositions that sound too good to be true always point to fraud. Just put yourself in the shoes of a legitimate business. Would you make offers to potential clients that would not benefit you that much, if at all? We didn't think so either.
It's crucial to alert the authorities about scammers, especially if you fall victim to one. There's no shame in reporting a scam, on the contrary. You will be helping others save their money, and that's already enough.
CA Trade Capital
Summary
Going through our CA Trade Capital Review we saw that some scammers don't even try to trick you into believing they are legit. However, this is no reason to relax.
There are plenty of scammers that look bulletproof even to a professional eye. So take everything you learned today with you in your future trading adventures, and may the luck ever be on your side.
FAQs About
CA Trade Capital
Broker
Is CA Trade Capital Broker Regulated?
No. CA Trade Capital is NOT regulated and you should avoid investing with them.
Is My Money Safe with CA Trade Capital?
No, your money is not safe with this broker. You are exposing yourself to high risk if you do business with them.
Does CA Trade Capital Offer a Demo Account?
There is no information about this anywhere on their website, so we will assume they don't offer a demo account.