January 16, 2023
Reading Time:
4
min
Capital Manageinv Review: All About CapitalManageinv.Com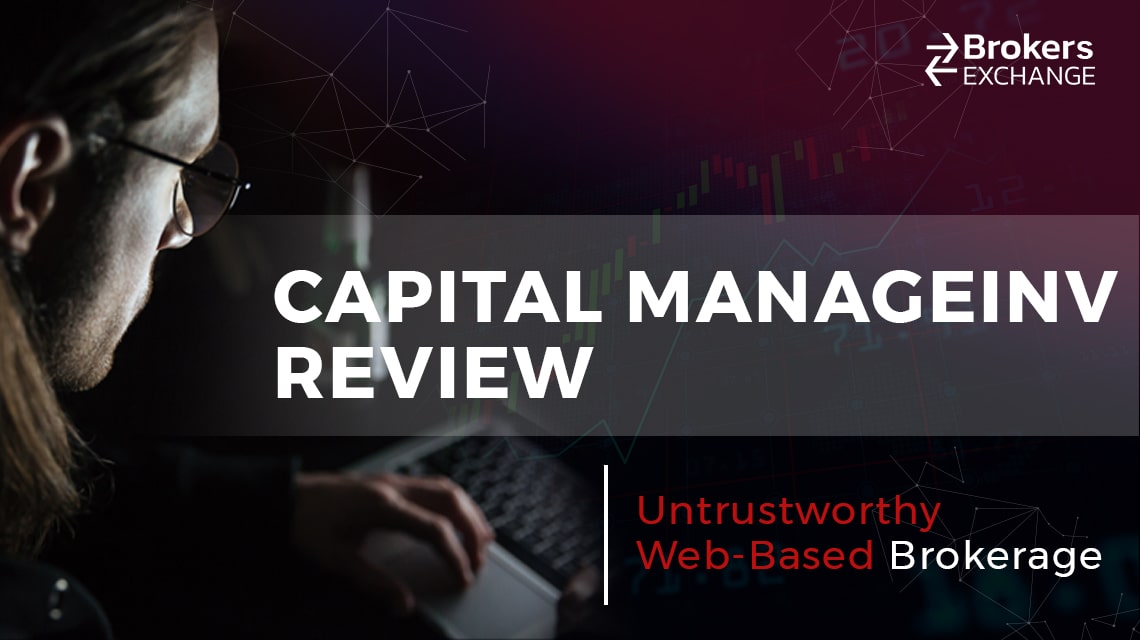 Capital Manageinv claims that they are probably the best trading company in the world with multi awards winnings and the best trading services. 
When in reality they are nothing more than scam brokers who are just looking to take as much money as possible while offering you an opportunity to invest in forex and CFDs.
After taking a closer and better look at their website, we realized they just plastered different things onto it to make it seem like they know what they are doing. 
The reality, on the other hand, is very different, since there is no legit forex license and no credibility.
In this Capital Manageinv broker review, we will give you a better insight into how this fraudulent project works and what its sole purpose is.
Additionally, you should avoid trading with shady brokers such as Espntrades, EGMarkets and Xeno Capital
| | |
| --- | --- |
| Company | Capital Manageinv |
| Website | CapitalManageinv.Com |
| Address | 136,Bortsford Valleys APT,264 |
| Email | [email protected] |
| Phone | (255) 352-6258 |
| Minimum Deposit | 200$ |
| Leverage | 1:400 |
| Bonuses | No |
| Regulation | No |
| Warning | CNMV |
Is Capital Manageinv Legit? Regulation and Safety of Funds
While browsing the Capital Manageinv website, we couldn't find any regulation license anywhere. This just shows they are not interested in doing honest work, but instead they are more interested in scamming innocent people of their hard-earned money.
On top of that, they don't even provide you with a country of origin. Instead, the only thing you can see is some random address that we have looked up and it shows that it's based in Toronto, Canada.
Like any other country, in other to be able to operate in Canada and offer financial services, a company needs to have a license from authorized financial conduct, which Capital Manageinv doesn't have. In other words, we can say with confidence they are investment scams.
Also, if that wasn't enough, Capital Manageinv has gained an official warning from Europe that was issued by the Spanish CNMV. Working with them will bring you nothing but problems.
Deciding to work with a scam broker, such as them, not only means you will lose your money but also, depositing funds into their allegedly secure account doesn't actually offer you any funds security whatsoever.
Capital Managev's Accessible Trading Platform
Now comes the most interesting part of conducting this Capital Manageinv's review, which is their platform. They proudly claim they have a MetaTrader5 platform that offers cutting-edge technology to make your trading easier.
For both inexperienced and experienced traders that sounds like heaven, since this trading platform is the industry standard. 
The truth is very disappointing actually since if you decide to open it, it will redirect you to a page with a Dropbox link to download it onto your phone or computer.
If this doesn't arouse suspicion, there is more. We came to a lot of complaints about the broker and their alleged platform, where users state they don't even have the option to do anything on the platform but just monitor stats of a different kind.
This surely doesn't sound like the best trading experience they claim to offer no matter if you are an experienced or inexperienced trader. 
We do recommend you do proper research and find a trustworthy broker before making any investment.
Capital Manageinv's Method for Deposits and Withdrawals
Capital Manageinv claim they offer both deposit and withdrawal methods through
Visa or MasterCard debit or credit card
Neteller
Skrill
Wire transfer
Although we came upon many customer reviews saying the agents they talked to pushed them to either activate their account through Visa or MasterCard or bitcoin, which means they either don't have those other options or this is the easiest way for them to scam you out of your money.
On top of that, at the end of the page where you can see deposit options, they say that clients can withdraw their money within 180 days of the deposit, back to the credit card they made a transaction with.
Despite that sounding fine and not sketchy whatsoever, we have seen many complaints made regarding the withdrawal. Many customers state they have issues with getting their money back with some of them saying that agents either disappeared after they kept asking for their money or others saying agents told them they need to reach a certain turnover to be able to do so.
In case you have made a deposit with them or any other phony broker, there is no need to feel ashamed, since their agents are trained to take money from you. We can all fall a victim to this, that's why it's important to report the scam to local authorities as soon as possible.
How is the Fraud Orchestrated?
Since many of these online trading scam companies work on the same principle, Capital Manageinv has agents that are trained to do everything in their power to persuade you to invest with them.
It all starts with online ads showing you how many people have made easy money by investing and using fully automatic trading software that is completely free of charge and you only need to invest a small amount to be able to start.
Many people fall victim to those ads and once they leave their personal details such as their name, phone number, and email, agents begin their work. They will start by sending you emails which are then followed by multiple calls a day until they get you on board.
Don't forget that those agents are trained to be very pushy and persuasive and will do anything o take as much money as possible from you. And of course, they will tell you the more you invest the more you will make.
In case you have been scammed by Capital Manageinv or other illicit brokers, there is no need to feel ashamed! It can happen to anyone and you shouldn't feel embarrassed to report a scam. Getting your money back is possible, you just need to report it to the authorities.
Capital Manageinv Summary
While reading the Capital Manageinv review, you will find many red flags regarding this fraudulent broker.

Mainly with their false claims about many worldwide awards and cutting-edge trading software, which in reality don't even exist. 
These types of companies are nothing new and they seem to pop up every other day, so being safe on the internet when it comes to these scams is a must.
With this information, we hope you will read reviews, that you can find on multiple different forums about this or any other scam broker. 
This will not only help you find an honest broker but it will also help you get the best investing experience.
If you have any negative experience with this or any other fraudulent broker, we would be grateful if you could share it with us and always think twice before taking any risks while investing money.
FAQs About Capital Manageinv Broker
What Can I Trade with a Capital Manageinv Broker?

Doing business with Capital Manageinv as they say, will give you the possibility to invest in forex and CFDs.
What are the Available Methods of Withdrawal?

Allegedly you can withdraw the money within 180 days of making a deposit to your credit or debit card.
Is Capital Manageinv Broker Regulated?

No, they are an unregulated broker who offers unauthorized services on a financial market.