September 07, 2023
Reading Time:
5
min
Capital Seven Review: A Close Look Into The Brokers' Profile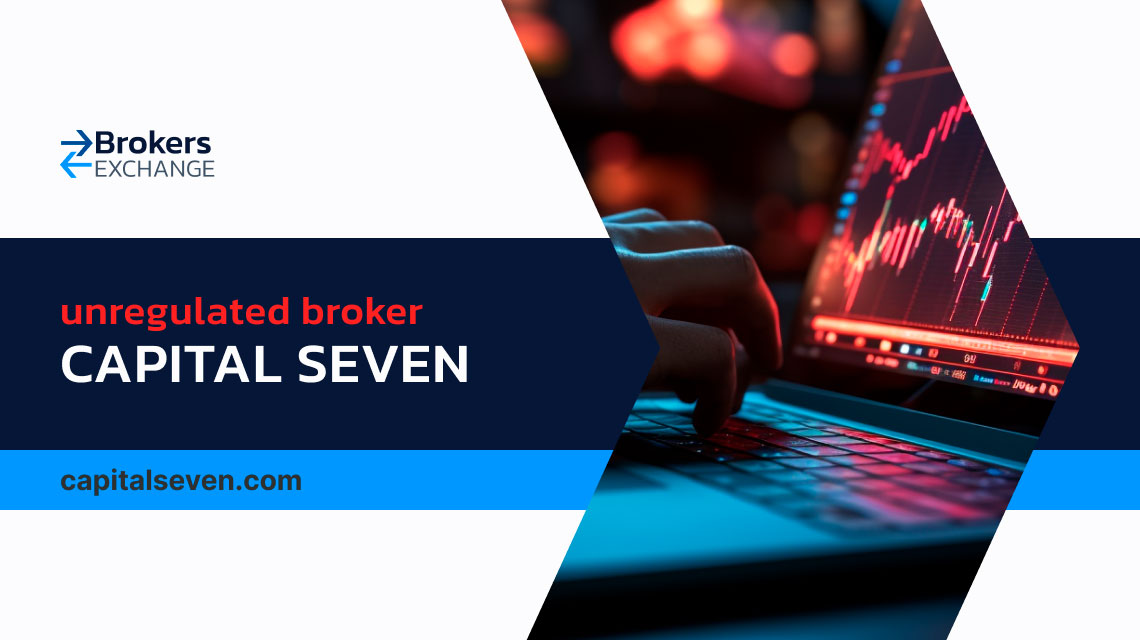 Little is known about this broker and its past, however, our Capital Seven review will expose the broker's history and operations, teaching you how to avoid scams in the future. The safety of your funds is of the utmost importance and trading with a broker like Capital Seven would put them at risk. 
Another broker who found himself on our broker's to-avoid list is Allinvestfx and just like Capital Seven, they are operating without a valid license. To ensure the safety of your funds, avoid unregulated brokers and make sure you research the company head to toe. 
Who Is Capital Seven? All About capitalseven com
There is little to no information about Capital Seven, as they ceased operations as soon as they started. That could only indicate a scam that was exposed, or they didn't have enough funds to keep running the company. Either way, both reasons are major red flags, and avoiding Capital Seven is in your best interest. 
One thing is clear, the broker is not registered in any nation, leading us to believe that the brokerage is operated from the comfort of someone's room. FCA warns UK traders to avoid the broker, as anyone operating in the UK must be regulated by them. Overall, red flags are all over the place and the Capital Seven broker is exposed for who they are. 
Capital Seven
Reliable Broker Must Have
Legal name
Capital Seven LLC

Transparently displayed in the disclaimer or legal documents

Regulation
Unregulated

Within your legal jurisdiction – local regulator

Registered in
N/A

Your country or the country whose license applies in your legal jurisdiction 

Established
N/A

The older the domain – the higher the possibility the company is trustworthy

Website
capitalseven.com 

Domain should be from local or international zones, no .xyz, etc.

Financial Authorities Warnings

None

Contacts
+44 1617680534

+44 1215087412

Phone, email, social media, web form

If a withdrawal is possible
No

Yes

Fees

Transparent fees – list of spread and commissions

If Active on Social Media
No

Often present on social media

Investor Protection
None

Compensation fund
Regulation Info
As we mentioned before, the broker is not regulated by any financial authority, meaning trading with them is a huge risk. To make things even worse, the Financial Conduct Authority (FCA) issued a warning, advising investors that trading with Capital Seven would only result in the loss of money and the FSCS compensation fund wouldn't apply.
Other than the United Kingdom, the broker aimed at traders from all around the globe, including the US and Brazil, among other nations. It's needless to say the broker lacks a valid license, and operating from those countries would require certain regulations like the SEC in the US or the Comissão de Valores Mobiliários (CVM) in Brazil. 
Capital Seven Broker Profile
Capital Seven trading platform used to be a web trader, offering an accessible user interface, along with some suspicions regarding its reliability. All beneficial information like a list of spreads and commissions and a minimum deposit is hidden, so it's safe to say that transparency is not their quality. 
However, when the minimum deposit is not stated, it could indicate that there is no requirement so you can deposit the amount that is best for you and your financial stability. The demo account is not offered, so traders are forced to blindly start trading, without knowing the conditions. 
Trading Platform

Web trader

Account Types

N/A

Financial Instruments On Offer

Forex

(EURUSD, EURGBP, USDNOK)

Cryptocurrencies

(BTC, ETH, XRP)

Indices

(S&P 500 Index, Dow Jones Industrial Average, FTSE 100 Index)

Commodities

(Crude Oil, Natural Gas, Corn)

Maximum leverage

1:500

Minimum Deposit

N/A

Commissions/Bonuses

N/A

Mobile app

No

Desktop app

No

Autotrading

No

Demo account

No

Education or Extra tools

None
Is Capital Seven Safe To Trade With?
All things considered, especially the fact that the brokerage is not operating anymore, it's safe to say that Capital Seven is unreliable. Trusting them with your investments can only result in losing them, so avoid the Capital 7 trading platform overall. Additionally, the Capital Seven complaints are all over the web, confirming that the broker is nothing but another scam. 
We research brokers head to toe so you won't have to. Reach out immediately for a free consultation and take the first step toward a profitable trading experience. There are many reliable options just waiting to be reached, so take the opportunity and give us a call! 
Capital Seven Review: Traders' Thoughts and Opinions
On Trustpilot, the broker has an overall score of 3.1 out of a total of 14 reviews. Not only this doesn't look good for CapitalSeven but the fact that more than 50% of those reviews are negative, raises concerns about their reliability. Some if not all of the reviews focus on withdrawal issues and poor communication from the broker's side: 
"I invested on the promise of great returns and that I could pull my money out at any time. The first couple of weeks were good. Making gains of 20-25% working with a certain Michael Evans but as soon as I kept clamoring to take out some money to pay some bills he turned hostile with really insulting words."
A brokerage that starts insulting traders for wanting to withdraw their money can never be considered reliable. Customer support is very important when choosing a broker because whatever happens, you need to have some sort of communication with agents. Overall, the broker is unreliable, and avoiding Capital Seven is the best thing you can do. 
A Look at Capital Seven's Traders They Serve
The scam is evident, however, how is it carried out? As we mentioned before, the UK clients are not the only ones affected by this sham brokerage. Many nations fell for the scam, including the United Arab Emirates, India, Brazil, and the US. 
Brokers like this will cold-call you, promising almost impossible things like very high profits or bonuses and once you deposit your money, they will disappear. There are even reports that the broker changes completely, from sweet and persuasive to rude, insulting traders who want to withdraw their funds.
Capital Seven Pros and Cons
Pros
Cons

None!

Unregulated

Lack of transparency

Hidden fees

Withdrawal issues
Conclusion
In conclusion, we hope our Capital Seven review serves as a warning to anyone who may desire to trade with them. Their lack of regulation and transparency raises serious concerns about their reliability, and their traders are not happy with the way they are operating, according to Trustpilot. 
Hidden fees, withdrawal issues, and the fact that the broker is no longer operating are just a couple of many red flags surrounding this brokerage. The Capital Seven suitability report doesn't exist, even though one must be presented, regardless of whether or not a transaction occurs. Don't waste your time on brokers similar to Capital Seven or Capital Manageinv, instead, reach out immediately for a list of reliable options you can choose from depending on your preferences. 
FAQ Section
What is Capital Seven?
Capital Seven or Capital 7 is a brokerage company that was shut down soon after its launch. The reason for that is still unknown, however, there are theories as to why that happened.
Is Capital Seven A Legit Broker?
Capital Seven is not a licensed or registered brokerage, therefore not legit. Trading with them would only result in losing all of your investments.
How Does Capital Seven Work?
Capital Seven works as a scam. They will call investors offering large profits and returns, asking them to deposit as much as possible so they can earn even more. Unfortunately, nothing is true and as soon as you deposit, they will lock you out of your account and disappear with your money.