February 28, 2023
Reading Time:
5
min
Cerus Markets Review: Is CerusMarkets.Com Legit?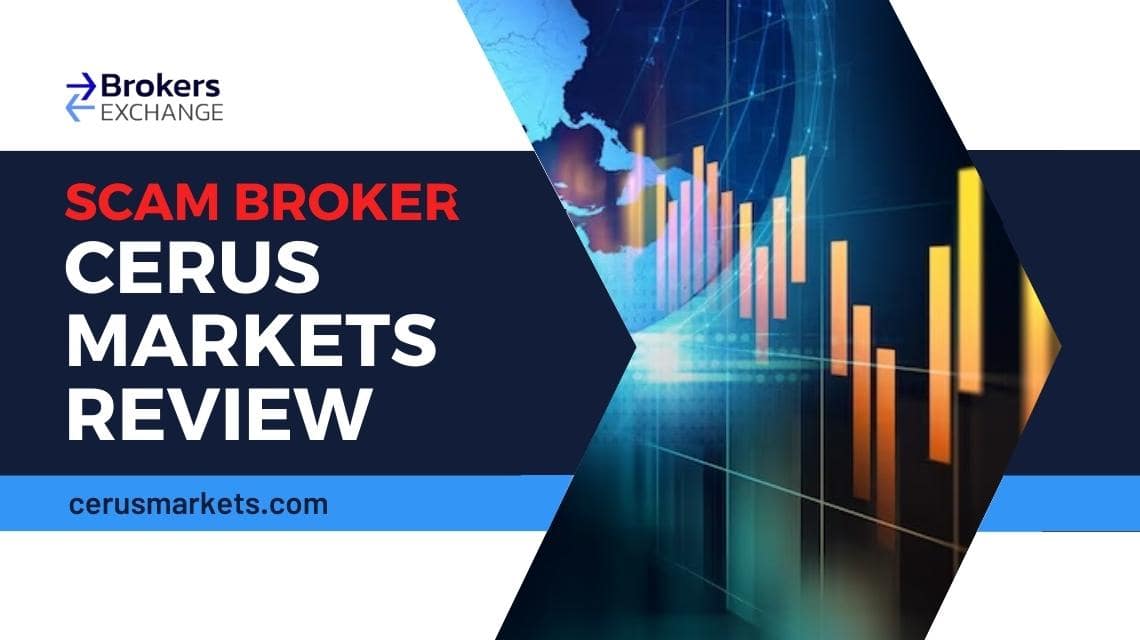 A place of lies and inconsistencies, Cerus Markets is a rather suspicious brokerage site. Opened a little less than a year ago, the site points to unusual activities and a tendency to cover up crucial info. Although Cerus Markets makes a statement about being registered and licensed with Labuan FSA, legal documents claim something completely opposite. 
The Terms and Conditions page actually openly denies any relation to the Labuan FSA license. As a matter of fact, the text says that ''Nothing in this Agreement shall be construed as to imply that we are regulated or licensed by FSA''. At first, claiming and then denying being licensed is the point when we knew something about this broker was off. 
In the LFSA register of regulated brokers, a firm with the same name and the exact license number exists. Labuan is a federal territory of Malaysia and the website address also matches the physical location from the database of LFSA. 
To discover why Cerus Markets is so confused about its license and business in general, we wrote this Cerus Markets review. Keep reading and it will bring you the clarification you need.
The hazards of dealing with dishonest brokers, such as those described below, are the same in Astrocapitaltrade, Vexxsel, and Geneticrypto.
| | |
| --- | --- |
| Company | Cerus Markets Limited |
| Website | Cerusmarkets.Com |
| Address | Labuan, Malaysia |
| Email | [email protected] |
| Phone | N/A |
| Minimum Deposit | $50 |
| Leverage | Up to 1:100 |
| Bonuses | 100% deposit bonus |
| Regulation | LFSA |
| Warning | N/A |
Cerus Markets Reliability – Regulation and Security
Cerus Markets is registered by LFSA (Labuan Financial Services Authority) with the registration number LL17651. Located in Malaysian offshore territory, Cerus Markets abides by different and far more loose regulatory standards than, for example, EEA brokers. 
EU brokers that hold licenses from top-tier regulators have to provide the full transparency and safety of funds through segregated bank accounts. Additional safety and AML rules apply through ESMA and MiFID standards. One of the most characteristic methods of controlling the level of risk is through limiting the leverage to 1:30 (up to 1:50 in the US) and introducing negative balance protection. 
We sincerely doubt that a dubious firm like Cerus Markets can provide all of the aforementioned. Aside from that, the biggest obstacle to believing the legitimacy of Cerus Markets is the fact that they renounce the responsibility of holding the LFSA license, just as we mentioned in the introduction.
You see, Cerus Markets admits not implying that they're in possession of a valid LFSA trading certificate! This sharply contradicts the footer on the site which says that Cerus Markets is an agency with an LFSA permit. 
If Cerus Markets was properly regulated to offer their online trading services, they would be transparent about the owning company and their background. Contrary to what the broker-dealer claims, they are not transparent and conduct a highly questionable business so your best bet is to stay away. 
Trading Platform Available at Cerus Markets
Cerus Markets doesn't stand up to the expectations when it comes to the trading platform. The site promises trading cryptocurrencies with high leverage and ultra-tight spreads on the world's most famous markets. Wondering what exactly were those glorious trading conditions, we naturally expected to find the best trading software. 
Opening an account with Cerus Markets provided access to a disappointment of a trading terminal. It's beyond us how Cerus Markets imagined traders to achieve their investment goals with software that has zero advanced functions and very limited choice of indicators. 
Discouragingly unresponsive and basic, Cerus Markets web trader only allows trading digital currencies with leverage as high as 1:100 and spreads from $1. Other trading parameters remained a mystery, so it's highly questionable if even the obvious trading conditions are true. Everything the broker claims about their trading terminal is a big, fat lie, fabricated to make you invest while giving you no chance for success.
Cerus Markets Deposits and Withdrawals
Cerus Markets focuses on CFD crypto trading, so the most accepted depositing methods are digital currencies. However, the broker does apparently allow funding via bank wire transfers, credit cards, and several E-wallets too. 
Registering the live trading account only costs $50, which is in the price range of many highly respected and acclaimed broker-dealers in the industry.
The disturbing part is the fees and charges that follow every transfer. Cerus Markets denies its involvement in incurring fees and forces customers to agree to cover all the costs around deposits and withdrawals. Another mortifying statement we found in the Terms and Conditions was that Cerus Markets reserves the right to permanently disable the withdrawal option for a trader. 
Does this sound like the right way to treat customers or like something a regulated broker should be able to do? 
How is the Fraud Delivered?
Some form of trading license, big promises of crypto winning and additional bonuses to deposits make Cerus Markets sound a fairly decent broker. That is their plan, of course, as they aim to attract as many unsuspecting victims as possible. 
Even better if the interested investors are beginners at trading, that aren't all that familiar with what a good trading platform and amiable trading conditions are.
Agents with notably effective verbal communication skills persuade you to invest and keep you interested. The carrot in the story is the chance to win extreme amounts of money with very little effort and in quite a short time. 
To make your engagement in the whole process easier for you, the broker even promises an account manager. These supposedly keep track of the best trades and direct your investments.  
Another valuable bait is the bonuses offered. The broker gives a 100% first-time deposit bonus. Careful though, as all scammers treat these rewards as undeposited funds that are not eligible for withdrawals. 
Cerus Markets could even ban you from the possibility of withdrawing if they wish so. So ask yourself again if you're ready to invest and then take such a risk and lose every last penny you have.
Cerus Markets Summary
The broker is far from what makes a desirable trading partner in buying and selling financial products online. Our Cerus Markets review made it a priority to clarify this to all traders potentially interested in investing here. 
Some very confusing aspects related to how this broker functions are the existing license and denial of the same. The advertised trading platform is not what you expect it to be either. As it turned out, a simple web terminal cannot be the software you rely on to give you access to the most popular online markets and attractive trading conditions. 
All in all, this broker isn't a safe place to invest. If you need a brokerage house you can trust, the internet is a bottomless source of information when it comes to choosing your broker partner. You just have to do thorough research and always double-check the site you are interested in. 
FAQs About Cerus Markets Broker
Is My Money Safe With Cerus Markets?

Cerus Markets doesn't implement the necessary safety measures and precautions related to the safekeeping of client's investments. You cannot trust this broker not to misuse your funds.
Does Cerus Markets Offer a Demo Account?

If you plan to trade financial instruments online with this broker, you have to open a live trading account. A demo account is unavailable.
Is Cerus Markets a Trustworthy Broker?

As licensed brokers are trusted and honest, this broker doesn't seem to be one of them. Beware of this firm potentially locking your deposit and not allowing you to withdraw profit.