February 26, 2023
Reading Time:
4
min
Geneticrypto Review – Facts About GenetiCrypto.Com Broker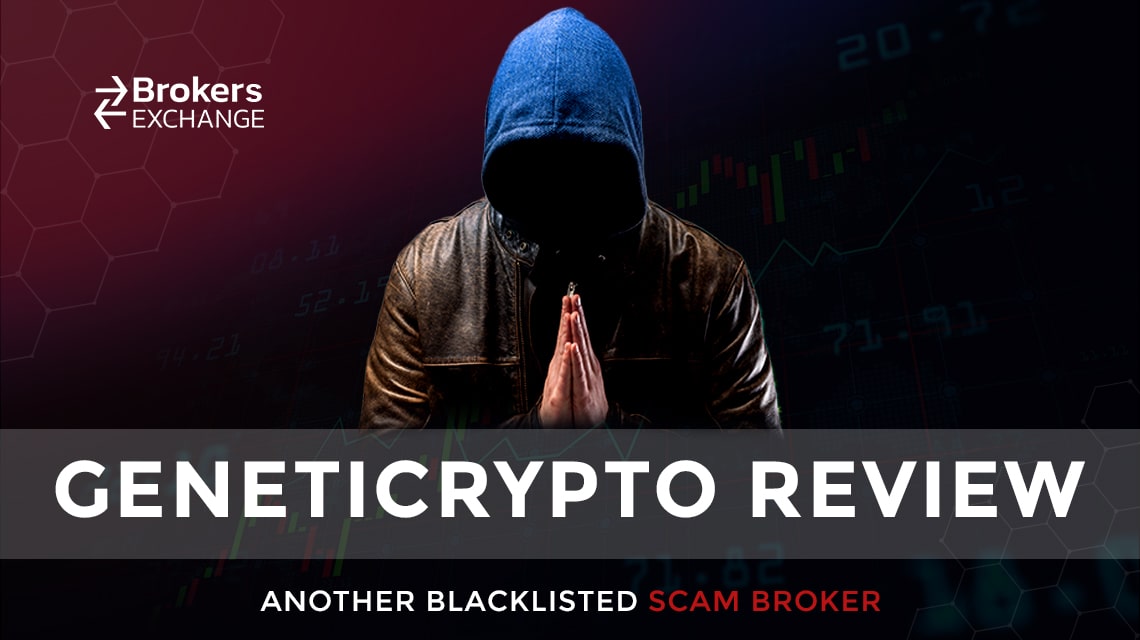 Indecisive Geneticrypto, owned by Rapid Service LTD, gives two different HQ addresses – SVG and UK. Everything about this brokerage firm points to it being another offshore scammer, but let's not jump to conclusions too soon. This Geneticrypto review has the task of providing evidence of this company's legitimacy, so read on for a detailed report. 
Geneticrypto offers you a unique chance to gain knowledge about the connection between risk and reward. The only knowledge we got from reading the site's homepage is that the broker pushes customers into risky trades and implores them to invest. 
The broker reportedly allows learning with the help of their books and video tutorials. The access to these is locked and even after the required registration, we didn't have permission to open any of the videos or articles. 
You may look for legal documents explaining the broker's business principles and if it's regulated but to no avail. Rapid Service LTD is anonymous and dangerous.   
On the contrary, you should avoid dealing with questionable brokers like Finance Proof, GP Finance, and Fivoro.
| | |
| --- | --- |
| Company | Rapid Service LTD |
| Website | GenetiCrypto.Com |
| Address | SVG/UK |
| Email | [email protected]@geneticrypto.com |
| Phone | +442045484993+442078801688 |
| Minimum Deposit | $250 |
| Leverage | Up to 1:200 |
| Bonuses | 100% deposit bonus |
| Regulation | Unregulated |
| Warning | N/A |
Compliance and Fund Safety at Geneticrypto
Respecting the jurisdictional regulatory rules, transparency, safety of funds and customer protection apparently don't exist in Geneticrypto's dictionary. 
This broker follows their own rules that don't consider customers' safety of data and the safekeeping of investments. All these standards are clearly defined by every jurisdictional regulator and ESMA, in charge of supervising the EEA. 
The UK address may as well be completely imaginary, as Geneticrypto doesn't appear in the register of the area's brokerage regulator – FCA. The financial authority of the UK imposes similar licensing conditions as EEA tier 1 regulators (BaFin, FINMA, CySEC, CNMV). To no one's surprise, Geneticrypto doesn't show up in their databases of registered brokers either. 
This further implies that Geneticrypto doesn't implement the safety standards such as segregated bank accounts, leverage reduction, negative balance protection, and obligatory transaction reporting. 
Just for comparison purposes, Geneticrypto allows leverage of up to 1:200, while FCA and EEA regulators limit it to 1:30. Dubious brokers also keep their track of money flow secret, which means they don't report to the jurisdictional supervisor and potentially engage in illegal transactions.
There's nothing else we could deduce after thoroughly researching the suspicious background of Geneticrypto. This illegal brokerage business is a danger to your investments! 
Available Trading Software at Geneticrypto
It's not all that common for a scammer to allow access to the trading area without a verified account. Geneticrypto does that and we could preview the web-based trader from the site directly. 
In all honesty, the terminal can't be compared to modern technologically advanced trading solutions like MT4 and MT5. On the other hand, it does have a comprehensive layout that beginner traders could use to get a gist of the trading process. 
Geneticrypto trader lacks the progressive features of the leading platforms, but it does possess the basic options for customizing and keeping track of pricing and trades placed. It is still a far cry in comparison to MetaTrader software which holds the title of the best trading terminal. 
Methods of Deposit and Withdrawal
You will be shocked to see Geneticrypto doesn't limit the funding methods solely to cryptocurrencies like every other scammer of their kind. Client area gives you two choices: 
For some reason, credit cards are only available for citizens of several areas. All other investors have to use the bank wire transfer. The minimum deposit you have to put into your trading account is $250. 
Geneticrypto does also mention bonuses but doesn't specify how they work or what conditions follow. No documents explaining withdrawals are included on the site, either. As with any other scammer, Geneticrypto tends to make up or change conditions on the spot and make nothing certain except the fact they will steal your money. 
How the Fraud Was Carried Out
Geneticrypto agent approaches you as a typical salesman trying to make money from selling certain services. The difference is that Geneticrypto doesn't offer the services and products they advertise. 
They're basically selling lies and illusions of wealth. To motivate you more, they will even reward you with bonuses for every deposit or with monthly/weekly promotions.  
All the funds appearing on your account aren't eligible for withdrawals. Unreachable conditions follow the non-deposited capital so you can never truly profit. 
Geneticrypto will take away the money they supposedly rewarded you with but they will at some point take your investment too, under various excuses. The shameless thief doesn't refrain from anything, don't forget scamming customers is how they make a profit.  
Geneticrypto Summary
Fraudulent websites sometimes may seem professional and convincing enough to deceive even an experienced eye. Geneticrypto does have a level of confidence in their attitude enough to trick potential victims to invest. 
What they still lack are the legal directives that confirm their business is lawful and sustainable. In that case, you can easily tell a brokerage company is not running an authorized business. Geneticrypto is one of them.
However, well-trained cheaters can copy licenses or even clone entire companies. Taking the necessary certificates from verified broker sites and then adjusting them to match their prepositions is how they ensure clients trust them. 
That's why you can never go wrong with checking the lists of registered brokers that every jurisdictional regulator keeps. Always do that before investing.
FAQs About Geneticrypto Broker
Is Geneticrypto a Regulated Broker?

Geneticrypto is a generic scammer without a valid certificate for conducting online transactions and buying and selling of financial instruments. 
Is My Money Safe at Geneticrypto?

Since segregated bank accounts aren't provided for the purpose of keeping the investments safe, your deposits are exposed to the risk of robbery. 
What Is The Minimum Deposit at Geneticrypto?

Entering the site as their client will cost you $250. While this isn't a high price to pay to become a client, there are regulated brokers who ask for far less.