October 19, 2023
Reading Time:
5
min
Chart Champions Review: In-Depth Evaluation of a Fake UK-Based Firm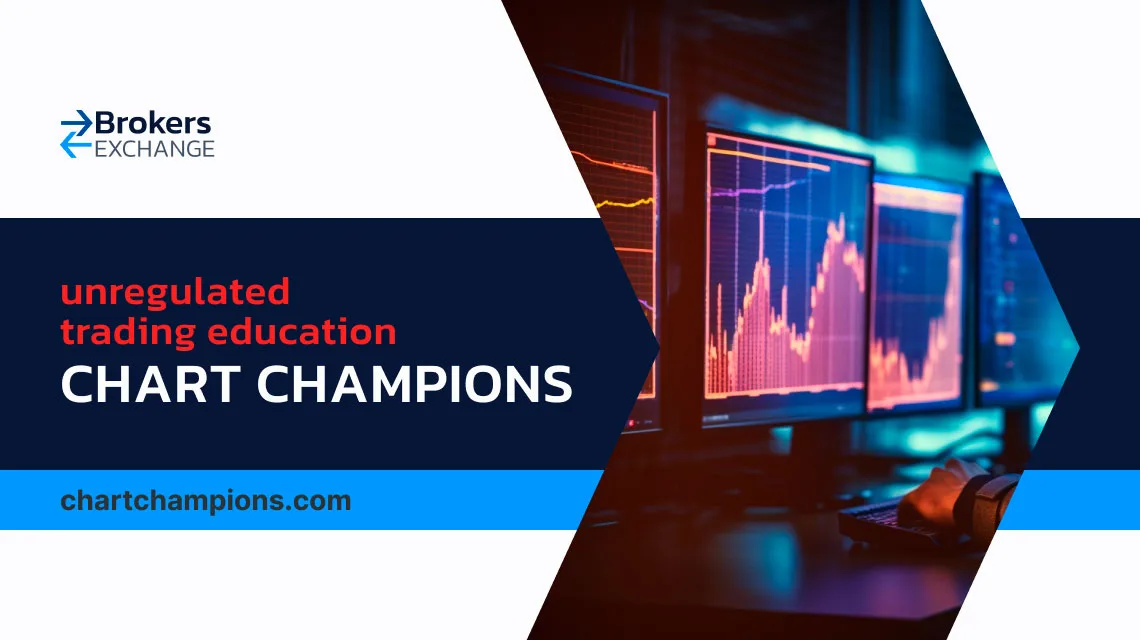 It's not surprising when firms claim to be something they are not, especially when they claim to be a registered and reliable business in the UK, or the US. As we all know, both of these nations have strict regulatory rules and companies need to adhere to those rules. However, this Chart Champions review will prove once again that everything is not as it seems. 
The platform does seem like a legit business at first glance, however, a deeper investigation will uncover its true goal. Keep reading to learn more, and don't forget to check our GrowCapitalExchange evaluation for a broker to avoid. 
Who Is Chart Champions?
The first thing we noticed about this company is the huge lack of transparency. They are not disclosing any type of information regarding the company and the only form of contact is an email. 
The Chart Champions login page takes you immediately to register, however, after digging a bit more, we did come across their other domain, chartchampions.online, where they offer financial services. 
There, they provide a fake address to their business and claim to be a regulated entity. However, despite their ridiculous claims, the FCA warned the public and advised against trading with this unregulated firm. Unfortunately, that didn't stop them from trying to scam investors. 
| | |
| --- | --- |
| Company Type | Trading Education |
| Legal name | Chart Champions FZCO |
| Regulation | Unregulated |
| Registered in | 4 Fitz-James Ave, Hammersmith, London, W14 0RP |
| Established | 2023 |
| Website | chartchampions.com  |
| Financial Authorities Warnings | |
| Contacts | |
| Fees | |
| If Active on Social Media: | Yes |
| Investor Protection: | No |
| Activity areas | United Kingdom; United States; India; Germany; Netherlands |
| Main threats | FCA warning, another scam domain |
| Main perks | Suitable for day traders |
Regulation Info
ChartChampions and similar platform don't usually require regulatory oversight. However, once they start offering financial services and managing their clients' deposits, regulation is necessary, especially in the UK or the US. 
Unfortunately, this platform is just a facade for their other domain, chartchampions.online, where they 'transparently' say: "All deposits and payments should be made directly to the company's account, bitcoin wallet, or your account manager". This fake UK-based firm has a lot of explaining to do regarding this other domain. 
The FCA warned UK investors about this platform, immediately flagging them as an unsafe company to use. In the scam domain, you can trade cryptocurrencies, stock indices, commodities, and forex, which requires strict regulatory oversight. 
If you were wondering whether or not the Chart Champions scam is real, here is your answer. They are operating from the UK, the US, and Germany among other countries, however, they lack licenses from FCA in the UK, the SEC in the US, and BaFin in Germany. 
Chart Champions Broker Profile
Depending on what domain you end up in, the trading conditions are different. For the unregulated scam domain that offers financial services, you can trade in forex, stocks, crypto, and stock indices. On the education platform, they offer a variety of tools, however, most of them are not available until you subscribe to the most expensive plan. 
If we pretend that their other domain doesn't exist, Chart Champions is a community offering assistance to traders. This support takes the form of technical, educational, and psychological support. It's crucial to remember that Chart Champions won't provide you with stock recommendations or indications. Instead, you receive instruction and technical analysis. 
Trading Platform

Web-based

Account Types

Spectator, Champion, Contender

Financial Instruments On Offer

Forex

(EURUSD, EURGBP, USDNOK)

Stocks

(Apple, Amazon, Microsoft)

Cryptocurrencies

(BTC, ETH, XRP)

Indices

(S&P 500 Index, Dow Jones Industrial Average, FTSE 100 Index)

Commodities

(Crude Oil, Natural Gas, Corn)

Live Stock Market Updates Weekly
Live Weekly Trading Lesson
Weekly BTC paper trade idea (Sundays)
Access to Coach's Trade updates
Live Daily BTC Market update
Live Monday BTC Market update
Speedrun Masterclass
In-house Trading Assistant
Daily trading sheets
Trading strategies + templates
Trading cheat sheets
On-demand learning library (over 250 hours)
Progress Tracker
Beginners learning module

Maximum leverage

N/A

Minimum Deposit

Free, with limited features

Commissions/Bonuses

$200 deposit bonus, $30,000 deposit bonus, 3 months free

Mobile app

No

Desktop app

No

Autotrading

No

Demo account

Yes

Education or Extra tools

Coaching
Is Chart Champions Safe?
The platform presents an unsafe trading environment and it's not suitable for investors. The reviews about the company are mostly favorable, however, the majority of them are 'invited' to leave a review by the firm, which doesn't help confirm their reliability. 
Additionally, their domain offers financial services without the required regulatory oversight, indicating the scam. It's always helpful to look for Chart Champions Reddit discussions before committing because, on Reddit, reviews can't be fabricated or deleted. 
Traders Share Their Experiences
On Trustpilot, the firm has 767 reviews and an overall score of 4.2. While the majority of the reviews are favorable, 20% of them think the firm is not a good choice for traders. Some traders complain about the overpriced features that are not at all beneficial, while some of the complaints are focused on the owner, Daniel. 
Reviews can be fabricated and deleted so sometimes, they are not a sure-fire way to check whether or not the platform is reliable. According to the negative reviews, the platform is not worth the money it charges. 
Reasons You Should Avoid This Company
The platform is mostly suitable for day traders so if you are one, ChartChampions may be good for you. However, we can't ignore the fact that they are offering financial services without regulation on their other 'broker' domain, which is a major red flag. 
Furthermore, there are various unfavorable reviews about the owner, Daniel Jordan, and his unprofessional manner toward traders. 
The free membership they offer doesn't have many features, so it's not beneficial, and they don't offer a free trial with all features unlocked so you can test their services. Overall, we are sure there are better and more reliable alternatives than this firm and if you are not a day trader, this company is not a good choice. 
Weighing the Pros and Cons
Pros
Cons

Free membership 

Discord community

Negative reviews about the owner Daniel Jordan

Mostly for day traders

No refund policy

Only suitable for day traders
Can I Make Money While Trading Online?
By avoiding brokers like CA Trade Capital, you can boost your chances of profits. Unregulated firms pose a huge risk to your funds so to profit, you have to choose a reliable brokerage. However, being successful also depends on education, strategy, the right tools, and many more. 
The ultimate trading superpower, AI.F, is now available to assist you. Billionths of data points, including historical data, indicators, and recent market news, are processed by AI.F. It does not engage in blind trading; rather, it carefully examines asset history, seeks out patterns in comparable historical epochs, and keeps you informed of the most recent and historical news. 
The underlying power of AI.F is in its unrivaled capacity to process enormous amounts of data at rates that are faster than humanly possible. You can take advantage of its qualities to increase your revenues rather than compete with it. If you are quick, you can win a 14-day free trial to experience it firsthand. 
FAQ Section
Who Is Chart Champions?
Chart Champions is the first real-time learning platform dedicated to teaching Technical Analysis for trading Bitcoin and stocks.
Is Chart Champions Legit?
Unfortunately, Chart Champions is not a legitimate business, due to offering financial services without the required regulatory oversight. The education platform they offer is legit, however, not worth the money.
What Are The Available Plans In Chart Champions?
There are three plans to choose from, including Spectator which is a free plan, Champion which costs £197 per month and is where most of the features are available, and Contender which costs £97 a month.