September 19, 2022
Reading Time:
4
min
Clearpoint Capital Review – Don't Fall For This Broker Scam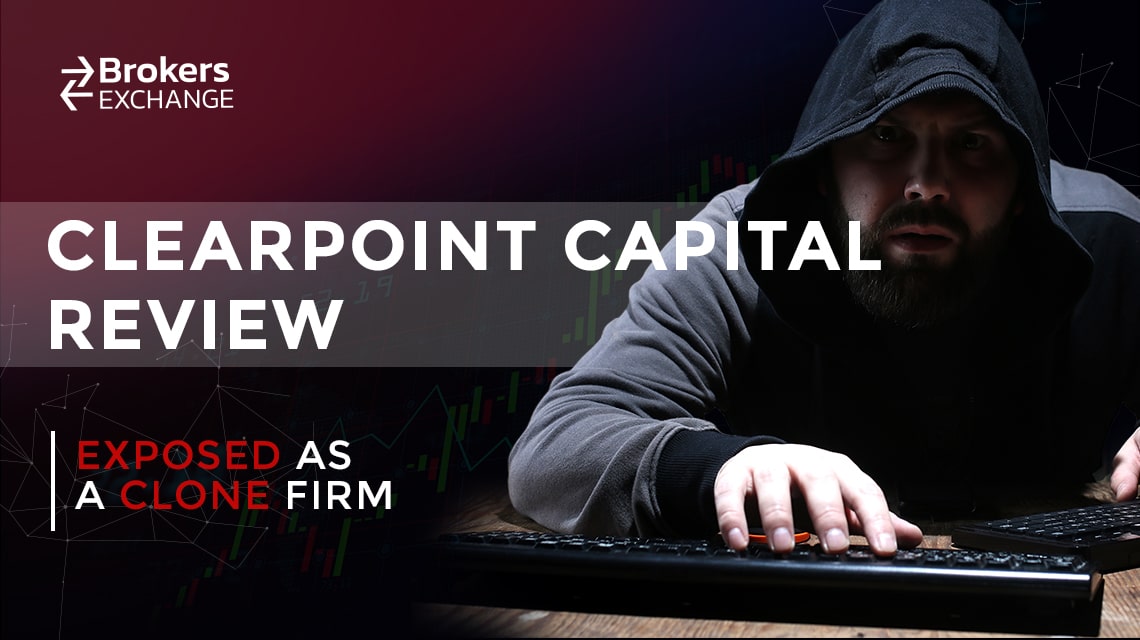 Clearpoint Capital (Clearpoint-fin) is a clone company of Clearpoint Finance Ltd. It has been declared by the British Financial Authority (FCA), which has also listed Clearpoint Capital as an investment scam.
Although the FCA authorized Clearpoint Finance Ltd in the past, the company license expired on May 12 this year, meaning that this firm can't operate legally anymore.
However, Clearpoint Capital openly states on its website that it's registered in the UK, licensed by the FCA, and allegedly affiliated with Clearpoint Finance Ltd (a legitimate corporation). Actually, all of these are fake claims and nonsense.
Put two and two together, and you'll realize this is another bogus broker. This financial swindler is hiding under the name of a genuine agency, trying to lure people into its staged hoax.
Please proceed with our Clearpoint Capital broker review to learn more about how scam brokers find, entice, and fraud their victims.
In addition, we strongly suggest that you avoid trading with dishonest brokers such as SkyShell Trading, StakingTrades, and T1Markets.
| | |
| --- | --- |
| Company | Clearpoint Capital |
| Website | ClearPoint-Fin.Com |
| Address | 5 Copper Row, London, SE1 2LH, UK |
| Email | [email protected], [email protected] |
| Phone | +447367136244, +16135152260, +302111219977, +393509265587 |
| Minimum Deposit | $250 USD |
| Leverage | 1:500 |
| Bonuses | Yes |
| Regulation | No |
| Warning | FCA |
Clearpoint-Fin Reliability: Regulation and Fund Security
Aside from alleged authorization from the FCA, Clearpoint Capital claims it holds three more licenses, but in reality, this brokerage isn't approved by any financial regulator.
In support of this, the FCA limits leverage to 1:30 and bans promotions. At the same time, Clearpoint Capital is guilty on both counts. In other words, this unscrupulous broker offers 1:500 leverage and bonuses.
When trading with dishonest brokers, safety and reliability aren't guaranteed. Even if you ignore the potential risks associated with Clearpoint Capital, you will not get favorable trading terms.
Other than that, this online financial trading company doesn't offer any security of funds such as segregated accounts, stop loss and negative balance protection.
So, don't use online trading services unless you're sure that they're safe. If you deposited your funds into an account associated with a non-registered foreign organization, there's no telling whether you'd ever get them back.
Clearpoint Capital Trading Platform Offered
MetaTrader4 (MT4) and MetaTrader5 (MT5) are the most popular online trading platforms. They include many useful features for effective results. That brings us to trading software available to clients of Clearpoint-fin. 
Surprisingly, its customers can trade on both MT4 and MT5 (arguably the best trading program nowadays, with plenty of advanced tools).
It's the only bright side concerning this illicit broker. Despite this, Clearpoint Capital stays a shady brokerage using the next-gen software for running scam schemes.
Trading Account Available at Clearpoint Capital
As it comes to accounts with this phony broker, it offers several options, outlined below.
Micro Account comes with a $250 minimum required deposit.
Premium Account requires a $1000 minimum deposit.
PAMM Account is designed for fund managers. 
When you look at this offer, it becomes apparent that it's trying to cheat you, requiring far above industry standards for a minimal opening balance. You can open a trading account with a prominent organization for as low as $1.
In addition, if you don't trade for over 90 days, Clearpoint Capitapal keeps the right to deduct a $100 one-time penalty from your account and a $30 inactivity fee per month afterward.
Furthermore, as expected, Clearpoint Capital doesn't offer a demo account option, which is one of the main differences between a legal and an illegal business.
Demo account holders with reputable trading organizations can experience risk-free trading for free, familiarize themselves with trading platforms, and test and build trading strategies. So, another valid point for avoiding Clearpoint Capital.
Deposit and Withdraw Methods For Clearpoint Capital
Concerning this forex broker's means of funding, its minimum deposit is $250 though most corporations require only $5 to $10. As with others, Clearpoint-fin accepts credit/debit cards, bank wire transfers, and electronic wallets for depositing money.
Credit/debit card payment options are always a sign of relief since MasterCard and Visa can help you with cashback if you be defrauded. Prevention is the best cure; hence, steer clear of suspicious businesses.
With reference to withdrawals, it's confusing how clients of this unregulated company can withdraw their funds (if it's even possible, considering it's about the scammer).
This brokerage has set many counterproductive rules summarized in its Terms and Conditions, which are ambiguous and deceptive at least.
How They Trick People Into Their Scams
If you wonder how the Clearpoint Capital scam works, it is like any other trading swindle; after all, they all boil down to one thing. A fraudulent project may be operated by shell companies, making tracing con artists difficult.
Once you've opened an initial trader account with one such entity, they may call you persistently, asking for transfers into your new account. They'll offer you any incentive they can come up with to encourage you to invest now.
Be wary of people who claim to represent legitimate companies and ask for your personal information. They may be trying to rob you.
Most fake brokers will show fictitious losses and unrealistic gains when you attempt to make deposits or withdrawals.
If they don't let you withdraw immediately, something isn't right. They'll tell you you can make even bigger profits by asking for more money.
They may also ask you to pay additional fees before receiving your funds. If so, you might be told there was an error in their calculations, but they won't authorize the withdrawal until you pay these hidden costs.
What happens if you don't take the money from your account by the due date? You could end up losing everything.
Clearpoint Capital Summary
In our Clearpoint Capital review, we examined why we believe that this firm is a fraudster and presented concrete evidence for it. With this kind of forex provider, you will have nothing but trouble.
Some issues are its expensive services, absence of licenses and regulations, counterfeiting of a genuine business, and not even to mention lack of a demo account, educational materials, proper trading resources, and adequate customer support.
Criminal organizations clone valid corporations for various reasons, including avoiding detection by law enforcement agencies. In conclusion, Clearpoint-fin is by no means legit. You should avoid them like the plague!
FAQs About Clearpoint Capital Broker
Clearpoint Capital: Is It A Reputable Broker?

Clearpoint Capital is notorious for promoting unethical business practices and faking its licenses. So, never use it.
What Leverage Does Clearpoint Capital Offer?

Clearpoint Capital offers 1:500 leverage which goes against the rules and standards in the business. Yet another reason for its ill reputation.
What is Clearpoint Capital's Minimum Deposit Amount?

To start trading with Clearpoint Capital, you must invest a minimum of $250, making it very unfavorable and expensive compared with industry leaders.