July 01, 2023
Reading Time:
6
min
CornerTrader Review: Evaluating Their Trading Tools and Performance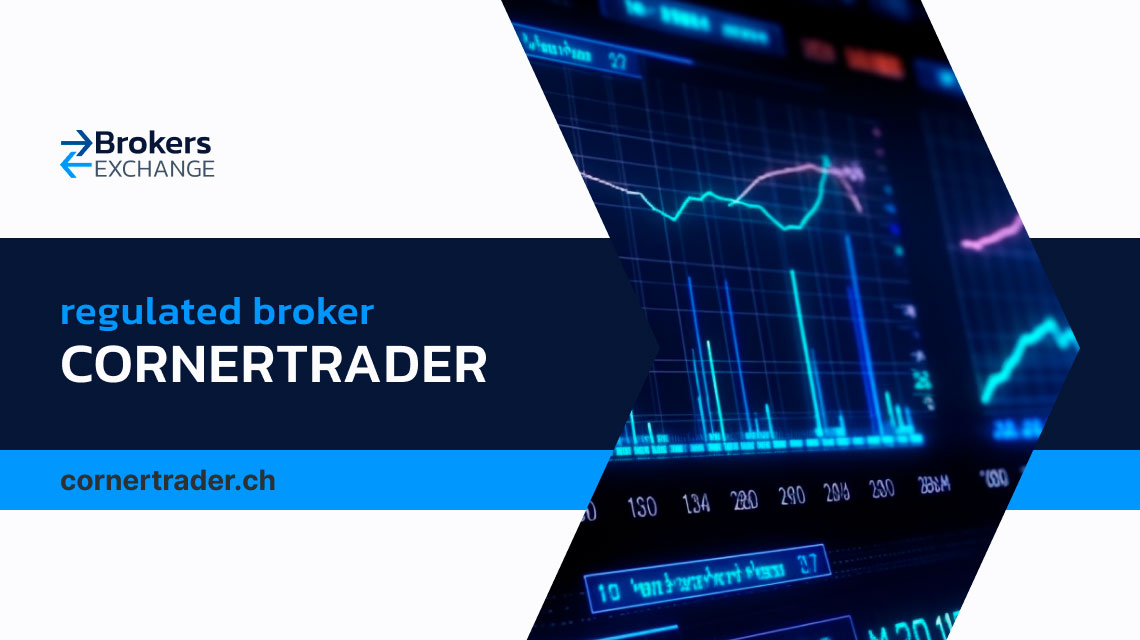 CornerTrader at a Glance
Everything looks nice and shiny at first glance. The company is under the ownership o trusted Swiss Corner Bank Ltd. With its existence since 1952, they built its strong reputation.
Yet, trading and banking are not the same. On the positive side, the company is fully transparent in terms of trading costs. However, the company doesn't mention any funds protection features. Such as compensation funds or negative balance protection.  
CornerTrader
Reliable Broker Must Have
Legal name:

Corner Bank Lt

Transparently displayed in the disclaimer or legal documents

Regulation:

FINMA

Within your legal jurisdiction – local regulator

Registered in:

Switzerland

Your country or the country whose license applies in your legal jurisdiction 

Established:

 

2012

The older the domain – the higher the possibility the company is trustworthy

Website:

Cornertrader.ch

Domain should be from local or international zones, no .xyz etc.

Financial Authorities Warnings:

N/A

None

Contacts:

Phone:  +41 58 880 80 80

Email: [email protected]

Social media

Online form

Phone, email, social media, web form

If a withdrawal is possible:

Yes

Yes

Fees:

Spreads from 0.2 pips

$25 account closing fee

0.5% cash conversion fee

Transparent fees – list of spread and commissions

If Active on Social Media:

Yes – Facebook, LinkedIn

Often present on social media

Investor Protection:

N/A

Compensation fund
CornerTrader Regulation and Security
To understand if you can get a secure CornerTrader environment you are checking the licensing first. Indeed, Corner Bank Ltd is listed in the FINMA register. That's the Swiss most reliable regulator. Thus, the company looks like offering services to clients from:

Switzerland 

Germany

Italy

France

United Kingdom
Considering all the mentioned countries, the company should have also other licenses. For example, FCA, BaFIN, CONSOB or AMF. Yet, they are not listed in any of those registers.
CornerTrader Profile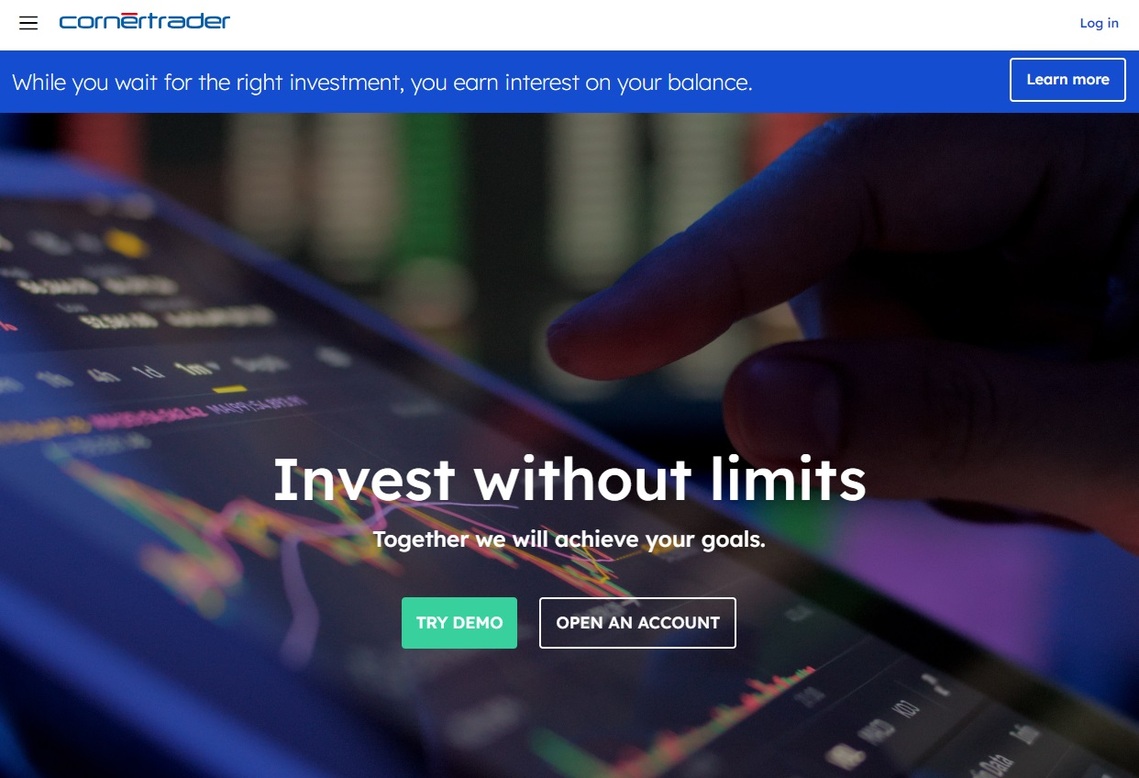 On the positive side, CornerTrader online trading allows you to trade a vast of instruments. The most attractive offer comes with CornerTrader bitcoin and crypto trading. Thus, there are many more options.
Something that traders might notice is the availability of trading software. Instead of trusted third-party Meta Trader or cTrader, the company opted for less-known options.
Check our comprehensive reviews of Sway Markets, Roboforex and Accuindex to find other opportunities and potentially find the most suitable option for yourself.
Trading platforms:

Flexibility, Invest, Advance, iCorner App

Account types:

PRO/VIP, Capital, Private

Financial Instruments On Offer:

Forex (GBP/AUD, USD/JPY)

Commodities (gold, silver)

Crypto (BTC, USDT)

Indices (CAC40, DAX30)

Shares (Deutsche Bank, BMW)

Bonds

ETFs

Futures

Maximum leverage:

N/A

Minimum Deposit:

$0

Commissions/bonuses:

$10 commission / No bonuses

Mobile app:

Yes

Desktop app:

Yes

Autotrading:

Not available

Demo account:

Available

Education or Extra tools:

CornerTrader Academy
Deposit and Withdraw Methods
For European broker with such reputable regulations, they provide quite poor funding information. There is no information available about funding methods.
Neither information about withdrawal processing time or fees. Which is highly speculative, especially for a Swiss broker.
CornerTrader Trading Instruments
Trading instruments play a key role in choosing a broker. If you have a limited amount of assets your possibilities for making profits are lower.
In this case, you won't lack the opportunities. Those are divided into leveraged and investment products.
Leveraged Products
The CornerTrader app allows you to trade 5 major trading categories. Those are forex, indices, commodities, indices and cryptos. Since the company doesn't reveal the leverage used for certain products it will remain a mystery.
However, have in mind that European brokers can't give you leverage higher than 1:30. Simply because of ESMA rules that limit leverage. In case you get anything higher than that without a PRO trader contract, you may as well get your money out as quickly as possible.
Investment Products
In this category, you can find more conventional options. Of course, without leverage. In this case stocks, but also ETFs, mutual funds, bonds and a few more.
Depending on the strategy, traders could face up to a 2% fee for management fees.
CornerTrader Account Types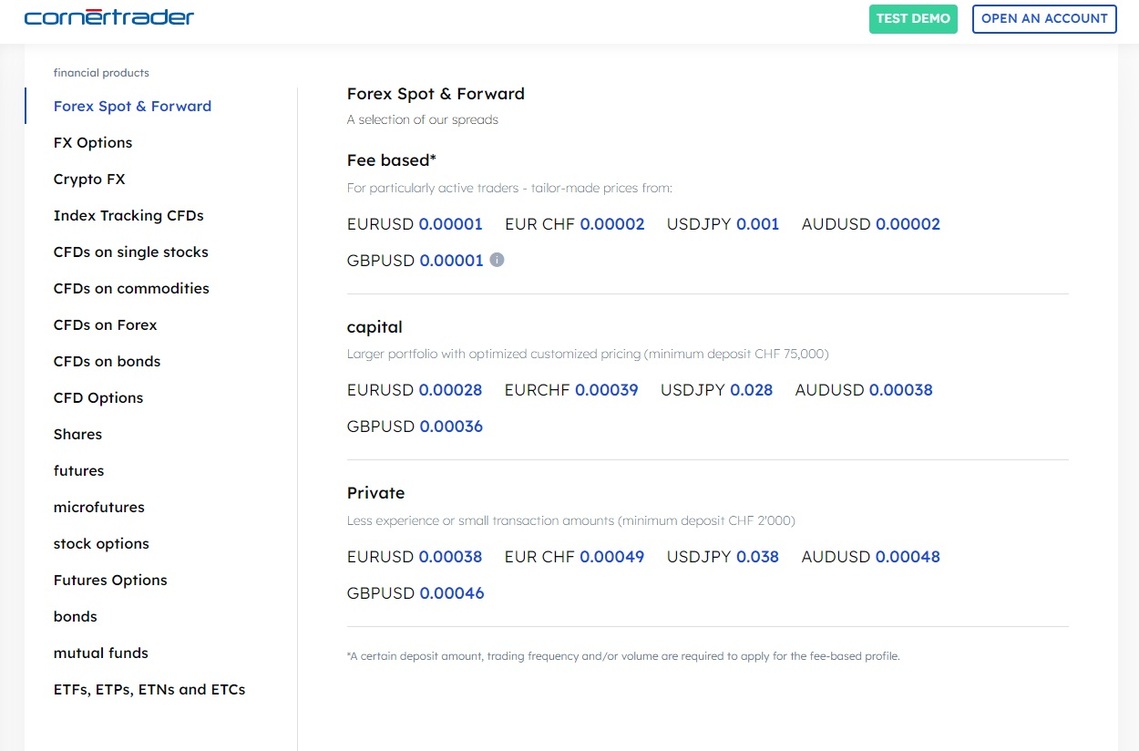 Practically, account types are designed to attract traders to deposit more money. In general, that strategy works because it can suit both sides. The company but also the trader.
However, CornerTrader account types don't reveal much about the offer. Especially not the financially beneficial part.
Private Account
The private account gives you the least options. You can't use multi-currencies or joint accounts. Also, you don't have a dedicated personal account manager.
Also, you can't attend workshops or VIP events. This leaves you all by yourself practically.
Capital Account
The capital account is quite similar to the PRO/VIP account. Except, for the logical part. You can't attend VIP events. But the strange thing is that you don't have any exceptional benefits.
On the other hand, traders mainly care about the financial part. But it seems like CornerTrader conditions are the same for everyone.
Pro or VIP Account
PRO/VIP account is self-explanatory. You can get everything you need with the broker. However, minimum deposit requirement, leverage or additional fees are not revealed.
Yet, nowadays where you have numerous Tier 1 licensed brokers with fully transparent options this is a shame.
Demo Account
A cornerTrader demo account is a suitable option for the ones first time checking this broker. You can register and test their software.
But if you want Tier 1 protection and features you can find other brokers and compare the features. But most importantly the costs, that are quite high with CornerTrader broker.
CornerTrader Online Trading Platforms
The broker promotes multiple trading options. However, only things you can see about the software are presented on the website. But you can't access the software freely. You have to register at least for a demo account to try it out.
FLEXibility
FLEXibility looks like an award-winning platform. However, we haven't seen those awards anywhere. Compared to MetaTrader or cTrader it is missing advanced trading features like social and copy trading.
Unfortunately, it doesn't look like it has a dedicated mobile app. Instead, the broker promotes the iCorner app.
Invest
According to the company, Invest is a straightforward option to invest in non-leveraged products. Practically the software only uses basic functionalities without any advanced features.
Same as with the previous app, it lacks important mobile dedicated apps.
Advance
If you ever used DAS TraderPro you would find some similarities. However, this software is nowhere near DAS Trader. Especially not the features you can get. The main benefit is the multi-chart layout and the option to use 6 monitors.
iCornèr App
The most advertised option is the iCorner pap. That's practically the banking app where you can manage everything. You can manage payments but also access the CornerTrader platform.
This is the way the broker is trying to get traders to install the desired platform. Yet, for this one, you don't have a desktop app.
CornerTrader Academy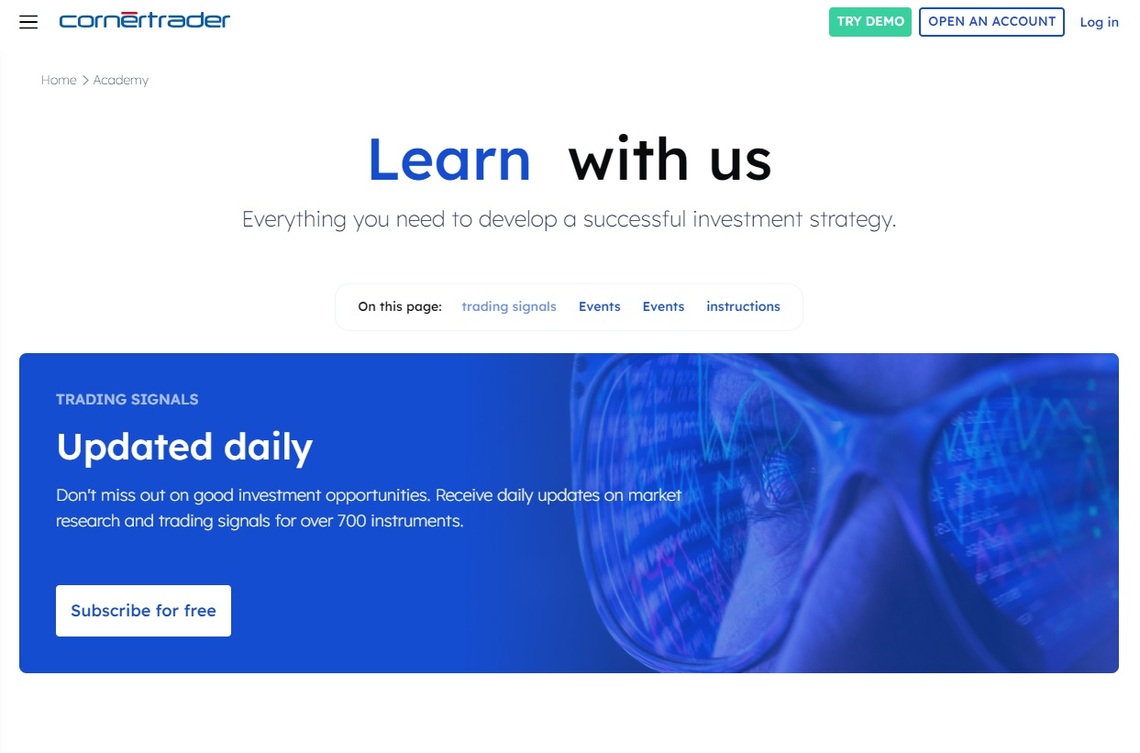 Traders that want to expand their knowledge can sign up for their academy. You can learn more about CornerTrader fonds, crypto investments and many more.
The most attractive feature is investment signals. Everyone would like to get free money. On top of that, you can access events, meetings and go through general guides. But all that falls down the drain if you don't have real action with real money.
CornerTrader Customer Support
If you would like to get in touch with the company you have various options. From online contact forms, e-mail and phone lines. But have in mind their support works 5 days a week. Not even the 24 hours that traders are used to.
Instead, you can get in touch between 8 AM -6:30 PM CEST. Important to realize is that support is available in 4 languages: English, German, Italian and French.
CornerTrader Pros and Cons
The main benefit is that the company is backed up by a trusted bank. Also, the bank is regulated by a trusted Swiss institution. Yet, the company doesn't have any other Tier 1 licenses.
As a downside, the company doesn't offer well-known trading software. Also, trading conditions, minimum requirements and funding options remain unknown. That's quite strange for a licensed broker. Also, for a broker that exists for more than 10 years, there are not many public reviews.
Conclusion of ConerTrader Broker Review
In general, many other brokers out there can outcompete CornerTrader. Starting with full transparency, even higher security and available trading software. Even though Swiss is known as a strict and highly regulated country, you should compare this company to others.
To find out if this is the best choice, get in touch with our team. By understanding your preferences and skill level we can find you most suitable options. Ultimately, you choose if you will follow the advice or not. No pressure and no costs for the first consultation. Book yours today!
FAQ Section
Is Corner Trader Trading Legit?
Yes. The company is licensed and provides trusted services for more than 10 years. But for such a company, strangely, they don't reveal minimum requirements and some trading conditions.
Does CornerTrader allow hedging and scalping?
Yes. Experienced traders often use these strategies to maximize their profits and they can use it with CornerTrader broker.
What funding methods does Corner Trader accept?
Unfortunately, nowhere is to be seen what are the funding options with the broker. Since they promote the iCorner app for all the features that might be a solution.
What is the minimum deposit for Corner Trader?
The minimum deposit requirement is not present anywhere on the company website which is quite strange for a licensed broker.