June 26, 2023
Reading Time:
6
min
RoboForex Review: The Best Features and Trading Experience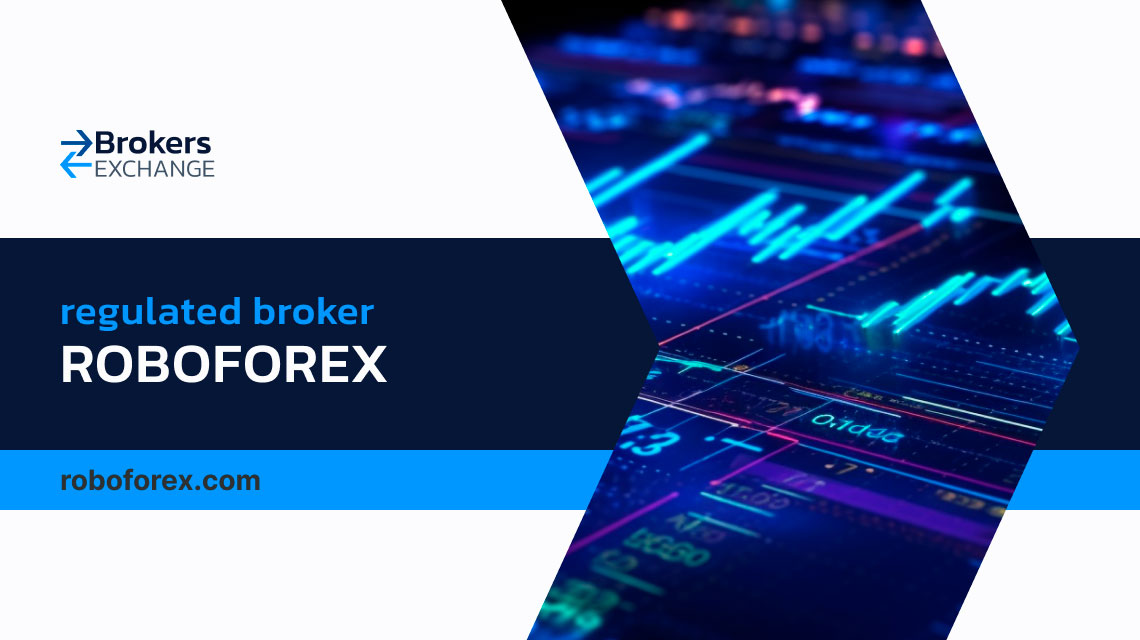 While reading our RoboForex review you will discover the main advantages and disadvantages of trading with a regulated offshore broker. But if the regulation is the only positive thing we are about to discover.
Because obviously, some traders are not happy with the company's services. Since we don't want to jump to conclusions we are going through an in-detail analysis.
Who Is RoboForex?
RoboForex Ltd is a company registered in Belize. That's a small offshore country known as the nest for trading companies. Whether the broker is reliable or not they can enjoy some kind of anonymity offshore.
Since 2009, this company is trading worldwide. From South America to Asia. But if they have all the necessary authorizations we are about to see.
RoboForex
Legal name:
RoboForex Ltd
Regulation:
FSC
Registered in:
Belize
Established:
2009
Website:
https://roboforex.com
Financial Authorities Warnings:
N/A
Contacts:
Phone: +593 964 256 286

Online contact form

Live chat

If a withdrawal is possible:
Potential issues
Fees:
Up to 4% withdrawal fee
If Active on Social Media:
Yes – Facebook, Twitter, Youtube, Telegram, Instagram
Investor Protection:
Negative balance protection
        Regulation info
The reliability of some brokers always starts with a regulation checkup. This company claims to have an FSC license issued in Belize. Indeed, the company is listed there. However, such regulations are considered lower tier. Primarily because of missing protection features. Especially if you compare it with Tier 1 regulators like FCA, BaFin or ASIC.
That by the way, never had RoboForex listed in their registers. Therefore, you can only rely on offshore regulation which is quite weak. Even though RoboForex broker claims to have an insurance program limited to 2.500.000 EUR,  that is questionable.
https://www.belizefsc.org.bz/license-verification-2/?wdt_search=000138%2F437&submit=Submit
If you want to be protected on the market you need to know all perks of trading. Therefore, we invite you to read our bit different reviews of Xtrend Speed, AAAFx and Ctrl Investments brokers.
RoboForex Profile
The company really did a great job by choosing trusted trading software. Also, there are many advanced features available with the broker. Such as RoboForex copy trading, algo trading and many more.
However, there are some discrepancies that would make some traders avoid this broker. In general, there is a very high commission and leverage. Since the broker is trading with clients from the EEA zone that directly violates European Securities and Markets Authority (ESMA) rules.
Trading platforms:
MT4, MT5, Proprietary, cTrader
Account types:
Prime, ECN, R Stocks Trader, ProCent, Pro
Financial Instruments On Offer:

Forex (GBP/USD, EUR/SEK)
Commodities (natural gas, gold)
Indices (CAC40, FTSE100)
Shares (Apple, Google)
Cryptos (BTC, USDT)

Maximum leverage:
1:2000
Minimum Deposit:
$10
Commissions/bonuses:
Commission from a $10 / Deposit bonus is available
Mobile app:
Yes
Desktop app:
Yes
Autotrading:
Yes
Demo account:
Yes
Education or Extra tools:
Strategy builders, trading calculators, financial charts
 Is RoboForex Safe Broker?
If there are more negative than positive reviews, there must be something wrong. Even though the broker is regulated, the requirements are not strict. Unlike with FCA-regulated brokers.
Also, the insurance that the broker claims to have doesn't come from a Tier 1 financial institution. Therefore, it's just their words against yours. Exactly because of that you can expect potential issues with this broker. Have in mind that trusted software doesn't make the company trusted as well.
RoboForex Clients Reviews: What clients can tell us?
RoboForex broker reviews are absolutely shocking. More than 50% of reviews on Trustpilot are with the lowest rating. Many of those with statements about frozen account issues and withdrawal issues.
In general, offshore regulations don't provide much-needed protection. Even if you file a RoboForex complaint, they might get out with a penalty. If you would like to know more about how to protect your funds and yourself, get in touch with our expert team for a consultation.
https://www.trustpilot.com/review/roboforex.com
RoboForex Investment Products
RoboForex broker provides FX and CFD trading services. CFD assets are divided into a couple of classes. Those are:
Commodities
Indices
Shares
Cryptocurrencies
Considering the high volatility of some and their leverage of 1:2000, this is extremely risky.  On the positive side, there is a stock trading option. With direct access to NASDAQ and NYSE, there are many opportunities for traders. However, after all the reviews you might reconsider that decision.
RoboForex Bonuses and Promotions
There are a few ways how the broker rewards its traders. But also partners. For traders, there are few choices. You can get:
Welcome bonus
Profit share bonus
Classic bonus
As for the partners, you can sign up for Introduce a broker program where you can get revenue share or a loyalty program. In this case, rewards go up to 70%. However, trading bonuses come with shady clauses. In this case, the broker requires traders to reach a certain volume to be able to withdraw the funds. In this case, for a $300 bonus, you must reach 150 lots. Have in mind that 1 standard lot equals 100.000 units.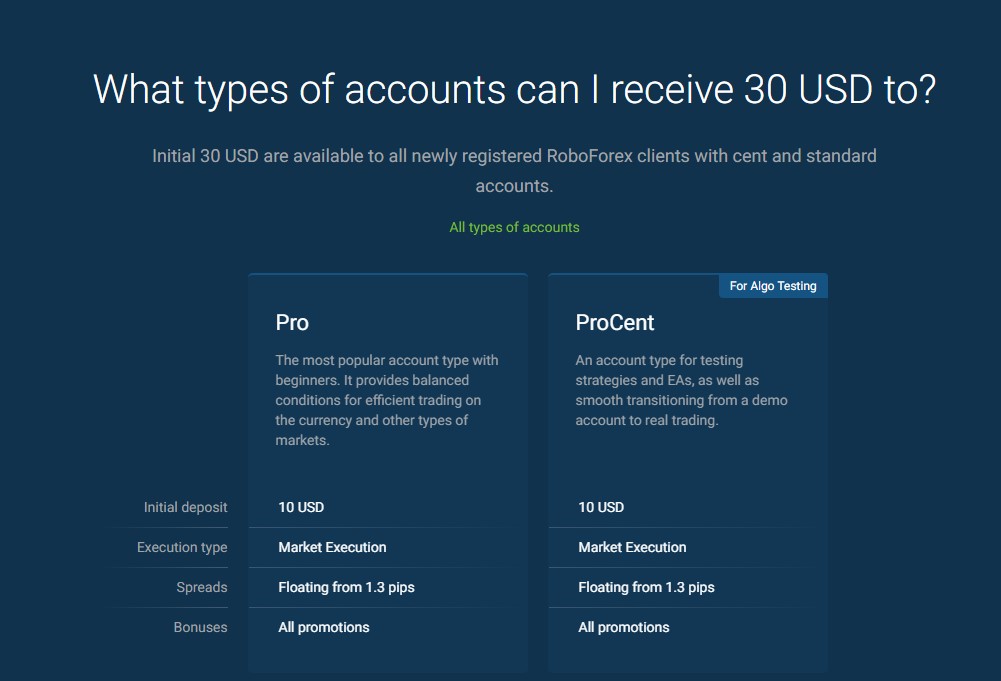 Also, the very important factor is that such bonuses are banned in Europe. Still, this broker is providing their services there. Mainly in countries like:
Germany
Spain
Malaysia
Brazil
Uzbekistan
Mobile trading apps and other trading platforms
Besides the proprietary trading platform, the company also provides RoboForex MT4, MT5 and cTrader. Important to realize is that both platforms are reliable. But also they come with a vast of advanced features.
Most importantly, all the apps this broker provides have dedicated apps for iOS and Android devices. Thus, proprietary software is never reliable as third-party one. Because it can be potentially manipulated.
RoboForex Education
After reading RoboForex reviews you realize that education here is irrelevant. Nevertheless, there are only a few options to develop your trading knowledge.
In the case of RoboForex broker they only teach you how to open an account and start trading. Once you register, you can get access to different webinars and educational materials in the form of a blog.
Deposits and Withdrawal Methods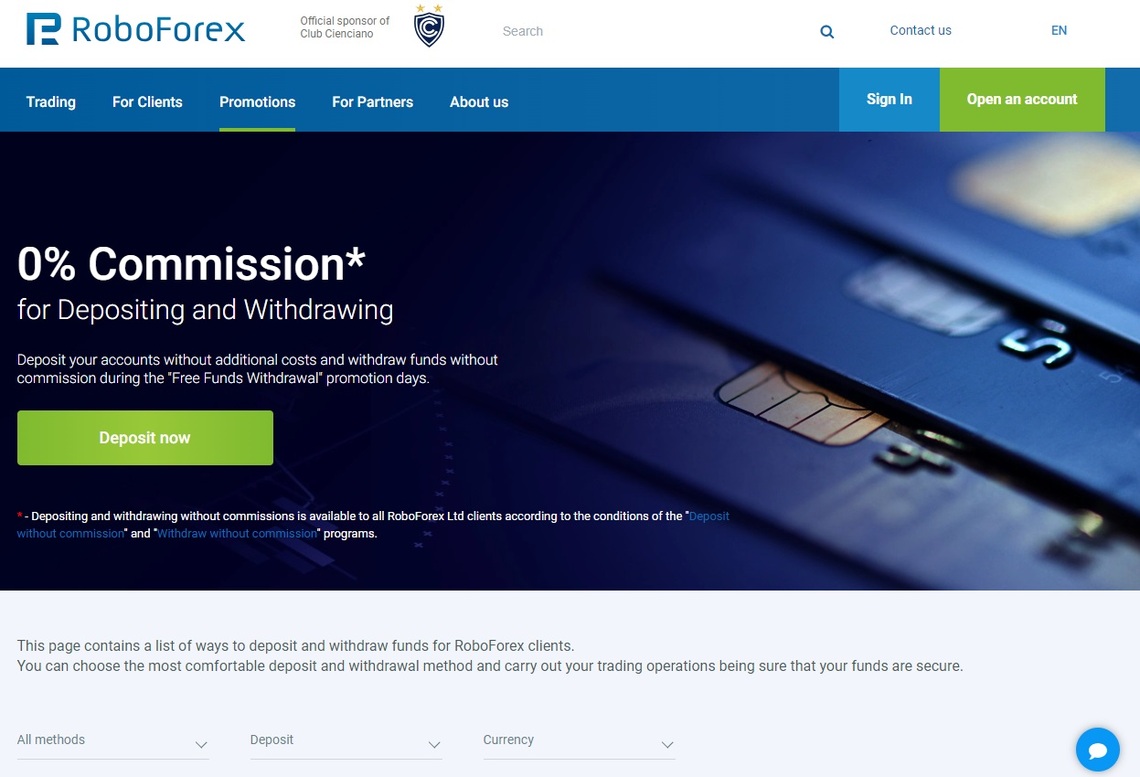 RoboForex's funding options are quite transparent. Starting with processing time and fees. However, some withdrawal methods take more than the other. Yet, according to RoboForex reviews some never happen.
Anyway, you can choose between:
Debit and Credit cards
Wire transfers
Electronic payments (AstroPay, Skrill, Neteller, PerfectMoney, AdvCash)
QR & Vouchers
RoboForex deposit processing time is up to 1 business day. Except for SEPA transfer which takes up to 3 days. Important to realize is that there are no deposit fees except for the PerfectMoney option. On the other hand, withdrawals might have potential issues. Firstly, card withdrawals take up to 10 business days.
Secondly, if you ever traded with Top Tier licensed broker you know that even those transactions can be done in 24 hours. Also, there are withdrawal fees of up to 4%. However, some traders are reporting even higher fees than that. But also frozen accounts upon requesting a withdrawal. So, just be cautious while trading with a broker that has a shady reputation.
Pros and Cons of RoboForex Broker
The only benefit of this broker is the availability of multiple trading software options. But also RoboForex demo account. Other than that, it's just too risky even with their offshore regulation.
The company has high commissions, extremely high leverage and too many negative reviews. Especially for a licensed broker.
Conclusion of RoboForex Broker Review
In general, traders should be aware of the potential issues here. Therefore, it's always recommended to think twice before investing any money. In this case, even with regulation, the broker has some perks.
To avoid any mistakes in the future, you can get a proper piece of advice from our experts. Not all clues are presented by the broker and you have to dig deeper sometimes to find everything you are looking for. Leave the stress to professionals and contact us today! Don't hesitate because it's your money in the game.
FAQ Section
Is RoboForex a trusted broker?
After you read the RoboForex reviews you realize that they are not. Especially because they trade in some countries without authorization.
How long does RoboForex withdrawal take?
In general, the processing time is longer than for deposits. With card transactions, it can take even up to 10 business days. Although, some reviews claim even longer.
What is the minimum Order Size for RoboForex?
The minimum order size with RoboForex broker starts at 0.01. That is practically the smallest lot size you can trade with.