June 05, 2023
Reading Time:
4
min
Our Crypto Guider Review Will Open Your Eyes to the Truth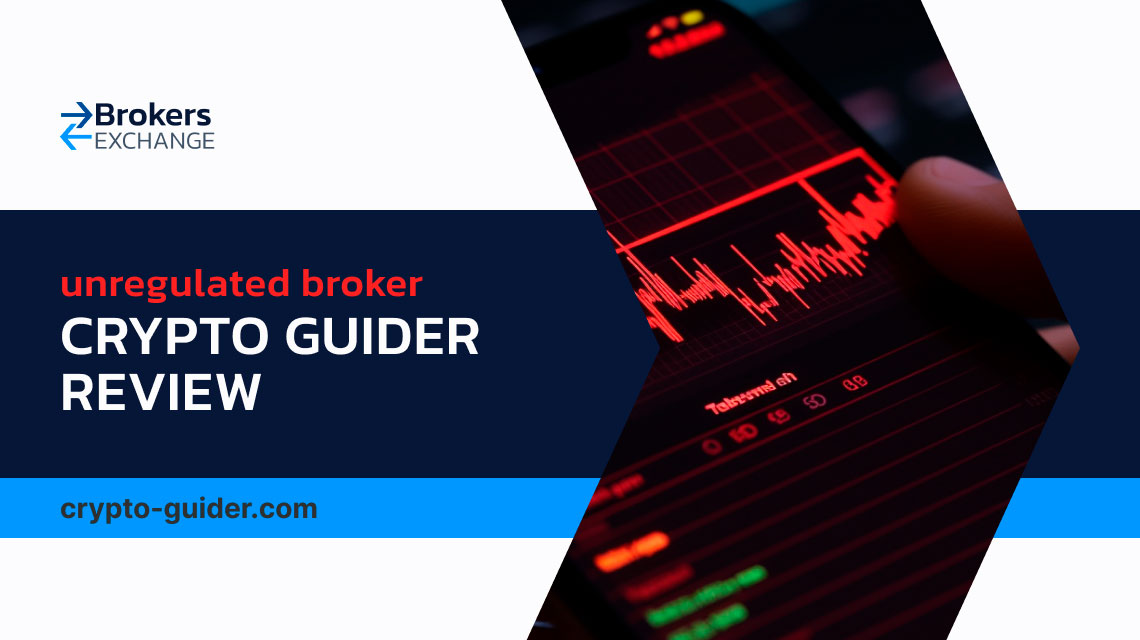 Crypto Guider is a dangerous broker operating without a license. We have also noticed an alarming amount of red flags on their website, so we suggest you avoid this broker. You can find all our thoughts and advice in this Crypto Guider Review. We analyzed this scammer, so you don't have to expose yourself to any risk.
| | |
| --- | --- |
| Company | Crypto Guider |
| Regulation | Unregulated broker |
| Warning | OSC, ASC, FCSC, NSSC |
| Website | crypto-guider.com |
| Address | N/A |
| Email | N/A |
| Phone | N/A |
| Minimum Deposit | $2,500 |
| Leverage | 1:50 |
| Bonuses | N/A |
Compliance and Fund Safety at Crypto Guider
We will say it right from the start – Crypto Guider is a scammer, and you should stay away from them. But for those who will not take our word for it, we'll explain.
Crypto Guider is completely anonymous and operates without a viable license. We could not find any information on their website that would help us get to their true identity either. There is no phone number, address, or any other contact details.
If you cannot get in contact with your broker, that is a problem. You might want your investment back or have some other issues, and without any contact info, you are stranded. These circumstances most often point to a scam, so beware!
And if that is not enough, several regulatory bodies issued public warnings about this scammer. OSC, ASC, FCSC, and NSSC have all recognized the shady nature of Crypto Guider and advised you against doing business with them.
If you want to start forex trading, look to partner with a highly regulated broker. We will give you our broker recommendations a bit later, but you can also do research on your own. Those who operate with ESMA, FCA, CFTC, and FINMA licenses are all great options.
Trading Software Overview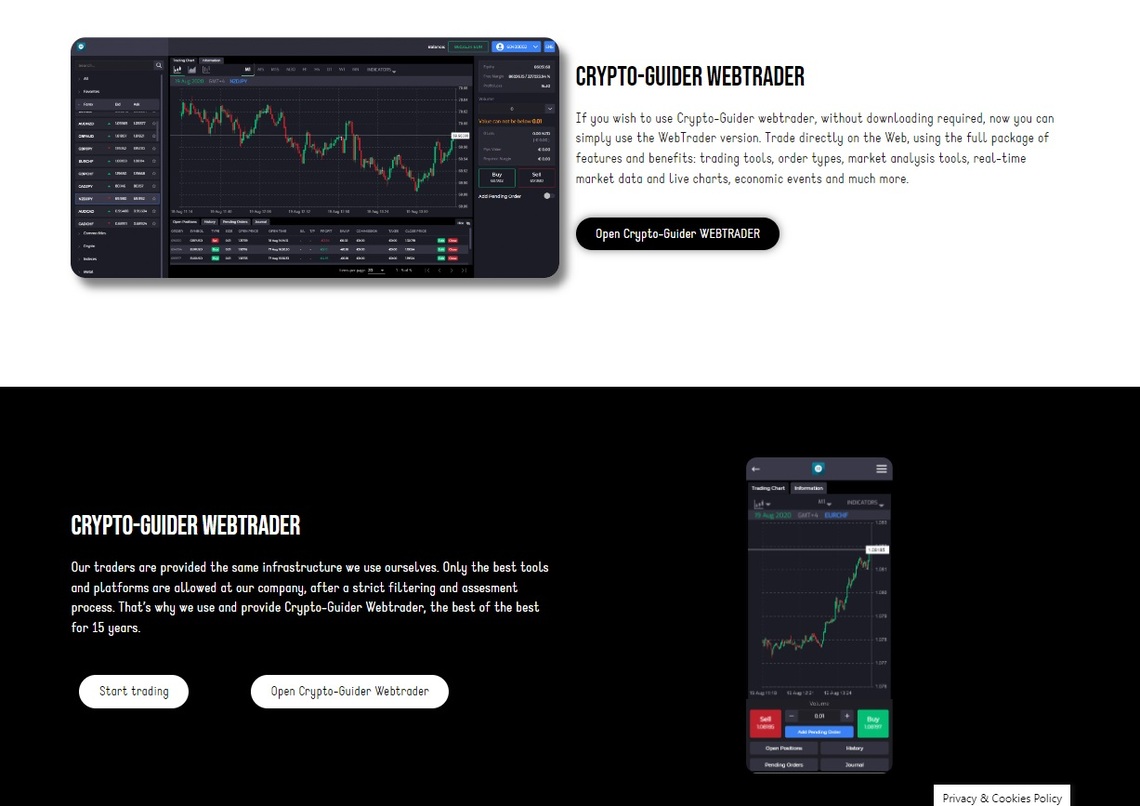 Crypto Guider's trading platform is your run-of-the-mill web trader. They try to promote it on their website by saying you have thousands of available assets, analyzing tools, and quick deposits/withdrawals, but these are the essentials that you should get anyway.
The main problems with web-based traders are the general lack of trustworthiness and a lackluster set of features.
Because a broker owns the platform, they can manipulate what you see on your screen. That way, they can trick you into thinking you are making substantial profits when, in reality, the scammer got away with your money a long time ago.
The other issue is the limited usability clients can expect. Web traders usually have only the basic tools, charts and graphs, which are not enough for proper trading.
Account Types Available at Crypto Guider
Crypto Guider is very generous when it comes to their account offer. Accounts they have include:
Bronze – $2,500

Silver – $10,000

Gold – $25,000

Diamond – $50,000

Private Wealth – $100,000

Legacy Portfolio – invitation only
You can expect nothing special from either account. Although leverages are good (1:50), nothing else justifies the minimum deposit the broker requires. Especially since numerous legitimate brokers allow you to open a micro-account for as little as $10.
Furthermore, this swindler does not offer a demo account, so you cross risk-free trading off the list. There is also no negative balance protection or other valuable features that would make investing even remotely appealing.
Methods of Deposit and Withdrawal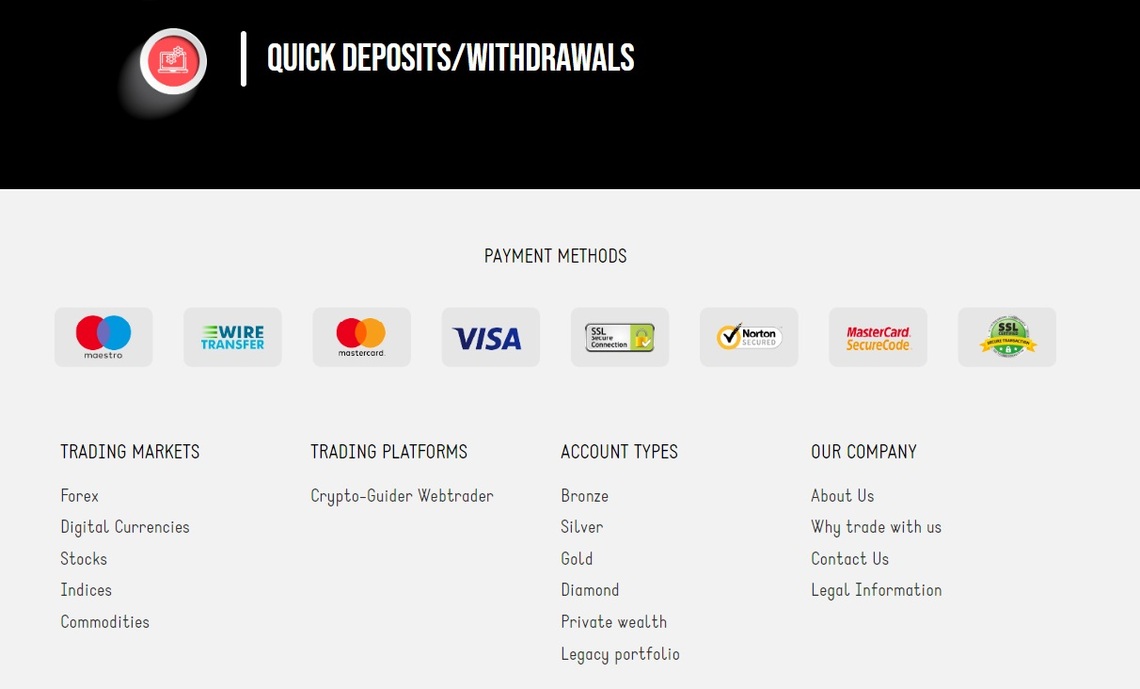 Crypto Guider accepts all traditional payment methods:
Credit/debit cards (Visa, MasterCard, Maestro)

Wire transfers

eWallets
However, you should know this broker charges exorbitant fees for withdrawals. You must pay $50 for wire transfers, $25 for card transfers, and $10 for eWallet transactions. The scammers also have a bonus policy for the first deposit but do not get encouraged by this. Bonuses are usually incentivized by fraudsters with high trading volumes. This means you can withdraw your money only after you make 30 times the deposit amount, which is nearly impossible even for seasoned traders.
How Is the Fraud Carried Out?
Scammers like Crypto Guider, SolidusX, and GMGroup target their victims in numerous ways, none sophisticated. You can notice the warning signs in time and save your money.
Some swindlers act through social media, most often Facebook, Twitter and Instagram. They can use the honey trap scheme to get to you, so if a random person starts flirting with you and asks for money after some time, you can be almost 100% sure that's a scam.
Others use phone calls to persuade you to invest, telling you dreamy scenarios about making a fortune, only to disappear the moment they get your money. Scammers also give you promo codes, like Crypto Guider. Those codes are usually given to special clients, which means you fit the profile the scammers like the most.
Crypto Guider
Summary
In conclusion, Crypto Guider is a fraudulent broker that you should avoid. They cannot guarantee any safety and only want to steal your money. You are better off approaching one of the brokers we recommended earlier or reaching out to us. We can work together, analyze your needs and find you a perfect broker.
FAQs About
Crypto Guider
Broker
Is Crypto Guider a Regulated Broker?
No. Crypto Guider is unregulated and, therefore, risky for business.
Is My Money Safe at Crypto Guider?
No, it is not. Crypto Guider operates without a license and cannot guarantee you any safety.
What Is The Minimum Deposit at Crypto Guider?
The minimum deposit is $2,500, which is too much. Especially when you can open an account with other brokers for $10.