January 21, 2023
Reading Time:
4
min
Dakkengroup Review – Facts About DakkenGroup.Pro Broker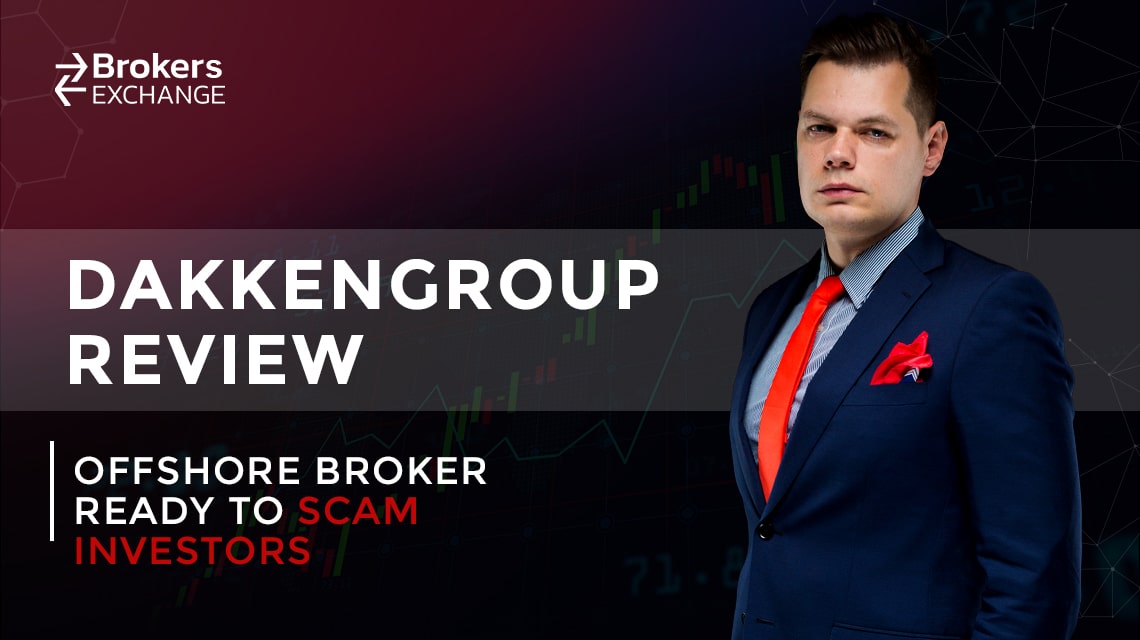 The company owning and operating the Dakkengroup website is Clandestiny Group LLC. Based in the notorious SVG, the broker is immediately suspicious. 
Dakkengroup puts considerable effort into its web presence, we have to admit that. Good trading conditions, promises of attractive bonuses, and fast and reliable software are for naught when there's no regulation. 
However, being blacklisted by one of the EU's leading regulators doesn't work in Dakkengroup's favor. The warning issued by CONSOB can be found here: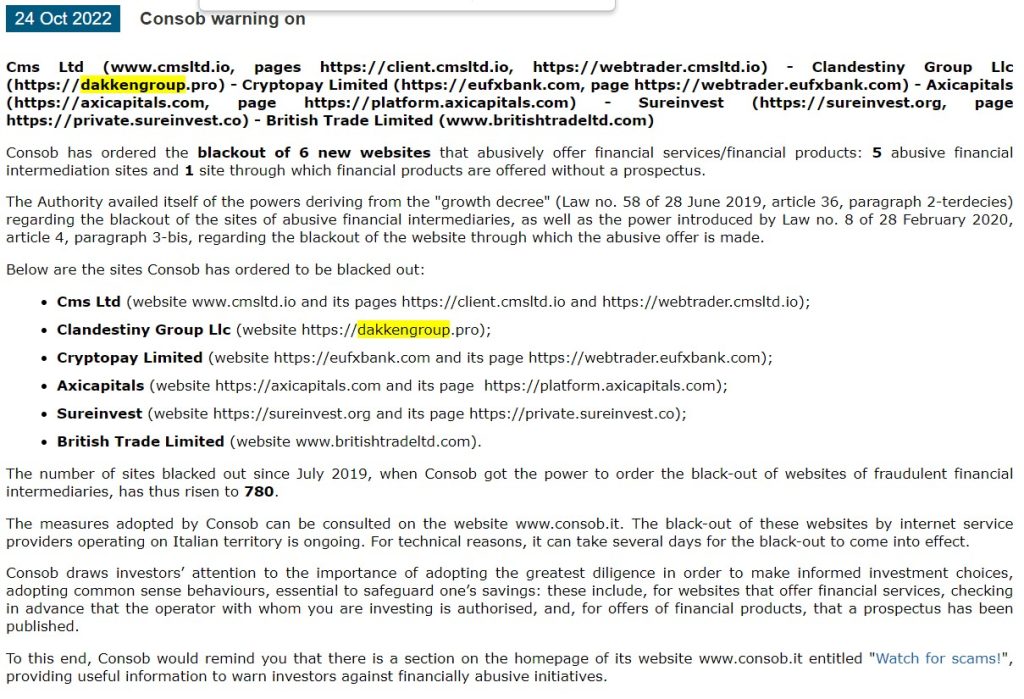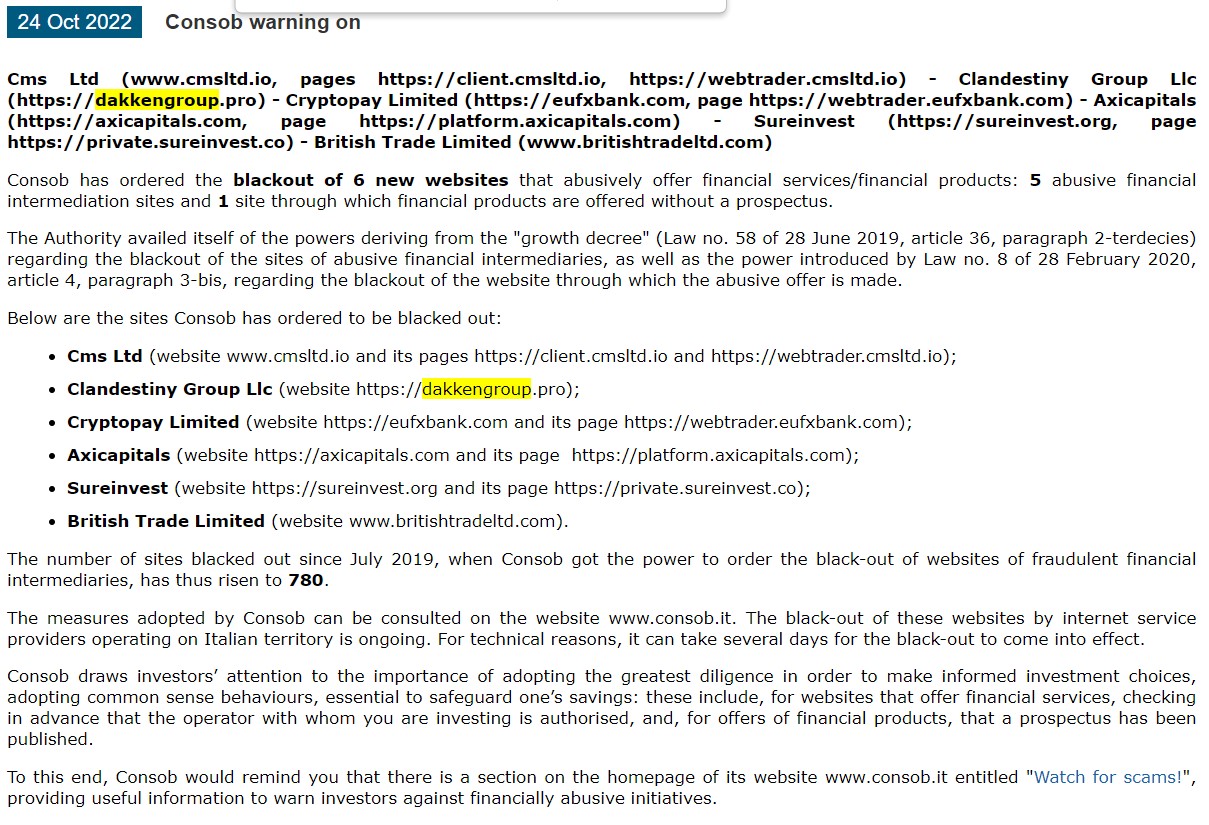 Additionally, you should avoid trading with dishonest brokers such as Electrum, FranceCrytoTrades, and Agap Capital Ltd.
| | |
| --- | --- |
| Company | Clandestiny Group LLC |
| Website | Dakkengroup.Pro |
| Address | First Floor, First St. Vincent Bank Ltd Building, James Street, Kingstown, St Vincent, and the Grenadines. |
| Email | [email protected] |
| Phone | N/A |
| Minimum Deposit | $250 |
| Leverage | Up to 1:400 |
| Bonuses | N/A |
| Regulation | Not regulated |
| Warning | CONSOB |
Compliance and Fund Safety at Dakkengroup
Knowing that the SVG financial authority doesn't regulate the brokerage companies in SVG, we had to check for other sources of possible regulation. For that reason, we decided to check some major registers of licensed brokers that jurisdictional regulators keep. 
It wasn't a shock though when checking with CONSOB all we found was a warning issued against Dakkengroup. 
The warning states that Dakkengroup abusively offers financial services/financial products. The conclusion is that Dakkengroup is not regulated and not authorized to offer online trading services. 
Apart from having to be regulated, brokers offering services to residents in EEA have to comply with MiFID. This particular set of standards is forced with the goal of protecting the consumer and ensuring transparency. Brokerage firms have to do a daily detailed report of all the transactions done. All in order to act against money laundering activities. 
No regulation, no authorization to perform the operations it does, and no compliance with MiFID rules make Dakkengroup absolutely not trustworthy.
Available Trading Software at Dakkengroup
The trading solution available at Dakkengroup is a web-based trading terminal that the broker claims to be MT5. Obviously, that is false. The web trader you get at Dakkengroup is simple, offers limited access to instruments, and does not provide advanced options.
If it was indeed MT5, it would have advanced charting capabilities and technical analysis, built-in indicators, graphical tools, and lightning speed of execution. 
The download links for MT5 do not work and again take you to the log-in/sign-up page. Demo trading isn't supported since you are asked to deposit right away.  
Methods of Deposit and Withdrawal
Payment methods accepted at Dakkengroup are credit/debit cards and Skrill. Cryptocurrency payment methods and a dozen of them are listed on the site (BTC, ETH, BCH, XRP, IoT, etc). 
When a broker enforces one particular way of payment accepted, in this case, crypto, it is a huge warning sign. Considering that crypto depositing is how scammers keep the anonymity and make withdrawals next to impossible, you should avoid funding your account this way.
The lowest initial deposit allowed is $250 for the Ripple account.
The minimum deposit/withdrawal amount is £65/€90/$100. It takes between 3 and 5 business days for the withdrawals to be processed. The dreadful part is the fee being charged for withdrawing plus the processing fee, another fee for E-wallets, and an additional inactivity fee of 10%.
Dakkengroup Offers Bonuses and Promotions
Dakkengroup does offer bonuses but it does not clarify which ones, so they are probably revealed during the funding process. The tricky part is related to how those bonuses are unreachable. 
Bonuses are not treated like deposited funds, so there are particular conditions to be met before the bonus is eligible for withdrawal. That is the infamous trading volume requirement which in this case is ridiculous 25 times the deposit with the bonus added. 
This strategy is nothing unexpected from a fraud only looking to rob clients and make it impossible for them to earn. 
How Does the Fraud Carry Out
Eloquent scammers that do the talking and advertising of their fairytale trading conditions are very persistent and shameless in their mission to get you to invest. Once you make the initial deposit, which is usually quite a sum, the trap closes and the nightmarish circle begins. 
You will be asked to deposit more and all over again under a new pretext every time. The illusionary platform will make it seem like you are indeed earning. Sadly, once you try to make withdraw, you quickly realize everything was fake.
This is the regular pattern of many unscrupulous brokers, so do not be easily fooled into believing promises of easy profit.
Dakkengroup Summary
Dakkengroup is a proven scammer and blacklisted by one of the EU regulators. The sole fact that there has been a warning issued against a broker, should be your reason enough not to trust them.
Instead of putting your funds and privacy in danger, simply choose to invest with one of the regulated brokers. We can assist you with that.
Prevention is the best cure. Please take warnings by regulators and cyber experts seriously. Choose to stay away from a firm like Dakkengroup rather than engage in the expensive and tiresome chase after the scammer that has robbed you.
FAQs About Dakkengroup Broker
Is Dakkengroup a Regulated Broker?

Dakkengroup owns no license given by any major regulators, has no proof of being regulated, and is blacklisted.
Is My Money Safe at Dakkengroup?

Unlicensed brokers like Dakkengroup cannot provide the safety of funds, so you should not entrust your investment with this phony. 
What Is The Minimum Deposit at Dakkengroup?

The minimum deposit required by Dakkengroup is $250.