December 23, 2022
Reading Time:
4
min
FranceCrytoTrades Review: Who Is FranceCrytoTrading.Net?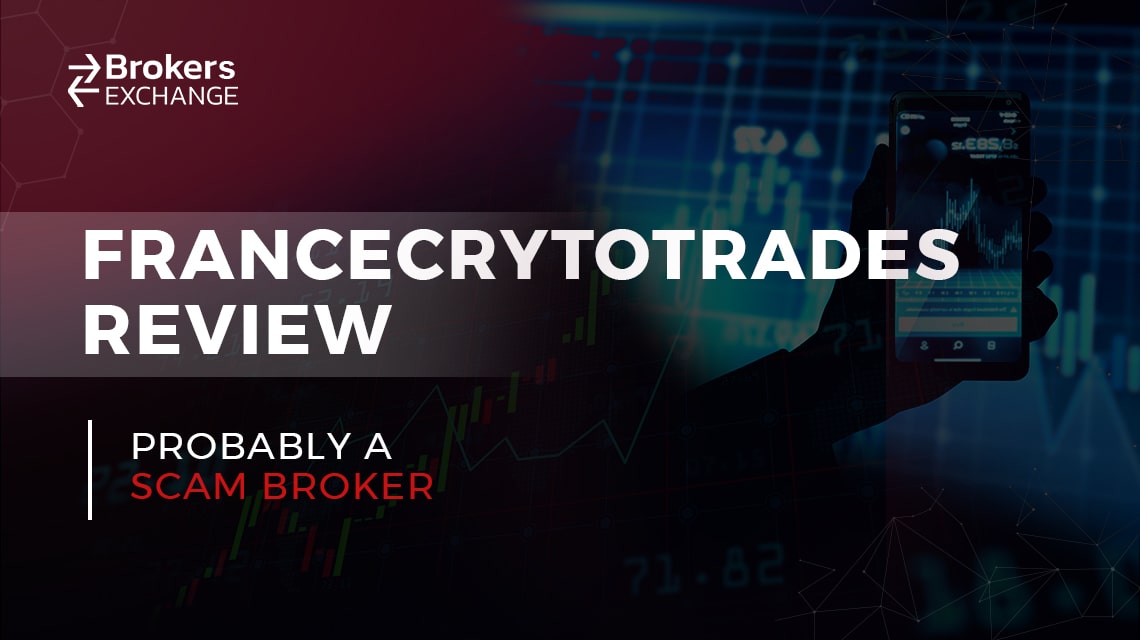 FranceCrytoTrading.Net states only that it is part of the FranceCryto Group, and that it is licensed through its own company. 
Lots of pertinent information is not available. And the scam broker is obviously lying about its whereabouts as it claims to be registered in Georgia but to operate from the EU, which is a clear indication that this is an investment scam. 
It is not uncommon for many fraudulent brokers to falsely leave information about which country they operate from. It is amazing what such brokers are ready to do in order to deceive their clients. 
For example, the FranceCrytoTrades scam tries to attract its clients with leverage of 1:500 and a spread of 1.6. These are all cheap tricks that scam brokers use to manipulate their victims. For more details, read our FranceCrytoTrades review till the end.
On the contrary, you should avoid dealing with questionable brokers like Dvanxbit, Phoenix Invest Group, and Tg Capital.
| | |
| --- | --- |
| Company | FranceCrytoTrades |
| Website | FranceCrytoTrading.Net |
| Address | 2627 Court Ground Rd Washington, Georgia |
| Email | N/A |
| Phone | N/A |
| Minimum Deposit | 100$ |
| Leverage | 1:500 |
| Bonuses | Yes |
| Regulation | Unregulated |
Regulation of FranceCrytoTrades and Safety of Funds
On the site francecritotrading.net, we find information that this site is owned by France Crypto Group. France Crypto Group consists of France Crypto US Ltd, a financial services company authorized and regulated by the Cyprus Securities Commission (CySEC). 
When we checked France Crypto Group, we were unable to reach them, therefore we could not confirm where the headquarters of the company is. 
Since we were unable to find any information about the France Crypto Group we cannot really be sure who is behind the company either. It is probably a scam, given that there is no other information on the site itself. 
Neither the registration number of the license nor a link to the owner's company is given. Due to this lack of transparency, we cannot believe that FranceCrytoTrades is a registered broker.
FranceCrytoTrades Trading Platform Overview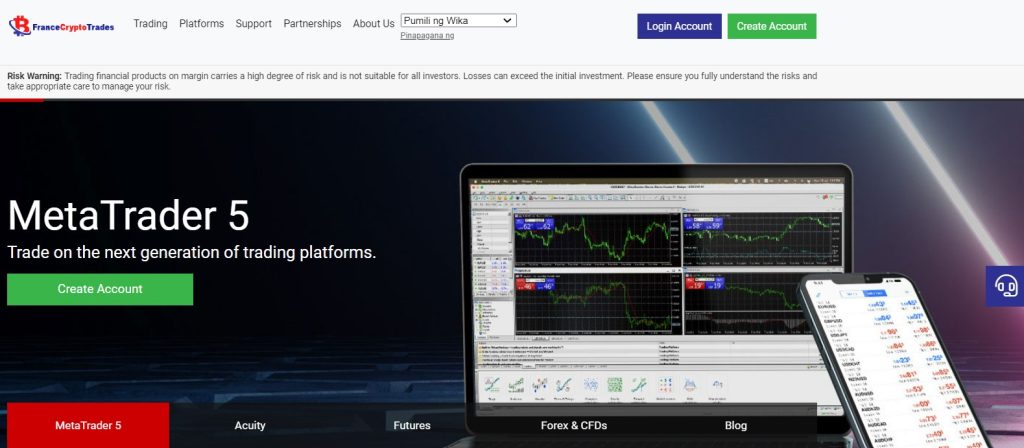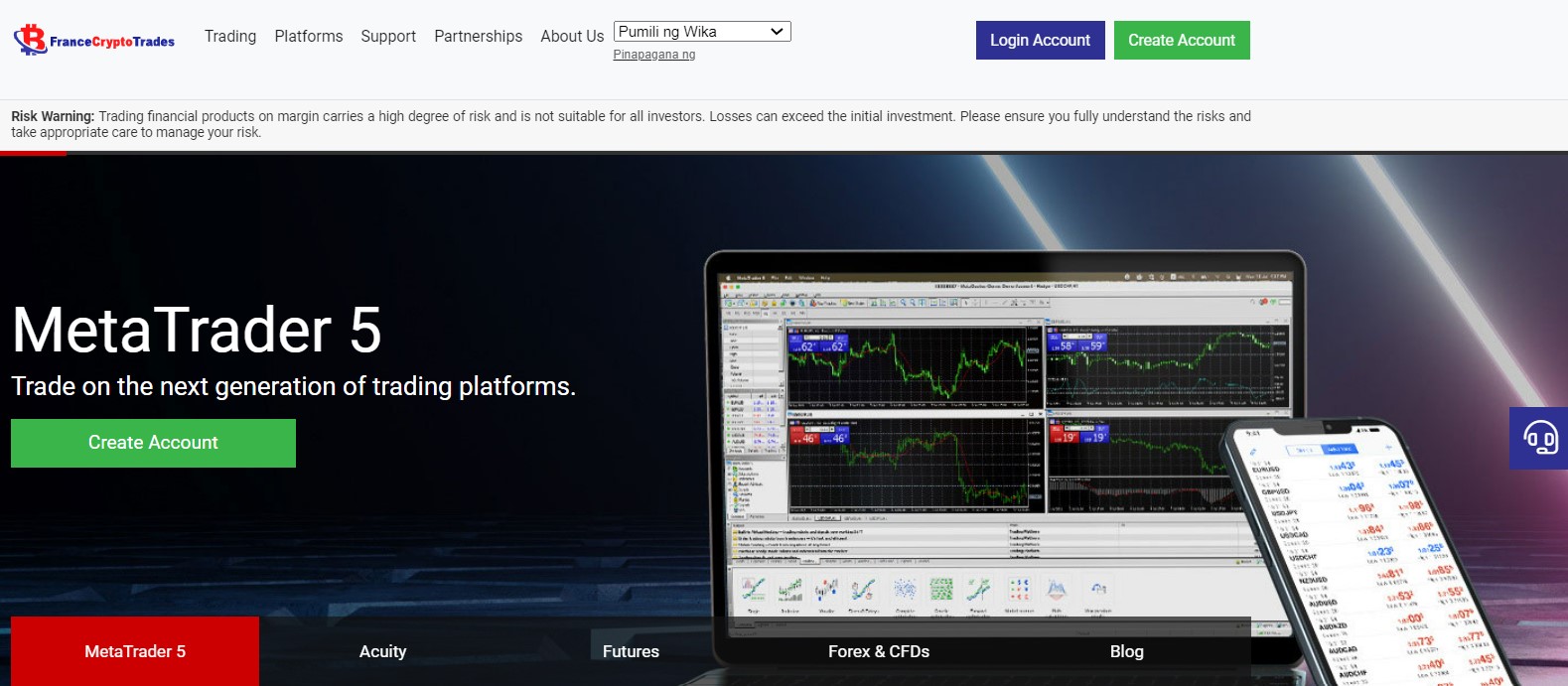 When it comes to the trading platform, FranceCrytoTrades offers its clients MetaTrader4 and MetaTrader5, as well as WebTrader. 
Although both MT4 and MT5 are excellent trading software with additional tools that make it easier to use and speed up the planning and trading process, they seem to be offered only to lure in clients. 
Since it is a scam, no matter what kind of trading software a broker offers you, that trading platform will only be a place where you will lose money. 
So we can bypass this part of FranceCrytoTrade's offer because it has no purpose other than to trick people into thinking that this is a legitimate broker.
FranceCrytoTrades Deposit and Withdrawal 
It is important to check out the trading conditions before investing money with your chosen broker. The red flags at FranceCrytoTrades are the high leverage of 1:500, which is never recommended for clients. 
Such high leverage is more for the purpose of marketing, giving an attractive look to the broker. As for spreads, they start at 1.6 pips, which is a lot, as average licensed firms do not offer more than 1 pips for currency pairs like EUR-USD.
Payments can only be made in cryptocurrencies. This can be a risk, as cryptocurrency trading is not that well-regulated in many countries. There is a high probability that you will not get your money back if you choose this as the depositing method. 
The minimum deposit with FranceCrytoTrades is $100, which is a large amount compared to what most legitimate brokers require. 
This is typical of scam brokers. They ask for high deposits because this protects them from further dealing with clients, one payment from the client is more than enough for them. 
The only information the site provides about refunds is as follows. Withdrawal of funds is done through the same process as an investment. Refund requests take one day to process. The money can be expected in the account within 3 to 7 working days.
How Is the Scam Conducted?
The scam is carried out by first attracting customers with high leverage, big spreads, and enticing bonuses. Often, like FranceCrytoTrades, they include good trading platforms in their alleged offer. 
Welcome bonuses are often offered to new clients. All of this is a marketing trick to attract new users, and the price they have to pay is $100. Since FranceCrytoTrades requires payments to go through an e-wallet, these transactions cannot be traced and refunds are not possible. 
After the clients make the first payments, the fraudulent companies have succeeded in the fraud, because they will not return the money to the clients. Such companies will not respond to the user's requests to withdraw funds, and sometimes they just delete the client's account. 
After some time they simply disappear from the broker scene, usually when they commit enough scams and get a lot of negative reviews. After that, they often appear under a different name.
FranceCrytoTrades Summary
Even if FranceCrytoTrades is a regulated broker, which we could not verify because there is no license registration code on the site, we would not recommend it. Companies that offer only one form of payment and withdrawal of funds can be incredibly risky because these transactions are difficult to track. 
The only good thing that FranceCrytoTrades has in its offer is the trading platform, everything else is what you would expect from a scam broker. 
The minimum deposit is huge, there are many other verified and regulated brokers where you can start trading with a deposit as low as $10, which is much more suitable for beginners. 
If you read our FranceCrytoTrades review in its entirety, you can understand why we do not recommend FranceCrytoTrades Broker to anyone.
FAQs About FranceCrytoTrades Broker
Are My Funds Protected at FranceCrytoTrades?

Your money is not safe with FranceCrytoTrades.
Is FranceCrytoTrades a Legitimate Broker?

FranceCrytoTrades is not a legitimate broker.
Does FranceCrytoTrades Offer a Demo Account?

On the FranceCrytoTrades website, it says that it offers a Demo Account, although we did not find it in the account opening options.