July 07, 2023
Reading Time:
5
min
Discover the Truth Behind this Broker in Our Globlevel Review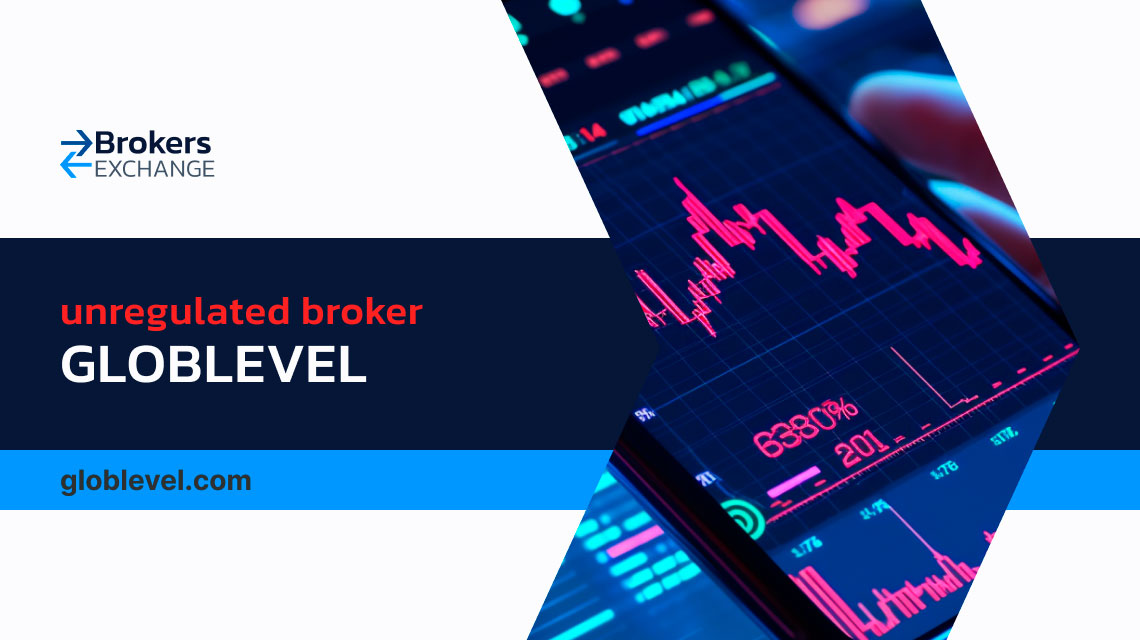 Globlevel wants you to think they are trustworthy by showing how long they have been in business, but you should not fall for that. We have found numerous red flags in our research, and you can read all about them in our Globlevel Review.
We will uncover the fraudulent regulation, account types, and shady practices this broker uses to scam money from their victims. Without further ado, let's begin.
Who is Globlevel?
Globlevel is a broker allegedly based in Switzerland. They are registered in five countries under different legal names, all variations of Globlevel Limited.
One of their addresses particularly caught our eye, and we immediately became suspicious. The location in question is St. Vincent and the Grenadines (SVG), and we did not like this because SVG is known as a scammer haven.
Broker name
Reliable Broker Must Have
Legal name:

GlobLevel Ltd.

Transparently displayed in the disclaimer or legal documents

Regulation:

Unregulated

Within your legal jurisdiction – local regulator

Registered in:

Switzerland (allegedly)

Your country or the country whose license applies in your legal jurisdiction 

Established:

1977

The older the domain – the higher the possibility the company is trustworthy

Website:

globlevel.com

Domain should be from local or international zones, no .xyz, etc.

Financial Authorities Warnings:

None

None

Contacts:

Phone number: +442081570864

Email: [email protected]

Phone, email, social media, web form

If the withdrawal is possible:

Highly unlikely

Yes

Fees:

Hidden fees

Transparent fees – list of spread and commissions

IfActive on Social Media:

No

Often present on social media

Investor Protection:

Yes (allegedly)

Compensation fund
Regulation Info
As mentioned, Globlevel is registered in five different countries, and it provides us with license numbers for each. However, this is just a ploy to trick unsuspecting clients.
The broker claims to have licenses from ESMA, SVG, DFSA, CySEC, and CIMA, so we decided to put all those claims to the test.
Firstly, SVG does not regulate the forex market. So every time you see a broker regulated by them, you know you are dealing with a scammer. 
As for the others, some of them are Tier 1 regulators, but there are no traces of Globlevel in any of their registers. Since this broker is not regulated by the Swedish Finansinspektionen, Canadian CSA, Irish CBI, or any other authority for that matter, we highly recommend you avoid them.
Several other brokers to also scratch off your list include XTBInvesting, 365TradingFX, and you can read our Bitky Review to see why we do not recommend it.
Globlevel Profile
There is very little information about anything on Globlevel.com. We did manage to find what accounts this scammer offers, and those include:
Silver – $250

Gold – $2500

Platinum – $5000

VIP – contact the broker for information
We could not find anything on the maximum leverage or other valuable information for traders. Globlevel allegedly offers a demo account, but this makes no difference to you, as you should not do business with the broker in the first place.
Globlevel offers five types of trading instruments:
Forex

Stocks

Indices

Commodities

Cryptocurrencies
However, you cannot find anything about their trading platform,  which shows how much they care about their clients.
Trading platforms:

N/A

Account types:

Silver – $250

Gold – $2500

Platinum – $5000

VIP – contact the broker for information

Financial Instruments On Offer:

Forex (USD/GBP, EUR/GBP, USD/JPY)

Stocks (Apple, Tesla, Coca-Cola, etc.)

Indices (Nasdaq-100, S&p 500, etc.)

Commodities (gold, silver, aluminum)

Cryptocurrencies (Bitcoin, USDT, Ethereum, etc.)

Maximum leverage:

N/A

Minimum Deposit:

$250

Commissions/bonuses:

N/A

Mobile app:

N/A

Desktop app:

N/A

Autotrading:

N/A

Demo account:

Yes

Education or Extra tools:

Yes
Is This Broker Safe?
No, Globlevel is not safe! They operate without regulatory oversight, which puts anyone who trades with them at extreme risk. They cannot guarantee you fund safety, and they will probably steal your money and run away.
You should contact us if you want to find a good and reliable broker. We will work together to analyze your needs and recommend you a partner you can trust. And best of all, our consultations are completely free of charge!
Trader Reviews – Sharing Experiences
As always, we cannot write any review without showing you the experiences of people who had contact with this broker.
However, there are very few reviews we managed to find. There are no Globlevel reviews on Trustpilot, which is concerning, to say the least. Scamadvisor scores this broker with only 7 out of 100.
There was a comment on TrustedReviews by a person from Thailand saying: "I noticed that globlevel.com WHOIS information is hidden. Maybe there is a problem with this system. How can I trust him? I would appreciate it if friends who have used it before, please indicate it here. I wish you good work."
How Does the Globlevel Platform Reach Clients, and Who Are They?
One of the most alarming things about Globlevel is its Tools section. When you go there, you will find links to download three apps:
TeamViewer

AnyDesk

Aeroadmin
Scammers use these apps to access your computer remotely, and legitimate brokers will never advise you to install these. Globlevel Scam starts with these apps and goes on to steal your personal information and empty your bank account to the last cent.
Deposits and Withdrawal Methods
Globlevel did not even care enough to list accepted deposit and withdrawal methods on their website. This is an immediate sign of a scam!
No legitimate broker will leave out this information, as it is essential for any trader. Having said this, you should avoid Globlevel and save your money for other, more reliable investments.
Reasons To Avoid This Company
There are so many reasons to avoid Globlevel that we do not even know where to begin. Most notably, the lack of a license is THE reason to skip this broker.
Unlicensed brokers cannot guarantee your money will be safe with them, and investing in those situations is not a sound decision. You are better off researching reliable brokers and trying your luck with them.
Our Safe Trading Experts' Opinion of Globlevel
If we could choose one thing we want you to take from our Globlevel Review it would be that they are dangerous for business. They do not have a license and use harmful software to access your bank information.
But while there are innumerable scammers like Globlevel, you can find reliable ones too. And we can help you with that! Book a Free Consultation today, and let's find you the perfect broker together!
FAQ Section
Is Globlevel Regulated?
No, Globlevel is not regulated. They operate without any regulatory supervision, making them extremely dangerous.
How do I start forex trading?
Depending on your expertise level, you should first broaden your forex knowledge. Read everything on the subject, watch videos, and study the markets. Next, you want to find a reliable broker, and we can assist you. We will consult with you free of charge and make sure you make the right choice.
How can you help me choose the best forex or crypto broker?
The best thing we do for you is personalize the offer. We analyze your needs and skills and then make our suggestions based on that.