July 22, 2023
Reading Time:
5
min
Discover This Legitimate Broker in Our Sheer Markets Review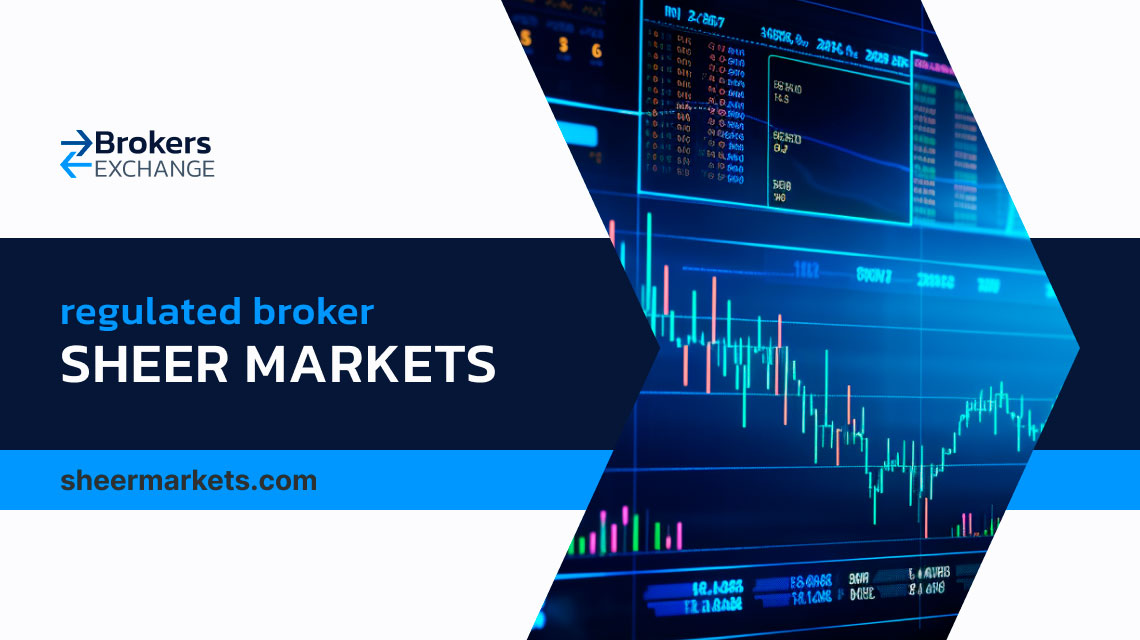 Forex trading has been rising in popularity since it became a thing, and plenty of troublesome brokers came with it. There are so many of them now that we do not blame you if you lost faith in trading.
But we are here to restore your hope if you lost it with this Sheer Markets review. This broker is 100% legitimate, and we will tell you all about it in this article. Stick around to learn about their offer, trading conditions, and much more. Let's start!
Broker name
Reliable Broker Must Have
Legal name:

Sheer Markets (Cyprus) Ltd

Transparently displayed in the disclaimer or legal documents

Regulation:

Regulated (CySEC)

Within your legal jurisdiction – local regulator

Registered in:

Cyprus

Your country or the country whose license applies in your legal jurisdiction 

Established:

2019

The older the domain – the higher the possibility the company is trustworthy

Website:

sheermarkets.com

Domain should be from local or international zones, no .xyz, etc.

Financial Authorities Warnings:

No

None

Contacts:

Email:

[email protected]

Phone: +357 25057630

Online form

Phone, email, social media, web form

Is withdrawal possible:

Yes

Yes

Fees:

Vary depending on the instrument traded

Transparent fees – list of spread and commissions

If Active on Social Media:

No

Often present on social media

Investor Protection:

Yes

Compensation fund
Is Sheer Markets Regulated?
We are happy to inform you Sheer Markets holds a legitimate license, and what is even better is the regulator that issued it.
The broker prominently disclosed their regulation situation on their website, saying it is regulated by the CySEC. However, we never take a broker for its word, so we looked for ourselves and it checked out. Sheer Markets is neatly penciled in the CySEC register, meaning they are good for business.
Seeing a broker with a CySEC license is always encouraging. This regulator is responsible for perhaps the biggest market in Europe, and it runs a tight ship. CySEC brokers provide their traders with investment protection for up to 20,000 euros. This means that should the company declare bankruptcy, the traders investing with the broker will not go down with it.
Additionally, traders enjoy negative balance protection and can count on their fund safety in general. CySEC demands daily reports from its regulated entities, which leaves no room for shady business on the side of brokers, creating a risk-free environment for traders.
Sheer Markets Profile
Apart from being licensed, SheerMarkets offers enticing trading conditions as well. The first benefit of partnering with this broker is access to MetaTrader 5. On it, traders have premium tools at their disposal that are valuable to novices and veterans alike. And on top of that, you can use it online or download it on your PC or phone.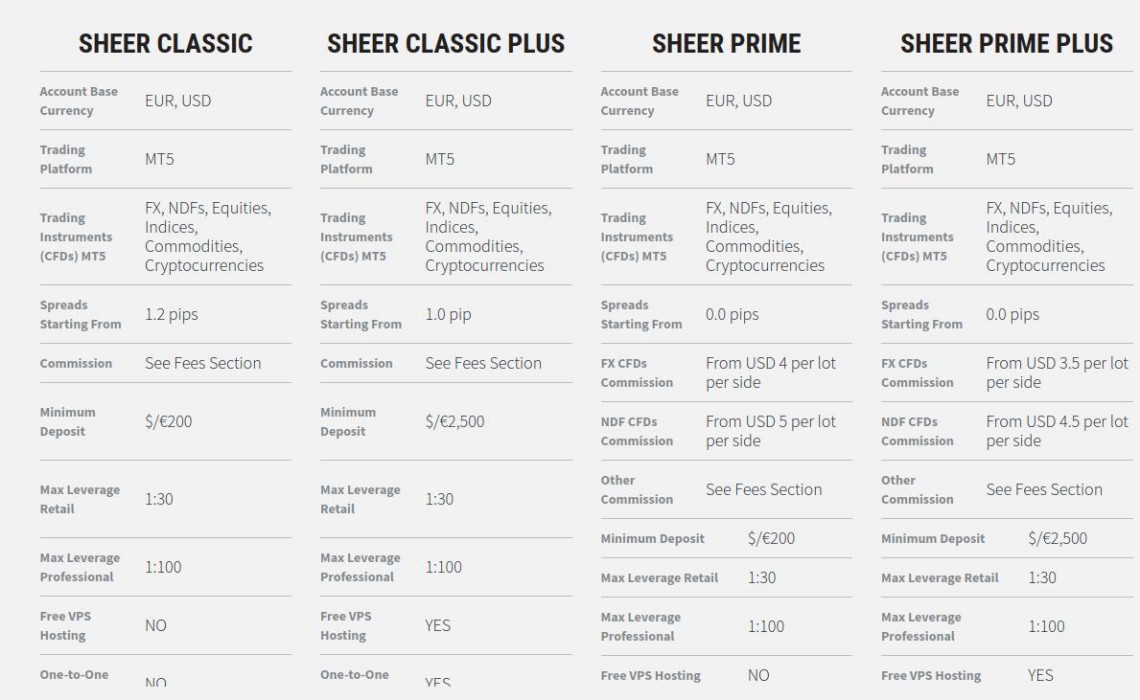 You can open four types of accounts at SheerMarkets:
Sheer Classic – $200

Sheer Classic Plus – $2,500

Sheer Prime – $200

Sheer Prime Plus – $2,500
The Sheer Markets minimum deposit is $200, which is not ideal, especially when you can open an account with many other legitimate brokers for much less.
With maximum (retail) leverage at 1:30, the broker fully respects the European rules in that field. However, if you are a professional trader, you can ask for a 1:100 leverage.
Trading platforms:

MetaTrader 5

Account types:

Sheer Classic – $200

Sheer Classic Plus – $2,500

Sheer Prime – $200

Sheer Prime Plus – $2,500

Financial Instruments On Offer:

Equities

Indices

Commodities

Forex

Crypto

Maximum leverage:

1:30 (Retail)

1:100 (Professional clients)

Minimum Deposit:

$200

Commissions/bonuses:

No

Mobile app:

Yes

Desktop app:

Yes

Autotrading:

Yes

Demo account:

Yes

Education or Extra tools:

Yes
Is This Broker Safe?
Yes, SheerMarkets is pretty safe! They have a license from CySEC, which is a Tier-1 regulator revered in the crypto world.
With this license, the broker can guarantee trading safety, and you can sleep well at night knowing your money is in secure hands. Other brokers we recommend include Cobra Trading and TradeZero, and if those are not good options for you, contact us so we can find a broker that fits your needs.
Trader Reviews – Sharing Experiences
If you read any of our reviews, you know trader reviews hold a special place in our hearts. They give us a realistic look at a broker, how they treat their clients, whether there are any trading problems, etc.
You can then imagine our surprise when we could not find any reviews online. There are many professional reviews like ours but no user reviews, which is odd. Credible brokers usually have lots of reviews, but we can perhaps attribute the lack thereof to them being new to the market.
Either way, they are registered on TrustPilot, and other professional articles are brimming with positivity, offering relief to potential investors.
How Does the Sheer Markets Platform Reach Clients and Who Are They?
Since we do not have any user experience, we cannot tell you where Sheer Markets' clients come from with certainty. Being a Cyprus-based company would suggest they operate in the European market, but we are not sure.
They are not present on social media, which is also somewhat strange, so we do not think they contact potential clients through those channels.
Deposits and Withdrawal Methods
SheerMarkets is very limited in terms of payment methods it accepts. The only way to deposit and withdraw money is by wire transfer, and you can only deposit Euros and Dollars. The broker claims processing takes 2-5 business days, and you pay no deposit fees.
Sheer Markets Fees
Speaking of fees, SheerMarkets has an elaborate plan for that. For Sheer Prime and Prime Plus accounts, the fees are as follows:
FX CFDs ($4 and $3.5 per lot per side)

NDF CFDs ($5 and $4.5 per lot per side)
Equities, Indices, and Commodities come with "plus 2.5% on buy (long positions) and minus 2.5% on sell (short positions)" fees.
SheerMarkets also charges a rollover fee for FX and EMFX trades and you are charged €10 per month if you are inactive for six months.
Reasons To Enjoy This Company
There are several reasons Sheer Markets is a good company. The main one is their CySEC license which ensures you will be trading safely. They also provide you with the best platform in the business in MT5.
Furthermore, you can open a demo account, and if you are new to trading, you get very beginner-friendly leverage. On the other hand, if you are more experienced, you can request higher leverage for higher potential gains.
But there are also some reasons Sheer Markets might not be for you. If you are on a budget, the $200 minimum deposit may be too much for your wallet. Moreover, their account and instrument offer is not that versatile, and if wire transfers are not your preferred payment method, you might want to find a different broker.
Our Safe Trading Experts' Opinion of Sheer Markets
We are ending our Sheer Markets review on a positive note, as we are always happy to review a legitimate broker. However, it is okay if Sheer Markets is not for you. We all have our preferences, and the best thing is that there is a broker out there for anyone. Contact us today for a free consultation, and let's find the right broker for you!
FAQ Section
Is Sheer Markets Legit?
Yes, Sheer Markets is a legitimate broker. They have a CySEC license, which means you can trust them with your money.
How do I start forex trading?
The first step is to familiarize yourself with forex. Read on the subject, watch educational videos, and study the markets. Next, you want to find a reliable broker, and we can assist you there. We will consult with you and make sure you make the right choice, all free of charge.
How can you help me choose the best forex or crypto broker?
The best thing we do for you is personalize the offer. We analyze your needs and skills and then make our suggestions based on that.