August 11, 2023
Reading Time:
5
min
Elcomercio IX Review – Good Rep Doesn't Make Up For The Lack Of License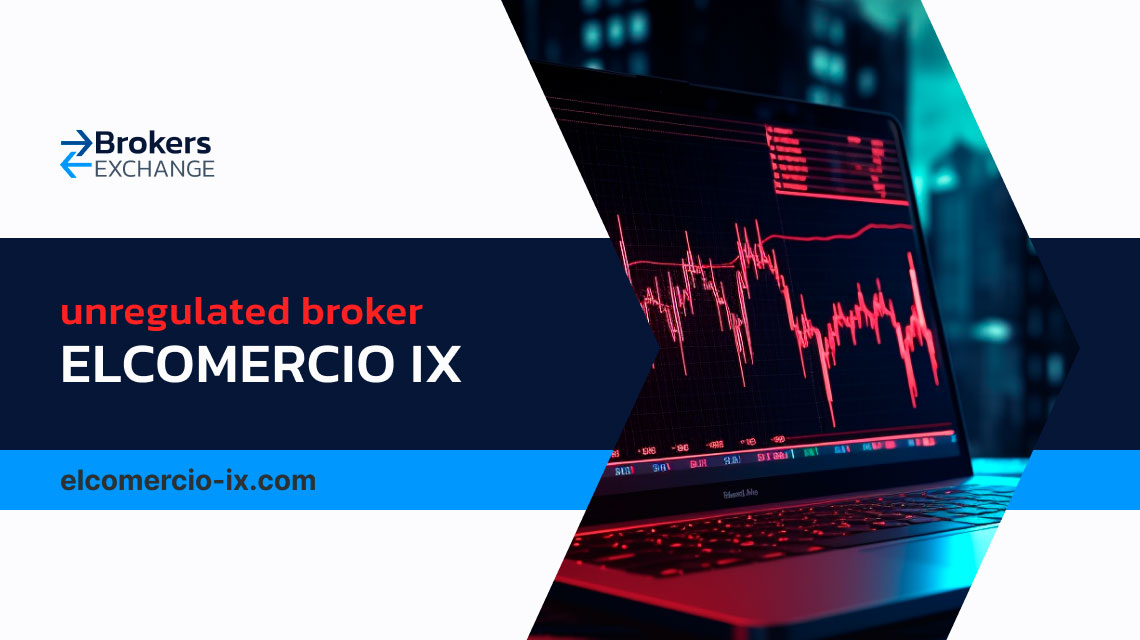 Elcomercio IX is completely anonymous. Not only is the website omitting all of the important information trading-wise, but the company behind it is just as shady. Offering financial services without first introducing your leadership and firm properly is not a good way to start convincing a client to invest. 
After all, who in their right mind, would want to handle funds to an incognito site? Read our Elcomercio IX review for a detailed insight into this fraudulent scheme.
Who is Behind Elcomercio IX?
For a start, we had to refer to the legal documents since the website doesn't publish any of the company's vital information. Unfortunately, the scarce information present in these texts wasn't enough to establish who runs this company, where the broker operates from and what legislation they are subject to. 
In short, this allegedly leading brokerage is nothing but a bunch of incognitos running a scam-prone project. In that sense it resembles another unregulated scheme – Main Bit.
| | | |
| --- | --- | --- |
| | Broker name | Reliable Broker Must Have |
| Legal name: | Elcomercio IX | Transparently displayed in the disclaimer or legal documents |
| Regulation: | Unregulated Broker | Within your legal jurisdiction – local regulator |
| Registered in: | UK (alleged) | Your country or the country whose license applies in your legal jurisdiction  |
| Established: | 2023-02-25 | The older the domain – the higher the possibility the company is trustworthy |
| Website: | https://elcomercio-ix.com/ | Domain should be from local or international zones, no .xyz etc. |
| Financial Authorities Warnings: | N/A | None |
| Contacts: | Online Form, Email | Phone, email, social media, web form |
| If withdrawal is possible: | Highly unlikely | Yes |
| Fees: | Fees are hidden | Transparent fees – list of spread and commissions |
| If Active on Social Media: | Not present on social media | Often present on social media |
| Investor Protection: | None | Compensation fund |
Regulatory Issues
Further investigation leads us to no clues except a claim about the firm operating out of the UK. We immediately checked the register of the main financial watchdog in the country – FCA, and had no results returned. 
Since the other website language option is Spanish, we also checked the database of the Spanish financial authority – CNMV, but they're also unfamiliar with this broker. 
From what we dug up so far, it was obvious that Elcomercio IX doesn't own a license and doesn't implement security measures, segregation of funds, compensation plans and risk-reducing strategies. Finally, the company doesn't appear in any other registers we looked through, including CySEC, NFA, CONSOB and ASIC. 
Elcomercio IX General Offer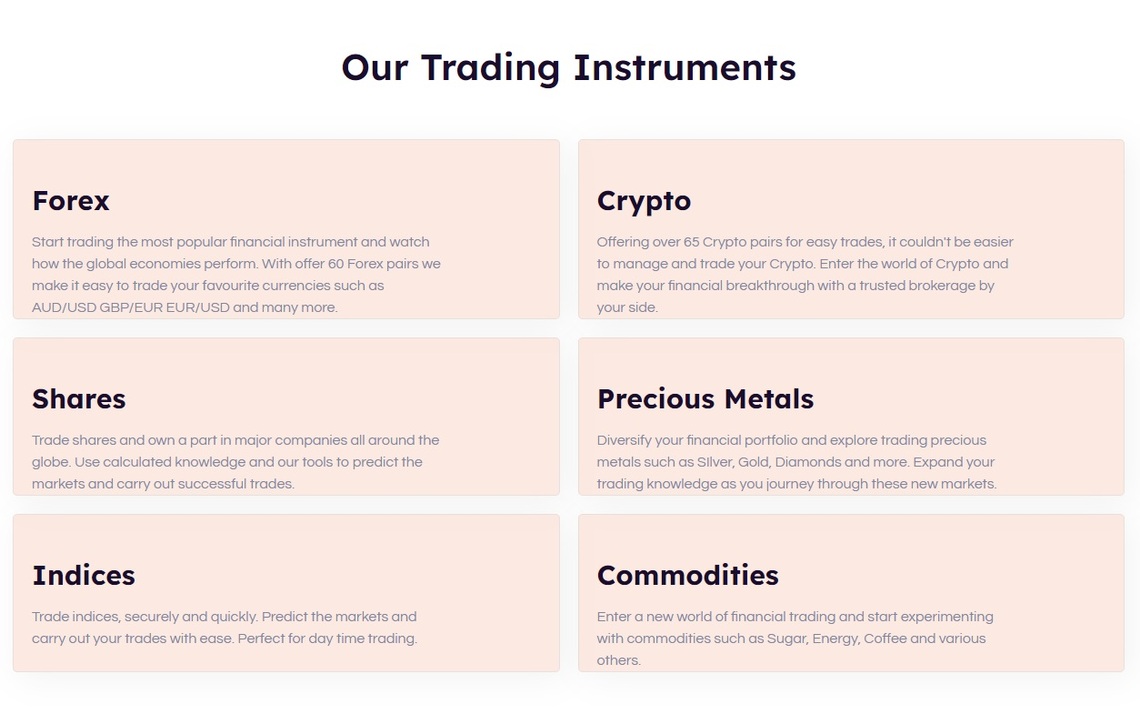 Elcomercio IX remained mysterious about their trading features and tools to the end. You see, what the site advertises and what can actually be seen and used are two completely opposing things!
Although MT4 should be the platform traders are offered (since that's what the website claims) only a single, borderline-useless web trader is present. RXK Capital offers similar-looking software and they're just as shady.
Except for the leverage of 1:100, no other trading parameters are readable, including the promised ultra-tight spreads. 
Of course, after registering an Elcomercio IX account, you have to immediately invest, which further suggests that a Demo account isn't available. Not to mention that the account types are bogus and absolutely overpriced.
Trading platforms:

Web trader

Account types:

Cuenta Plata – 500€

Cuenta Oro – 2,000€

Cuenta Diamante – 10,000€

Cuenta VIP – 50,000€

Financial Instruments On Offer:

Forex (AUD/USD, GBP/EUR, EUR/USD)

Crypto (Bitcoin, Litecoin, Ethereum)

Shares (3M, Nvidia, Netflix, Boeing)

Precious Metals (Gold and Silver)

Indices (DE 40, ES35, S&P500, Nikkei225)

Commodities (Oil, Weat, Sugar, Cotton)

Maximum leverage:

1:100

Minimum Deposit:

500€

Commissions/bonuses:

Hinted, undisclosed

Mobile app:

Not available

Desktop app:

Not available

Autotrading:

Not available

Demo account:

Not available

Education or Extra tools:

None
Elcomercio IX – Safety Concerns
One immediate red flag you can easily spot on a brokerage website is the absence of transparency. Legally operating brokers are bound by the regulatory framework to be honest about their company, business and trading offer.
On the other hand, the most worrying part- the missing license immediately puts Elcomercio IX in the same basket with any other obvious or potential scammer. None of the deposits are safe with a broker that manipulates clients' funds and doesn't implement the safety procedures. Funding methods are limited and transactions are anonymous. 
Worrying Feedback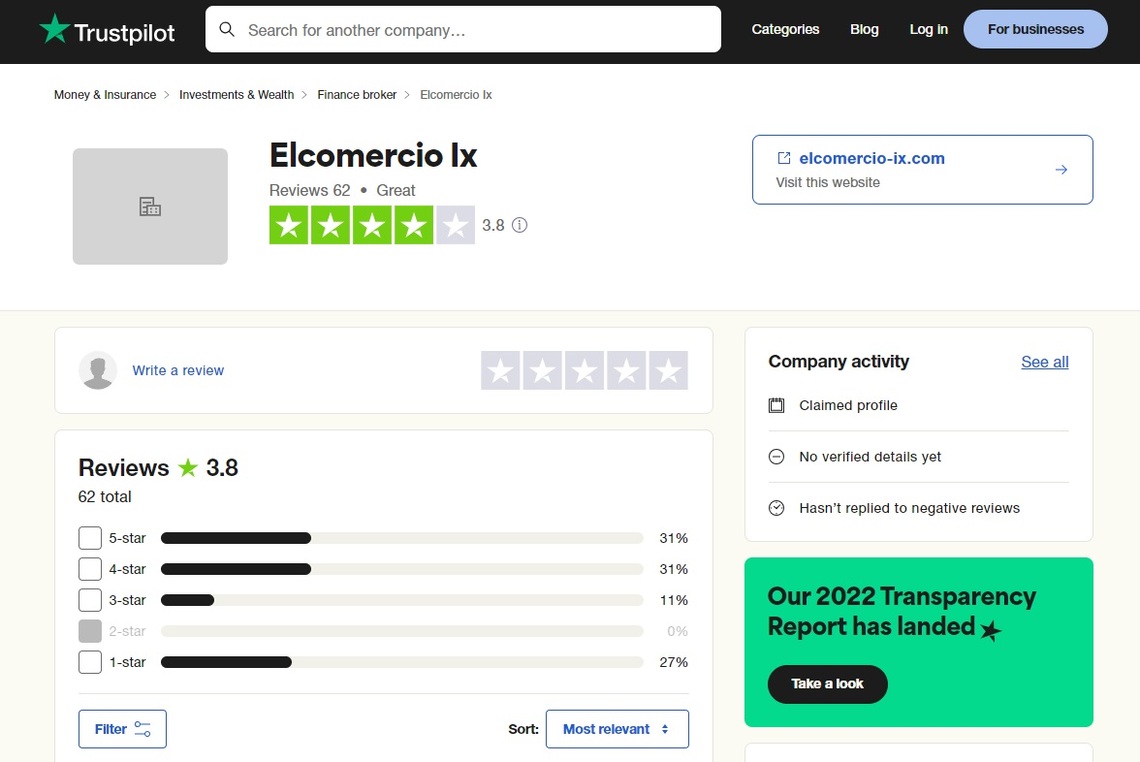 One terrifying tool that fraudsters use to artificially boost their credibility are false reviews. Elcomercio IX has claimed their profile on Trustpilot, where they feature an average rating of 3.8 out of 5. 
This kind of feedback doesn't come from the satisfied customers, but from the paid reviews, so beware. Defrauded clients are outraged to say the least, and this user is brutally honest about it:
"100% SCAM. All the false opinions are a scam, do not fall for this crap. And I would like the person who scammed me to know that I already have his address, that when I walk down the street I would always be alert because it is possible that he will meet me very soon."
Seemingly Best Treatment Offered
Elcomercio IX has a particularly well-developed method for approaching victims. They use fake social networks profiles to promote their false services and unsuspecting victims are easily attracted. Promises of easy money with outstanding treatment and trading conditions is sure to make rookie traders instantaneously interested.
Sadly, all these promises are most easily broken. As soon as you request a withdrawal, the masks fall and the broker shows their true face – the face of a ruthless cyber thief. 
We'd like to warn traders from these countries to be especially careful, as the broker seems to prefer their region as hunting grounds:
AML Breaching Transactions
Elcomercio IX displays another obvious scam trait – the firm doesn't respect the AML measures. This fact is obvious in the way the broker allows deposits via crypto and credit cards, while withdrawals are only available through crypto. 
Furthermore, T&C state that the minimum amount for credit cats withdrawals is $50 and there's no fees, but this withdrawal method isn't even offered! Apparent discrepancies and misleading information all point to the real state of things – the broker is a fraudulent entity that doesn't allow withdrawals! 
We have exactly the same concerns and findings when it comes to Market Giants, so stay away from them too!
Why Stay Away
As our Elcomercio IX review proves it, the brokerage company in question is not regulated and licensed properly to offer the products and services they so boldly claim to provide. No matter how attractive their offer may sound at first, always ask yourself how probable it all is. Everything will immediately become clear. 
What Our Trading Experts Say
Upon close inspection of the Elcomercio IX website and after a thorough investigation, we've arrived at a conclusion that this unlicensed firm isn't reliable or safe for investing. Making any real profit isn't possible due to the absence of a license, reliable platform and other crucial elements. 
We sincerely hope that you'll reconsider any decision pertaining to investing with Elcomercio IX. If you need help and advice finding the best brokerage for you, do not hesitate to contact us. We can equip you with the knowledge you need before making a final decision. And all that for free!
FAQ Section
What Is Elcomercio IX?
This is an illicit company that offers brokerage services. If you're looking for a broker to invest with, we wouldn't recommend doing it with Elcomercio IX. You can contact us for reliable suggestions completely free.
Is Elcomercio IX Regulated?
No, this broker is completely unregulated and doesn't fall under any regulatory law in any jurisdiction.
What Are The Available Trading Products Of Elcomercio IX?
The broker allegedly offers Forex, Crypto, Metals, Commodities, Shares and Indices to trade.