February 17, 2023
Reading Time:
4
min
Market Giants Review – Facts About MarketGiants.Com Broker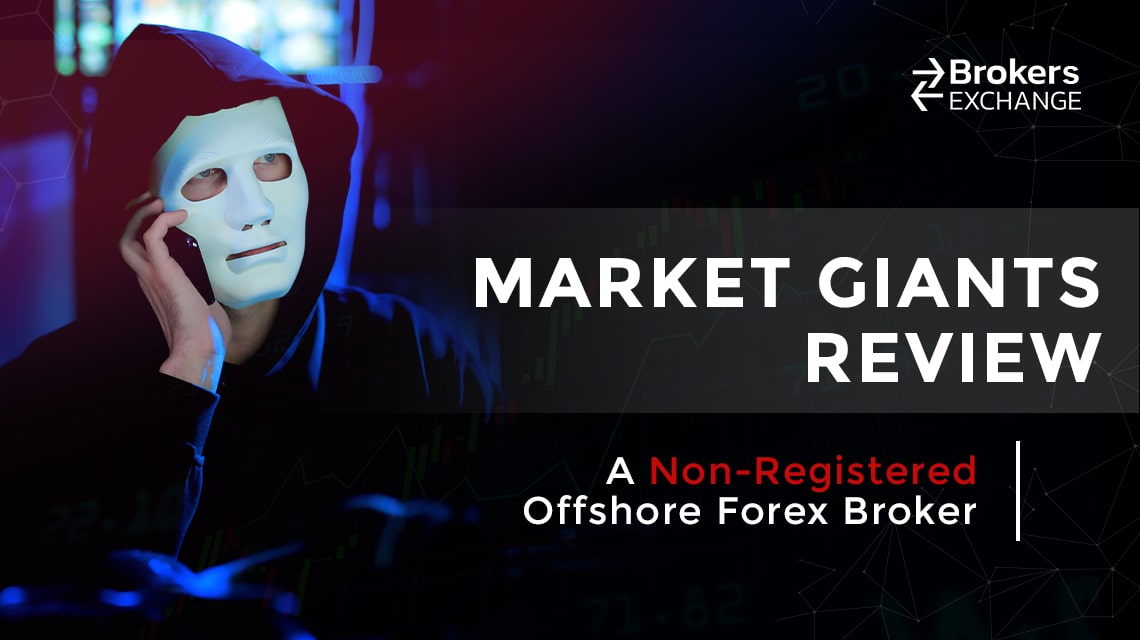 Investigating the Market Giants website, we came to the conclusion that it is an anonymous broker, which does not have a legal license to enter the market. In addition, the company is registered in a dubious area. 
Even the company itself states that it is not authorized, but at the same time, it demands the trust of the client because as it claims, it is in the process of obtaining a license. To clarify, investing and trading is not a game, nor is the market a place to take someone's word for it. 
It is necessary for the company to meet certain criteria in order to do business at all. So don't fall for false promises. Market Giants is a fraudulent broker who will try in every way to manipulate you and take your money for free. That's all the company we deal with wants.   
The trading assets that Market Giants offers are currency pairs, stocks, indices, cryptocurrencies, and commodities. The offer looks big, but believe that other brokers also have a wide range of trading options, but there will be no fraud with them.
If you are still unconvinced that we are dealing with an unscrupulous swindler, read our Market Giants review to the end.
Dealing with dishonest brokers like those I've listed below falls under this as well as XCM Markets, Well FX and Crystal Trust.
| | |
| --- | --- |
| Company | Market Giants |
| Website | MarketGiants.Com |
| Address | 37th Floor, Canary Wharf, 1 Canada Square, London E14 5AA |
| Email | N/A |
| Phone | 442034554896 |
| Minimum Deposit | 300$ |
| Leverage | 1:500 |
| Bonuses | Yes |
| Regulation | Unregulated |
| Warning | N/A |
Regulation and Fund Security at Market Giants
One of the main things, which we advise you to pay attention to when choosing a broker, is that the company is a license holder of a strong and stable regulatory body that will really oversee its business. 
Market Giants gives us a contact address in the UK where the company's headquarters are supposed to be. But there is no theoretical chance that the British regulatory bodies would allow an unlicensed broker to enter their market. 
The company states on the front page of the website to operate in different jurisdictions around the world. This is an unhinged claim because Market Giants has also stated that it follows the guidelines of some of the strongest regulatory bodies in the forex industry, namely the FCA, ASIC, and CySEC. 
It would be nice if the broker was really regulated by these regulatory bodies, but it is not, and emphasizing that the company follows the guidelines of these institutions is ridiculous, because it clearly does not.  
Trading Software Available at Market Giants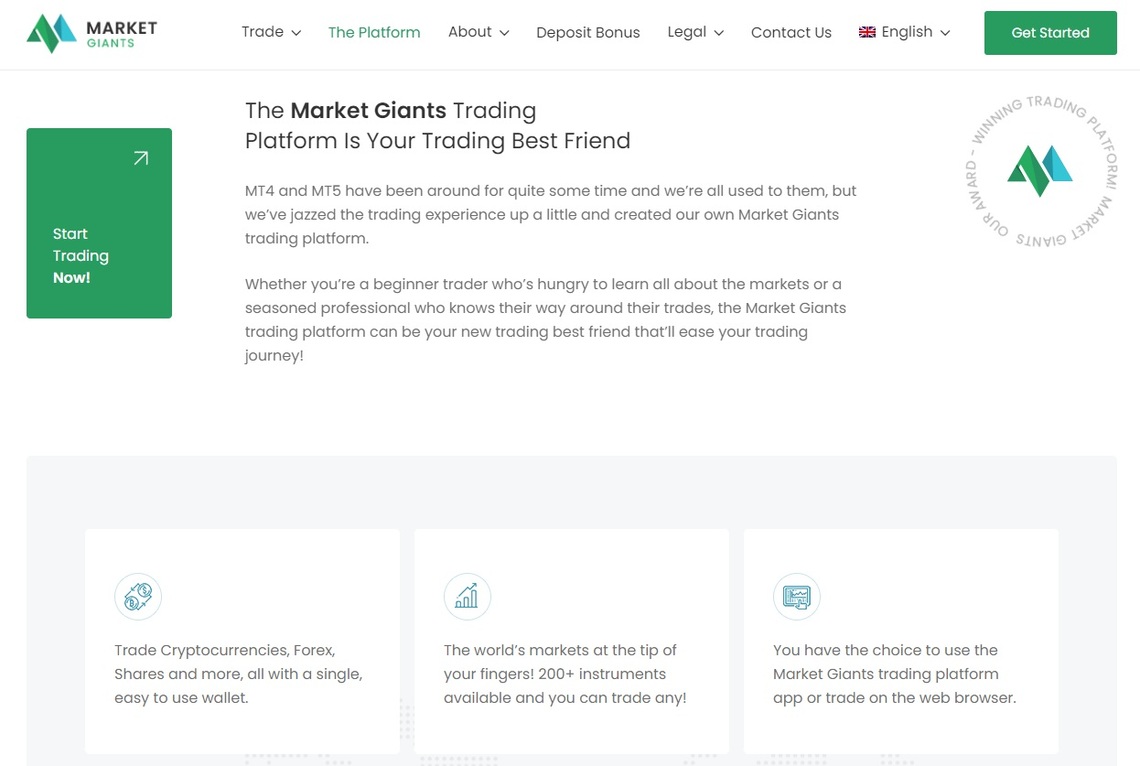 All the company has said about the trading software it offers is that it is an award-winning platform. However, we were not able to check the quality of the platform because the website did not allow the registration of new users. 
In any case, regardless of whether or not Market Giants has a trading platform, and regardless of its quality, we advise you to avoid investing in this company. It has been regularly proven in practice that fraudulent brokers either do not own the platforms or manipulate them so that users feel that their money is being invested.
Deposit and Withdrawal Methods
If we are to believe their terms and conditions, the company allows depositing and withdrawing funds through credit cards, cryptocurrencies, and wire transfers. While all this might seem to be in order, it is worth noting that scammers often force their customers to use cryptocurrencies as this makes it much harder for clients to get their money back. 
The terms and conditions section reveals another problem, however. Here we can see some unique fees that his company charges its clients. This is another sign that we are dealing with an investment scam.
Withdrawals are where most users tend to realize that something is wrong. The firm asserts that customers cannot request a withdrawal unless they meet the minimum trading requirements which are ridiculously high.
Market Giants Offered Bonuses and Promotions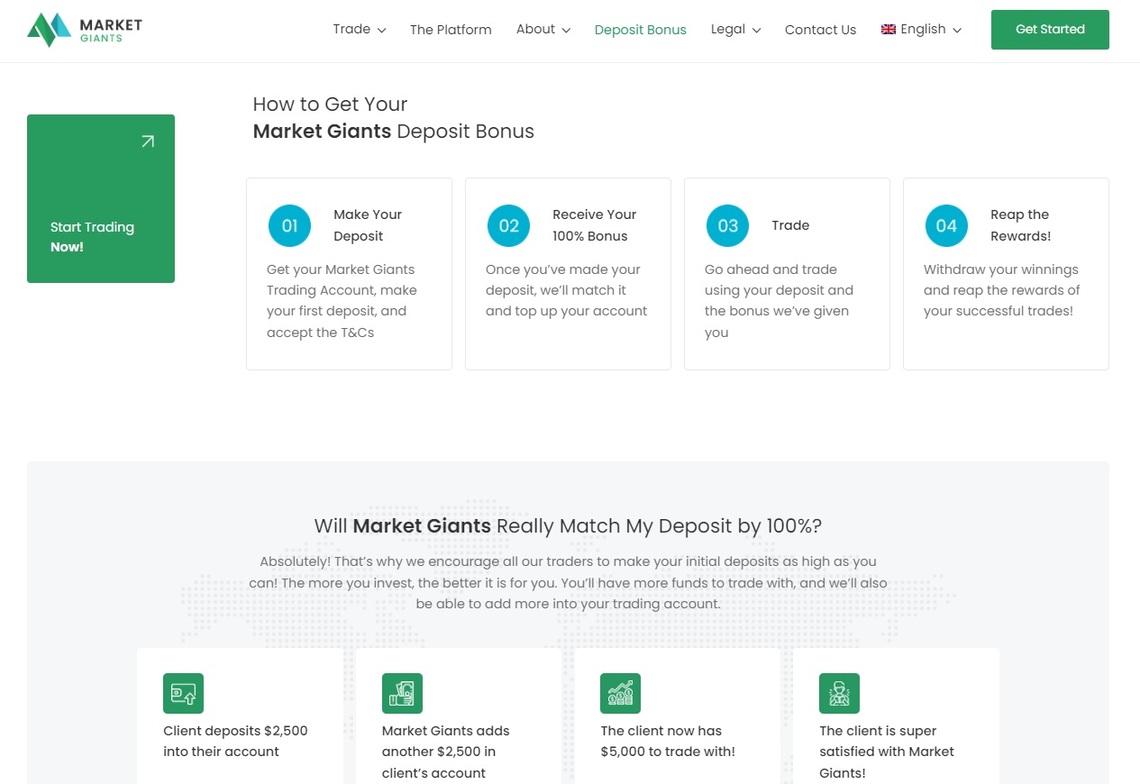 Of course, Market Giants offers bonuses, because where would a scammer be without their imaginary bonuses and promotions? The company offers its clients a 100% "Welcome" bonus and various other trading bonuses. 
It is important to note that these generous bonuses only help fraudsters to prevent you from withdrawing your money. Don't fall for the trick and keep in mind that all of these amazing offers are common with bogus brokerages. 
How the Fraud Was Carried Out
Just like any other illicit brokerage, Market Giants goes to great lengths to convince its victims that they have found the perfect place for them to invest. This is further supported by various lies and manipulative offers. 
Once clients deposit their money, the scammer will do anything in their power to prevent the users from getting their money back. After you try to make a withdrawal request you will probably find it impossible to do so and the company will likely stop responding to you and maybe even delete your account altogether.
Market Giants Summary
It should be perfectly clear by now that Market Giants is just another bogus broker with nothing of value to offer to its users. Though they make lots of promises, they fail to deliver on these promises. There's no reason for anyone to invest their money with this scammer because they would have a great chance of getting more money if they went gambling. 
We hope that our Market Giants review has helped you avoid this investment scam and that you have a better understanding of what are the red flags of fraud. 
FAQs About Insta Market Giants
Is Market Giants a Regulated Broker?

Market Giants is not a regulated broker as you can see from our review.
Is My Money Safe at Market Giants?

Your money is not safe in any way with this scammer.
What Is The Minimum Deposit at Market Giants?

The minimum deposit with Market Giants is 300 US dollars.