February 18, 2023
Reading Time:
4
min
RXK Capital Review: Who Is Behind This Scam Broker?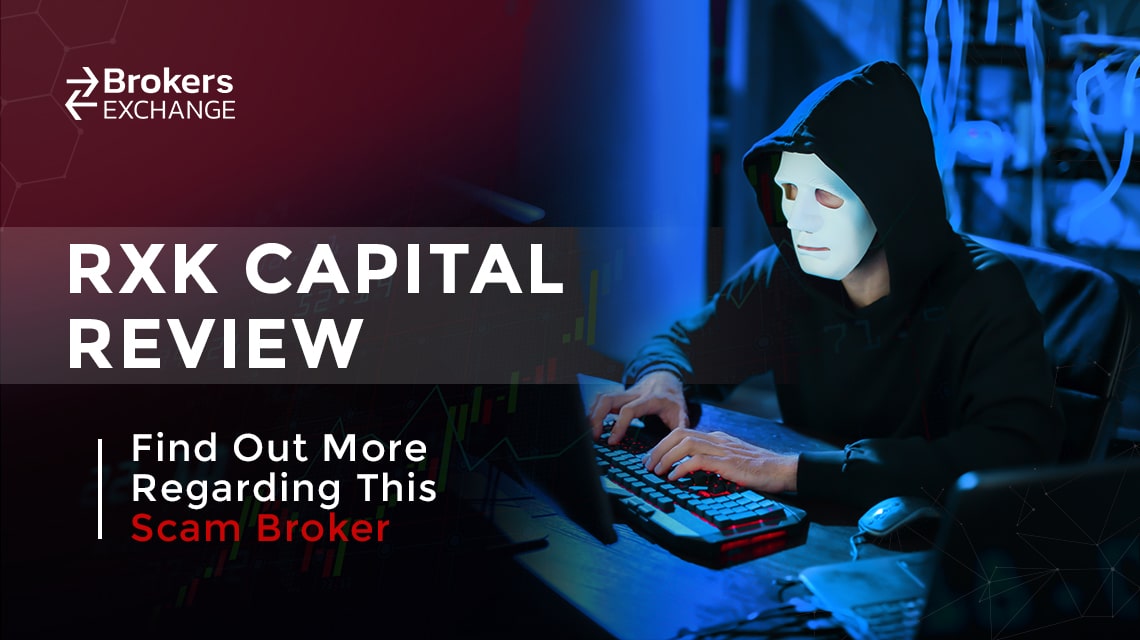 If choosing a broker depended solely on the amount of self-glorification, RXK Capital would be a great option. Unfortunately for this scammer, it takes more than bragging about non-existent services to make us believe them. The site has it all: dream-like trading conditions, additional customer support, account managers, and great pricing. 
What makes RXK Capital stand out is openly admitting they're not regulated. However, the site doesn't see it as an obstacle to trading. RXK Capital tells investors they're unlicensed and how that has nothing to do with providing amiable trading conditions. 
This site allegedly implements all regulatory standards crucial to safe and successful trading. They lack the license for it, but their attitude about it is carefree. That's not how things work, though. 
Our RXK Capital review points out major red flags about this site, so keep reading. Things get even more interesting from this point on. 
Nevertheless, you should avoid trading with shady brokers such as Ranytrade, Nerostrade, and MFTtrade.
| | |
| --- | --- |
| Company | N/A |
| Website | RXKCapital.Com |
| Address | SVG |
| Email | [email protected] |
| Phone | +44 20 3885 0540 |
| Minimum Deposit | $10 000 |
| Leverage | 1:500 |
| Bonuses | N/A |
| Regulation | None |
| Warning | N/A |
Licensing and Security of RXK Capital
The infamous Saint Vincent and the Grenadines appear as a location of RXK Capital. Since the company owning and operating the site decided to stay unnamed, we were immediately suspicious of their fake transparency. 
The location of the firm implies this broker is unregulated and registered offshore for a reason. Without a jurisdictional authority to oversee their activities, brokers are free to engage in fraudulent projects. RXK Capital is no better when it comes to that. 
Admitting missing a license is courageous but not forgivable. To be able to enjoy all the advantages of safe trading, you have to choose a broker that is fully regulated. Only then will you, as a trader, be fully protected and your funds secure. 
Segregated bank accounts are mandatory for all licensed brokers. Ensuring the company's capital is separated from clients' investments prevents the firm from misusing funds that aren't theirs. 
Apart from the highest security measures, risk-reducing standards also apply. Leverage restriction and negative balance protection exist to lower the chance of loss. 
Something that RXK Capital lacks but that is obligatory for all authorized brokerage houses is transparency. It revolves around the company's honesty about its background and daily transactions reporting.
As you can see, there are many reasons why regulation matters more than anything else about a brokerage site. RXK Capital is not a trustworthy broker without official permission for their brokerage activities. 
RXK Capital Trading Platform Overview
What RXK Capital describes as an outstanding, award-winning platform hardly applies to the abomination in the form of a basic web trader. After reading about it being suitable for beginners and intermediate traders, we expected a prestigious, multi-functional terminal. In reality, all RXK Capital provides is poorly designed web-based software with laughable functionality. 
Save for the simple chart and a few customization tools the platform doesn't do much. The movements are fictional, so trading is impossible. This defeats the purpose of investing with RXK Capital. 
The objective is to skillfully manipulate the platform so it follows the scammer's plan. If they wish so, the fraud will show your funds multiplying. Or prices suddenly change and you lose everything unexpectedly. After all, it's their way of justifying robbing you.
Deposits and Withdrawals Methods
Do not easily believe claims about transactions being effortless, instant, and ultra-safe. Funding your trading account at RXK Capital doesn't work the way it does with regulated brokers. 
Suspiciously enough, RXK Capital doesn't reveal the possible ways of depositing and withdrawing funds. A particular procedure dictates how transactions happen. 
After registering an account with RXK Capital, you dial +44 20 3885 0540 and stay on the line until you're connected with your account manager. 
They will give you further instructions on how to make a deposit. After that, several hours pass for the funds to appear in your trading account. The cheapest account type costs a ridiculous $10 000 to open. 
Depositing with regulated brokers requires far less effort and time. There's no need to put yourself through the trouble of investing with a bogus broker when you can choose a regulated site and invest safely.
Withdrawals are also guaranteed to be safe and instant, but nothing RXK Capital offers can prove that to be true. We couldn't even tell what the processing time was. All the site provides is infinite bragging about how fast, safe, and reliable all their procedures are. You can't help but grow more suspicious of it all.  
How Is Fraud Set Up?
A bit cheeky but definitely friendly and comprehensive, the RXK Capital website can surely attract the attention of its potential victims. If it's beginner traders we're talking about, they are especially vulnerable to this type of scam. 
RXK Capital agents will make clients feel safe and taken care of. Their affectionate behavior will continue as long as you're investing. 
The second you start suspecting anything and demand a refund, things change. Scammers either evaporate with your funds in their pocket or try to extort more money by applying cruel methods. 
Lying about your withdrawals being endlessly processed, delayed, or rejected for whatever reason is a standard way of preventing you from getting your money back. Some additional fees and charges also apply. The game of cat and mouse can go on as long as the phony thinks they can get more cash out of you. 
RXK Capital Summary
This RXK Capital review has given you enough proof never to trust this unscrupulous offshore scheme. Perhaps the broker thought they'd be forgiven if they admitted to not owning a license. 
Even if they lied about regulations, the truth would resurface sooner or later. Being honest about not being licensed doesn't make them any more legitimate. They're still just a scammer like any other. 
Investing with a fake broker can never pay off. In the beginning, they might manage to deceive you and lead you to believe your funds are growing. Soon enough reality turns out to be different. 
Since no one deserves to go through the nightmare of being scammed, we advise you not to invest with RXK Capital. There are plenty of regulated brokers out there.
FAQs About RXK Capital Broker
Is RXK Capital a Regulated Broker?

No, as RXK Capital openly declares, they are not regulated by any financial authority.
Is My Money Safe with RXK Capital?

Unregulated brokers like RXK Capital cannot provide the security of funds. Your investments aren't safe with this illegal site. 
Does RXK Capital Offer Demo Account?

Demo accounts with virtual funds for the purpose of trial trading aren't available.