July 28, 2023
Reading Time:
5
min
EMD Forex Review: A Close Look Into The Brokers' Profile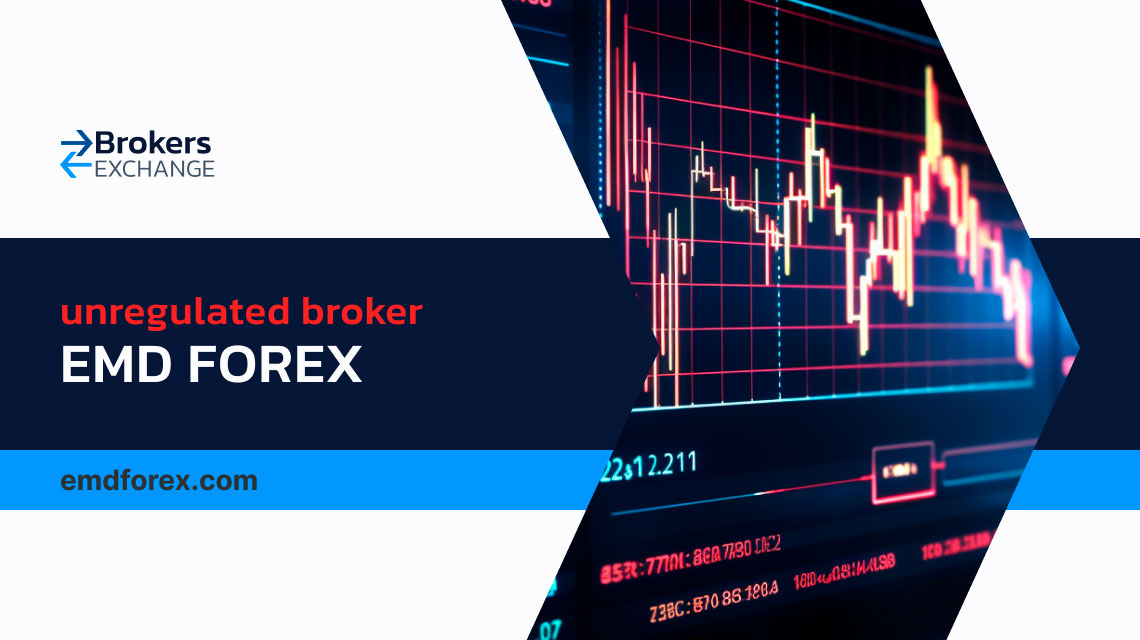 To help you thoroughly evaluate the broker and determine whether he is the one worth your investments, our in-depth EMD Forex review will delve into the broker's profile, account types, insights from our trading professionals, and much more.
Also don't forget to read our Bitsterzio and Clair Capital reviews so you can expand your knowledge about other brokers you may think are worthwhile. 
Who Is EMD Forex? All About Emdforex.com
EMDForex or EMD Financial Ltd is a brokerage company offering over 160 financial instruments. They are registered with St. Vincent and the Grenadines at Suite 305, Griffith Corporate Centre, Beachmont, Kingston.
Although brokers don't need to be licensed to trade in St. Vincent and the Grenadines, it is still advisable to utilize regulated brokers for the security of your money. The good news about this broker is that it provides an MT5 trading platform, which is regarded as secure. 
EMD forex

Reliable Broker Must Have

Legal name:

EMD Financial Ltd

Transparently displayed in the disclaimer or legal documents

Regulation:

Offshore broker – Unregulated

Within your legal jurisdiction – local regulator

Registered at:

SAINT VINCENT AND THE GRENADINES under Company number 1647 CTD 2021

Your country or the country whose license applies in your legal jurisdiction 

Established:

2021

The older the domain – the higher the possibility the company is trustworthy

Website:

emdforex.com

Domain should be from local or international zones, no .xyz etc.

Financial Authorities Warnings:

None

None

Contacts:

Web form

Phone, email, social media, web form

Is a withdrawal possible:

Highly unlikely

Yes

Fees:

Spread – From 1.4 Pips
Swap fee

Transparent fees – list of spread and commissions

If Active on Social Media:

No

Often present on social media

Investor Protection:

None

Compensation fund
Regulation Info
EMD Forex is unregulated, as is evident at first sight from their disclaimer and license information. It includes an address and a registration number, but it is undoubtedly another hoax. These days, it's easy to get deceived, and if you use an unregistered broker, your investments could be in jeopardy. 
It's important to note that the broker is not regulated by the Securities and Commodities Authority (SCA) in the UAE, the Securities and Exchange Board of India (SEBI), or the Financial Sector Conduct Authority (FSCA) in South Africa, where it mostly operates. 
EMD Forex Broker Profile
Trading platforms:

MT5

Account types:

Gold, Platinum, Titanium

Financial Instruments On Offer:

Forex 

Stocks

Index (S&P 500, FTSE 100, NASDAQ 100)

Commodities (Oil, Natural Gas, Gold)

Cryptocurrency (Bitcoin, Ethereum, Ripple)

Maximum leverage:

1:500

Minimum Deposit:

$500 – $50,000

Commissions/bonuses:

$5 commission

Mobile app:

Yes

Desktop app:

Yes

Autotrading:

Yes

Demo account:

No

Education or Extra tools:

Economic Calendar, Daily Market Analysis
EMD Forex Account types
Creating an account is possible at the EMD Forex login page. They offer three account types, which are: 
Gold: Leverage of 1:100, spreads starting from 1.8 pips, no swap fee and no commission is offered with this account type. The minimum deposit is $1,000. 

Platinum: Leverage of 1:200, spreads from 1.4 pips, no swap fees or commissions, and a special relationship manager is offered with this account type. The minimum deposit required is $15,000.

Titanium: Leverage up to 1:400, raw spreads, commission, and no swap fees are offered with this account type in addition to a dedicated manager. The minimum deposit required is $50,000.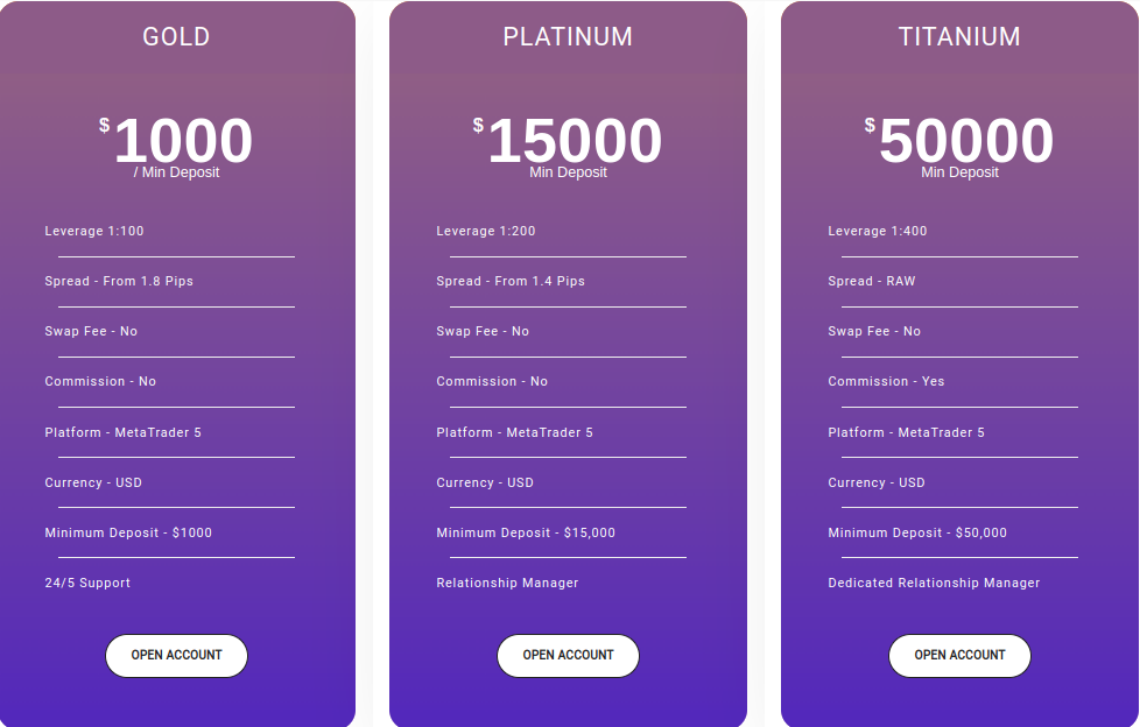 Is EMD Forex Fake or Safe To Trade With?
We cannot regard EMDForex as secure to trade with because to their outrageous deposit amounts, lack of regulation and transparency, hidden account type, or misleading data.  The only positive thing we have so far for this broker is the use of the MT5 trading platform, however, even though it is deemed safe, MT5 can also be manipulated easily. 
It is just as important to conduct thorough research before selecting a broker as it is to select one who is regulated and transparent. These days, it's simple to get deceived, and if you use an unregistered broker, your investments could be in jeopardy. It is imperative to seek professional guidance, so get in touch with us immediately and without obligation so we can start you down the road to a better trading experience. 
EMD Forex Review: Traders' Thoughts and Opinions
There are 17 reviews of EMD Financials Ltd in total on Trustpilot, and the opinions are split evenly. There are just reviews with 1 and 5 stars, which raises some red flags. The majority of the unfavorable comments center on the company's rebranding, from Digibits and then to Bigmofx, which may be accurate given the resemblance between their websites. 
One reviewer even said, quote: "Please do not get caught by EMD Forex, they are professional scammers. I lost all my money, $12, 016 and $25,000 profit earned. Their "RM" never let me trade and I had always traded according to his instruction, he dictated to me the "lot values", "BUY BY or SELL BY" till I lost all my money. EMD FOREX operates under different names, once the names expose they will change the name".
A Look at EMD Forex's Traders They Serve
The broker's clients mostly come from the UAE, India, and South Africa. While regulation is not expected in St. Vincent and the Grenadines, clients from these and other countries are advised to avoid this sham broker at all costs. The safety of you and your investments should be your top priority, no matter how tempting trading with brokers like this one is. 
It has been reported that EMD Forex broker also manages Bigmofx, an Indian-based broker. It wouldn't be shocking if it were true given that the majority of EMD Forex's clients are from India and the websites' similarities. 
Deposits and Withdrawal Methods
Bank transfers, credit or debit cards, e-wallets like PayPal or Skrill, mobile payment alternatives, and cryptocurrencies are all accepted forms of payment at EMD Forex. Every method has benefits and things to keep in mind, like transaction speed, security, costs, and accessibility.
According to their website, EMDforex is not liable for any damages brought on by a lack of funds in your Forex account. To reduce risk, you should manage your own margin needs for open positions.
EMD Forex Pros and Cons
Pros
Cons

MT5

Unregulated

Lack of transparency

Hidden fees

False advertise

High deposit amounts
Insights from Our Trading Experts
We believe it is imperative to advise you to stay far away from this broker to protect your investments. You won't receive any benefits from this broker; all you'll get is worry, inaccurate information, and difficulty withdrawing your money. If you trade with EMD Forex, it's possible to lose most or all of your investments, or even worse, you might get into debt. 
There are many other options available that are more dependable and transparent. You don't want to be caught off guard by the traditional scheme's pay more to withdraw, which means they will continually want more money from you before they let you withdraw, even though they never will. The EMD forex scam is real and traders are advised to proceed with caution. 
If you want to have a satisfying trading experience, finding a trustworthy and open broker is essential. Contact us for expert advice if you are a novice or an experienced trader. Your money can be recovered if you've been scammed, and keep in mind that reaching out is obligation- and stress-free. 
FAQ Section
What is EMD Forex?
EMD Forex is a brokerage firm under the name of EMD Financial LTD, trading in forex and CFDs. They are registered at St. Vincent and the Grenadines.
Is EMD Forex Legit?
No, EMD Forex is not a legit broker due to its lack of regulation and transparency, excessive deposit amounts, hidden fees, misleading information, and many other red flags. Traders are advised to stay away from this sham broker.
What Is the EMD forex payment method?
EMDForex accepts payments made using bank transfers, credit or debit cards, e-wallets like PayPal or Skrill, mobile payment options, and cryptocurrencies. Each method offers advantages and considerations that should be made, such as transaction speed, security, costs, and accessibility.