October 23, 2022
Reading Time:
4
min
EuropeFX Review – Who Is Behind EuropeFX Brokers?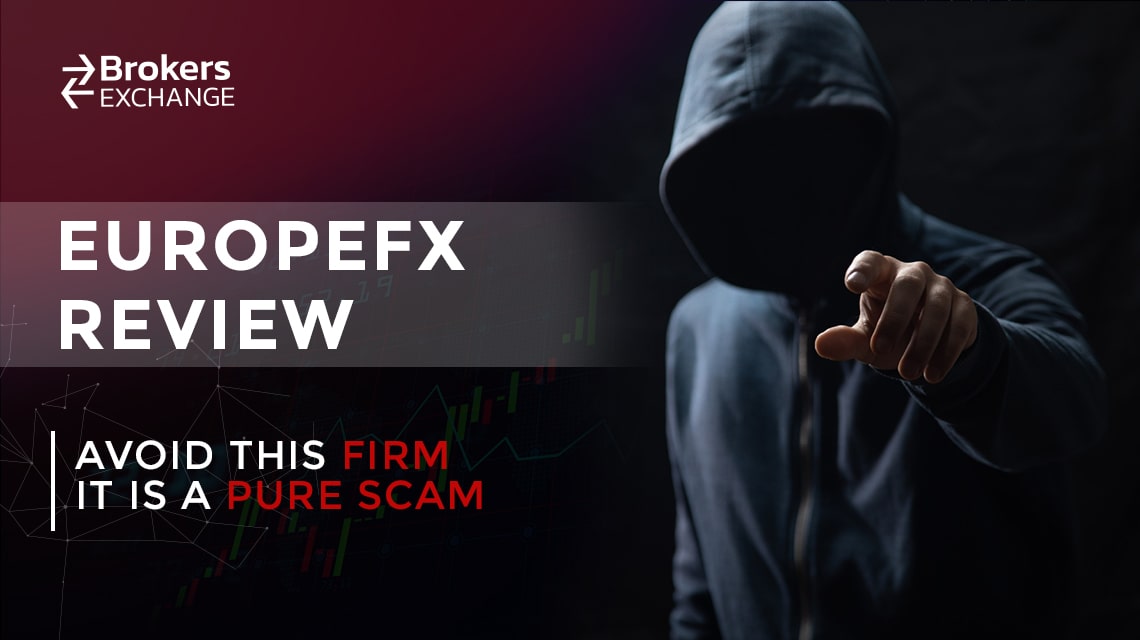 EuropeFX Review, With a growing number of scam brokers, financial watchdogs try to protect forex traders by exposing fake companies. However, their number continues to rise each day. Fraudsters reappear under a new brand (company name, domain, and contact details) when they get exposed. 
We want to contribute to stopping online trading scams by throwing a monkey wrench in the works of con artists. Regarding EuropeFX, it's the trading name of Maxiflex (which used to be a regulated broker service). 
However, it's not black and white with EuropeFX. Continue reading our EuropeFX broker review to find more information.
We strongly advise avoiding brokers who might be con artists for the aforementioned and other reasons like Stonewall Fx, GrowCapitalExchange, and Acuity Trades Fx.
| | |
| --- | --- |
| Company | EuropeFX, Maxiflex |
| Website | EuropeFX.Com |
| Address | 46 Ayiou Athanasiou Avenue, Floor 1, Office 101, 4102 Limassol, Cyprus |
| Email | [email protected] |
| Phone | +44 87 0820 0200 |
| Minimum Deposit | 200 EUR |
| Leverage | 1:200 |
| Bonuses | N/A |
| Regulation | No |
| Warning | N/A |
EuropeFX's Regulation and Fund Security
EuropeFX is a brand of licensed broker Maxiflex. However, Maxiflex trading credentials were revoked by CySEC (Cyprus Securities and Exchange Commission) due to violations of regulations and alleged involvement in unethical practices.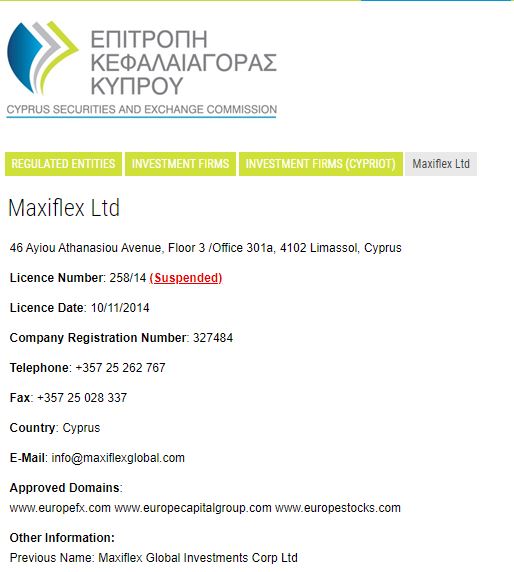 When you access the EuropeFX website, it states that the company ceased trading and has voluntarily annulled its broker license. Still, it remains in the business and offers people online trading services. 
Regardless of the previous company's status, it can't operate lawfully without being regulated. Therefore, it makes this broker a potential fraud.
Anyone interested in cryptocurrency trading should understand that it's a heavily regulated industry. 
It's impossible to run a legitimate brokerage business without authorization from a supervisory body such as FCA, CySEC, and ASIC, among others, depending on the jurisdiction. Unregulated brokers and clone companies remain two significant concerns for the forex market.
Financial market regulators try to fight against emerging threats by imposing stringent measures and preconditions for all brokers. 
For example, a broker company must have a certain amount (working capital measured in several hundred thousand to several million dollars) to get licensed. 
That guarantees that a company is financially sustainable and won't go broke easily and quickly.
For your safety, accredited firms enforce risk management strategies like negative balance protection (if a broker goes bust, your money is safe) and segregated accounts (your and your broker's funds are kept separated). 
On top of this, traders of insolvent brokers approved by FCA can be repaid up to 85.000 GBP, while CySEC covers compensation up to 20.000 EUR.
Your investment can be safe only with a licensed and genuine company. Buying and selling stocks is risky per se, but trading with shady businesses damages your pockets. Thus, avoid EuropeFX at any cost.
EuropeFX Trading Platform Available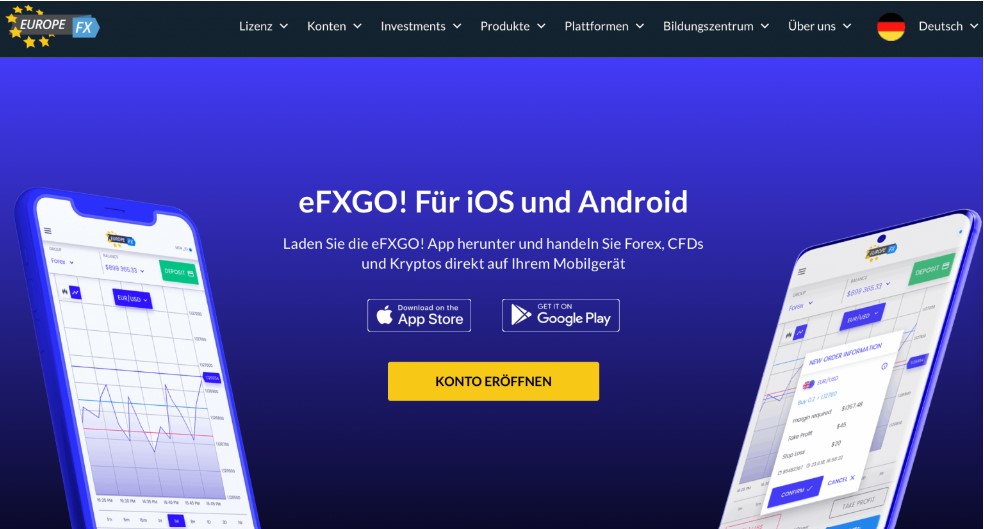 Regarding trading platforms, MetaTrader4 (MT4) is available with EuropeFX; it's, by far, the most used trading program with a lot to offer users. Apart from this, EuropeFX provides its web-based platforms, TradeWorks and EuroTrader. 
Despite this fact, we advise against trading with this illegal broker. MT4, along with MT5 (its enhanced successor), cTrader, and Sirix, is highly regarded trading software with excellent features like automatic trading, expert advisors, trading charts, and market indicators.
Thus, leading FX providers utilize proven trading platforms, ensuring a profitable, safe, and enjoyable trading experience.
Procedures for Deposits and Withdrawals at EuropeFX
Suppose we ignore for a moment that it's an investment scam. In that case, customers can deposit/withdraw money with EuropeFX via bank transfers, credit/debit cards, and a range of electronic wallets such as Skrill, SafeCharge, TrustPay, WebMoney, Yandex, and iDeal. 
The minimum opening balance set by this forex provider is 200 EUR, while premium accounts require a minimum deposit amount ranging from 1.000 to 50.000 EUR. Trustworthy brokers offer live trading accounts for as low as 1 USD.
Considering the higher deposit amount and most likely withdrawal issues, trading with EuropeFX isn't worth the risk.
This Is How They Execute the Scam
EuropeFX scam is organized by con artists relying on the fact that the company used to be a licensed business by a well-known financial regulator, CySEC. 
Existing customers usually don't recheck trading credentials, and scammers see the opportunity here. 
Although the firm has ceased trading and its authorization is being revoked, financial swindlers behind this fraudulent project continue to contact old customers and offer them lucrative trading opportunities.
Once they rope you into investing, you won't make any progress and won't be allowed to make withdrawals. Moreover, they will be persistent in persuading you to invest more until you go broke. 
When you start raising questions or aren't willing/able to fund more, they vanish with your money. Therefore, every offer from this brokerage must not be taken for granted. Otherwise, you will end up losing money.
EuropeFX Summary
To wrap up this review, EuropeFX is labeled an online trading hoax since the company license is suspended due to dishonest business practices. Still, it continues to operate even though it's unlawful. 
There are many issues with this bogus broker, including high deposit, withdrawal issues, and no funds protection, to name a few. 
All things considered, there are much safer options for trading out there, for example, those mentioned in this article. So, choose wisely and deal only with proven and authorized forex brokers. 
FAQs About EuropeFX Broker
What Is The EuropeFX Minimum Deposit Amount?

EuropeFX requires a 200 EUR minimum deposit, higher than industry leaders. For instance, FBS Broker offers live trading accounts for 1 USD.
What Is The Average Spreads and Commissions for EuropeFX?

EuropeFX spreads and commissions are not defined precisely. Per its website, spreads are 1.2 to 1.4, and the commission is $20.
What Account Types Does EuropeFX Provide?

With EuropeFX, you can start trading with 200 EUR (bronze account); next is a silver account that requires a 2.500 EUR deposit, and the last is a gold account that comes with a 5.000 EUR deposit.