August 09, 2023
Reading Time:
6
min
Exteom Review: Unveiling the Hidden Details About the Broker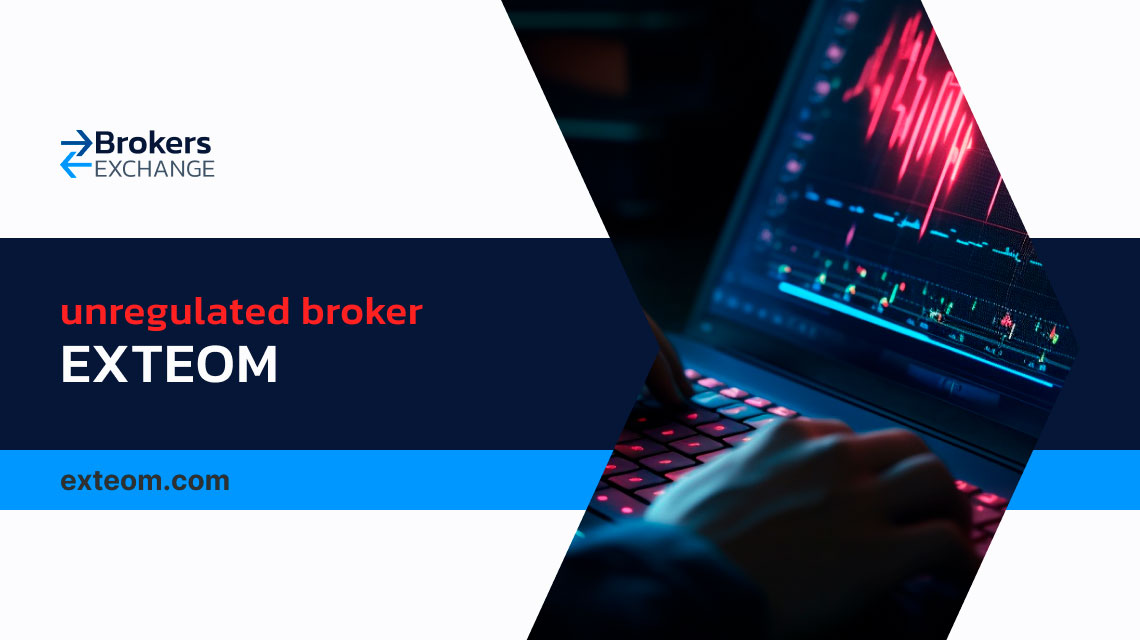 Welcome to our in-depth study of Exteom, where we explore this brokerage's environment from all angles to reveal hidden details that traders should be aware of. We want to give you an unbiased evaluation of Exteom by exposing any unreported information about its products, services, and business methods. 
Whether you are a beginner trader or a seasoned investor, keep reading to learn the facts about this broker and to help you make wise choices for your financial future. You can also check our PrimeSpotWay review to shed light on the scam broker you should avoid. 
Who Is Exteom? All About
Exteom is a brokerage firm that was established in 2022. The real name of the broker is Wirrerium LLC, even though it is not mentioned in their disclaimer, privacy policy, or the website overall. They are located in St. Vincent and the Grenadines and provide trading in indices, stocks, commodities, FX, and cryptocurrencies. 
| | |
| --- | --- |
| | General information |
| Name | Wirrerium LLC (EXTEOM) |
| Regulation status | Unregulated |
| Warnings from Financial Regulators | |
| Website link | www.exteom.com |
| Active since | 2022 |
| Registered in | St. Vincent and the Grenadines |
| Contact info | Live chat |
| Trading platforms | Meta Trader 4 |
| Majority of clients are from | Spain; Germany; Netherlands;  Switzerland; Czechia |
| Customer support | Live chat support 24/5 |
| Compensation fund | None |
Regulation Info
Exteom is not registered with or authorized by any financial regulatory body, hence it is not subject to any regulatory control. This makes trading with this broker risky, due to the fact the investors are not protected by any compensation fund and scams are easily carried. 
Reputable regulatory organizations, such as the CNMV (Comisión Nacional del Mercado de Valores) published a warning against them, advising traders to stay away from this sham broker. 
The FMA (Financial Markets Authority) supported the warning. 
The CONSOB (Commissione Nazionale per le Società e la Borsa), and the FSMA (Financial Services and Markets Authority), have also supported those warnings. 
When working with an unregulated broker, traders should exercise extreme caution and be aware of the potential hazards involved.
Exteom Broker Profile
We are only half through our Exteom review and there are already multiple red flags confirming our doubts about this broker. They are not only unregulated but also opaque, which makes us think that the Exteom scam is even greater than we initially anticipated. 
The hidden information about their fees, commissions, and lack of contact info just keeps leading us to believe what a sham this broker is. Traders are advised to avoid Exteom and similar brokers such as UKBTC or Smart Trade Group. 
Account types

Standard, Premium, VIP

Financial Instruments On Offer

Stocks

(Apple, Amazon, Microsoft)

Indices

(S&P 500 Index, Dow Jones Industrial Average, FTSE 100 Index)

Commodities

(Crude Oil, Natural Gas, Corn)

Cryptocurrencies

(BTC, ETH, XRP)

Forex

(EURUSD, EURGBP, USDNOK)

Maximum leverage

1:30 but it can be raised depending on the availability to invest

Minimum Deposit

$250

Commissions/bonuses

Promo codes

Mobile app

Yes

Desktop app

Yes

Autotrading

Yes

Demo account

Yes

Education or Extra tools

Forex Glossary and Trading School
Exteom Account Types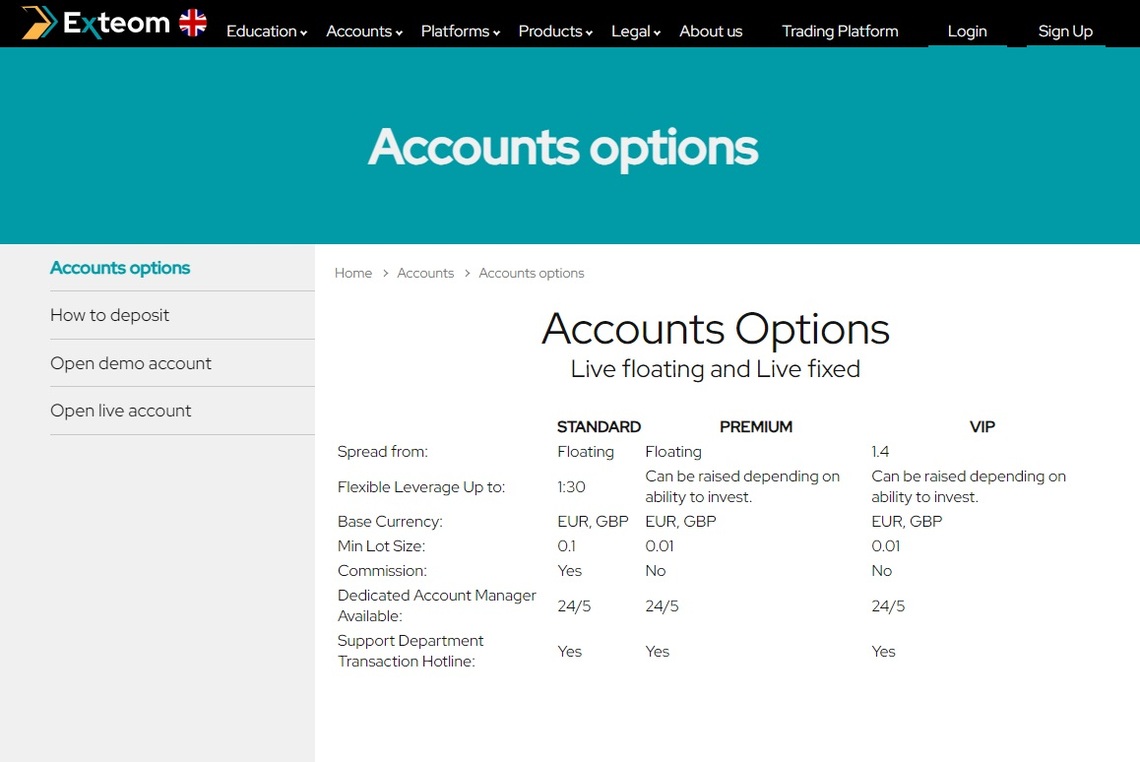 Introducing Exteom Account Types:
STANDARD Account:
Spread from: Floating

Flexible Leverage: Up to 1:30

Base Currency: EUR, GBP

Min Lot Size: 0.1

Commission: Yes

Dedicated Account Manager Available: 24/5

Support Department Transaction Hotline: Yes
PREMIUM Account:
Spread from: Floating

Flexible Leverage: Can be raised depending on the ability to invest.

Base Currency: EUR, GBP

Min Lot Size: 0.01

Commission: No

Dedicated Account Manager Available: 24/5

Support Department Transaction Hotline: Yes
VIP Account:
Spread from: 1.4 (Fixed)

Flexible Leverage: Can be raised depending on the ability to invest.

Base Currency: EUR, GBP

Min Lot Size: 0.01

Commission: No

Dedicated Account Manager Available: 24/5

Support Department Transaction Hotline: Yes
Is Exteom Safe To Trade With?
Exteom trading is risky for several reasons. The broker's lack of effective regulation is the first red flag that there is a lack of control and investor protection. Additionally, several cautions from CNMV, FMA, CONSOB, and FSMA raise serious questions about their reliability and methods.
Exteom's lack of a phone number, email address, or social media presence only provides a live chat support option on the Exteom login page, which raises more questions. Their lack of transparency prompts questions about their dependability and client service.
Furthermore, it is concerning that their fees are not disclosed. For traders to make educated judgments, they must be aware of all associated costs, and the hidden charge structure points to a lack of transparency on their behalf.
Exteom is a sham broker that traders should stay away from to protect their money and financial security. This is because of the absence of regulation, numerous warnings, restricted contact options, and concealed fee details. To take the next step in your trading experience, book a free consultation with us. We'll guide you on the right path for a successful start.
Exteom Review: Traders' Thoughts and Opinions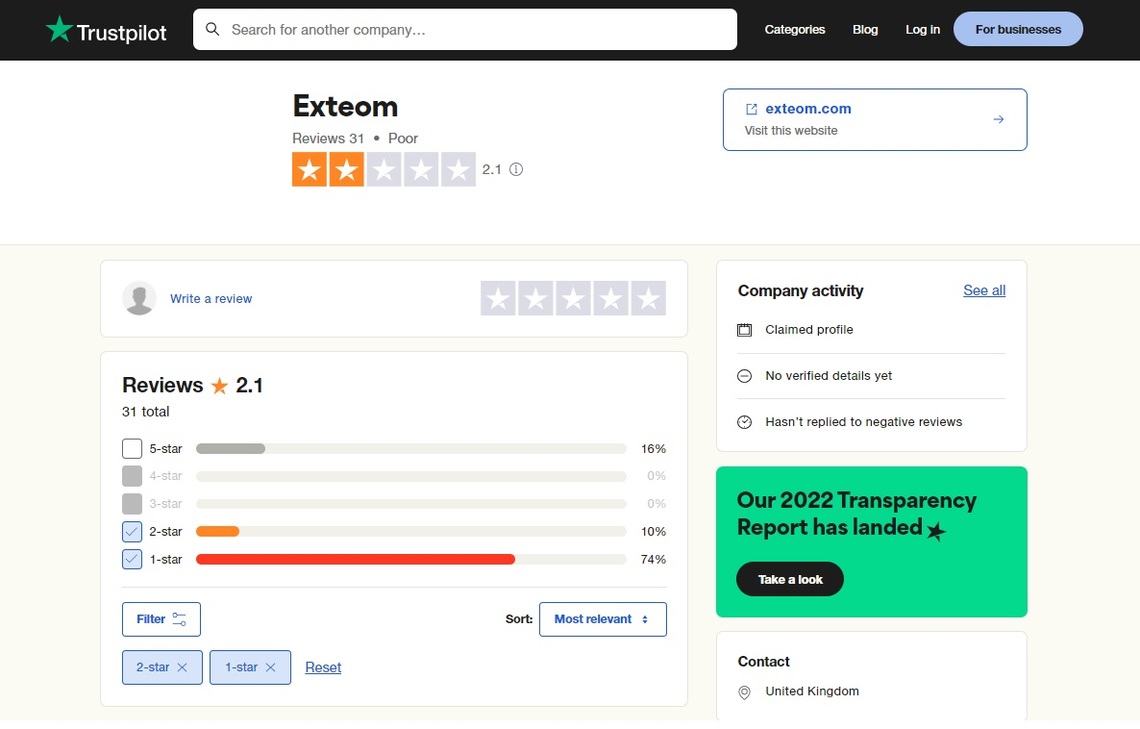 Exteom recently received a poor rating of 2.0 from Trustpilot, with a total of 31 reviews. Over 90% of these ratings are negative, which is alarming because it shows that traders are often dissatisfied. The majority of the unfavorable comments center on withdrawal issues, with many customers complaining that after making a deposit, they have a very difficult time trying to withdraw their money.
One trader shared their experience, stating,
"Deposited €250,-. After a week they wanted me to deposit €5000.-. I did but didn't trust them anymore. After that, someone from Exteom will call you and tell you he will help you transfer your money. It is just the biggest SCAM."
Such feedback shows that Exteom may be using unethical and dishonest tactics to keep investors' money. It also raises major questions about the company's business procedures. The level of mistrust and annoyance with this broker is highlighted by the fact that traders must go to such measures to retrieve their money, including engaging their banks.
A Look at Exteom's Traders They Serve
Exteom draws customers through various channels despite having no social media presence and obtaining unfavorable reviews. The broker, which operates largely from Spain, Germany, the Netherlands, Switzerland, and Czechia, uses a variety of marketing techniques to entice traders.
They probably rely on other promotional channels, such as email campaigns, search engine marketing, and online adverts, although their lack of social media presence can raise suspicions. Potential customers who may not be aware of unfavorable reviews or regulatory problems can nevertheless be attracted by these strategies.
However, traders need to exercise caution and avoid being influenced only by alluring offers. Don't let uncertainties deter you from exploring the world of regulated brokers. Reach out to us for further information and guidance on how to make the right choices.
Deposits and Withdrawal Methods
The lack of transparency displayed by Exteom in not disclosing the accepted deposit and withdrawal methods is alarming. Furthermore, there is still no word on any connected costs, which increases the ambiguity around this broker.
Our sources claim that all payments to Exteom are made via cryptocurrency, which gives con artists a way to remain undetectable. This raises serious concerns and highlights the necessity of completely avoiding this broker.
A broker that operates in such secrecy and makes use of possibly untraceable payment methods should be avoided by traders. For ensuring the security of financial transactions and safeguarding investors' interests, transparent and regulated brokers are crucial. Select reliable brokers who are upfront about their payment policies and commission schedules.
Exteom Pros and Cons
Pros
Cons

Meta Trader 4

Unregulated

Issued warnings

High spreads

Lack of transparency

2.0 score on Trustpilot

Reported withdrawal issues
Long Story Short – Exteom
Finally, Exteom paints a worrying image of an unregulated broker with several warning signs. Because the platform relied on cryptocurrency and lack of transparency surrounding payment methods and withdrawal costs, substantial questions have been raised about its reliability and safety. The unfavorable evaluations, regulatory cautions, and reports of withdrawal problems reinforce the conclusion to avoid Exteom.
Given the potential hazards connected to Exteom, it is crucial to guarantee a safe and dependable trading environment. We can assist if you're looking for reliable brokers who put investor protection and transparency first. Contact us, and we'll connect you with the top brokers who can meet your unique requirements.
FAQ Section
What is Exteom?
Exteom is an unregulated brokerage platform operating without oversight from financial authorities.
Is Exteom A Scam Broker?
Given the absence of regulation, numerous bad reviews, and documented withdrawal troubles with Exteom, it is strongly advised to steer clear of this platform.
Who Are Exteom's Victims?
People who have been hurt by Exteom's unregulated operations, struggled with withdrawals, and risked financial loss as a result of the broker's lack of transparency and unfavorable evaluations are probably among its victims.
Does Exteom Have a Mobile Trading App?
Exteom uses the well-known trading platform MT4 (MetaTrader 4), which provides mobile versions enabling traders to access their accounts and trade on the move. As a result, Exteom does have a mobile trading app.