May 04, 2023
Reading Time:
5
min
PrimeSpotWay Review – Who Is Behind This Scam Broker?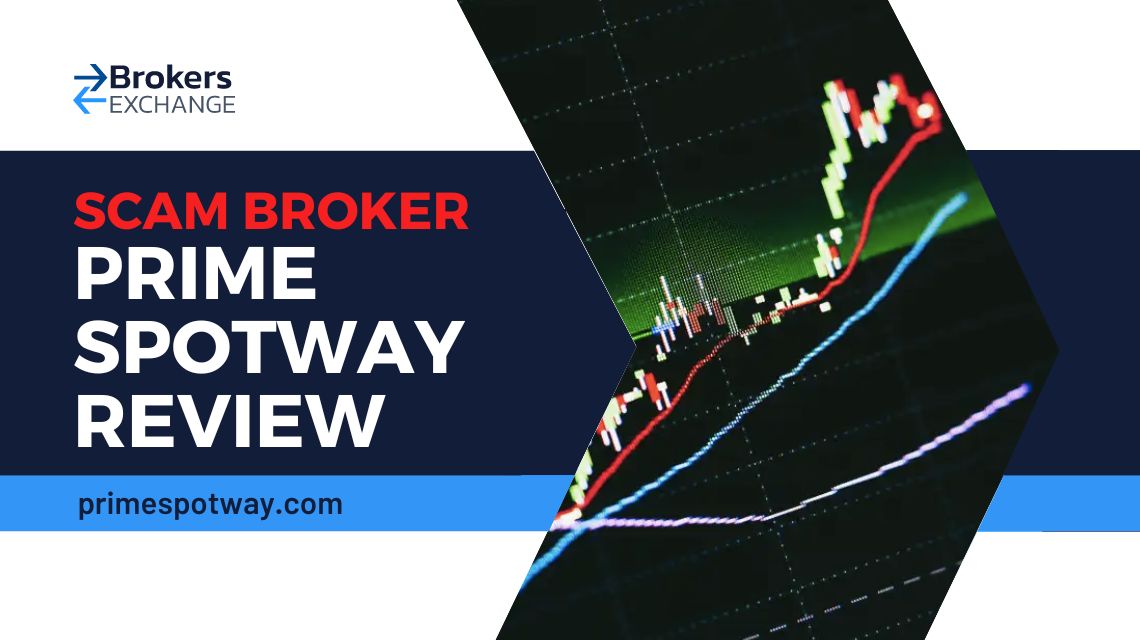 PrimeSpotWay ain't no established German broker as they like to speak of themselves. While they do advertise some outstanding trading platforms and services, they're nothing like what a regulated broker should be. Especially in Germany, with one of the firmest regulated Forex environments. 
The offer that PrimeSpotWay promotes is based on lies and illusions about effortless and lucrative price speculation. But we all know Forex is far more than that and oftentimes investments don't result in profit. To help you understand the extent of the danger that PrimeSpotWay presents, let us show you the warnings against this fraud:
FCAWarning: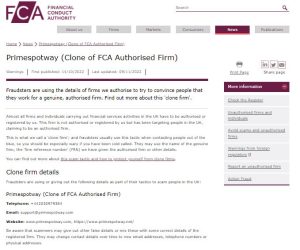 FCNB Warning: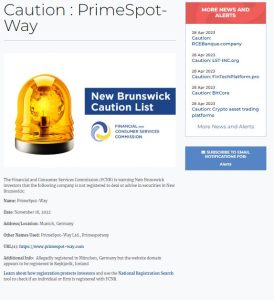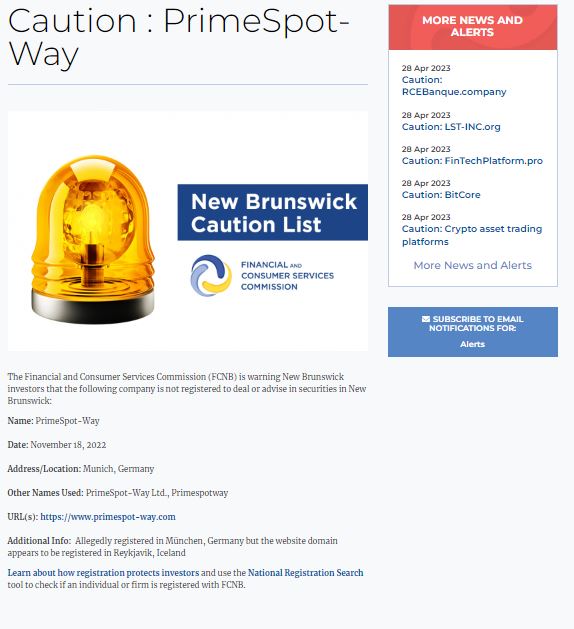 OSC Warning: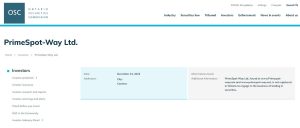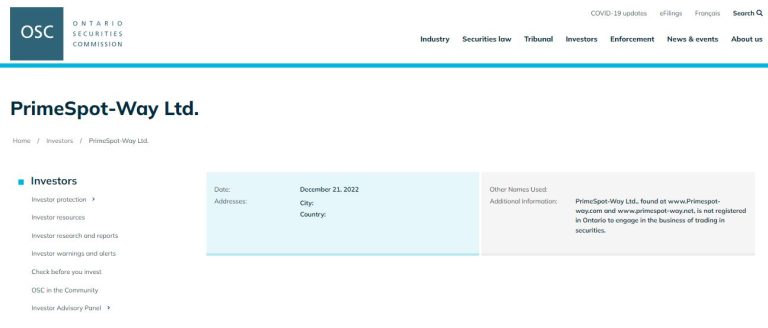 Looks like the warnings were the last straw, as the PrimeSpotWay site went dark after they piled up. 
What is more, we strongly advise you not to invest in UKBTC, Finex Trader, and Virtual Fxtrade fraudulent brokers.
Company

Primespot-Way Ltd

Regulation

Unregulated

Warning

FCA, FCNB, SCA, BCSC, OSC

Website
primespotway.com

primespotway.net

Address

Germany (allegedly)

Email

N/A

Phone

N/A

Minimum Deposit

N/A

Leverage

1:400

Bonuses

N/A
Is
PrimeSpotWay
a Trustworthy Broker?
Regulation and Security
Fake or not, the German location of PrimeSpotWay would imply the broker needs a BaFin regulation to operate in the area. However, after a quick check of the public register of authorized firms, we determined that BaFin has never licensed PrimeSpotWay.
Since the site doesn't disclose any other info about their company, we went to other databases of regulated brokerages. Sadly, all we found on PrimeSpotWay were warnings and not a since regulation. 
FCA, the UK's most prominent financial watchdog has labeled PrimeSpotWay as a clone of a FCA-authorized company – BGC Brokers L.P. You can find out more about this through the link from the beginning of this PrimeSpotWay review. This deems PrimeSpotWay as a scammer and an unlicensed brokerage services provider on UK soil. The same story is with the warnings from the Canadian jurisdictional regulators. 
PrimeSpotWay apparently doesn't provide segregated bank accounts for the safekeeping of the client's deposits. They also offer an absurdly high leverage of 1:400, which would be unacceptable in Germany or the UK, where it can be 1:30 most, with the exception of 1:50, how much is in Canada. 
No BaFin, FCA or IIROC license confirms that PrimeSpotWay doesn't have a negative balance insurance or compensation funds. They're also allowing bonuses, which are banned in the EEA and UK. They're still allowed in Canada but under strict supervision. 
German brokers also abide by the ESMA and MiFID rules, that enforce transparency and transaction reporting as an AML method. PrimeSpotWay operates in the gray zone, under the radar, and without any kind of authorization!
Trading Platform Overview
It's painfully obvious that PrimeSpotWay didn't invest much effort into developing some revolutionary trading software solution. Although they advertise their platform as comprehensive and innovative, it's a complete flop and utter failure. 
What this con artist did is take the TradingView chart and add only two useless buttons to it- Buy and Sell options. Now, this could seem like a fully equipped terminal to Forex amateurs but no one could remain in the dark for so long. Sooner or later one would discover their trading experience is a result of an artificial environment and that no trading is happening!
PrimeSpotWay Trading Account
The website is very meticulous when it comes to account types and the features they supposedly offer. It all looks very attractive and all the helpful tools make PrimeSpotWay look like a great place to start your trading career. Too bad it's all made up because the broker is a clone and doesn't actually operate in the legal framework. 
Some basic trading conditions aren't shown. For example, there are several account types, but you won't find anywhere how much each of them costs:
Classic

Silver

Gold

Platinum

Premium
Funding Methods at PrimeSpotWay
Discrepancies and inconsistencies are natural for scam brokers like PrimeSpotWay. One section of the site lists a load of different payment methods ranging from credit cards to e-wallets to wire transfers. 
The reality is much darker and points at what PrimeSpotWay is at its roots – a rotten financial fraud. The client area on the website reveals the only funding method acceptable, which is Bitcoin. We've already discussed the levels of risks with these kinds of transfers. Not only are they not transparent and safe, but they're also definite and irreversible. 
Don't even get us started on the withdrawal issues. Numerous former PrimeSpotWay clients declare that payouts are impossible with this sham. If you're interested to read more trader experiences, feel free to visit TrustPilot. 
How The Scam Was Executed
Mimicking a regulated company is one way that financial swindlers use to seem genuine and legit. They will often provide their potential victims with cloned data so all the search results will seem valid and the company legal. PrimeSpotWay was getting their customers to believe the facade of a reliable brokerage this way. 
But after the client's deposit, they're directed to the bogus platform that shows an unrealistic trading environment and conditions. Fooled into believing their profit is growing, novice traders don't suspect they're actually defrauded. Not until they ask for a withdrawal. 
Only then do they find out about the astronomically high fees and commissions, as well as trading volume requirements which could permanently suspend all payouts. 
PrimeSpotWay
Summary
Blacklisted, unregulated, and engaged in scamming activities, this broker shouldn't ever be your choice. Luckily for all of us, the site is down, but no one knows for how long. Scammers move on quickly and don't wait too long before they reemerge with a brand-new name and domain. 
That's a good reason to always be on the lookout. Also, keeping up to date with the relevant publishings by the regulators could spare you time and help avoid financial damage. 
FAQs About
PrimeSpotWay 
Broker
What Funding Methods Does PrimeSpotWay Accept?
In reality, only bitcoin. But PrimeSpotWay advertises many other payment methods, like credit and debit cards, e-wallets, and bank wire transfers.
Is PrimeSpotWay a Trustworthy Broker?
No, definitely not. The broker may seem like a great financial services provider but it's worthless without a proper license and regulation.
Is PrimeSpotWay Regulated?
No, they're actually blacklisted by a total of 5 financial regulators from the UK and Canada.