September 08, 2023
Reading Time:
5
min
Fair Forex Review: Exposing the Reality of the Broker In Detail
Scams can easily be recognized if you pay attention. By doing in-depth research and examining the broker head-to-toe, you can distinguish a scam broker from a reliable one. Our Fair Forex review will teach you how to recognize and avoid scams so you can enjoy a safer trading experience. 
Since established in 2019, the broker presented itself as a reliable and transparent brokerage, hence the name Fair Forex. However, nothing about the broker is fair or safe for traders. Additionally, read our Tradiva evaluation to make sure you don't fall prey to their scam. 
Who Is Fair Forex? All About fairforex.com
Fair Forex Ltd, or Fair Forex FX is an offshore trading brokerage located in St. Vincent and the Grenadines and Vanuatu. St. Vincent and Vanuatu are the headquarters of scams where brokers operate without a license. Since it's easy to obtain a license from an offshore regulator, brokers of that kind can't be trusted because adhering to certain rules is not required of them. 
Having that in mind, the company's owner Krissy Jones, established the brokerage in 2019 to create a transparent and reliable brokerage suited for traders of all kinds. She even published the Fair Forex Brokers scholarship, where students could apply and get $2,000 for paying their tuition. However, the broker became a trader's nightmare and the dream of being reliable and transparent just disappeared. 
Fair Forex
Reliable Broker Must Have
Legal name
Fair Forex LTD

Transparently displayed in the disclaimer or legal documents

Regulation
Unregulated

Within your legal jurisdiction – local regulator

Registered in

St.Vincent and the Grenadines
Vanuatu

Your country or the country whose license applies in your legal jurisdiction 

Established
2019

The older the domain – the higher the possibility the company is trustworthy

Website
fairforex.com

Domain should be from local or international zones, no .xyz, etc.

Financial Authorities Warnings

None

Contacts

[email protected]

 

Phone, email, social media, web form

If a withdrawal is possible
Highly unlikely

Yes

Fees

Transparent fees – list of spread and commissions

If Active on Social Media
No

Often present on social media

Investor Protection
None

Compensation fund
Is Fair Forex Regulated?
When the broker was operational, it was regulated by the Vanuatu Financial Services and Commission (VFSC) and registered in St. Vincent and the Grenadines. Since the brokerage is closed down, the suspicion about their reliability only rises further, without the possibility of giving them the benefit of the doubt. 
The Fair Forex global operations included nations like the US and the UK, so it's vital to note that operating from these countries would require a license from reputable financial regulators like the SEC in the US or the FCA in the UK. 
Overall, the VFSC is an offshore regulator and unfortunately can't be trusted like the FCA or other reputable regulators. Traders should proceed with caution trading with brokers from St. Vincent and Vanuatu, such as Xpoken. 
Fair Forex Broker Profile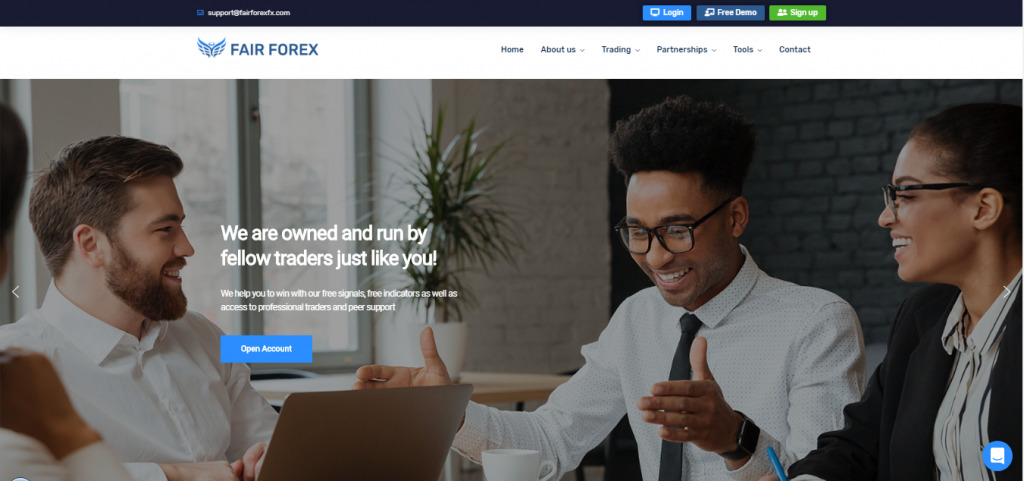 The Fair Forex MT4 platform allows traders to trade in 40+ currency pairs, 60+ stocks, 10+ indices including US30 and S&P500, 15+ commodities, and more than 20 cryptocurrencies including Bitcoin. Before opening an account, you can try the demo with unlimited virtual funds, and depositing a minimum of $50 will open your live account. 
Never trade with brokers that don't offer a demo account. Getting into trading blindly can result in significant losses even if the broker is reliable. Not every trader has the same preferences so knowing yours can ensure finding a broker suited to your needs. 
Trading Platform

MT4, MT5, cTrader

Account Types

N/A

Financial Instruments On Offer

Forex

(EURUSD, EURGBP, USDNOK)

Stocks

(Apple, Amazon, Microsoft)

Cryptocurrencies

(BTC, ETH, XRP)

Indices

(S&P 500 Index, Dow Jones Industrial Average, FTSE 100 Index)

Commodities

(Crude Oil, Natural Gas, Corn)

Maximum leverage

1:500

Minimum Deposit

$50

Commissions/Bonuses

N/A

Mobile app

Yes

Desktop app

Yes

Autotrading

Yes

Demo account

Yes

Education or Extra tools

None
Is Fair Forex Safe To Trade With?
If we consider the offshore regulation, reported issues, lack of transparency, and hidden fees, the broker is as unreliable as it gets. However, they do offer some benefits like the low initial deposit and the demo account, although that is not enough to say they are reliable. 
Trading with FairForex can result in losing a lot if not all of your money and the fact that the broker did go out of business, we can only assume it left many traders without the possibility of getting their funds back because of the lack of a compensation fund. 
Better to stay away from brokers like Fair Forex or 365TradingFX if you want a safe trading experience. 
All About the Fair Forex Pyramid Scheme
The Fair Forex scam started with its pyramid scheme. A pyramid scheme is an unethical and unreliable investment pitch that depends on guaranteeing irrational profits on fictitious investments. Additionally, the constant cold calls from a very pushy broker only confirm that the broker is a scam and should be avoided. 
Traders they cater to mainly come from the United States, the UK, France, Spain, and Thailand. If you are from any of the aforementioned nations, proceed with caution when trading, especially with brokers based in St.Vincent that accept US clients. The pyramid scheme almost guarantees a scam because no reliable broker would lie about profits or returns. 
Deposits and Withdrawal Methods
You can fund your account with Fair Forex using a bank transfer, a debit or credit card (Visa, MasterCard), as well as Bitcoin, Ethereum, VLoad, and PayPal. The minimum deposit amount is $50, however, more is required to upgrade to a certain account type. There are no fees for depositing. 
Withdrawals include the same payment methods and the minimum amount you need to withdraw is $50. Requesting a withdrawal is possible after visiting the Fair Forex login page and typing your account information. The $30 processing fee is charged after the withdrawal is processed and the wait time is 2-5 working days. 
Weighing the Pros and Cons
Pros
Cons

Demo account

Trading platforms

Offshore regulation

Lack of transparency

Hidden fees

Withdrawal issues

Pyramid scheme

Pushy brokers
Quick Insights into Fair Forex
Fair Forex prides itself on reliability and transparency, however, the broker ceased operations, not letting the traders know. Their investors received an email one day that the broker was changing platforms and after a while, accessing their domain was impossible. 
Due diligence and research are crucial, however, we know how frustrating and challenging it can get. Reach out today, obligation-free, and we will locate a reliable choice tailored to your preferences. 
FAQ Section
What Is Fair Forex?
Fair Forex is a brokerage company located in St.Vincent and the Grenadines, trading in forex, commodities, indices, stocks, and crypto.
Is Fair Forex A Regulated Broker?
Before the brokerage was shut down, they were regulated by the Vanuatu Financial Services Commission (VFSC).
How Does Fair Forex Work?
Your trades generate a commission for the broker known as spread.