October 12, 2023
Reading Time:
5
min
Fasttrader Review: This Fake UK-Based AI Tool Claims To Be Reliable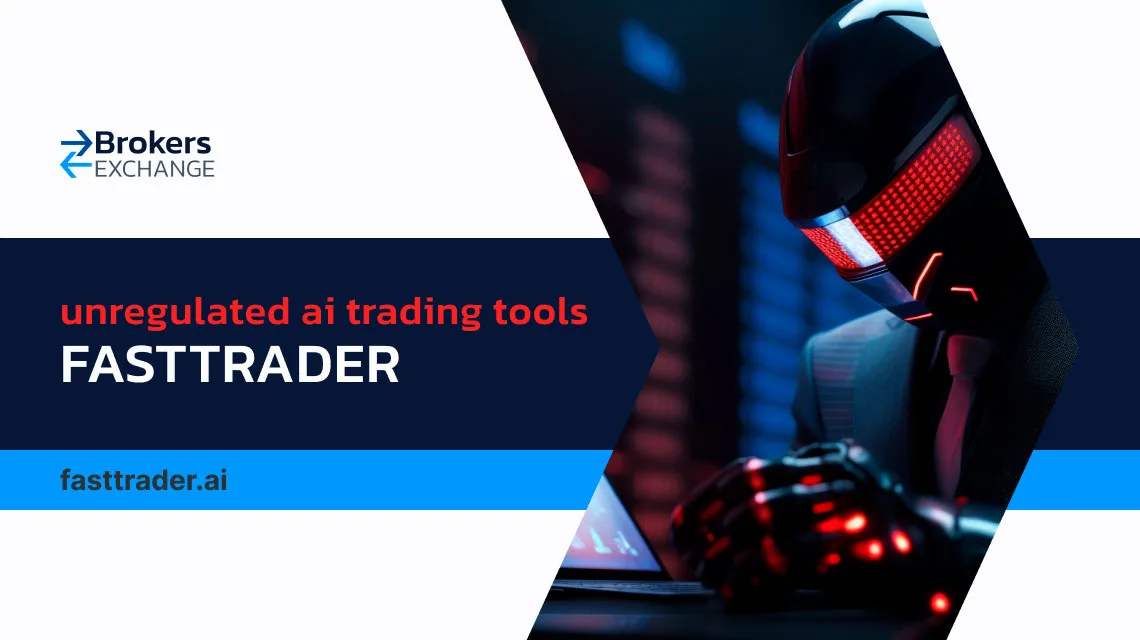 2023 has been crazy overall, from the coronavirus to wars and dissatisfaction among people. Many scammers took that as an opportunity to start fake platforms and brokerage companies, trying to lure as many investors as they could before getting caught. 
It's no surprise that some unreliable firms won't admit that they are not trustworthy and instead, they claim to be a great choice. However, thanks to our Fasttrader review, we can learn for a fact whether or not this platform can indeed help you trade securely. Additionally, check our Aiko Markets review for a broker you should avoid at all costs. 
Who Is Fasttrader?
Fasttrader seems to be a little out of everything including an AI-driven platform and a brokerage. The company was founded by Johnny Robinson in 2023, and they offer financial services to anyone interested. If that isn't bad enough, they are also an unregulated entity. We started digging just a bit around the surface of this platform and already so many warning signs are all around. 
The platform claims to be registered in the UK, however, when we looked them up in the FCA's register, all we could find was a warning from the FCA, advising that the platform is operating in the UK without their oversight and required licenses. So being unregulated wasn't enough, they started presenting as a regulated and reliable firm. 
Company Type
AI Trading Tools
Legal name
Fasttrader
Regulation
Unregulated
Registered in
71-75 Shelton Street, Covent Garden, London, UNITED KINGDOM, WC2H 9JQ
Established
2023-01-22
Website
Fasttrader.ai
Financial Authorities Warnings

ASC
IOSCO
CSA
FCA
SC Malaysia

Contacts
Fees

Performance fee
Hidden fees

If Active on Social Media:
No
Investor Protection:
None
Activity areas
Brazil; Pakistan; United States; Canada; India
Main threats
Unregulated fake firm
Main perks
None
Regulation Info
This platform is similar to one of the firms we reviewed earlier, with several warnings from financial authorities. Having one warning is bad enough but having five can indicate serious issues while trading with this firm. Offering any type of financial service requires regulatory oversight because otherwise, those firms are unreliable. 
The main alert is published by the ASC: 
Despite the firm's claims they are registered in the UK, this FCA warning says otherwise: 
The ASC warning is supported by IOSCO:
And CSA:  
And in addition, there is a warning from the SC Malaysia: 
Fasttrader Profile
The broker they leverage is an STP broker, which means each trade is passed through to the market directly. Their AI software makes automated decisions using the power of AI and analyzes the forex and crypto markets. In summary, Fasttrader is an automated trading software that will do everything for you, however, we know for a fact this platform is not a reliable choice. 
According to the firm's website, residents of Canada are not permitted to open an account, however, many of their traders come from Canada. This platform seems to lack many things, including transparency, and nothing it offers is worthy of the stress you will go through if you choose this firm. 
Trading Platform

Fasttrader Software

Account Types

N/A

Financial Instruments On Offer

Maximum leverage

N/A

Minimum Deposit

$500 minimum for funding your account 

$60/month or $600/year subscription

Commissions/Bonuses

None

Mobile app

No

Desktop app

No

Autotrading

Yes

Demo account

No

Education or Extra tools

None
Is Fasttrader Safe To Trade With?
Any unregulated broker or platform providing financial services can't be safe to trade with. Regulatory oversight exists for a reason and choosing a reliable firm is crucial if you wish to make profits. This firm is unreliable for many reasons, including the lack of regulation and transparency, high initial deposit, five financial authorities warnings, and many other things. 
Our AI Analysis Bot excels in transparency and you will know what to expect at every moment. This innovative software can become a beneficial tool that will help you boost your chances for profits. If trading safely and more profitably sounds tempting, we explain more toward the end of this article. 
How Is the Scam Carried Out?
There are potential risks of using AI auto-trading, especially since some AI models are overfitting to historical data, meaning they can perform well in the past but poorly in the present. Predictions may be incorrect if the data is noisy. Before investing in such platforms, users should investigate and comprehend the AI auto-trading platform they are planning to use. 
Since the firm is unregulated, there are no boundaries for them and everything they do is not monitored, therefore that increases the risks of potential scams. It's vital to remember to avoid brokers like TheExchangeBank and dedicate your time to learning more about potential risks. 
Deposits and Withdrawal Methods
The minimum you need to deposit on your account as soon as you open it is $500. The easiest way to do so is by bank wire transfer. The funds are then sent from your bank directly to the broker's account. Crypto deposits are also accepted by traders who used the method before. 
You can't request a total withdrawal every quarter, however, the firm claims to aim to enable withdrawal windows that are multiple times a quarter. The most interesting and concerning thing we noticed was that the firm requires all Crypto AI a 12-month commitment of the funds due to the nature of trades. 
Weighing the Pros and Cons
Pros
Cons

None!

Unregulated

Lack of transparency

Hidden fees

No educational material 

High deposit

5 warnings by authorities 

Expensive subscription

Potential scam
Can I Make Money While Trading Online?
Trading is a huge risk and being aware of those risks is what will get you started. Making money while trading online requires knowledge, strategy, and the right tools among many other things. Having that will ensure you trade safely and make you to less likely become a victim of scams. Awareness is the key to profitable trading, however, remember that profits are not guaranteed. 
Once you obtain knowledge and create a plan, that is when our AI Analysis Bot comes to your rescue. This potent program gathers information from charts like previous asset prices and other interesting data to make insightful recommendations on whether to buy or sell. It uses sophisticated technical analysis to predict future price movements, which is great for beginners.
If you are ready to boost your chance of making profits, be quick and within the first 100 traders to reach out so you can try this amazing bot for 14 days for free. It's a great chance to learn more about AI-powered tools and technology so act quick and grab this once-in-a-lifetime opportunity. 
FAQ Section
What Is FASTTRADER?
FASTTRADER AI is a software for automated trading, which supports Forex and Crypto.
Is FASTTRADER Regulated?
No, Fasttrader is not a regulated entity and to make it even worse, five financial authorities issued an alert, warning traders to stay away from this firm.
How do I keep track of my investments in FASTTRADER?
With the help of a special PAMM Portal which enables easy tracking of when their software posts profits or losses.
Where do my funds go if I wish to invest in FASTTRADER?
Your funds are held in your own broker account that only you have access to, according to the firm.