March 04, 2023
Reading Time:
3
min
TheExchangeBank Review – Broker We Don't Recommend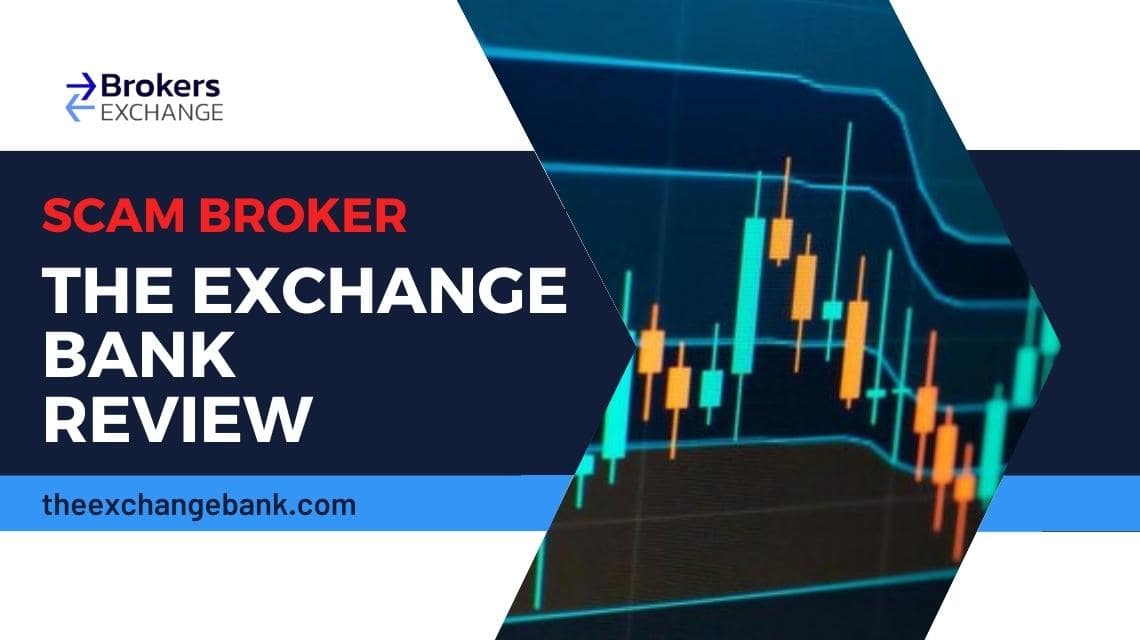 TheExchangeBank is yet another brokerage attempting to deceive you into thinking they are a trustworthy investment option, while in reality, they are just a dishonest broker out to steal your money. You will simply receive promises in exchange; there is no chance at all that you could make money through this agent. 
Anyone who transacts with unregulated dealers, such as the one we are examining right now, is taking a significant financial risk. To learn more, read our TheExchangeBank review.
Furthermore, we advise you to avoid fraudulent brokers like GSL Markets, UberChains and Green Capitalz.
| | |
| --- | --- |
| Company | The Exchange Bank |
| Website | TheExchangeZBank.Com |
| Address | 2 Bartholomew lane, London, EC2N 2AX, United Kingdom |
| Email | [email protected] |
| Phone | 61861879024 |
| Minimum Deposit | N/A or $10000 |
| Leverage | 1:200 / 1:300 / 1:400 |
| Bonuses | N/A |
| Regulation | No |
| Warning | N/A |
Regulation and Fund Security at TheExchangeBank
TheExchangeBank claims to be a UK-based broker, however, it has not given any information on its licensing number. All UK-licensed brokers can be located on the FCA register, and we searched for a brokerage with the name TheExchangeBank, but we found no information there. 
This indicates that the organization behind it—a corporation about which we were unable to obtain any precise information—is not permitted to provide services in the nation and is hence engaged in unlawful business. Engaging with scam brokers would rob you of numerous important protections from which you would otherwise gain.
Working with a licensed company is the only way to trade profitably and safely; otherwise, you run the risk of suffering significant losses if you place your funds in the hands of fraudsters.
Trading Software Available at TheExchangeBank
Access to a very standard web-based trading platform – WebTrader – is available through TheExchangeBank broker. Although such a platform does offer some solid charting and analytical tools as well as other functions like the capability to set alerts for price changes or an embedded economic calendar, we can assure you that you're going to quickly become tired of them. 
After all, you shouldn't accept an average platform if you want a wonderful trading experience. Instead, we advise you to pick a broker that has a highly effective trading platform. MetaTrader 4 as well as MetaTrader 5 are the most used platforms in the market.
Deposit and Withdrawal Methods
TheExchangeBank broker accepts payments via wire transfer, cryptocurrency wallets, and debit/credit cards. The company does not impose fees, and the minimum withdrawal sum is $100. However, to make a deposit, you must speak with an account manager. The minimal deposit amount is yet unknown. 
Although the Silver account begins at $10,000, we can only hope that new users won't require such a substantial sum. However, the FAQ only mentions the most money you can start with; it makes no mention of the minimum. After being approached by a broker representative who will assess your financial condition, you can presumably acquire such information.
You cannot file a chargeback for cryptocurrency payments since they are untraceable. The money is therefore permanently lost the moment it leaves your wallet.
Over the past few years, scam brokers have taken advantage of this information quite a bit. They didn't try to hold back from robbing their consumers of all their money because they knew that their anonymity provided protection thanks to the wallet.
TheExchangeBank Account Types
There are five extremely expensive account kinds available at TheExchangeBank. Following are the names and the required minimum deposits for each:
Silver Account: $10,000
Gold Account: $50,000
Platinum Account: $100,000
Diamond Account: $250,000
Corporate Account: $1,000,000
Margin loans increase with each account. Leverage ranges from 1:200 up to 1:400, and you can obtain more instructional resources the more funds you invest.
How the Fraud has Carried Out
Investment frauds typically fall into one of three categories:
The investment proposal is entirely fictitious.
Although the investment is real, the money you provide the con artist does not go toward it.
The fraudster claims to represent a well-known company, but they are deceiving you.
Whatever the case, the funds you 'invest' are directly deposited into the thief's bank account and are not used for actual investments. If you send money to a fraudster who is situated abroad, it is quite difficult to get it back.
Every scam is unique, and anyone might fall victim to one. Frauds can appear real at the time and are frequently very difficult to detect. Scam brokers can imitate reputable businesses by using applications and websites with a professional appearance.
TheExchangeBank Summary
An unregulated broker by the name of TheExchangeBank tries very hard to appear reliable. Investing with this brokerage is not recommended as it will most likely lead to losses. If this dealer has taken advantage of you or anyone you know, do let us know. 
Our professionals might be able to assist with cryptocurrency tracking and fund recovery. Don't let swindlers get away with your hard-earned money. This TheExchangeBank review is intended to serve as a reminder of that.
FAQs About TheExchangeBank Broker
What Account Types Does TheExchangeBank Offer?

TheExchangeBank offers five extraordinarily pricey account types: Silver, Gold, Platinum, Diamond and Corporate account.
What Is The Minimum Deposit at TheExchangeBank?

The minimum deposit is not known. What we do know, is that the Silver account has a minimum deposit of $10,000.
Can I Trust TheExchangeBank Broker?

TheExchangeBank broker is an illegitimate provider of financial services, therefore you should not trust them.