March 05, 2023
Reading Time:
3
min
Aiko Markets Review – Who Is Behind This Scam Broker?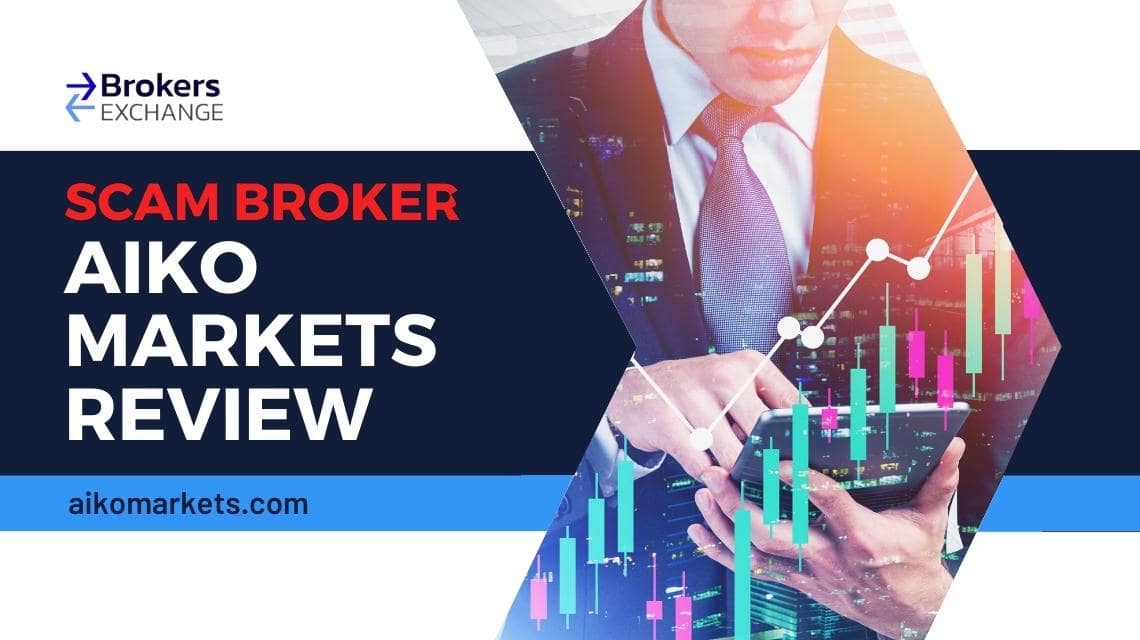 Aiko Markets Review, They appear competent at first glance, but believing the so-called company is reliable would be self-deception. The trading business is incredibly dangerous, it's an offshore firm – with no oversight, and to top it all off, Aiko Markets doesn't give enough details regarding the fees levied. Due to this, we are unable to suggest them to anyone, and we'll explain why in the Aiko Markets review that follows.
On the contrary, you should avoid dealing with questionable brokers like TheExchangeBank, GSL Markets and UberChains.
| | |
| --- | --- |
| Company | Aiko Markets |
| Website | AikoMarkets.Com |
| Address | Aiko International LTD, Griffith Corporate Centre, Suite 305, Kingstown, St. Vincent, and the Grenadines |
| Email | N/A |
| Phone | N/A |
| Minimum Deposit | $10 |
| Leverage | 1:500 |
| Bonuses | N/A |
| Regulation | No |
| Warning | N/A |
Is Aiko Markets a Trustworthy Broker? Regulation and Security
Aiko Markets is a trademark of Aiko International LTD, a business with St. Vincent and the Grenadines corporate registration. We tracked it down and can establish that such a company is legitimate; nonetheless, this does not make Aiko Markets a trustworthy broker. Contrarily, all dealers who are exclusively registered in St. Vincent and the Grenadines are just not subject to regulation, and it is never advisable to put your trust in them.
The absence of regulation is a severe problem since it shows that the brokers are not overseen or monitored, leaving them free to act in whatever way they like. Imagine if Aiko Markets wants to defraud you of your money. They don't have any authorities to answer to, therefore that's not a problem.
The fact that offshore brokers are anonymous and essentially IBCs with hidden ownership is another issue. Consider it this way: You'll transmit money to anonymous recipients who, on top of everything else, are unchecked and are free to do whatever they want with your money while potentially committing crimes. Does this seem right to you?
The transfer of funds to scam brokers is the final factor to take into account. As you undoubtedly well know, it's challenging, if not impossible, to track down assets that have been hidden offshore. Well, consider it from your own perspective. As soon as you transfer your money, it will essentially vanish and be impossible to locate.
Trading Platform Overview
Even novice traders are familiar with MetaTrader 4, which is made available through Aiko Markets. We cannot disregard the fact that this brokerage provides one of the most extensive trading platforms available, but we would like to draw attention to the fact that many scammers attempt to leverage MT4's strong reputation to entice new victims. To trade with a dishonest broker is not justified by good trading software alone.
The MT4 platform was introduced more than a decade ago, yet even new traders are likely to be familiar with it or at least have heard of it. It is still regarded as the industry standard for forex trading. It has a big user base and is used daily by millions of individuals.
Aiko Markets broker also provides WebTrader, which is the most popular software among scam brokers.
Funding Methods at Aiko Markets
Aiko Markets receives money in a variety of cryptocurrencies, including Dogecoin, Ethereum, USDT, Litecoin, and XRP. Bitcoin can also be purchased directly through a cryptocurrency exchange or Instacoins. With this broker, it was either crypto or nothing; there were no other options. 
This is a major red flag because only scam brokers would insist that you utilize this particular payment method. This is due to the fact that such transactions are anonymous, which makes them ideal for fraud. Avoid using this payment option with shady businesses.
How The Scam Was Executed
Scam brokers and fraudsters may knock on your door, send you an unexpected email, or telephone you without warning. Swindlers now have more options to target you and steal your information thanks to the internet and developments in digital communications.
You've probably already seen the most prevalent scam: spam emails claiming to be from your bank or HMRC or claiming that you're about to win big. Others are significantly more complex, despite the fact that certain email scams might be rather simple to recognize and prevent.
Aiko Markets  Summary
Aiko Markets is an anonymous broker that makes every effort to appear trustworthy. In-depth legal documents, access to a reputable trading platform, and fair trading conditions were all supplied for us. The broker's offer is just inappropriate in many ways, though, as Aiko Markets is unregulated, levies exorbitant fees, and only takes cryptocurrency deposits. 
Avoid trading with this broker because doing so will almost certainly result in losses. Please let us know if this broker has defrauded you or someone you know. Our experts might be able to help with fund recovery and cryptocurrency tracking. Don't let con artists escape with your hard-earned cash. This Aiko Markets review is here to remind you of that.
FAQs About Aiko Markets Broker
What Funding Methods Does Aiko Markets Accept?

Several cryptocurrencies, including Dogecoin, Ethereum, USDT, Litecoin, and XRP, are accepted by Aiko Markets.
Is Aiko Markets a Trustworthy Broker?

This trading company is extremely risky and an offshore company with no oversight and is not trustworthy at all.
Is Aiko Markets Regulated?

Aiko Markets is unregulated, charges astronomical fees, and only accepts deposits in cryptocurrencies.