September 20, 2022
Reading Time:
4
min
Finutrade Review: Who is Behind Finutrade.com?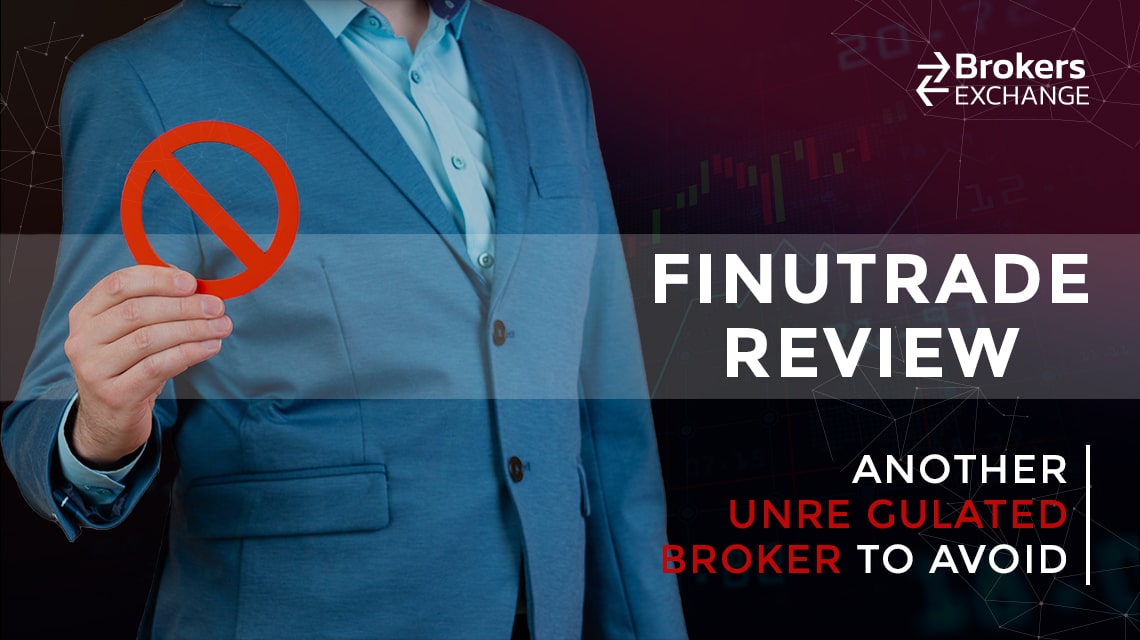 Before diving into why Finutrade is not a great option to invest your hard-earned money, you should look at the information provided in the chart below.
You will notice right away that the broker is unregulated, based in Saint Vincent and the Grenadines, and doesn't provide any good trading terms.
To make it even worse, SVG is the only country without financial authorities supervising Forex and CFD firms. Thus, it's clear that Finutrade, just like many others, tried to hide under the radar.
Furthermore, you should stay away from trading with dishonest brokers like TrustGarden, VelocityTrade, and AFLPlanning.
| | |
| --- | --- |
| Company | Shadorte Ltd |
| Website | Finutrade.Com |
| Address | Beachmont Business Center, 242, P.O. Box 1510, Kingstown, St. Vincent, and the Grenadines |
| Email | [email protected] |
| Phone | +442038076465 |
| Minimum Deposit | 250 USD |
| Leverage | N/A |
| Trading Bonus | Yes (up to 50%) |
| Regulation and License | Unregulated, Blacklisted, Offshore |
| Warning | CNMV, FSMA, CMVM, Finanstilsynet |
Finutrade's Regulation and Security of Your Funds
Investments always come with two sides: you gain or lose your money. Mainly, the outcome will depend on the broker you choose and your trading skills.
Proper understanding and research of both the market and the broker can reduce the possibility of monetary losses.
An unregulated broker such as Finutrade is not governed or monitored by any authority body, meaning your money is at risk. Furthermore, the alleged owner of this scheme is Shadorte Limited, registered in SVG by a third party.
Even if you wanted to search for the owner and start legal actions, it's possible you won't find it. Simply put, Finutrade can perform its fraudulent activities without getting traced.
Instead of taking our word for granted, you should check Finutrade reviews and regulatory warnings. The Spanish CNMV blacklisted the firm, and this action was followed by the regulators of Portugal, Belgium, and Norway.
Review of Finutrade Trading Software
If you trust the broker's website, which we don't recommend, you will get access to an award-winning web-based trading solution. However, there's no link to access it and the Demo account is not enabled.
Therefore, you have two options – to trust what's written or to conclude that this trading firm most likely doesn't offer any trading software but scams clients and disappears.
If you're serious about online trading, you should find yourself a trading firm providing reputable software, such as MT4 or MT5. With any of these, you're ensuring fund safety and a large number of features and analyzes.
What Type of Trading Accounts Does Finutrade Offer?
Finutrade broker provides five types of trading accounts for its clients, including:
Micro Account – 5,000 MNT
Premium Account – 25,000 MNT
Bronze Account – 75,000 MNT
Essential Account – 150,000 MNT
Standard Account – 1,500,000 MNT
When looking at these amounts, one may think Finutrade is a pricy broker. However, Finutrade's initial deposit starts from 5,000 Mongolian tugriks, equal to $1.5. The Standard account is worth around $500, which is quite a low amount.
While it remains unclear why the broker decided to ask for deposits in Mongolian currency, we can tell that Bronze account customers are entitled to trading education and a dedicated account manager.
Those with the Silver one get premium daily analysis, while Gold account users get premium customer support.
Deposit and Withdrawal Methods With FinuTrade
Another issue with this brokerage is the lack of basic information. So far there's nothing about deposit or withdrawal methods, and there are no valid legal documents. 
Since registering an account was impossible at the time of writing this review, we could not log in to the Client Portal and check the available deposit options.
Without Withdrawal Policy, we don't know much about fees either. It's pretty clear that this firm has no intentions of allowing any payouts but taking the deposit and vanishing.
How Do They Lure Victims into Their Schemes?
Similar to any fraudulent schemes lurking around, Finutrade will offer its victims promises of good returns if they start investing with the firm. 
Of course, all that without any risks and with professional account managers. Unfortunately, there is always a risk of winning or losing and nobody can claim the opposite.
Soon the broker support team will constantly pressure you to upgrade your account and invest more. Then they will propose various financial plans and promise anything you want to hear. 
As you can already understand, the story is nice, but the actions aren't. Once you request a withdrawal, your request will be denied and your trading account suspended.
Finutrade Summary
To summarize the obvious – your funds are not safe with a Finutrade broker. The company is based in Saint Vincent and the Grenadines, the only country without Forex and CFD broker supervision, and operates without a license. 
In addition, there's no trading platform, the deposit and withdrawal methods are not disclosed, and there are no legal documents.
As a result, The broker has been blacklisted in several countries, including Spain, Norway, Belgium, and Portugal.
In general, being scammed is easy. Reporting a scam and fighting for your funds is the hard part. This time Don't stand aside. So fight for your hard-earned money and ensure you report scammers immediately.
FAQs About Finutrade Broker
What Is The Finutrade Minimum Deposit Amount?

Finutrade broker requires a minimum deposit of 5,000 MNT, approximately $1.5.
What Are The Trading Instruments Available at Finutrade?

According to the website, Finutrade is a crypto-oriented broker, enabling only digital currency trading.
What Account Types Does Finutrade Offer?

Finutrade offers five account types – Micro, Bronze, Silver, Gold, and Platinum, each requiring a different amount of money.