October 10, 2022
Reading Time:
4
min
VelocityTrade Reviews: What Are They and What Do They Do?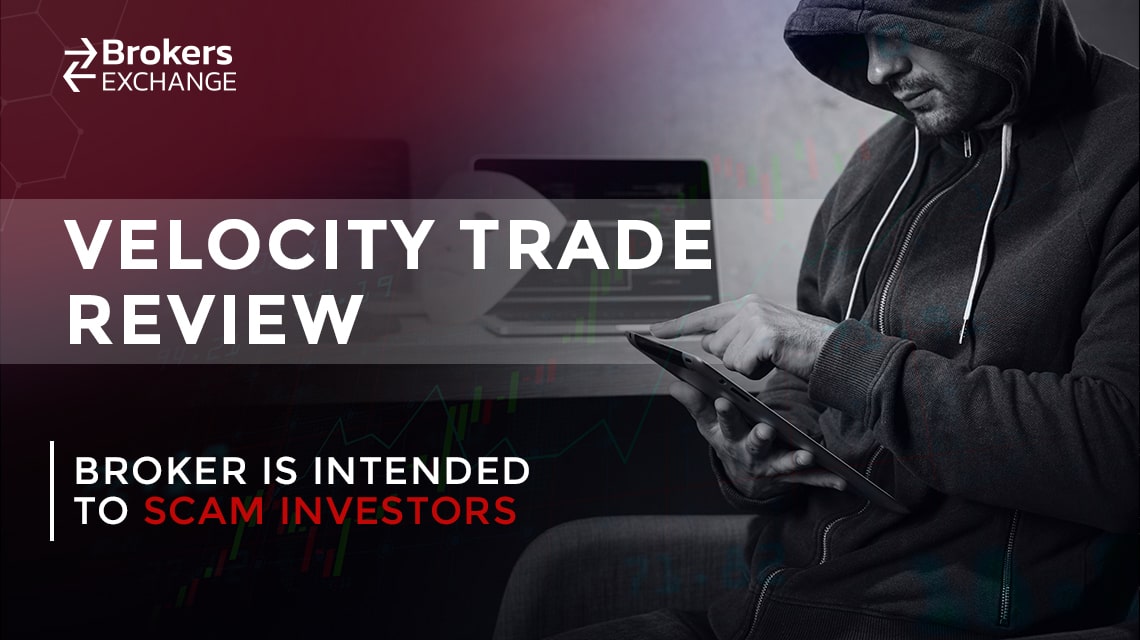 An experienced trader does not have to look far to see that VelocityTrade is a scam broker that is anything but legitimate. To start, this broker provides two addresses, one in Canada and one in the UK.
However, when we checked the IIROC (Canada's regulatory organization) and the FCA (the UK's Financial Conduct Authority) VelocityTrade was nowhere to be found. 
This alone should be enough to dissuade you from trading with this broker. Furthermore while looking through the terms of service it is easy to see that the whole document was just copy-pasted from another scam broker as it contains nothing that ties it specifically to VelocityTrade. 
There is a brief mention of the Grenadines and one can only assume this means Saint Vincent and the Grenadines (SVG) where many scam brokers are based.
In essence, this broker provides an anonymous way to make investments at the expense of the safety of their client's finances. 
Like the laundry list of unscrupulous brokers based in SVG, VelocityTrade's primary interest is not facilitating a safe and legitimate platform for investors but rather making it as close to impossible for their clients to ever see any of the money they have invested again.
A complete VelocityTrade review has found nothing that indicates any level of legitimacy for this broker. 
From a high initial deposit of 5000 USD to the nearly impossible terms of withdrawal we would not recommend going anywhere near this broker.
Moreover, we advise you not to invest with these fraudulent brokers such as XProMarkets, WinGroup, and EasyTrade.
| | |
| --- | --- |
| Company | VelocityTrade  |
| Website | VelocityTrade.Com |
| Address | UK: Lime St, London Canada: Adelaide St W, Toronto |
| Email | [email protected] |
| Phone | UK: +442045483471Canada:+14169139532 |
| Minimum Deposit | 5000 USD |
| Leverage | 1:500 |
| Bonuses | Available |
| Regulation | Unregulated  |
| Warning | IIROC |
Is VelocityTrade a Legit Broker? License and Fund Security
VelocityTrade, much like its terms of service, is a copy-paste investment scam. Based offshore in SVG this broker is not subject to any regulatory body, meaning they are free to do pretty much as they please with your deposit.
This can include but is not limited to intentionally creating a convoluted withdrawal method that makes it nigh impossible for a client of theirs to ever withdraw any money from their account. 
Overview of the VelocityTrade Trading Platform
Like the majority of investment scams, the VelocityTrade broker uses a simple web-based platform. This poses an issue even for those with years of experience let alone novice traders trying to place their first trades. 
The reason this is such an issue is that the tools available through poorly constructed web-based platforms are far from sufficient to make quality decisions about your trades. 
The reason MetaTrader 4-5 is industry standard is due to the level of functionality that they provide such as the high degree of customization they afford the user and the ability to use multiple accounts. 
VelocityTrade Deposit and Withdrawal Methods
Fraudulent brokers rarely allow their victims the opportunity to use standard methods to make their initial deposits as the goal for them is to make off with your money, leaving you with as few recovery options. This might be true for VelocityTrade as well. 
Unfortunately, we can not confirm that this broker allows credit card or wire transfer deposits as this information is hidden till an account has been approved.
In general, scam brokers will nudge their victims towards making a deposit with cryptocurrency because there is nothing that can be done to recover payments made with crypto. 
The withdrawal method provided by this broker is equally heinous. The first red flag is that they charge a 50 USD withdrawal fee (the majority of legitimate brokers do not charge a withdrawal fee). 
Secondly, if you receive any kind of bonus then you are completely unable to withdraw your funds until you reach a ridiculous limit of 30 times the initial deposit. 
Trading Account Available at VelocityTrade 
The accounts available to traders are as follows: 
Smart- minimum deposit of 5 000 USD
Expert- minimum deposit of 20 000 USD
Financial Guru- minimum deposit of 50 000 USD
It is common for scam brokers to require high initial deposits from their prospective clients. In stark contrast to this, legitimate brokers ask their clients for initial deposits as low as 10 USD. 
How Do These Broker Trading Scams Work?
It starts with a Facebook ad that prompts you to follow a link to an app download or a website that presents you with a get-rich-quick scheme. Simple enough you can just click away, right? Not really. 
The entire point is to get your contact information, like a phone number or an email. At this point, the "client" will receive calls and emails about concrete investment plans until they cave in and make the hefty 5000 USD minimum deposit. 
To stay safe, we always suggest searching the broker through your local financial authority such as the FCA or IIROC. If the broker you have selected does not appear in your search it is a safe bet that the broker is an investment scam. 
VelocityTrade Summary: 
VelocityTrade is an offshore scam broker which uses shady practices starting with their incredibly high initial deposit and going all the way to making it nearly impossible for clients to withdraw their money.
In conclusion, you'd do yourself a favor by staying away from this firm. Instead of risking $5,000 with the broker blacklisted in Canada, you could find a legitimate firm. Since nothing about VelocityTrade guarantees money return, you have no reason to risk. 
There are plenty of legitimate brokers out there, but VelocityTrade is just not one of them.
FAQs About VelocityTrade Broker
Is VelocityTrade Regulated?

The VelocityTrade brokerage is not regulated by any recognized regulatory body.
What Leverage is Available with VelocityTrade?

VelocityTrade provides a maximum leverage of 1:500 for its clients.
How Long Does it Take to Withdraw from VelocityTrade?

We are unsure of how long it takes to make a withdrawal from this broker however, we are sure that they make it very expensive for you to do so with hefty withdrawal fees.