October 12, 2022
Reading Time:
4
min
AFLPlanning Review: Who Is AFLPlanning Broker?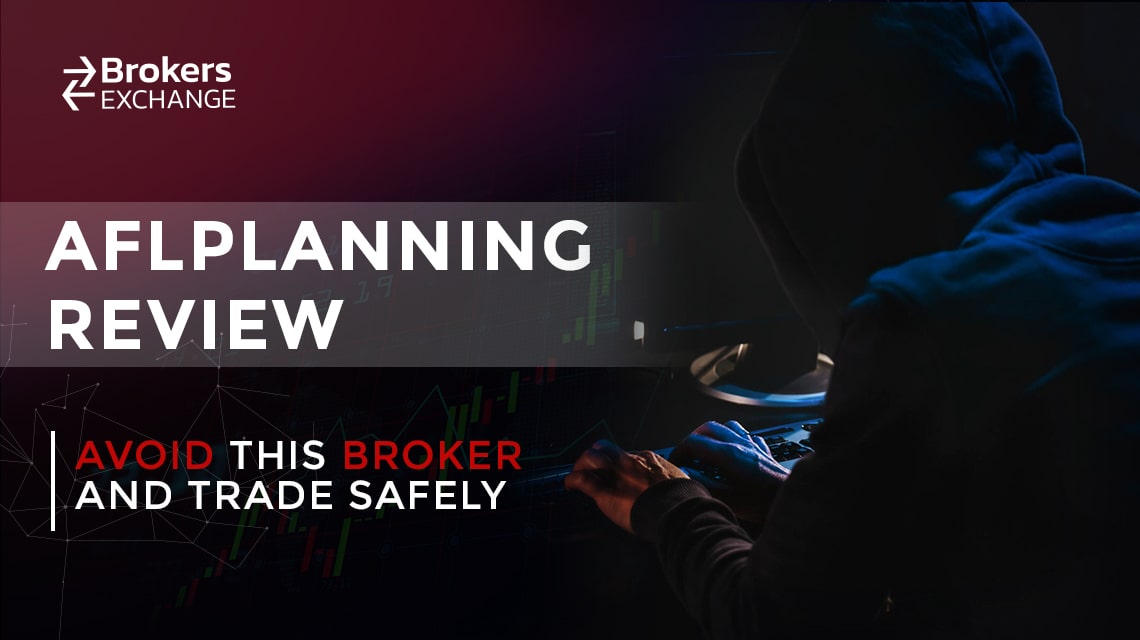 AFLPlanning, From the moment of accessing the website seemingly, it looks like any other webpage for online trading. But when you start digging deeper, you will shortly realize that this is a big illusion or, better said, deception. 
To put it briefly, AFLPlanning is a clone company of a valid entity AFL Financial Planning Services Limited, and it should be avoided at all costs.
The former operates illegally and anonymously and is warned against by the Financial Conduct Authority (FCA), while the latter is a genuine and transparent firm approved by the FCA. For more detailed findings on this shady business, please read our AFLPlanning broker review.
In addition, we advise against investing with fraudulent brokers such as OpoFinance, IndexStockPro, and Capitality.
| | |
| --- | --- |
| Company | AFLPlanning |
| Website | AFLPlanning.Com |
| Address | N/A |
| Email | [email protected], [email protected] |
| Phone | 07961601815, 07947505506 |
| Minimum Deposit | 250 EUR |
| Leverage | 1:300 |
| Bonuses | Yes |
| Regulation | No |
| Warning | FCA, BaFin, CONSOB |
Is AFLPlanning a License and Regulated Broker?
Depending on their jurisdiction, all legitimate brokerage services must be accredited by one or several financial market regulators.
For instance, the FCA authorizes brokers to operate in the UK. By doing so, a brokerage must abide by British law, meet prerequisites, and maintain the quality of services. 
This set of criteria ensures the safety of traders in a specific financial authority's jurisdiction, meaning that the British FCA covers British citizens.
For instance, this coverage is embodied in the right for indemnity if a forex provider ceases trading, meaning you can receive a compensation of 20,000 EUR and more, depending on the financial supervisory body.
So, if a firm claims it's regulated, it can be easily verified. After checking the FCA website to investigate AFLPlanning, we discovered that it isn't certified and that the FCA has exposed this broker as a clone company. Spot the difference in webpage addresses.
Fraudulent Broker: AFLPlanning — AFLPlanning.Com
Legit Corporation: AFL Financial Planning Services Limited — AFLFP.Com
Further, the German BaFin and Italian CONSOB have also blacklisted AFLPlanning. Therefore, trading with this deceitful broker is risky since you will probably lose your money.
We advise choosing reputable forex providers authorized by top-level governing agencies such as FCA, CySEC, and ASIC to protect your interests and capital.
AFLPlanning Trading Software Overview
Leading online trading enterprises use refined trading platforms such as MetaTrader4 (MT4) and its improved successor MetaTrader5 (MT5) that come with advanced trading tools like copy trading, stop loss, economic calendar, and more.
On top of this, they offer proprietary mobile trading apps for smartphone users. The best thing is that you can test all of these for free by opening a demo account.
Untrustworthy organizations like AFLPlanning can't reach the necessary standard of providing proper trading software since it fails to offer MT4, MT5, or similar. 
This bogus broker won't let you test its trading program and conditions unless you open a live (paid) account. In this case, you must put 250 EUR to evaluate their offer— this is useless and not competitive and only makes sense for fraudsters.
AFLPlanning Deposits and Withdrawals Method
Concerning accepted payment methods, as per its website, AFLPlanning accepts credit/debit cards, wire transfers, and e-wallets. If you are defrauded by this company and paid with VISA or Mastercard, you can apply for reimbursement. Otherwise, please avoid AFLPlanning; you can't trust them.
The minimum required deposit with AFLPlanning is 250 EUR, above the industry average. For example, you can open a trading account for only 1 USD with one of the best forex providers.
As discussed, AFLPlanning doesn't offer a demo account, a hallmark of illicit brokerage. As a reminder, demo account holders can trade for free and without risks and test trading platforms, tools, and conditions.
There are minimal chances of drawing funds from financial swindlers like AFLPlanning. The firm also charges a commission for withdrawals according to its unfavorable and malicious terms—anyway, additional reasons for not trading with AFLPlanning.
This Is How The Scam Is Conducted
AFLPlanning scam is perpetrated by con artists trying to lure victims into an investment scam by fraudulently impersonating a bona fide company/person. A fake website, counterfeit license, and manipulative trading software, all of these are part of their dirty tricks. 
Many people will buy this story, especially those who don't have much experience in online trading. When scammers persuade you to invest, real issues start.
First, you won't see your equity ever again. Second, you will lose more money if you mistake and trust them. Likewise, you can be keen to return your investment no matter what, which may cost you more. 
They can count on this and levy additional fees that must be paid in advance to allow you to make a withdrawal. So, it's a vicious circle. They always want more money.
Suppose their generous bonuses attract you, know that promotions are 1) forbidden in the EU and other jurisdictions, and no single respectable company offers bonuses, and 2) scam brokers offer bonuses with strings attached. 
The latter means you will never get a reward; it's just used to deceive you. To summarize, there is a rising number of online trading scams; be cautious and always double-check everything.
AFLPlanning Summary
Our AFLPlanning review provided you with more than enough reasons for giving this unscrupulous brokerage a miss. Moreover, you now understand the importance of background checks. 
Verify every forex provider before investment, including regulations, owners, trading software, education resources, trading accounts, funds protection, and customer service. All this is crucial for trading, and AFLPlanning doesn't offer any of it.
Naturally, with many opportunities come challenges; the same applies to currency markets. Stock trading involves financial risks per see.
However, you can mitigate threats and make profits with adequate support and tools. Only trade with legitimate brokers to produce advantageous outcomes.
FAQs About AFLPlanning Broker
How much is the Minimum Deposit at AFLPlanning ?

AFLPlanning requires a 250 EUR minimum deposit, which is higher than the industry average.
What Are the Deposit and Withdrawal Options for AFLPlanning?

AFLPlanning states that it accepts wire transfers, e-wallets, and credit/debit cards for deposits and withdrawals. However, it's very dubious since everything regarding this company is a lie.
What Kind of Trading Platforms Does AFLPlanning Offer?

The broker offers its internet-based trading platform, which can't be tested for free (no demo account). It also lacks proven MT4/MT5 systems.