April 20, 2023
Reading Time:
4
min
FTMarkets Review: Stay Away From FTMarkets.Com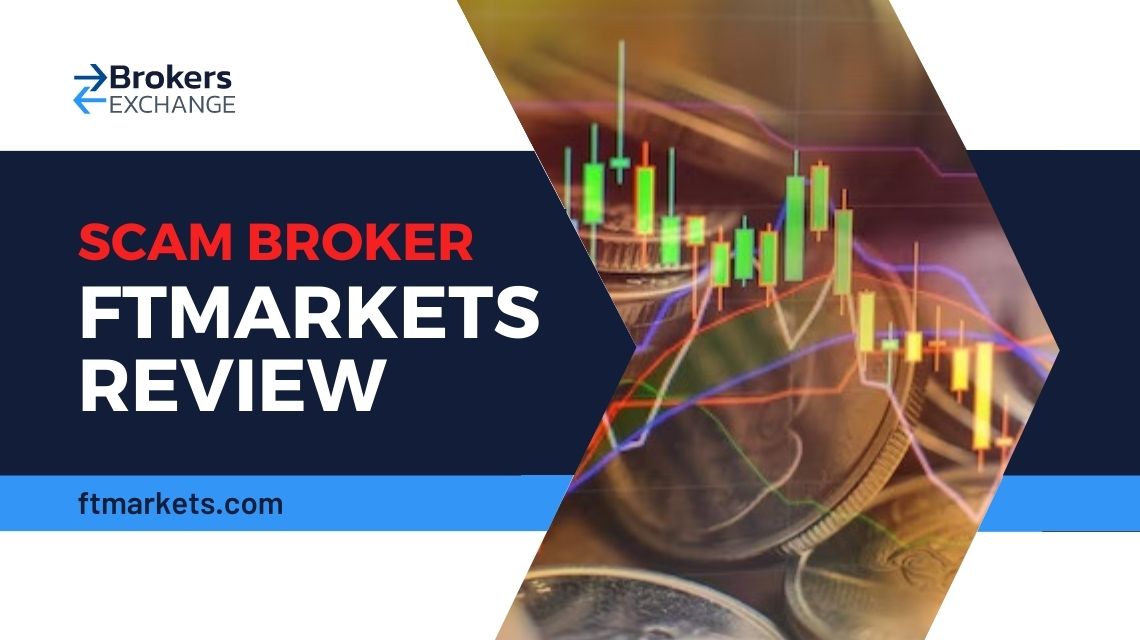 FTMarkets Review, Every once in a while, you will run into a website that is blocked by your web browser. If you ignore the warning, you may access the website.
At first glance, it looks like an advertisement for some kind of gambling parlor in Vegas. There are pink flamingos, palm trees, and coins falling from the sky on their main banner. Get your rewards! 100%! They make it seem like investing money is some kind of a game and not a job.
The company is completely anonymous – there is no address, nor a country of regulation. Stay with us, as our FTMarkets Review elaborates on the telltale signs of a scam.
What is more, we strongly advise you not to invest in Citadelex and Cryptics fraudulent brokers.
Company

FT Markets

FT Worldwide Holdings Limited

Website
FTMarkets.Com
Address

N/A

Email
[email protected]
Phone

12280088

120852325

2844581686

Minimum Deposit

N/A

Leverage

1:500

Bonuses

200% deposit bonus on new accounts

Regulation

Unregulated

Warning

N/A
How Are You Safe at FTMarkets? Regulation and Security
There is no mention of any financial regulation or company registration anywhere on the FTMarkets website. We couldn't find any info about where the company might have headquarters, but there was a hint about their client base. The website is available in UK English and Vietnamese, and this provides us with a good starting point.
The UK's FCA is one of the strictest financial regulators on the globe. This financial supervision agency keeps a watchful eye on over 50,000 companies. To start a business in the UK, a broker must first provide these safety measures:
At least 730,000£ of starting funds

An insurance fund of up to 85,000£

Leverage maximum of 1:30

Negative balance protection

Client fund segregation

Regular and transparent financial reports

Bonuses are not allowed
We can see right away that the 200% first deposit bonus and leverage of 1:500 break the FCA's rules. It is unlikely that FTMarkets is unregulated in the UK for this reason.
Brokers in Vietnam are regulated by the State Bank of Vietnam, in conjunction with a special agency under the Ministry of Finance, known as the State Securities Commission. This regulator has some very slack safety standards when compared to Tier 1 regulators. There is no maximum leverage restriction, so some brokers in Vietnam offer leverage higher than 1:1000.
We have, of course, checked the registries of the UK's FCA as well as the Vietnamese SSC. Needless to say, there was no information about FTMarkets whatsoever. Other regulators, notably German BaFIN, Italian CONSOB, CMNV from Spain, Canadian IIROC, and Australian ASIC had no data about this broker either. This leads us to believe that FTMarkets is a completely unregulated entity.
An Overview of Trading Software
The website that FTMarkets operates holds no information about a trading platform. There is an external link that leads to the Apple App Store, but it's an empty page. It is very possible that FTMarkets is a 1st deposit scam, and that there are no trading platforms of any sort.
Respected broker companies use industry-standard software MT4 and MT5. These programs have long track records. MT4 is an older solution, but due to constant updates, it supports nearly every operating system on every kind of hardware. MT5 is a newer development, its strengths are extremely high execution speed and automated trading integration.
FTMarkets Account Types
FTMarkets does not mention any account types, and there is no account creation page. Regulated financial entities will always have their account types and investment plans laid out in a very comprehensive and transparent manner.
Brokers can have different trading strategies and will offer many accounts in order to best facilitate these strategies. Some accounts will be billed through the spread, and others through commission or swap. The best brokers allow low first deposits, starting with $100 or less. Demo accounts are absolutely necessary, so new clients can test the trading conditions in a risk-free environment.
FTMarkets Trading Bonus
One of the first things you see on the FTMarkets website is an absolutely massive advertisement about a 200% first deposit bonus. Novice traders will think of this as a great investment opportunity, not fully knowing what they are in for. Illicit brokers will ask a certain trading volume to be met before a client can withdraw any funds.
Recently we found out about a scam that requires a trading volume 50,000x larger than the added bonus. This means that if you invested $100, you'd need to make at least $5,000,000 in profits before you will be allowed to withdraw any money! These money-stealing strategies are the exact reason why many tier 1 regulators forbid bonuses.
Funding Procedure at
FTMarkets
Without a trading platform, or any account information we couldn't find any data on how you might find an account. There are some logos of prominent Vietnamese banks scrolling on the webpage, but that's about it. Do they accept Wire Transfers through these banks? Who knows. Most likely it's another lure for investors.
Regulated brokers accept many payment options for both funding and withdrawals. These can include Bank Card payments and e-wallet transactions, as well as traditional methods such as Bank Wire transfers.
How is the Scam Carried Out?
FTMarkets is most probably a first deposit scam. You can't make an account directly on the website, but contacting the company via email or phone will connect you to a boiler room agent. These well-practiced smooth talkers will stop at nothing to convince you that their company is the best solution for you.
Once you've bitten the bait and made your deposit, that's it. There is no trading platform, no way to withdraw your money, and the agent will just block your phone number so you can't reach them anymore.
FTMarkets
Summary
FTMarkets is a first deposit scam broker that is completely unregulated. Their dangerous and predatory behavior has warranted a scam site warning to pop up from your browser when you try to access it. Very little information is available on the website. 
You may only create an account if you contact the scammers directly. The people that answer the phone are well-versed in their illicit business and will use any means to convince you to make a deposit. Once you do, they just cut you off and go about their business.
FAQs About
FTMarkets
Broker
Is my Money Safe with FTMarkets?
No, FTMarkets is a company that is as shady as they get.
Does FTMarkets Offer a Demo Account?
As there is no account information on FTMarkets.com, we were unable to check if a demo is available.
What Is The Minimum Deposit at FTMarkets?
Unknown. There is no information about deposit methods, or a minimum deposit requirement.