April 07, 2023
Reading Time:
5
min
Citadelex Review: Learn More About This Scam Broker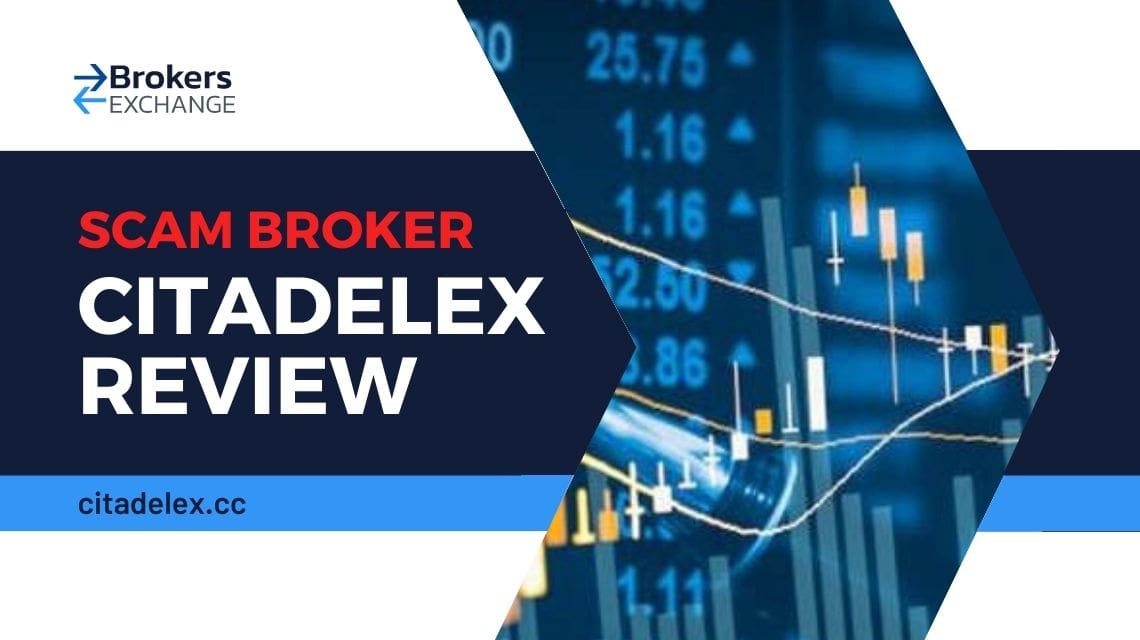 Citadelex Review, the broker's website is completely anonymous. Their website is currently offline, but even while it was active there was no data about who owns it, or where its headquarters might be. The company has changed its domain name numerous times. Although broker company rebranding does happen, it is never done so often or on this scale.
There is a warning about Citadelex being a scam, issued by UK's FCA: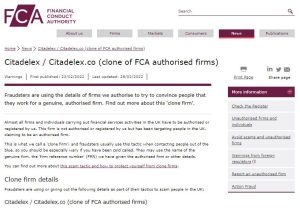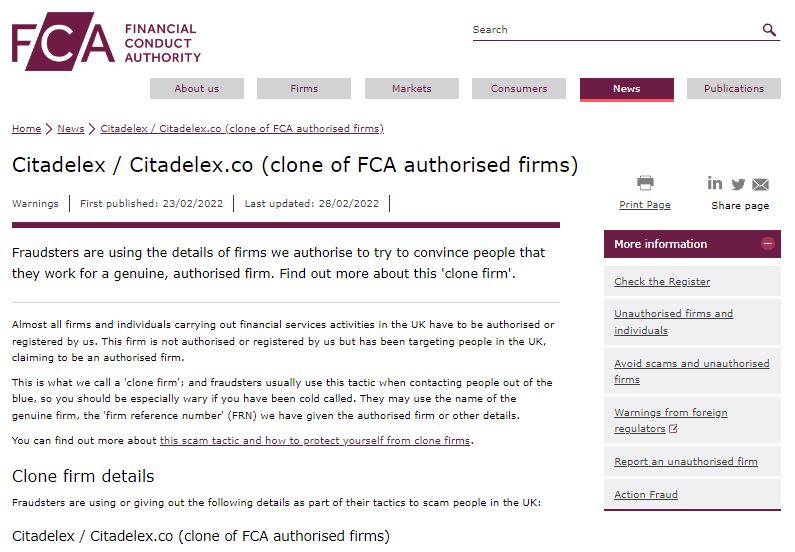 Austrian regulator, FMA, has also issued this warning: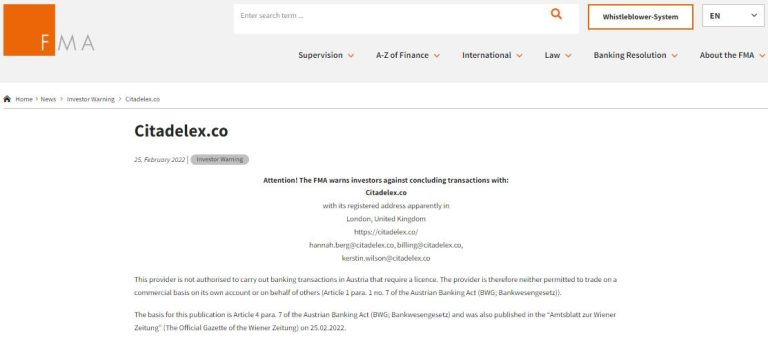 This faux broker poses as a legitimate company. To make it seem like their operation is illegal, they claim to have other companies' licenses without consent. Our Citadelex Review will show you the real dangers of trading with a clone company scam.
Also, we recommend you not to invest in the fraudulent brokers 70Trades, Liquidspro, and Tradiso.
| | |
| --- | --- |
| Broker Status: | Unregulated scam broker |
| Regulated by:  | Unregulated |
| Operating Status:  | Not Operational |
| Scammers Websites:  | citadelex.io; citadelex.com ; citadelex.cc ; citadelex.co |
| Blacklisted as a Scam by: | FCA, FMA |
| Broker Owner:  | N/A |
| Headquarters Country: | United Kingdom (allegedly) |
| Foundation Year:  | N/A |
| Online Trading Platforms: | Web Trader |
| Mobile Trading:  | Web only |
| Minimum Deposit: | N/A |
| Deposit Bonus:  | Available |
| Crypto Asset Trading: | Available |
| CFD Trading Option: | Available |
| Available Trading Instruments: | Forex, Cryptocurrencies, Commodities, Indices, Shares |
| Maximum Leverage: | 1:500 |
| Islamic Account:  | No |
| Free Demo Account:  | No |
| Accepts US clients: | Not accepted |
Citadelex
Regulation and Security
Citadelex is a scam that tries to make it seem as if they were a legitimate venture, by posting other companies' license information as their own. For this reason, they have come under the watchful eye of the UK's main financial regulator, FCA. This agency has posted a warning about Citadelex being fraudulent, a so-called clone company.
Developed countries like the UK are known for strict and fair financial laws and rock-solid supervision. FCA is an esteemed financial regulator that monitors more than 50,000 companies for fraudulent behavior. What they say, goes.
Before a company can become a brokerage in the UK, it must provide these conditions that the FCA dictates:
A starting capital of £730,000

Client insurance scheme of £85,000

Negative balance protection

Leverage maximum of 1:30

Segregated bank accounts for client funds

Bonuses are forbidden

Full financial transparency through regular reports
During our search of different financial regulator databases, we found another warning about Citadelex being a scam from Austrian FMA. Austria is a member of the EU, and because of this FMA has to enforce additional rules as stated in the EU MiFID agreement. Other standards are much like those we find in the UK. When we examine these rules, we can clearly see why Citadelex would not be granted a license. 
They break the bonus and the maximum leverage rule. Other conditions, such as negative balance protection are also not available, and we couldn't find evidence that clients benefited from segregated bank accounts. Not having these safety nets backing them up is risky enough for retail traders, but dealing with a scammer is a surefire way to lose your money.
Broker's Trading Software Overview
Citadelex has only made the simplest Web Trader available to these clients. This obsolete and limited trading platform is easy to manipulate. Scammers are known to show tailored data to their victims in order to coax more money through deposits. The limited platform will offer minimal interactivity, and is most likely not even connected to the global market in any way!
This is far removed from what regulated brokers offer their clients. Established companies still use the Web Trader, but only as a backup solution. 
The main workhorses of the online trading industry are Metatrader4 and Metatrader5 programs. These versatile trading solutions offer great flexibility, and each has its own pros and cons. Best brokers have also commissioned custom trading software that better suit their services.
Deposit and Withdrawal Process
Citadelex has changed its website domain many times, and unfortunately, none of these sites work anymore.
With the little information that is left to us, we can see that Citadelex used to advertise Bank cards, Bank Wire, and E-Wallet payments. We need to take all this with a grain of salt, because why would such a deceiving company hold true to any claims they make?
It has become a common scamming practice for faux brokers to accept only cryptocurrency transfers. This information is usually hidden behind account creation, however. 
Crypto payments are risky because of how intractable they inherently are. Regulated brokers have also begun accepting crypto recently, but only as one of many payment methods.
Account Types at Citadelex
When it comes to account types, the problems we encountered are much the same as with deposits and withdrawals. The only solid piece of information we could dig up is the names of these accounts. They are called Standard, Specialized, and Luxury Accounts. Neither the Demo or Islamic accounts are available.
legitimate broker companies will set up different billing and market execution methods for their account. Scam sites will offer something that resembles a pyramid scheme – more accumulated deposits yield larger perks. Of course, with scammers, these are all fake and made only to seem like a variation is available. In truth, it's a money-stealing scheme.
How Does the Scam Implement?
Scammers hide behind false information and anonymity that the internet has provided them. They will use attractive websites with unbelievably profitable trading conditions to lull their victims into a false sense of safety. Everything is set up to get as much deposited money from the victim.
Actual necessary information is hidden behind a paywall. The web platform shows doctored data and is probably not even connected to the trading market. Deposits are free of fees, but withdrawals require impossible trading volumes to be met and incur incredibly high fees. Some scammers even attempt to steal their victim's private information in order to use it for other deeds.
Citadelex
Summary
Citadelex is a fraud company that pretends to own licenses that belong to another business. This dangerous entity has attracted the attention of FCA and FMA for their fraudulent antics. 
The scam has changed its domain name numerous times in an attempt to avoid authorities. The latest of these scam sites is currently inactive. Stay safe by carefully checking all legal information of any brokers prior to investing!
FAQs About
Citadelex
Broker
Is Citadelex Broker Regulated?
Citadelex is an unregulated clone company online scam.
Is my Money Safe with Citadelex?
No, your assets are at risk when dealing with unregulated brokers like Citadelex!
Does Citadelex Offer a Demo Account?
No, there are no demo accounts offered on Citadelex.