April 05, 2023
Reading Time:
5
min
FTSFX Review: The Truth About FTSFX.Net Brokerage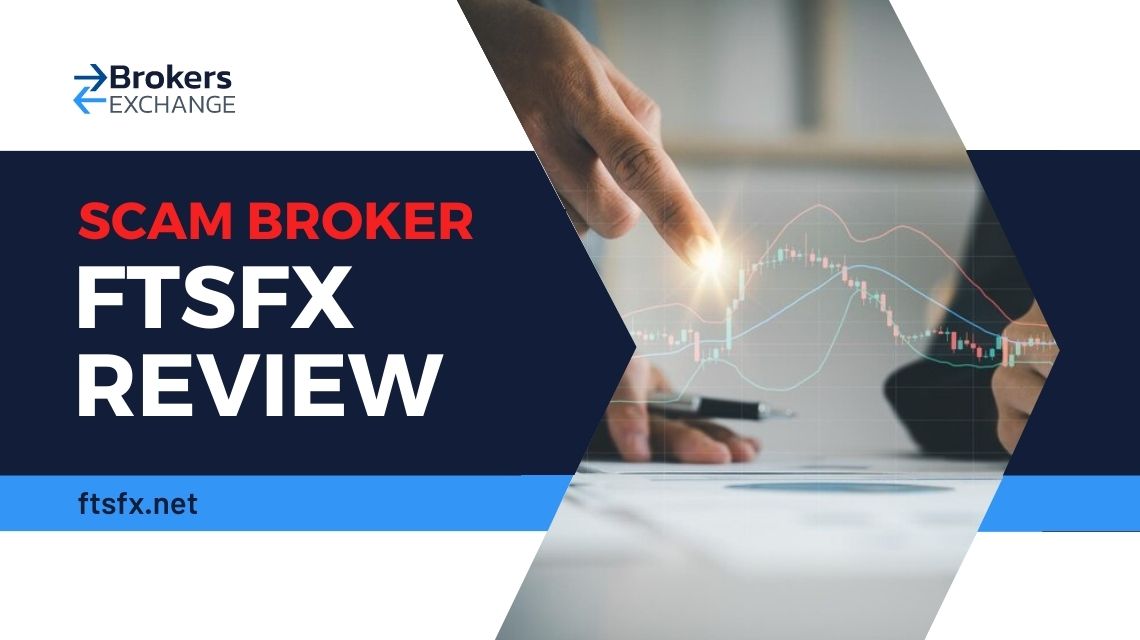 FTSFX Review, Claims about having licenses aren't enough for confirming a broker's legitimacy. FTSFX is supposedly regulated by FCA (UK), CySEC (Cyprus) and FSC (Mauritius). There are also claims about being registered with FSA in the SVG. Our investigation showed something totally opposite: not only is FTSFX a liar, but the broker is a confirmed scammer. 
The major regulatory bodies that have warned the public about the malicious intentions of  FTSFX is SFC (Hong Kong) and CONSOB (Italy):
SFC (Hong Kong)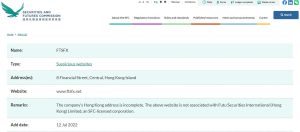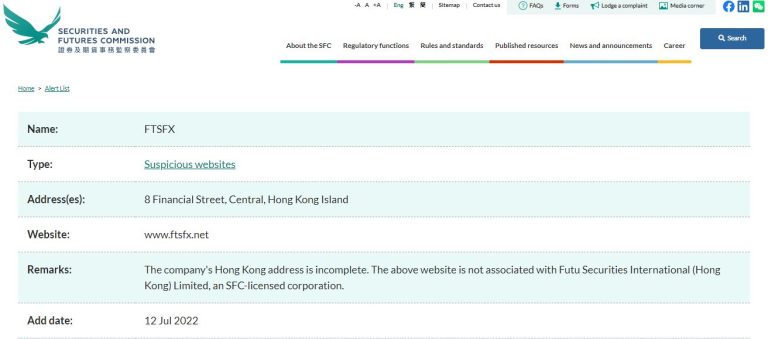 CONSOB (Italy)


More on the regulation and warnings in the following section of this article. For a start, bear in mind it would be in your best interest to read this FTSFX review before making another step toward investing here. 
Additionally, we strongly advise you to avoid the fraudulent brokers GMT Trading, Gitex Capital, and Marlpark LTD.
Company

N/A

Website
FTSFX.Net
Address

8 Financial Street, Central, Hong Kong Island

Email
[email protected]
Phone

+852 5532 8324

800-212-143

Minimum Deposit

N/A

Leverage

N/A

Bonuses

Undisclosed

Regulation

Unregulated Forex scam

Warning

SFC, CONSOB
Is
FTSFX Legit? Regulation and Safety of Funds 
Not safe in the least and completely unregulated, FTSFX makes a solid effort to impress potential victims with lies and deceit. The website goes so far that they have even published the license numbers. However, these do not belong to FTSFX. 
The FCA license number we found on the FTSFX website belongs to a legitimate financial services provider from the UK – Forex Capital Markets Limited. This is the owning company of FXCM broker (https://www.fxcm.com/uk/). 
This discovery has led us to believe that FTSFX is actually a clone of a regulated firm. That's why the warnings came shortly after the bogus website had put up such disturbingly false information about their firm.
Although the site is currently out of order, and we couldn't thoroughly check their legal documents, there's nothing much to say that regulators haven't already said about FTSFX. The fake broker doesn't provide segregated bank accounts for keeping the investments of clients separate from their own. 
Furthermore, there was never a leverage cap or negative balance insurance to protect the customers from excessive loss. Without the required transparency and compensation fund, FTSFX cannot be considered safe for investments by any criteria.
The principle that this suspicious boiler room business is based on was copying legitimate companies. Tricking customers into handing over their budget was easier when FTSFX gave off an impression of a decent and stable company, while just being a clone of one. 
FTSFX Trading Platform Overview
Just when we thought that these scammers couldn't fall lower than basic web terminals, we discover that FTSFX only has a mobile trading app. By default, mobile trading apps, as advanced and fast as they are, could not compete with the highly equipped desktop versions. 
However, it's up to the broker to customize them and add all kinds of features and tools to make trading a lucrative experience. 
The main reason that makes scammers gravitate towards web and mobile apps, as discussed in our previous articles, is their subjectiveness to data manipulation. Financial swindlers targeting retail traders modify the rudimentary trading software so it displays the numbers the traders wish to see. 
This pushes the unsuspecting victims into more investing. And that is exactly the fraudster's shortcut to your pocket.
Account Types Offered at FTSFX
As a consequence of the site malfunction we couldn't determine which account types are offered at FTSFX, or if there are any at all. The tendency of regulated brokerage firms is to expand their offer and provide accounts highly customized for every type of trader. With that, they ensure their clientele can choose an account that best suits their trading preferences. 
As far as FTSFX is concerned, no Demo account is available either. That dear trader, means that you have no choice but to invest real money right off the bat if you plan on trading here. Now, that is something we, by no means, recommend you to do. 
FTSFX Funding Methods
The cheating practice obligates FTSFX to seemingly offer various funding methods. However, the truth is that most likely there are only crypto payments provided. Being that FTSFX is a verified scam. Although the site did advertise Neteller, Skrill, wire transfer, and credit cards, without access to the user zone, we cannot confirm it. 
It is a common practice among scammers to inform you as scarce as possible. Later on, they can claim that all the terms, conditions, and general rules are subject to change without any prior notice. This is probably the case with withdrawals too, on which we couldn't get any info at all from FTSFX.
How is Fraud Orchestrated?
Where do we even begin with this one? FTSFX displays signs of textbook scams. First off, forged company info in the form of cloning the data doesn't help their credibility at all. In addition, several license numbers provided all belong to other companies, are regulated, and are highly reputable. That's one way for scammers to earn new clients' trust.
Another technique is offering overly attractive features and options that are just too good to be legit. These include huge returns, personal account managers to handle all your trades, trading risk-free, and bonuses. Promotions, bonuses, and gifts are especially dangerous. With their help FTSFX will impose ridiculous withdrawal conditions, like fees, charges, and trading volume requirements that even a trading genius can't reach. 
FTSFX
Summary
There are no limits to the deviousness of FTSFX. From forging licenses and stealing legitimate company data to having a sorry excuse for software and no info on funding. FTSFX review here has exposed this cheater in all the ways they use to defraud clients and get away with it.
Being blacklisted by some of the world's most renowned regulators puts FTSFX among brokers you never want to invest with. Because this con artist will convince you of things that never have a chance of happening and then they will backstab you. 
Since the site is out of order for the time being, we sincerely hope it stays that way. But the beast doesn't sleep. It's just a matter of time before this swindler is back in the business with a new name and domain. Be careful when you choose your broker partner!
FAQs About
FTSFX
Broker
What Can I Trade with an FTSFX Broker?
Forex, Commodities, Indices, Shares, and Crypto are marked as available instruments. This is not verifiable as the site is non-functional at the moment.
What are the Available Methods for a Withdrawal?
FTSFX does not make it clear. They do mention several E-wallets and credit card services but it remains a mystery as we couldn't access the user area or legal docs.
Is FTSFX Broker Regulated?
FTSFX is not regulated and has actually been blacklisted by SFC (Hong Kong) and CONSOB (Italy). This is a confirmation of this broker not being legitimate and honest.