September 17, 2023
Reading Time:
5
min
FunderPro Review: Everything You Should Know About funderpro.com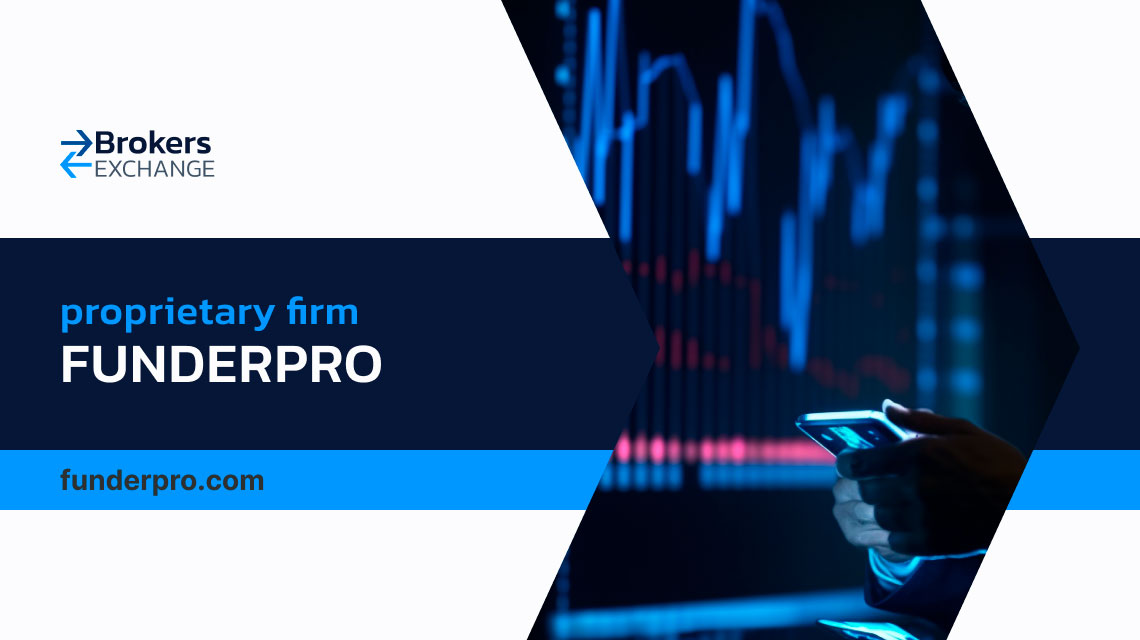 Becoming a funded trader can help elevate your trading skills and give you a bigger chance of profiting from your trades. In our FunderPro review, we will explain the advantages and disadvantages of using a prop firm and if you do, what you should look for in it. 
Unlike Networkfsi, FunderPro prop firm doesn't require regulation as it does not deal with the client's money directly. However, even though they are a standalone company, they need to keep the client's profits somewhere. Learn how and where the prop firm stores your profits.
Who Is FunderPro?
FunderPro is a prop firm offering traders the chance to manage up to $200,000 in real funds. Try the funded account challenge by following the steps and apply for a free trial before you decide whether or not FunderPro is a good choice for you. The firm offers real capital and no time limits, making the funded process one of the best on the market. 
You can keep up to 80% profit share and then scale your account up to $5,000,000 by proving you are consistently profitable. Your first profit split is eligible 8 days after placing a trade on your Live STP trading account. For now, this company seems like a dream but are we going to wake up soon? 
FunderPro
Reliable Broker Must Have
Legal name
FUNDERPRO Ltd

Transparently displayed in the disclaimer or legal documents

Regulation
Regulation not expected

Within your legal jurisdiction – local regulator

Registered in
30/1, Kenilworth Court, Sir Augustus Bartolo Street, Ta'Xbiex XBX1093, Malta

Your country or the country whose license applies in your legal jurisdiction 

Established
2023

The older the domain – the higher the possibility the company is trustworthy

Website
funderpro.com

Domain should be from local or international zones, no .xyz, etc.

Financial Authorities Warnings

None

Contacts
Web form

Live chat

Phone, email, social media, web form

If a withdrawal is possible
Yes

Yes

Fees

Transparent fees – list of spread and commissions

If Active on Social Media
Yes

Often present on social media

Investor Protection
No

Compensation fund
Regulation Info
We decided to contact customer support and find out which broker they're using. In just under a minute, a customer service representative answered our query and said that after conducting market research, OspreyFX was the perfect solution for them. 
So we decided to check OspreyFX and see how reliable they are. At first glance, their website looks well-designed and full of information. However, looks can be deceiving, and OspreyFX is an offshore brokerage. Even though it does adhere to KYC and AML rules, it's still operating without a license so there is a chance that there are no segregated accounts. 
FunderPro Broker Profile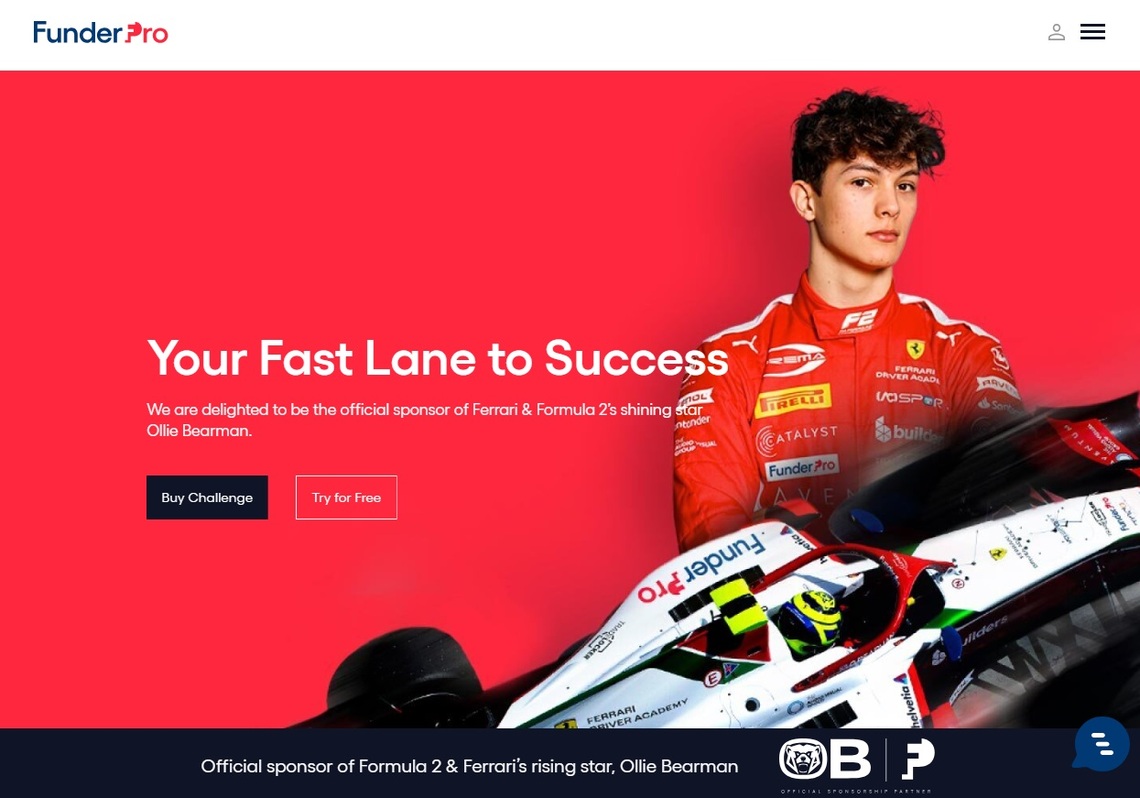 Once you get verified, you gain access to a real capital account on a live broker's website, OspreyFX. To pass the challenge, there is a minimum number of 5 trading days, but no maximum limit. Advancing through the phases requires profit targets of 10% and 8%. During phases 1 and 2, you will trade on a demo account and once funded, trading starts on a live account. 
Some rules didn't sit well with us. For instance, you are prohibited from trading anything during certain US Dollar news. Before the news, you will need to close out any open positions, and you won't be able to trade again for two minutes after the trade. This restriction prevents traders from trading conveniently because you'll need to periodically examine all news.
Trading Platform
Tradelocker, TradingView
Account Types
$25,000, $50,000, $100,000, $200,000

Financial Instruments On Offer

Forex

(EURUSD, EURGBP, USDNOK)

Cryptocurrencies

(BTC, ETH, XRP)

Indices

(S&P 500 Index, Dow Jones Industrial Average, FTSE 100 Index)

Commodities

(Crude Oil, Natural Gas, Corn)

Energies

(Brent Crude Oil, WTI Crude Oil, Natural Gas)

Maximum leverage
1:200
Minimum Deposit
No deposit
Commissions/Bonuses
10% discount code, Refer clients to FunderPro and earn 10% of each sale
Mobile app
Yes
Desktop app
No
Autotrading
No
Demo account
Yes
Education or Extra tools
Trading Blogs
Is FunderPro Reliable?
As a standalone firm, they are reliable because they don't deal with the client's funds and don't operate as a broker. However, they are associated with an offshore brokerage that deals with your funds, so using FunderPro is risky due to that fact. 
There are many better alternatives for both brokers and prop firms, so we can't say that we are happy with the FunderPro operations. While prop firms don't require regulation, brokers who keep your funds do, so using unregulated companies like Bitky poses a risk of never getting your profits. 
Traders Share Their Experiences
There are mixed feelings on Trustpilot regarding FunderPro and its reliability. While some praise the firm as a reliable choice, there are still some sharing their frustration. An overall score of 4.2 based on 27 reviews is not bad considering that the firm was established in 2023. Many are content with the 'no time limit' rule, however, 20% of the reviews speak about the firm's bad side. 
Unreasonable trading rules and trading platform issues are the focus of bad reviews, however, even the 1-star reviews first praise the company before explaining the issues they had. 
Who Are the Traders They Cater To?
The FunderPro Reddit forums are all sharing the referral codes and asking about FunderPro. For many brokers, including prop firms, the easiest way of attracting new traders is to promote an affiliate program. That is how FunderPro attracted traders based in the United States, the United Kingdom, India, France, and Malta. 
It is vital to note, however, that the brokerage FunderPro is associated with is offshore, meaning it has no valid license. While they do have a good reputation, it's risky trusting them with your profits. 
Deposits and Withdrawal Methods
The only available payment options are credit cards and cryptocurrencies. To receive your Funded Account and earn the 80% share, you are required to undergo an Identity Screening and only then you will be eligible to profit. Asking for a refund is possible, as long as you have not activated your account or placed any trades. 
As for withdrawing your hard-earned profits, your first payout will be available after 7 days and all other withdrawals can be submitted weekly. The processing time is 24-48 hours, which is not at all bad. The firm accepts credit cards which is a huge benefit. 
Weighing the Pros and Cons
Pros
Cons

80% of profit share

Good reviews

Accepts cards

No time limits

Associated with an offshore brokerage

Potential losses due to high leverage

Restrictive daily loss limits
Can I Make Money While Trading Online?
For traders like you, we've created a cutting-edge AI bot that's revolutionizing the trading game, offering higher possibilities of making profits. Our AI bot can analyze a sizable quantity of historical price data as well as chart patterns, giving you real-time market insights. It offers advice on whether to purchase or sell as well as helps you make informed judgments.
The first 100 people that reach out can try our bot for 14 days for free and we promise that you won't be able to get enough of it. Sign up for the free trial now and take advantage of the AI possibility, improving your chances to profit. 
FAQ
Where is FunderPro based?
The prop firm is based in 30/1, Kenilworth Court, Sir Augustus Bartolo Street, Ta'Xbiex XBX1093, Malta.
What Is FunderPro?
FunderPro is a standalone prop firm offering funding to experienced traders.
When did FunderPro start?
FunderPro was established in 2023, making it new in the industry.