November 01, 2022
Reading Time:
4
min
FXstock Options Trade Review: Never deal with this broker!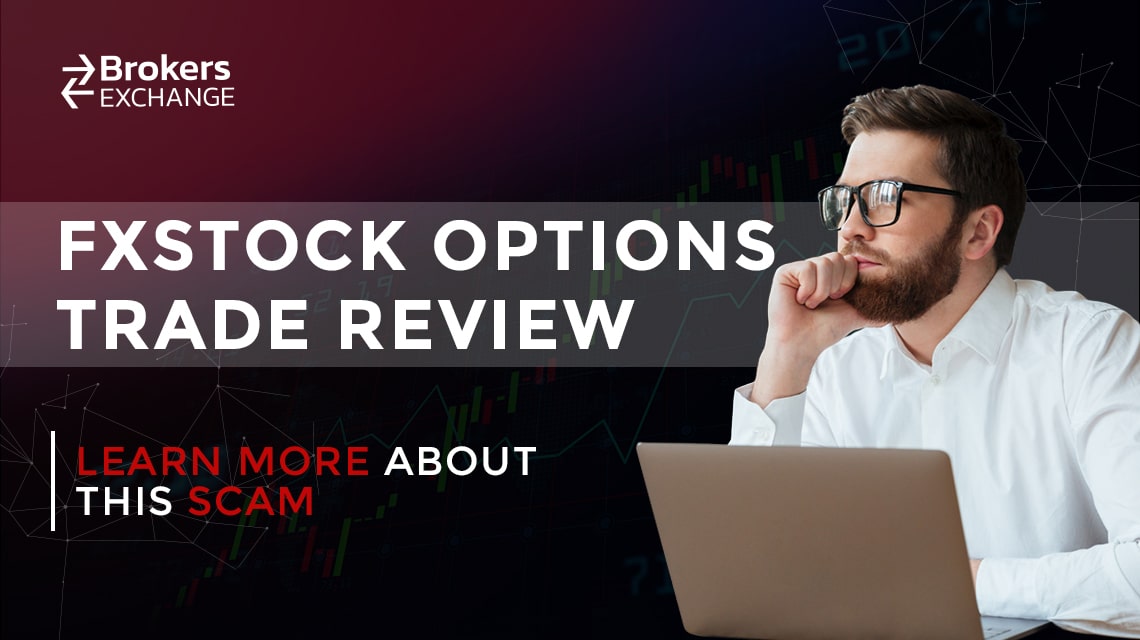 FXstock Options Trade is an unscrupulous broker. The first telltale sign of an investment scam is how hard or easy it is to get information about the company behind the project. 
Opting in for doing business with FXstock Options Trade, you will put your money in harm's way. Read our FXstock Options Trade review so you can react on time and keep your money safe.
And when it comes to FXstock Options Trade, trying to get any real information is quite hard.
You may take a look at any legitimate-looking forex trading websites, you'll notice that all pertinent information is readily available and easy to find. If you take a look at FXstock Options Trade's site, chances are you'll get loads of malware.
If you have some decent antivirus software and decide to push through, you'll be greeted by a barely functional landing page whose appearances are questionable, to say the least. 
A quick glance at this shady broker's online presence paints a picture of a quickly put-together cyber fraud, designed to fool children and the elderly.
Again we are dealing with a company that doesn't appear to be registered anywhere in the US and whose location is unknown. 
The offer, which promises to get you rich through stock, forex, crypto, and indices trade is too good to be true. So let us take a closer look at this illicit broker's operations.
It goes without saying that you should avoid dealing with dishonest brokers like SkyShell Trading, StakingTrades, and T1Markets.
| | |
| --- | --- |
| Company | FXstock Options Trade |
| Website | FXStockOptionsTrade.Com |
| Address | Fxstockoptionstrade Limited, 925 Joes Road Glens Falls, NY, New York 12801, United States |
| Email | [email protected] |
| Phone | +12677251299 |
| Minimum Deposit | Unknown |
| Leverage | 1:500 |
| Bonuses | Unknown |
| Regulation | Unregulated |
| Warning | N/A |
FXstock Options Regulation and Fund Security
Seeing how FXstock Options Trade is not legally registered anywhere and they don't have a trading license, it is impossible to imagine this fraudster company taking care of its clients or their money. 
As we've already mentioned above, finding any pertinent information about FXstock Options Trade is next to impossible even though this kind of information shouldn't really be classified. Having said all of this, it is clear that your money is not safe with a shady broker who is not regulated by anyone.
The Broker's Trading platform They Used
The FXstock Options Trade website claims to give its users access to Meta Trader 4 which is the current industry standard when it comes to trading platforms. This is of course not true. 
Trying to use their "platform" will give you access to a demo version of Meta Trader 5, which might look genuine to first-timers. However, while the demo version might make you feel that you're doing some real trading and that you're getting somewhere, you are not really trading with real money. 
You are basically playing a game. Another shameful example of how this unlicensed brokerage scams people.
FXstock Options Deposit and Withdrawal Process
When it comes to depositing your money, finding out what is the minimal amount of money you can deposit has proven to be another piece of information that was impossible to find. 
Testing the deposit system was also not possible since the client area of the site was defunct at the time of writing this article.
Talking about how does FXstock Options Trade accept payment is also rather hard. Like most other financial swindlers of this type, they claim to accept a wide variety of payment options. 
Western Union, Visa, MasterCard, cryptocurrencies, and whatnot, but as expected, we could not confirm this information since their website is such a disaster.
Withdrawals and fees are not even mentioned which is another conspicuous sign of debauchery when it comes to investment scams. 
To be fair, since their logo covers half of the text on their page, the aforementioned information might be mentioned somewhere, but it is impossible to see it.
How the Scheme Was Put Into Practice
Like any other fraud, the FXstock Options Trade scam starts off by flashing alleged profits many clients have made through their platform in order to make you feel like this is a legitimate business. 
Victims are enticed with various bonuses and investment plans that make people feel like they are Warren Buffet in the making. These scam brokers will do pretty much anything to get you to deposit your money.
Of course, you cannot withdraw your money until a certain set of arbitrary conditions are met. Through all of this, these fraudsters will make you believe that your money is being traded and your assets are growing. 
This couldn't be farther from the truth. Once you deposit your money to these offshore brokers, your money is good as gone and you will have to fight to get it back.
In the end, the fraudsters will stop replying to your e-mails, shut off any means of communication, and probably delete your user account.
FXstock Options Trade Summary
We hope that by reading this FXstock Options Trade review you can understand just how common scam brokers are. 
Like most other companies of this type, FXstock Options Trade has too many red flags even jokingly to consider giving them the smallest amount of money. 
If you want to invest your money, be sure to invest some time into research first, unless you end up investing with some phony broker such as this supposed company. 
If you have any complaints against this broker, we would like to hear your experience and help you report the scammer to the proper authorities.
FAQs About FXstock Options Trade Broker
Is It Safe to Use this Broker for Bitcoin Trading?

FXstock Options Trade is in no way safe to use, and by extension, it is not safe for Bitcoin trading either.
How Can I Open a Trading Account?

Opening an account is possible through FXstock Options Trade's website, by registering an account and adding an initial deposit.
Does FXstock Option Trade Allow Hedging and Scalping?

Unfortunately, we could not get in touch with FXstock Option Trade through their website so we cannot confirm this.