August 17, 2023
Reading Time:
6
min
Gannmarkets Review: Shedding Light on the Broker's Operations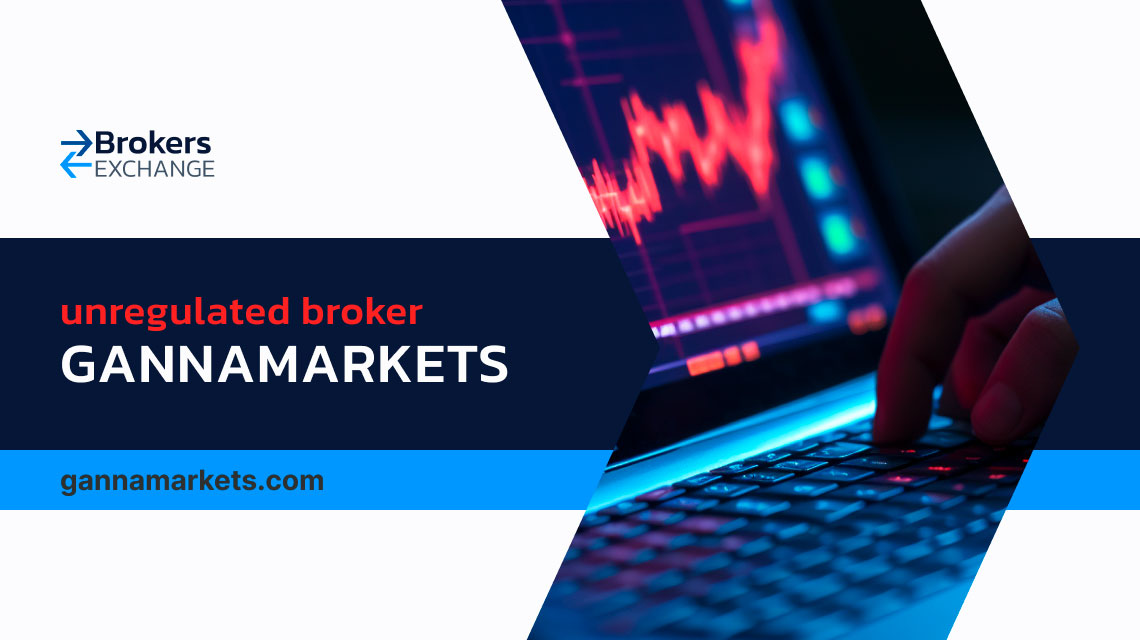 This Gannmarkets review will reveal the broker's well-kept secrets and give you enough information to enable you to make an informed choice, just like every other review we write. Explore this review thoroughly with us and have fun reading. 
The fact that Gannmarkets is unregulated is the first cautionary sign. At first look, their disclaimer doesn't name any regulating bodies, and as we dig deeper, more and more warning signs will become apparent and beg for our attention. Read on to discover more. 
Who Is Gannmarkets? All About gannmarkets com
A brokerage firm with offices in Saint Lucia is called Gann Markets Corporation LTD, also known as Gannmarkets. The broker makes no claims of being governed by any financial regulatory bodies, which is our first cautionary sign. After investigation, it was discovered that Gannmarkets is unregulated.
Since their establishment in 2018, they have received more and more positive evaluations. It is crucial to remember that there are many other aspects to think about and that reviews are not the only thing to examine. Just like Vintage Markets, this broker is operating unregulated. 
Gannmarkets
Reliable Broker Must Have
Legal name
Gann Markets Corporation LTD

Transparently displayed in the disclaimer or legal documents

Regulation
Unregulated 

Within your legal jurisdiction – local regulator

Registered in
1st Floor, The Sotheby Building, Rodney Bay, Gros-Islet, Saint Lucia

Your country or the country whose license applies in your legal jurisdiction 

Established
2018

The older the domain – the higher the possibility the company is trustworthy

Website
gannmarkets.com

Domain should be from local or international zones, no .xyz, etc.

Financial Authorities Warnings
No official warnings

None

Contacts
+44 141 628 7809

Web form

Phone, email, social media, web form

If a withdrawal is possible

Yes

Fees

Withdrawal and deposit fees
Swaps
Commission
Spreads

Transparent fees – list of spread and commissions

If Active on Social Media
Yes

Often present on social media

Investor Protection
None

Compensation fund
Regulation Info
Unlike Silvercrest, Gannmarkets makes no claims to have regulatory status in any jurisdiction and holds no licenses from any financial regulators. The self-regulator clarified that GANN Markets' membership status has ended due to a voluntary withdrawal.
With effect from April 29, 2022, GANN Markets was banned by the Financial Commission. After being given multiple chances to address its shortcomings, the decision to terminate membership was made because of failure to follow membership regulations.
The commission stated that as a result of GANN Markets' expulsion from its list as of the date of this statement moving forward, or until membership is once again approved, it will not be able to handle any new complaints from clients of GANN Markets.
Gannmarkets Broker Profile
The Meta Trader 4 platform is used by Gannmarkets, which is beneficial. Scammers are too sluggish to even attempt to manipulate MT4 and MT5 because they are difficult to control and typically require time. Overall, MT4 is one of the best trading platforms on the market. 
With Gannmarkets, you can trade in forex, equities, cryptocurrencies, indices, and commodities. The highest leverage available is 1:400. The minimum you need to deposit is $100, however, you can test out their services by using a free demo account.  
Trading Platform

MT4 and GANNMARKETS trading platform

Account Types

Standard, Standard swap-free, ECN, ECN swap-free

Financial Instruments On Offer

Forex

(EURUSD, EURGBP, USDNOK)

Stocks

(Apple, Amazon, Microsoft)

Cryptocurrencies

(BTC, ETH, XRP)

Indices

(S&P 500 Index, Dow Jones Industrial Average, FTSE 100 Index)

Commodities

(Crude Oil, Natural Gas, Corn)

Maximum leverage

1:400

Minimum Deposit

$100

Commissions/Bonuses

0.8% – 5% commission/Get extra $40 bonus

Mobile app

Yes

Desktop app

Yes

Autotrading

No

Demo account

Yes

Education or Extra tools

Glossary, Videos, e-Books
Gannmarkets Account Types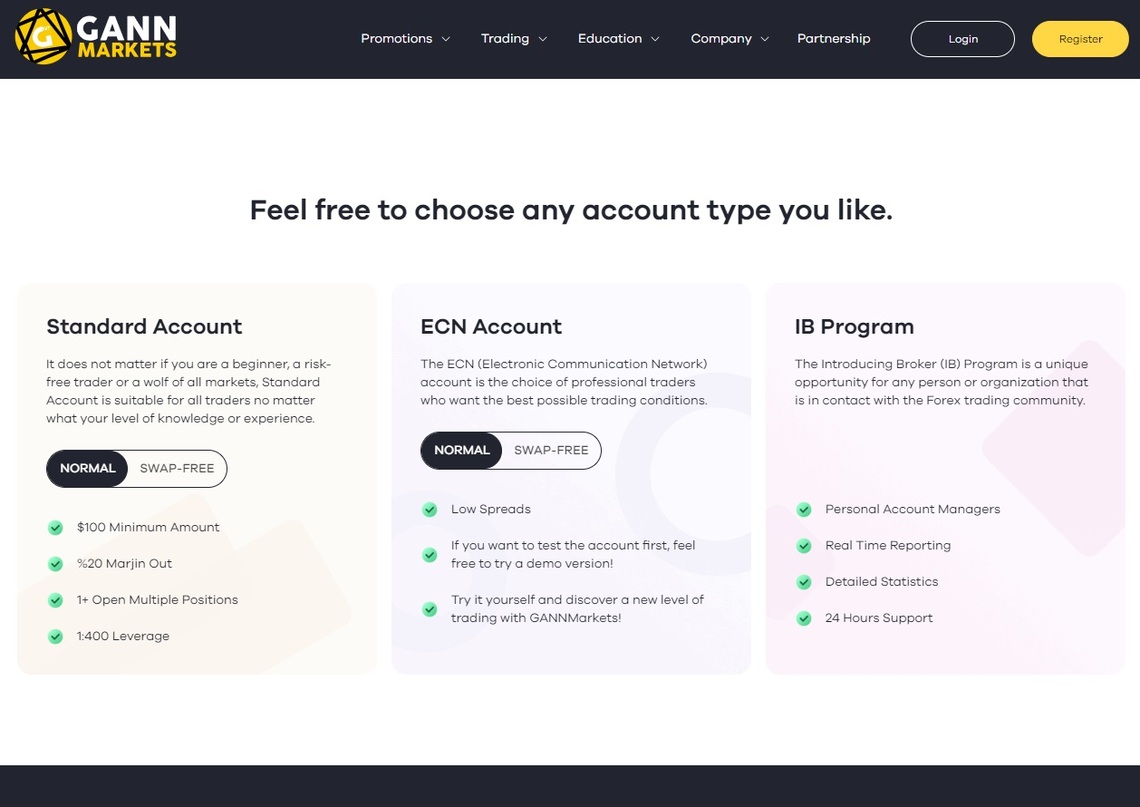 Standard Account:
Minimum Amount: $100
Leverage: 1:400
Open Multiple Positions: 1+
Margin Out: 20%
Features: STANDARD SWAP FREE – Easy EA Trading And Scalping, Profit From Real-Time Analysis Trading, Benefit From Inter-Bank Exchange Core Pricing, No Trading Restrictions.
ECN Account:
Low Spreads
Variety of Currencies and Indices
Meta Trader 4
24 Hours Support
Features: ECN SWAP FREE – Fully in Line with Islamic Rules, No Daily Exchange Fees, Variety of Currencies and Indices, and No Additional Cost for Swap.
Exploring the Safety of Trading with Gannmarkets
Gannmarkets will appear to be a trustworthy solution when you first look at them, but just until you verify their regulation. Unfortunately, because they are unregulated, they cannot provide protection for you or your money, so it is advised that you look into more reputable options. 
It is best to stay away from brokers like Upside Stake and Gannmarkets because of their lack of transparency and regulation. Even though the broker has received positive evaluations, this is not the only aspect that matters, hence Gannmarkets is regarded as risky. 
Gannmarkets Review: Traders' Thoughts and Opinions
On Trustpilot, Gannmarkets has a rating of 4.8 stars overall and 365 ratings, which makes it appear like a trustworthy broker. Only 3% of the ratings are unfavorable, which honestly startled us given the broker's lack of regulation. The majority of those critiques highlight poor customer service and lost profits. 
One review that caught our attention said:
"I lost all that I put in on the 3rd of May. 600,000 naira. If I were you, I'd take out my capital and profit and leave because it's only a matter of a few days for you to lose your money too. My whole 600k was wiped out coupled with the little profit I got. Please, this is not a good thing to venture into. These guys wouldn't tell you the truth. If you see this, please run for your lives."
A Look at Gannmarkets's Traders They Serve
With an exceptional Trustpilot score of 4.8, which reflects its favorable reputation in the trading world, Gannmarkets has been able to attract traders. Its appeal has also been aided by alluring perks like the $40 offer and regular promotions. It's crucial to remember that despite these incentives, Gannmarkets is unregulated.
The majority of the broker's clients come from countries including South Africa, Turkey, Nigeria, India, and Indonesia. Although Gannmarkets is extremely popular, lack of governmental approval raises questions about the safety and security of trading with them. When choosing a broker, traders should exercise prudence and think carefully about the dangers involved. If you are a newbie, get in touch with us and we'll show you how to tell excellent brokers from bad ones. Millions of trustworthy brokers are there and waiting for your selection. 
Deposits and Withdrawal Methods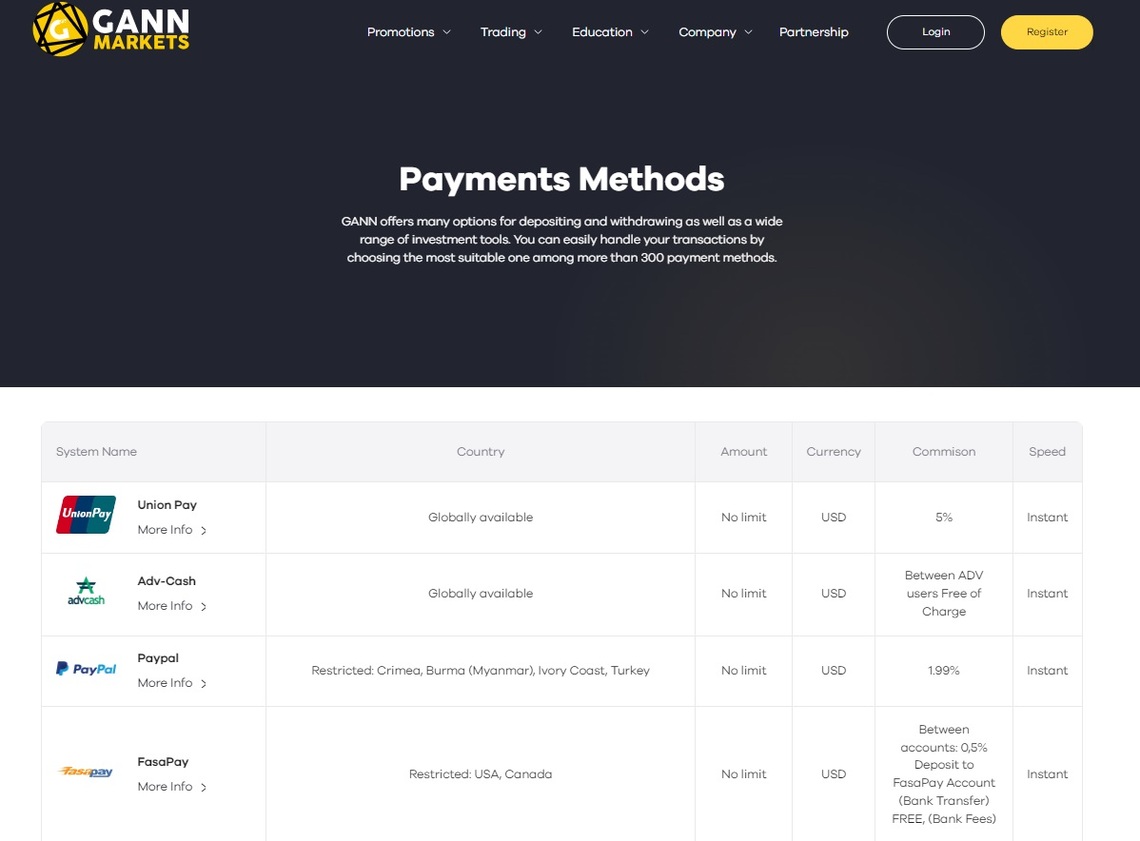 Several e-wallet payment options are available on Gannmarkets. Because they don't allow wire transfers or credit card payments, chargebacks are far more difficult and nearly impossible. The available payment options are: 
Union pay – 5% commission

Adv-Cash – Between ADV users Free of Charge

Paypal – 1.99% commission

FasaPay – Between accounts: 0,5% Deposit to FasaPay Account (Bank Transfer) FREE, (Bank Fees)

Perfect Money – Deposit: Wire from -0.5%, Bitcoin 0%, Withdrawal fees: Wire transfer from 2.85% + bank fee Bitcoin Express (instant) 0.5% + $10

Airtm – 1% commission 

WebMoney – 0.8% commission

Payop – max. 5000 USD, Pricing can differ

Crypto deposit – Stablecoins 1 USD

Mobilium – 1.99% commission

Flutterwave – 1.2% for local transfers, 3.8% for international

Switchere – 3.6% commission
Overall, there are just untraceable payment options accessible, which might make withdrawals very challenging. Choose brokers who accept cards and wire transfers for payments so you may get a chargeback if something goes wrong. 
Gannmarkets Pros and Cons
Pros
Cons

Demo account

MT4

Good reviews

Unregulated

High fees 

Cards or wire transfers are not an option

High deposit

Hidden information regarding spreads

MT4 is not available for all account types
Long Story Short – Gannmarkets
Overall, Gannmarkets has many advantages, including a wide selection of trading products, the MT4 trading platform, demo accounts, and positive reviews. However, because the broker is unregulated, we are unable to endorse it. We assume they just want untraceable payment methods because they do not take cards or wire transfers. 
Even if there are many positive Gannmarkets reviews, it is still risky to use the broker because there is no way to get your money back in the event that they go out of business or try to defraud you. Working with only regulated brokers is advised, so if you're looking for one, don't be afraid to get in touch. You only need to get in touch with us to learn about some of the top brokers available. 
FAQ Section
Who Is Gannmarkets?
Gannmarkets is a brokerage firm that offers trading services on the stock market.
Is Gannmarkets Regulated?
Gannmarkets is not regulated by any financial authority, therefore it is deemed unsafe to trade with.
What Are The Account Types Of Gannmarkets?
There are only 2 account types in total Standard and ECN accounts. However, you can also choose between regular Standard and Standard swap-free, or regular ECN and ECN swap-free.