January 28, 2023
Reading Time:
4
min
Silvercrest Review: Factors That This Broker Is a Scam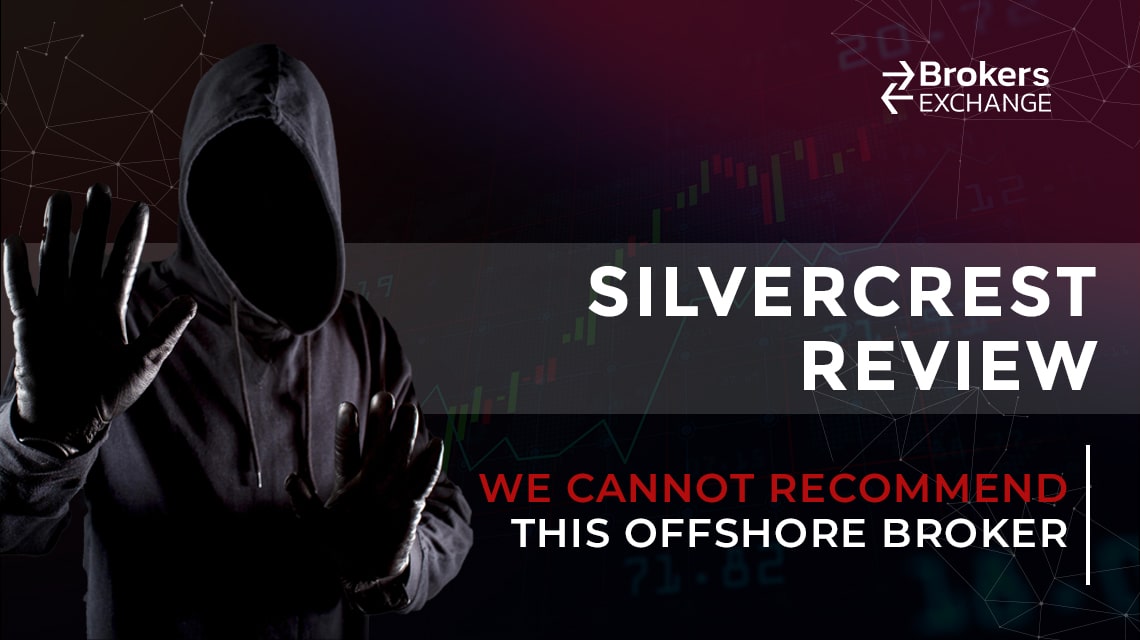 Even though Silvercrest claims to be a leading brokerage, the text on its own logo, which reads "stock trading," is incorrect, which just goes to show how skilled an offshore broker is generally. 
Of course, saying that out loud might seem harsh, but this company does not have any good intentions toward its customers either; it appears that it has lied about being supervised by every regulatory body on Earth.
Aside from the fact that the company is glaringly illegal, the trading conditions it offers are also appalling. There is the online trading platform it provides, which only allows customers to trade on a small enough selection of stocks and cryptocurrencies to be noteworthy. 
Additionally, it appears that the company does not offer leveraged trade. Even Silvercrest's deposit policy is seriously suspicious.
Here is everything that is wrong with the company, as we thoroughly examined each of these concerns in our full Silvercrest review.
Additionally, you should avoid trading with shady brokers such as Capital Manageinv, Surefxway, and OneFX Trade.
| | |
| --- | --- |
| Company | Silvercrest |
| Website | Silvercreststocktrades.Com |
| Address | Coffeyville, Massachusetts USA |
| Email | [email protected] |
| Phone | +8572500268 |
| Minimum Deposit | $1000 |
| Leverage | N/A |
| Bonuses | N/A |
| Regulation | Unregulated |
| Warning | N/A |
Silvercrest Regulation and Financial Security
Although it includes almost every global regulatory body, none of them actually have any control over it.
First off, the NFA and CFTC are the names of the regulatory bodies in the US. How could anyone obtain a license from them without knowing their names? 
Second, the claim that Silvercrest complies with MiFID II cannot be verified because no license number exists. Without one and given that it lied about its regulation in the US, we are also hesitant to believe the second claim.
The FCA regulates the British markets, which is the last and most absurd claim made here. Additionally, it has prohibited the brokers it licenses from offering crypto CFD trading. The company has access to crypto assets, as was stated at the beginning. Therefore, there is no way that it is connected to a UK company.
Since this is always the case with these brokers, you must avoid them at all costs. The truth is that Silvercrest is run from some shady offshore scam haven.
Overview of Silvercrest Trading Platform
The website mentions MetaTrader 5, the most well-known trading platform in the industry. The broker has a web platform that is far cry from the industry-standard Metatrader 5 platform; it lacks TA features and automated trading, and it doesn't support leveraged trading.
However, even when offshore brokers do have good platforms, they quite often manipulate them to appear as if the trading activity is occurring when in reality it is not; instead, the owners of the company simply pocket the money from their victims.
Payment and Funding Method
Due to the lack of refunds associated with cryptocurrency transactions, scammers prefer them, which is the case with Silvercrest. Legitimate brokers often provide customers with a variety of clear payment options, including bank transfers, credit/debit cards, and well-known e-wallets like PayPal, Skrill, etc.
To open an account, you need to pay $1000. In contrast, legitimate businesses nowadays are more than willing to register a micro account for a fraction of that, at most $10.
The difference becomes apparent when one realizes that a licensed broker would work to improve the availability of its services. An unlicensed one, on the other hand, will only aim to keep as much of your cash as possible because it is aware that there would never be a second deposit!
How Does Fraud Implement?
We are frequently lured by the online promises of easy money. But if not all of these promises, the large majority of them are being made by scammers. Because of the hype about cryptocurrency, there have been several fraudulent scams where websites act as brokers.
The scammers will convince you that they will increase your money and that all you have to do is sit back and enjoy the benefits. Once you agree to a small initial investment of a few hundred dollars, they will start urging you to spend more.
You will never receive the promised earnings or your initial investment. Due to their unregulated status, they can hide behind offshore companies and avoid all rules and regulations. 
To transmit money, they use cryptocurrencies, dubious payment platforms, and direct bank transfers, which makes it difficult or impossible to get your money back. There are always loopholes to the rules that make it impossible for you to withdraw your money.
Silvercrest Summary
Silvercrest Stock Trades claims that they are a legitimate forex broker. It only succeeds in bringing to mind the necessity of carefully reviewing the facts before putting any money on the line. This website is a classic internet scam that preys on those who lack sufficient market expertise and knowledge. 
Additionally, it has awful trading conditions. There is the online trading platform it provides, which only lets customers trade on a small enough range of stocks and cryptocurrencies to be noteworthy. Hopefully, this review has shown you why you shouldn't invest in them.
It's okay to report fraud without feeling guilty or embarrassed. It would be greatly appreciated if you could share any negative experiences you may have had with fraudulent brokers so that we can alert the authorities to the scammer and help you.
FAQs About Silvercrest Broker
Is Silvercrest a Good Broker for Beginners?

No. It's a classic internet scam that preys on those who don't have much knowledge of trading.
What Funding Methods Does Silvercrest Accept?

The funding method that Silvercrest prefers is cryptocurrency because it's very difficult to get your money back.
What Is the Minimum Deposit at Silvercrest?

The minimum deposit required at Silvercrest is $1000.