April 22, 2023
Reading Time:
5
min
Global Solution Review: Fraud Behind Global-Solution.Io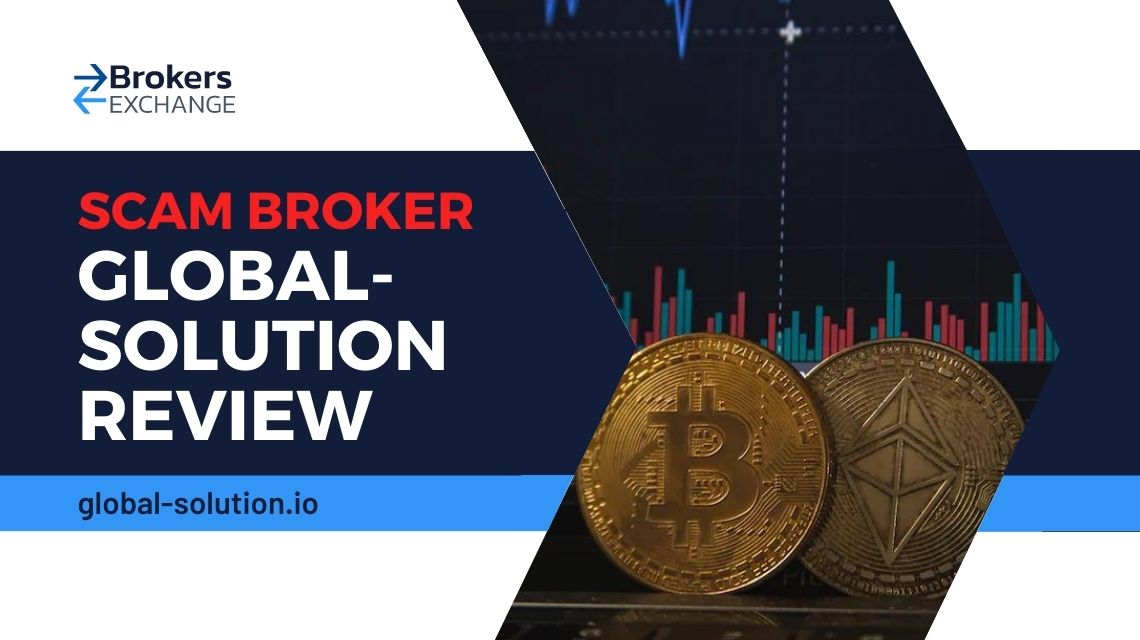 Not just a liar and a cybercriminal, but also blacklisted for it. Global Solution is an offshore firm, with headquarters located in Dominica. And although the site was supposedly operating under European online trading laws and regulations, they're nothing but a proven financial swindler. 
Ground Solutions is the owner of the broker, with a dead domain that is currently up for sale. The website went out of work after warnings by some of the leading regulators:
FCA (UK):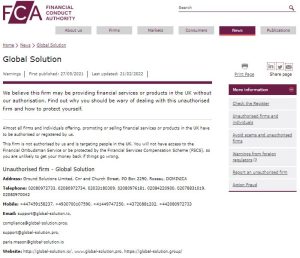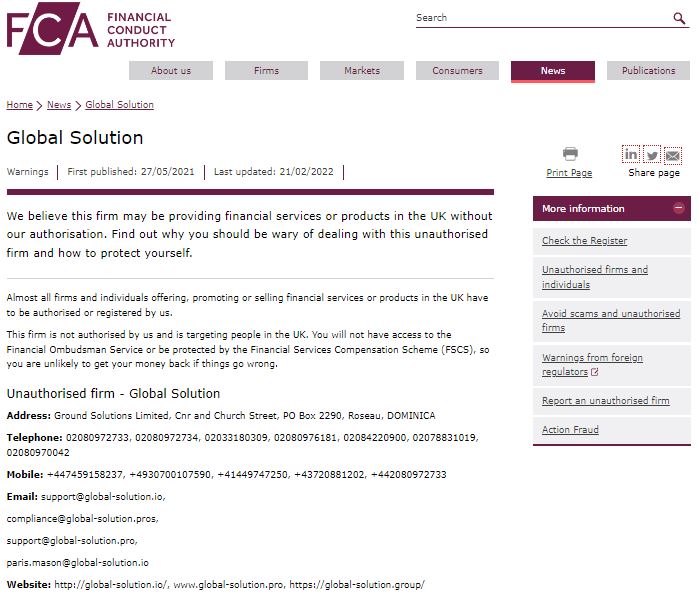 FINMA (Switzerland):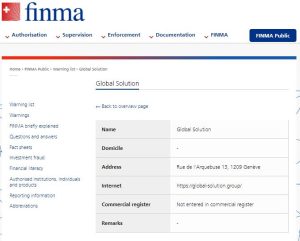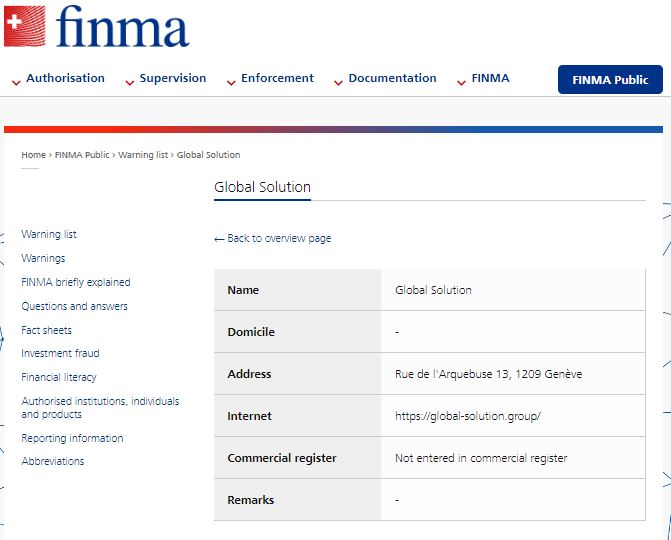 CSA (Canada):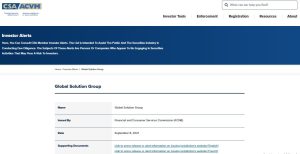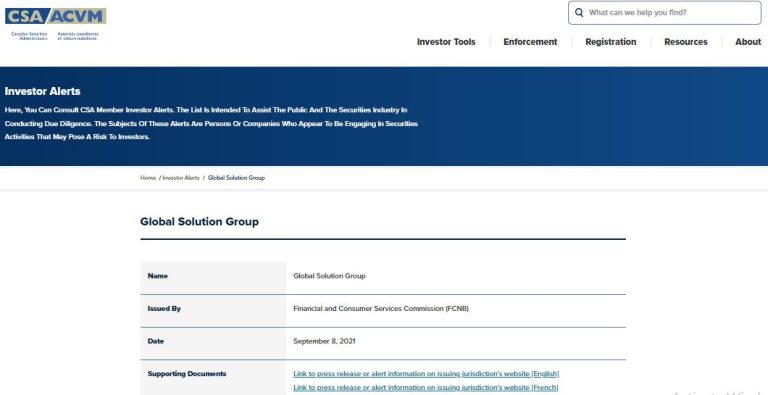 Because we know a scammer when we see one, we've put together this Global-Solution review to warn honest traders. Do not get involved with this firm as it could cost you your entire investment.
Furthermore, we highly recommend that you avoid the scam brokers Fiboda and GMGroup.
Company

Ground Solutions

Website
Global-Solution.Io

Global-Solution.Pro

Global-Solution.Group

Address

Cnr and Church Street, PO Box 2290, Roseau, Dominica

Email
[email protected]
Phone

02080972733

+447459158237

Minimum Deposit

$250

Leverage

1:100

Bonuses

Hinted but undisclosed

Regulation

Unregulated

Warning

FCA, FINMA, FCNB, CSA
Is
Global Solution
a Reliable Broker? Regulation and Security
No sweet talking, no false hope – Global-Solution is a scam all the way. We have strong evidence to support this claim, so keep reading this review as we list them all. 
Nothing about the Ground Solutions company is legitimate or lawful. Global-Solution, being one of their domains, is completely unregulated. If they were conducting a decent, licensed business, they'd be able to provide proof of it. This way, there are only warnings in the public databases and we've listed them all at the beginning of this review. 
Global Solution is based in Dominica, an offshore country with loose regulatory laws. However, their website threw around claims about operating under the EEA regulatory directives. The framework controlling brokerage activities in the EU is very strict compared to the offshore ones. It's the same with the licensing standards in the UK. 
The EU and UK brokerage firms have to invest a hefty amount of capital to even begin thinking about obtaining a license. Next, they are obligated to provide the best security measures to offer clients safe depositing and minimum-risk trading. 
This is done through segregated bank accounts, a leverage cap of 1:30, and negative balance protection. Access to the Financial Ombudsman covers the potential losses and protects clients in case the company fails or defrauds them. 
An independent EEA regulator, ESMA, has established a prominent set of rules – MiFID, to impose more detailed supervision of monetary transactions and customer protection. Everything Global-Solution goes against. 
Broker's Trading Platform Overview
While we have nothing against web-based trading terminals, it's known that scammers tend to abuse them. Global-Solution offers a basic online trading distribution that is just overly simple and painfully useless. Except for some primitive customization tools, there's nothing of value that this software offers. 
If we were to compare these trading conditions and the trading environment as a whole to advanced software like MT4, cTrader, and MT5, the differences are striking. Automated trading, and advanced technical analysis with numerous indicators, timeframes, and other elements provide an edge in every market. Global Solution did not implement any of these features.   
Account Types Available
Let's start with the fact that whoever was designing the Global-Solution account types webpage didn't even know how to count. The description mentions the existence of three distinctive account types while the table shows seven overpriced offers with the most common account names:
Basic – $250

Bronze – $5 000

Silver – $15 000

Gold – $50 000

Platinum – $150 000

Diamond – $500 000

Black – $1 000 000+
Video courses, event rooms, higher leverage, and tighter spreads should be available if you're willing to pay a couple of hundred thousand dollars. If you're able to get such money, please don't just hand it over to a swindler like Global Solution. Better buy yourself a new house or a Ferrari. Or just set it on fire, better than making a cyber criminal rich.
Global Solution Funding Methods Available
Assuring us how investing with them is utterly safe and lucrative, Global-Solution processes all the payments through a suspicious third-party site – Xpayz.net. And while they want you to believe how funding a live trading account was never done easier only risky and definite crypto payments work. 
The account type with the lowest costing fee is the Basic one. It requires a minimum of $250 to open. 
Fees, charges, and commissions that apply are the most terrifying part of Global Solution. Essentially, you have to make enough money from trading on their platform first before being allowed to apply for a refund. That means that there's a minimum trading volume requirement of 30 times the amount of the deposit and bonus combined.
How Does the Scam Implement?
Global Solution is a cybercriminal with a history of deception and manipulation. They present you with unrealistic profit chances and then cleverly alter the trading platform to show you motivational outcomes. Even more optimistic, you get hooked on the feeling of anticipating the potential wealth. So, you keep investing. 
Your dreams of quick money gain will all fall apart when you decide to attempt a withdrawal. If you haven't reached the fearful trading volume requirement, Global-Solution will charge you 10% of the total withdrawal sum. Then they will charge additional and previously undisclosed fees and commissions. 
Or they could just decide to show how you've suddenly lost your entire investment because of a sudden price change. Controlling the trading terminal easily allows them to do that and ruin your life with a single click.
Global Solution
Summary
Investing with the right broker is one of the most valued elements of successful international online trading. Being successful on the Forex market doesn't come from cooperating with a fraudulent broker-dealer. Since Global Solution is one such brokerage, we wholeheartedly recommend you choose another. 
The suggestions from the previous part of this review could undoubtedly provide you with better-equipped software and pricing. Make the right decision and report the suspicious ones, while choosing the brokers with healthy and lucrative trading conditions. 
FAQs About Global Solution Broker
Is Global Solution Regulated?
No, this broker isn't regulated. They've actually had several warnings published against them by major regulators and some jurisdictional ones.
Is My Money Safe with Global Solution?
Because they're unlicensed, Global-Solution cannot offer the highest safety measures. They're simply not obligated to do so.
Does Global Solution Offer a Demo Account?
You cannot open a limited-time account with Global-Solution. Investing at least $250 and opening a live trading account is how you start.