March 03, 2023
Reading Time:
3
min
Green Capitalz Review: Never Deal with Green-Capitalz.Com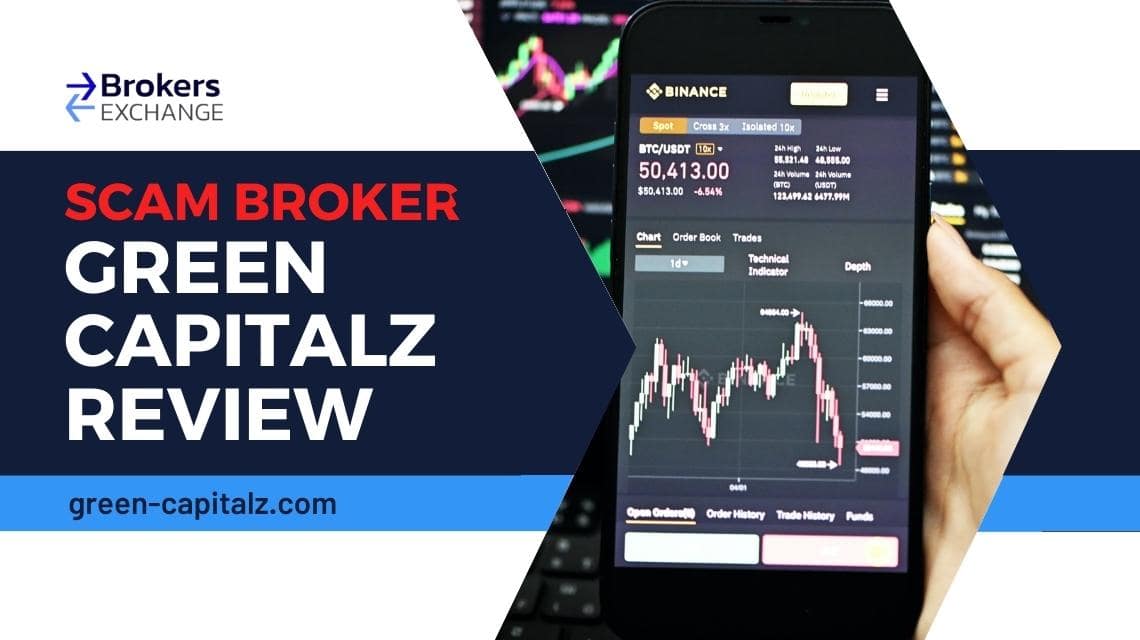 Green Capitalz is an unregulated broker with malicious intentions. If you want to try out online trading, our advice is to never deal with this entity. This Green Capitalz review will explain why and give you more details about their lack of regulation, trading platform, deposit and withdrawal methods, and fraudulent brokers' dirty secrets.
Dealing with unlicensed companies and financial institutions is not safe and not the right approach to take if you want to invest your money. Learning more about this subject can help you avoid rookie mistakes and steer you in the right direction. For that reason, we also have a "recommended brokers" section. Keep reading.
However, you should stay away from dubious brokers like Electrum, Premium X Capitals, and DaxGlobe.
Company
Green Capitalz
Website
Green-Capitalz.Com
Address
50, 54 Marshall St, Marshalltown, Johannesburg, 2107, South Africa
Email
[email protected]@greencapitalz-trade.com
Phone
+44 78 97078755
Minimum Deposit
$250
Leverage
1:200
Bonuses
Yes
Regulation
No
Warning
CONSOB
https://www.consob.it/web/consob-and-its-activities/warnings?viewId=ultime_com_tutela
Green Capitalz Regulation and Fund Security
The presentation of Green Capitalz, which claims to be a legitimate and licensed broker and is jam-packed with all the pertinent information a trader may anticipate, is specifically made to provide the false impression that they are.
And the same holds for the broker's alleged license qualifications. Through two companies, Marnic Financial Consultants LTD and Promarketing LTD, both purportedly registered in South Africa, Green Capitalz suggests being authorized and licensed by the Financial Sector Conduct Authority (FSCA) of South Africa along with the Financial Sector Conduct Authority (FSCA) of the Commonwealth of Dominica.
This might appear legitimate at first glance, but our strong recommendation is never to take anything a new broker claims for granted, no matter how compelling it may seem, since individuals are typically cheated.
As a result, when we searched the FSCA registers in South Africa, we discovered a business called Marnic Financial Consultants LTD with entirely different contact information. And it effectively indicates that our local con artists have nothing to do with the legitimate, FSCA-regulated South African company.
As we have already mentioned, clone websites are a particularly challenging scam. If you do not take the time to check your new broker's registration credentials in the registries of the relevant official financial authority, you may quickly become a victim of fraudsters like Green Capitalz.
Remember that the Commonwealth of Dominica has no Financial Sector Conduct Authority (FSCA) at all, and that the local financial authorities merely pay little attention to the FX market.
Green Capitalz Trading Platform Overview
Green Capitalz broker delivers WebTrader. This platform is the number one choice of scam brokers. It does not offer much by itself, only the most basic features that are then used for the manipulation of data in cases of fraud. Even though WebTrader is not bad software by nature, when used by offshore brokers, it is not safe. 
Regardless of the trading platform a broker uses, you should first check the credibility and licensing of a company.
Green Capitalz Deposit and Withdrawal
Green Capitalz broker can set its trading terms since it isn't actually licensed. Thus, leverage is unregulated, and spreads are unknown. Bitcoin, wire transfers, and debit or credit cards are among the three payment options that the company accepts for deposits and withdrawals. 
A third-party business called Financ3 processes credit card transactions. Your money is not secure since we have never heard of it. While there is no minimum withdrawal amount, the minimum deposit is $250.
How the Scheme Was Put Into Practice
In this Green Capitalz review, let's talk a little bit about how fraud is performed. Scam brokers are experts at deceiving individuals and figuring out their vulnerabilities.
Unfortunately, victims of investment scams typically discover their situation a bit late; fairly soon, the broker has already vanished, and recovering your money might be difficult. However, it's never too late! Be cautious and on guard!
Green Capitalz Summary
Avoiding businesses that are not regulated or authorized and are subject to no jurisdiction is the straightforward conclusion of this text. As the Green Capitalz case demonstrates, anonymous organizations are pervasive and well-hidden. They still exist, are active, and commit fraud.
Avoid falling into investment scam and use caution when it comes to quick money. It's easier said than done, but if you have the correct knowledge, you can spot the common patterns used by most illegal brokers. We can help you by reporting it if this happened to you or somebody you know.
We really hope that this Green Capitalz review helped you understand the unforgiving realities of internet trading.
FAQs About Green Capitalz Broker
Is It Safe to Use Green Capitalz for Trading?

Green Capitalz is not a legitimate broker, and with that said, it is not safe for trading.
Do Green Capitalz Offer a Demo Account?

Green Capitalz broker has demo accounts available among the options for regular investment accounts.
What Is The Funding Method of Green Capitalz?

The three payment methods at Green Capitalz are debit/credit cards, wire transfers, and bitcoin.