October 20, 2022
Reading Time:
5
min
Premium X Capitals Review – Who Is Premium X Capitals?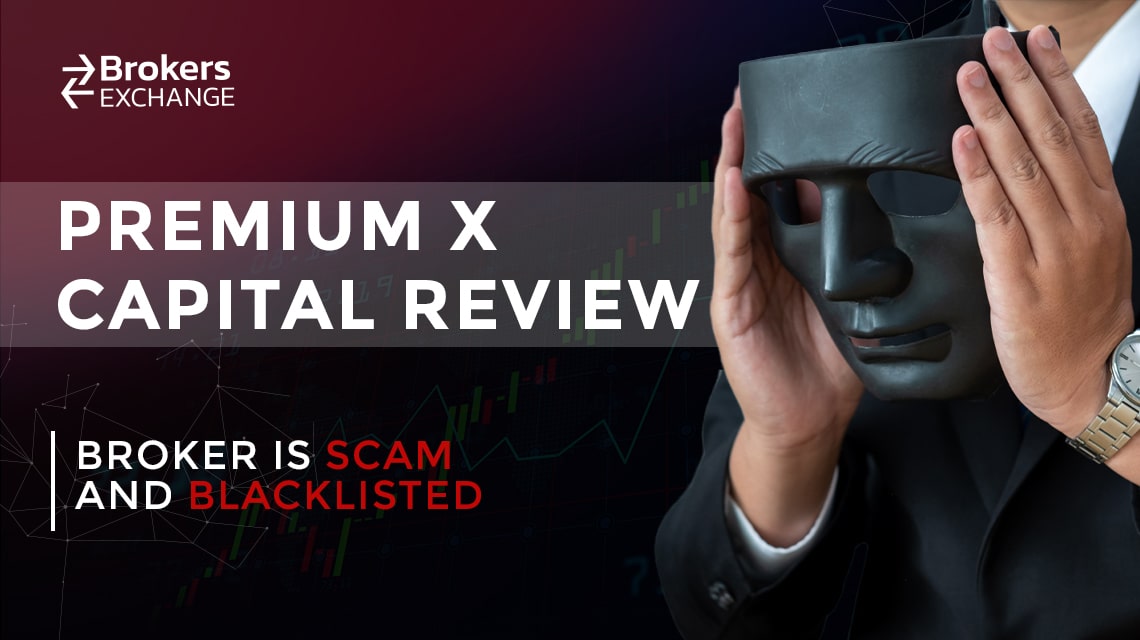 Premium X Capitals Online trading entails two main risks. The first one is inherent due to the nature of trading, and as such, it can't be eliminated but can be minimized if traded wisely. The second is a side effect of the growing popularity of forex that scammers try to take advantage of. 
The former is possible to contain only by trading with legitimate brokers. At the same time, the latter is unnecessary and can be easily prevented by avoiding scam brokers like this company.
They are a phony broker pretending to be a valid company, attracting customers with a modern-looking website, a fake promise of advanced trading software, and alluring trading conditions. However, after detailed scrutiny, you realize it's not how it seems at first glance.
The broker seems associated with another illicit company, Alfa-Prime Markets; it remains unknown the nature of the relation between these two fraudsters; maybe the same people are behind them. 
Anyway, both firms should be avoided. Our broker review won't go into much detail about Alfa-Prime Markets but will thoroughly assess the Premium X Capitals scam. Please continue reading.
On the other hand, you should steer clear of conducting business with shady brokers such as Global Ventures, Phoenix Invest Group, and Dvanxbit.
Premium X Capitals Regulation and Security of Fund 
This Premium X Capitals review has determined that this firm is nothing but an investment scam. The broker is anonymous because there is no relevant company information such as an address, contact details, licenses, and owner. 
Genuine companies display pertinent info on their websites to inspire trust in customers. Being authorized by top-tier financial regulators is the competitive edge for businesses. 
So, why would a forex provider hide this advantage? The only logical answer is that it's an unauthorized brokerage.
Not only that, checking other financial market supervisory bodies doesn't yield results about the Premium X Capitals license, but it does the opposite. 
Namely, the Austrian financial authority (FMA) has blacklisted Premium X Capitals since this shady business provides its services in Austria without compulsory approval. In addition, the Spanish CNMV and the Italian CONSOB have done the same.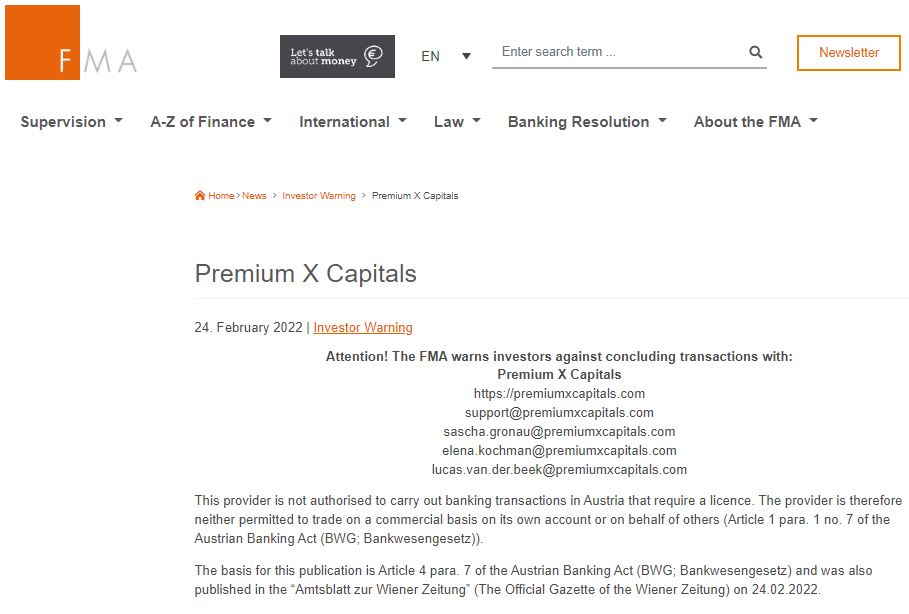 After surfing the Premium X Capitals webpage, it pops the name of another fraudulent broker in its terms and conditions section, AlfaPrime-Markets (Mia Group LLC), which has been exposed as a scam by the Canadian OSC (Ontario Securities Commission), the German BaFin, and the Italian CONSOB.
So, as you can see, it's a complex, organized network of scammers.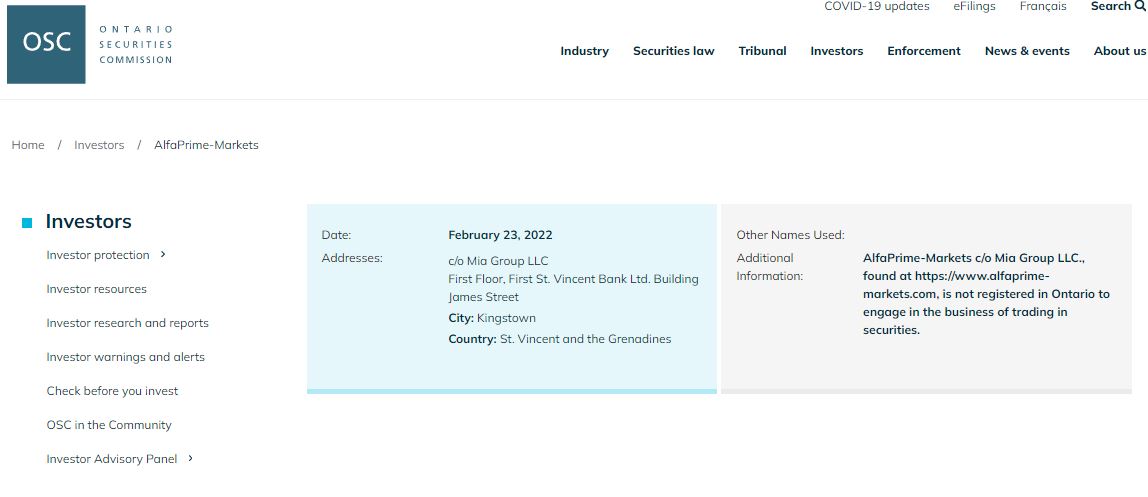 Legit FX providers own one or more trading credentials issued by respective financial agencies; most notable are FCA, CySEC, and ASIC, to name a few. Licenses are contingent on a broker's jurisdiction and area of operation. 
Certifications and regulations ensure the safety of funds, ethical business practices, and high-quality services. Moreover, some financial agencies offer coverage against brokers' insolvency. 
For example, traders of FCA-licensed brokerage can be compensated up to 85.000 GBP in case of bankruptcy.
Licensing requirements are demanded, and only top, proven, and lawful businesses can satisfy them, contributing to the security of your investment.
For the reasons above, trading with The Premium X Capitals carries significant financial risk.
Trading Platform Overview of Premium X Capitals 
Alike many other bogus brokers, Premium X Capital's trading platform is unreliable and inadequate. Despite the company's claims its customers can trade on its MetaTrader4 (MT4), it's far from the truth. 
An additional cause for ignoring this brokerage and focusing on well-established names in the industry that can offer premium trading platforms such as MT4 and its successor MT5. 
With MT5, you can enjoy many benefits like an excellent user interface, automated copy trading, an economic calendar, stop loss, and more.
Premium X Capitals' Deposit and Withdrawal Methods
Depositing and withdrawing money is always a headache with illegal companies. They want you to deposit funds using the safest method for them so they can't be traced back, such as crypto payments. 
Regarding Premium X Capitals, it insists on deposits via cryptocurrencies like BTC and Ethereum. When losing money to this broker, it's nonreversible.
Legitimate brokers also accept crypto wallets, but it's not exclusive; they support other means of payment, such as credit/debit cards and wire transfers. According to the broker's website, it also accepts credit/debit cards, PayPal, and UnionPay. 
If you are defrauded and make deposits via a credit card, VISA and Mastercard assist with cashback. Anyway, think twice before depositing money with such an untrustworthy firm.
Speaking of withdrawals, reportedly, this broker offers the same way for payoffs as for depositing. But it's less probable that this non-legit broker will let you draw your funds.
How the Scam Is Executed
All hoaxes perform in the same way, with a common goal. Con artists like this broker are just after your money. They fraudulently imitate genuine companies to lure people into their deceptive projects. 
They reach unsuspecting victims by employing many dirty tricks, including spam emails and unsolicited phone calls. 
Once they draw your attention, fraudsters will be persuasive and persistent in making you invest by offering lucrative opportunities, high leverage, and generous bonuses. 
Once you drop the ball and deposit money, they will apply many malicious tactics to prevent you from withdrawing money.
Premium X Capitals offers 1:400 leverage, although leverage is limited to 1:30 in most jurisdictions. Also, bonuses are banned in the EU and other entities due to misuse, but this broker promises rewards as a trap.
Premium X Capitals Summary
In conclusion, there are many reasons for not trading with Premium X Capitals. From an unlicensed, anonymous business, poor trading software, and unfavorable trading conditions to a lack of demo account, no funds protection, and high initial minimal deposits. 
On top of this, several financial watchdogs put this broker on the warning list. Besides so many reliable and legit online trading enterprises, taking risks with Premium X Capitals is entirely unnecessary.
FAQs About Premium X Capitals Broker
What Is The Premium X Capitals Minimum Deposit Amount?

The minimum required deposit is $250, far above leading brokers; e.g., FBS requires only $1.
What Are the Deposit and Withdrawal Options for Premium X Capitals?

The broker accepts credit/debit cards, wire transfers, PayPal, and UnionPay for deposits and withdrawals. However, it insists on crypto payments, and payoffs are not guaranteed.
Is Premium X Capitals A Legitimate Broker?

Premium X Capitals is a scamming broker operating anonymously and unlicensed. Your funds are not safe with Premium X Capitals, and you better disregard this shady company.