October 22, 2022
Reading Time:
4
min
GreenLinePro Review – Who Are They?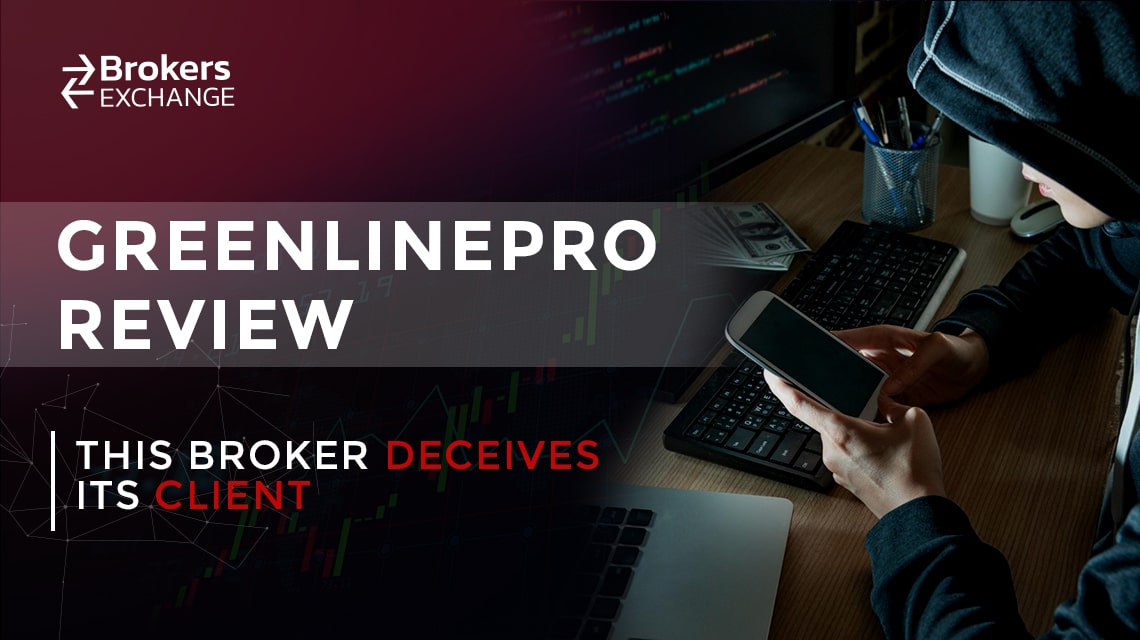 GreenLinePro Forex trading is attractive and popular, entailing specific risks due to the nature of trading and the increased number of scam brokers. Your preliminary move should be gathering information about a particular broker. 
So, if you are considering trading with GreenLinePro, you should check our GreenLinePro broker review, which provides revealing and helpful insights about this trading firm.
Before moving forward with this article, in a few words, we have done hard work instead of you, collected some intel about this brokerage, and discovered that you should avoid GreenLinePro beyond the shadow of a doubt. 
Our thorough research checked open-source intelligence from social media, reviews, the internet, financial market regulators, and the company website. Rest assured that our finds are accurate, relevant, and unbiased.
So, who is GreenLinePro? It's yet another fraudulent broker operating anonymously and unregulated. The company is allegedly formed offshore in Saint Vincent and the Grenadines. 
Being an offshore brokerage is not an issue; after all, many legit corporations are based in offshore jurisdictions. 
However, the combination of offshore HQ and unlicensed business always indicates an investment scam, as it's the case with GreenLinePro.
In addition to this, you should avoid engaging in business with dishonest brokers like CM Trade, Trade X Ten, and Rma Fx Brokers.
| | |
| --- | --- |
| Company | Green Line, GreenLine, GreenLinePro |
| Website | GreenlinePro.Com |
| Address | SVG |
| Email | [email protected] |
| Phone | +442045710276 |
| Minimum Deposit | $250 |
| Leverage | 1:200 to 1:600 |
| Bonuses | Yes |
| Regulation | No |
| Warning | N/A |
Financial Security and Licensing of GreenLinePro Broker
Legitimate brokers must be licensed by a respective financial market supervisor, which depends on the jurisdiction. Prominent forex providers like XM broker hold several broker licenses from topmost agencies such as FCA, CySEC, and ASIC. 
Trading credentials guarantee the safety of your funds, which implies "no license—no funds protection."
After checking major regulatory bodies, there is no information about GreenLinePro; thereby, the company is non-legit, and per se, it violates the regulations of a heavily controlled industry (committing a financial crime).
There are many benefits of being authorized broker services. For instance, service quality and ethical business practices are ensured, and more importantly, your investment is secure. 
The latter is achieved through risk management tools such as negative balance protection (you can't lose more than you initially invested) and segregated accounts (if a broker bankrupts, you won't lose money). 
On top of this, certain financial authorities run compensation schemes covering traders in case of brokers' insolvency (FCA covers up to 85.000 GBP indemnity, and CySEC covers up to 20.000 EUR).
To become accredited, a brokerage firm must fulfill stringent conditions, such as having sufficient working capital measured in several hundred to several million dollars, depending on the financial awarding body. 
That also guarantees business sustainability and the safety of your funds. An enterprise with good standing is unlikely to cease trading. Therefore, for the sake of financial security, you should always opt for reputable and well-established FX providers, unlike GreenLinePro.
Overview of GreenLinePro Trading Software
One of the most vital assets of every broker is the quality of trading platforms. That's also one of the main differences between trustworthy and untrustworthy brokerage. 
Leading companies offer cutting-edge trading programs that include advanced features like automated trading, social trading, stop loss, an economic calendar, and a fully customizable interface. 
The most used platforms are MetaTrader4 and MetaTrader5; likewise, cTrader and Sirix are very good. With reference to this, GreenLinePro offers a manipulative trading platform that can't be matched with an actual trading program and has no real use. 
For that reason, trading on GreenLinePro is risky and ineffective. Following advice from professional traders, you should stick with forex providers offering some modern and proven trading software (MT4 or MT5).
Deposit and Withdrawal Procedures at GreenLinePro
Our GreenLinePro review has determined that this illegal broker accepts cryptocurrencies and wire transfers for deposits and withdrawals. I want to point out that both methods are irreversible, meaning once you deposit your money, it can't be retrieved. 
Crypto payments are also one of the preferred funding methods by criminals since they can't be traced back. In all respects, we strongly advise against investing with GreenLinePro.
Here's How They Execute the Scam
The GreenLinePro scam is perpetrated by fraudsters knowing how online trading works. So, they use dirty tricks to attract attention, such as email spamming, unsolicited calls, Google ads, social media campaigns, and others; they rely on the general population's susceptibility to trust the internet.
Con artists' offer sounds too good to be true, consisting of one-time, lucrative investment opportunities and generous bonuses, prompting you to invest immediately. 
GreenLinePro offers high leverage (from 1:200 to 1:600), despite being limited to 1:30 in the majority of jurisdictions. Likewise, bonuses are banned in most markets, but this broker uses them to entice you.
Once you invest money, you will soon realize that bonuses are a trap and come with unreasonable preconditions revealed only after making deposits. In addition, drawing funds from your account with financial swindlers is a headache and less probable. 
Scammers will try to rip you off entirely by making fake promises that they will let you make withdrawals after you pay (hefty) fees. Of course, that's a deception and lie to con of you more money.
Note that scam artists vanish without a trace when exposed. Then they suddenly appear under a new brand using a different domain, phone numbers, and email addresses.
However, they are still thieves who will contact defrauded victims and offer assistance in retrieving owed money from an old, insolvent company. In reality, they will again try to rob you. 
Everyone can be scammed, but don't let them trick you twice. Keep away from companies like GreenLinePro if you don't want to end up with empty pockets.
GreenLinePro Summary
To recap, GreenLinePro is a notorious scammer; traders can expect from this phony broker only a failure due to there being no broker license, no real trading platform, no demo account option, and no favorable trading conditions. 
You can only open a live trading account requiring a $250 initial deposit. Valid firms offer demo accounts allowing you to test and practice trading for free and risk-free. They also offer a micro account for as low as $1.
All things considered, keep your eyes peeled, and don't ever invest in trading with brokers like GreenLinePro. Otherwise, you will lose money.
FAQs About GreenLinePro Broker
GreenLinePro requires a $250 minimum deposit far above the average amount in the business (e.g., FBS offers a live trading account for $1).
What Are the Deposit and Withdrawal Options for GreenLinePro?

GreenLinePro supports bank wire transfers and crypto payments for deposits and withdrawals. Bear in mind that both payment means are final.
What Account Types Does GreenLinePro Provide?

GreenLinePro offers the following live trading accounts: standard (minimum deposit $250), bronze ($2.500), silver ($10.000), gold ($50.000), platinum ($200.000), and diamond ($500,000).