October 29, 2022
Reading Time:
5
min
Innovative IT Traders Review: Who Is Behind This Broker?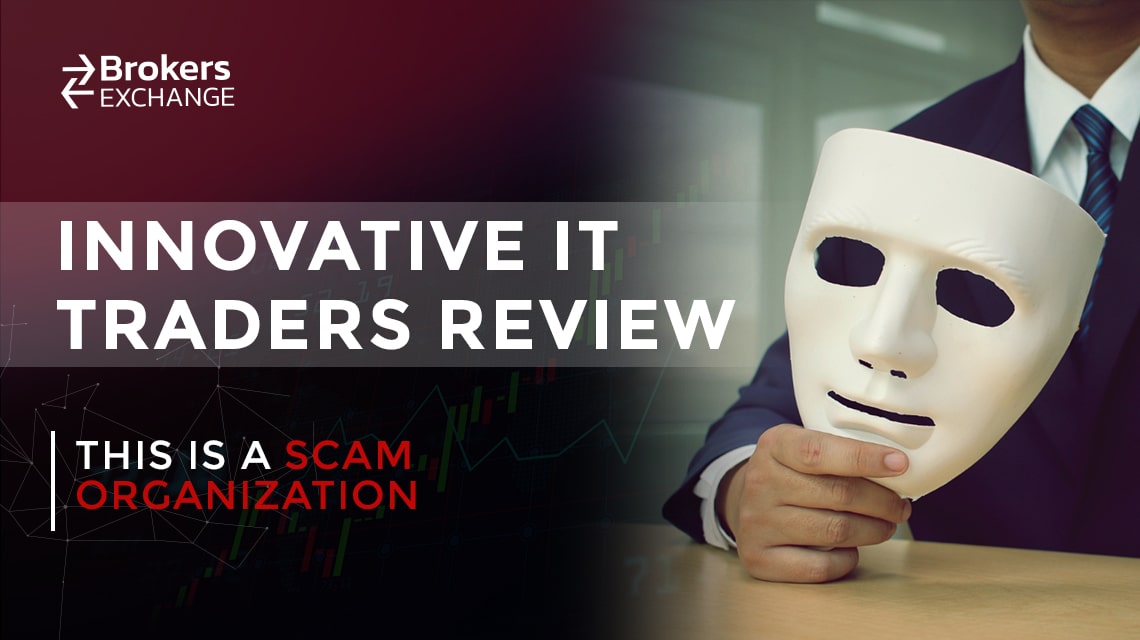 Innovative IT Traders official website gives off the impression of professionalism and seriousness. After taking a closer look, though, site visitors can come to the conclusion that the site information is pretty much shallow and vague. 
The FAQs page explains this company is an award-winning licensed firm with all necessary regulations. First off, the page suggests the company is licensed in the US, another paragraph claims that it is also licensed in the UK. In the end, there's also a third claim that says the firm is also fully licensed in Cyprus, EU. 
Since it is very easy to check this, it is recommended for every experienced or novice trader to first look at the FCA, NFA, CFTC, and CySEC databases.
Doing so easily provides the necessary information about Innovative IT Trades and that is that they aren't regulated by any of the mentioned jurisdictional regulators. 
No transparency when it comes to vital company info as well as finding out they aren't actually licensed forces a potential investor to think twice before depositing money.   
Also, stay away from brokers who try to take advantage of you, like Fincloud, Vitacapitals, and OctexTrade.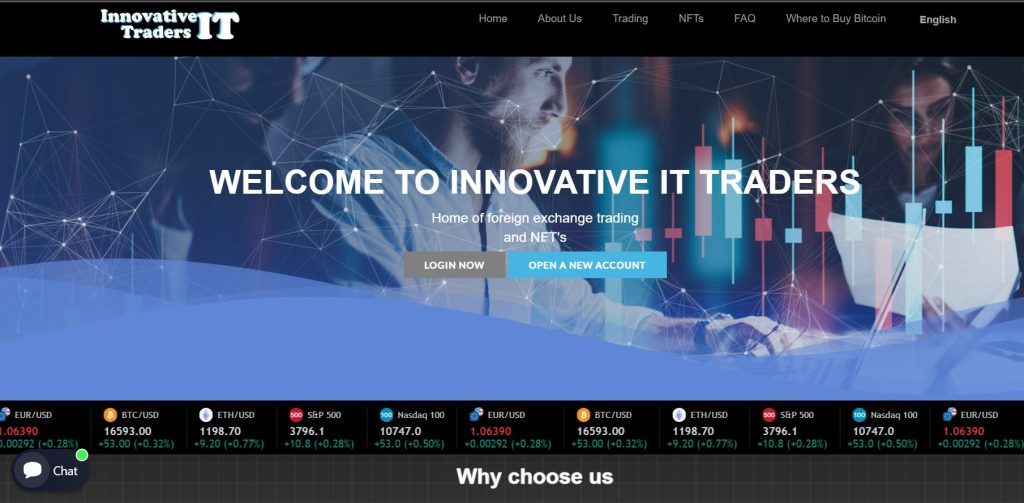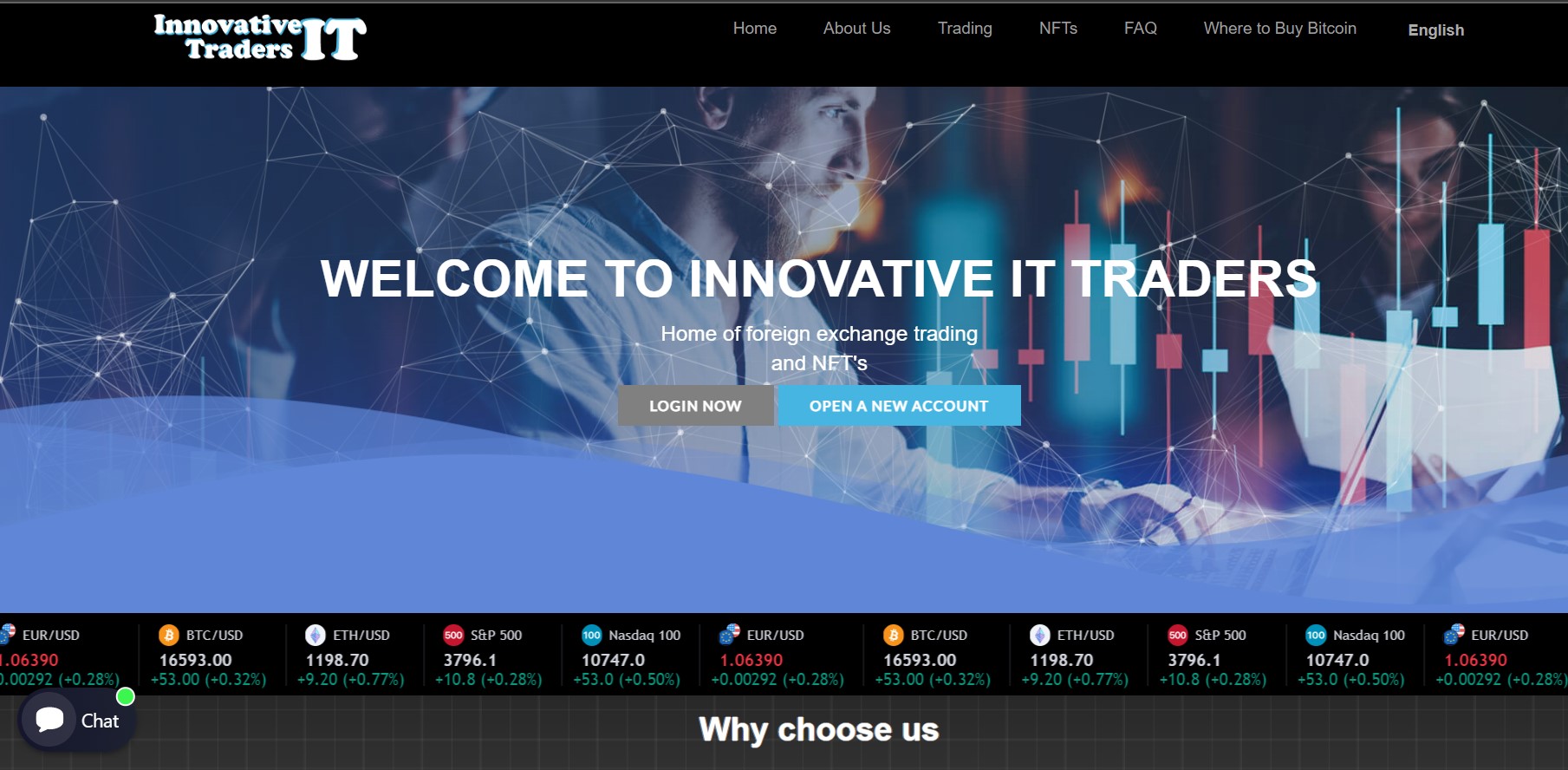 | | |
| --- | --- |
| Company | N/A |
| Website | InnovativeITTraders.Com |
| Address | 3 West Holme Gardens, Nottingham, United Kingdom |
| Email | N/A |
| Phone | N/A |
| Minimum Deposit | $50 |
| Leverage | N/A |
| Bonuses | N/A |
| Regulation | Not Regulated |
| Warning | N/A |
Innovative IT Traders Funds Safety and Regulation
If a brokerage company's aim is to be regulated in the US by NFA, there are some serious conditions to be met. One of them is possessing the minimum capital of $20 000 000 to ensure the company can finance its operations. 
Only a handful of legit brokers have managed to meet this condition. After checking the NFA database for a company with this name, you will not be able to find anything. This is simply because Innovative IT Traders are not regulated. 
A very concerning fact right off the bat about any broker is being unlicensed. This means that the funds you deposit can never be safe. An investor can easily become a victim of cyber theft in case they decide to work with a company like this. 
Besides the fact that the funds are not safe, it is also very questionable if withdrawals are possible at all. Financial swindlers do not really operate with the intention of helping clients grow their funds. Their sole priority is to take the hard-earned money their clients are willing to deposit. 
And while trading online always brings a certain risk of winning or losing, trading with phony websites is always a loss because withdrawal of a single dollar is mostly impossible. 
Innovative IT Traders' Trading Platform
The trading platform that Innovative IT Traders present to us are what they claim is a simple, multifunctional platform with plenty of features and reliable tools. Upon taking a closer look at it, anyone can tell that the plain chart showing is just a facade.
This gimmick is used to purely give an idea of trading and something going on, while in actuality investors' funds are being taken never to serve for trading or to be withdrawn at some point.
Now, whether you are an experienced trader or someone new to trading platforms, you must have heard or dealt with MT4 or even better MT5 before. MT5 has become so widely used and recommended that it has basically become the industry standard. 
It has countless positive reviews and top-star ratings because it offers all standard services as well as more advanced features. 
From real-time quotes to fully automated trading options based on a perfected algorithm, MT5 is as convenient for beginners as it is for experts. Because of its universality and functionality, MT5 is an exceptional trading platform and has a full advantage over most others.   
Deposit and Withdrawal at Innovative IT Traders 
The site says that you can deposit only in cryptocurrencies. This is a red flag because crypto trading is a one-way thing, and that means it is irreversible. 
Once your money goes to the fraudulent broker, they stay anonymous and you cannot take it back when you do not know where it went.
Scammers aren't obligated to provide their real information if they don't want to enable credit/debit card depositing. 
The minimum amount for the deposit required on the site is only $50, without a limit on the maximum amount or the times clients can deposit. On top of that, reading about easy and fast withdrawals with no fees and additional paying involved surely sounds attractive to the user's eye. 
This is what Innovative IT Traders claim to be able to provide. However, behind an unregulated brokerage company is just another scammer, hunting for those less informed to steal from. 
Withdrawals with these shady brokerage companies are usually dragged out, sometimes even for months and they require additional fees to be paid. 
Even if a client has deposited via Visa or MasterCard, they will not be able to request a refund if more than 540 days pass.
 It is very tricky dealing with an experienced scammer, but safety precautions have to be taken before investing.
Unregulated Brokerage Techniques
Casually surfing the internet in search of a reliable trading firm many can stumble upon various ads that promise fast and secure money gain with extraordinary trading conditions. Please, do not fall for this, no matter how attractive it sounds. 
Everything that sounds too good to be true is in most cases a cyber theft perpetrated by a scammer broker. 
If you click on the ad you've found or leave your contact info anywhere, expect to be contacted by a phony who knows how to sound like a true professional. These are the ones who will try everything in their power to get you to invest. 
It doesn't end there though and unfortunately for the investor, they usually manage to persuade them to invest more, buy more services and enable more tools and trading favors. 
None of these promised conditions and bonuses the investor actually receive. They are made to believe they are trading and succeeding in growing funds but the truth is not even close. 
Hard-earned money that was invested on a fake website goes to the fraudulent broker while the unsuspecting victim still has an illusion of trading and earning. 
When a victim decides to make a withdrawal request, they might become aware of what was actually done. In most cases, withdrawal is next to impossible. 
So it would then be best to take adequate measures in dealing with the scammer instead of waiting, or even worse, investing more. Never pay for ridiculously high withdrawal fees as these will not help speed up the withdrawal process. 
Innovative IT Traders Summary
The aforementioned should provide you with basic reasons why not to trust a shady trader that Innovative IT Traders is. A trained scammer has a rich deceiving history and could therefore convince an inexperienced trader of many illusions related to online trading. 
There's no shame in being scammed. It's a trend that will keep on existing. The best to do in case of cyber theft is to change your credit card and other crucial info asap. 
Then contact local authorities and jurisdictional institutions that could help you track down the fraudster. Always be on the lookout for new attempts of scams and beware when trying to choose a recovery agent. 
Many of those are again financial swindlers who make promises of surely getting your money back if you pay them.
Last but not least, always sharing some useful knowledge online through forums and reviews is a way of letting others know who not to trust their money with. 
Spreading the word is important to prevent fraudsters from keeping on with their scamming schemes. 
Please share your experiences with us and help grow awareness while decreasing the chances for more thefts to happen.
FAQs About Innovative IT Traders Broker
Are Innovative IT Traders Legally Registered?

Innovative IT Traders states to be registered in US, UK, and EU. However, that is not the case.
How Secure is Innovative IT Traders' Website and My Account Data?

The site is claiming to be protected from DDoS attacks because transferred data is SSL encrypted and their site is supposedly tied to a dedicated server.
Innovative IT Traders insist it charges no fees and provides instant withdrawal.