September 21, 2022
Reading Time:
4
min
Vitacapitals Review – Who Is Behind Vitacapitals.com?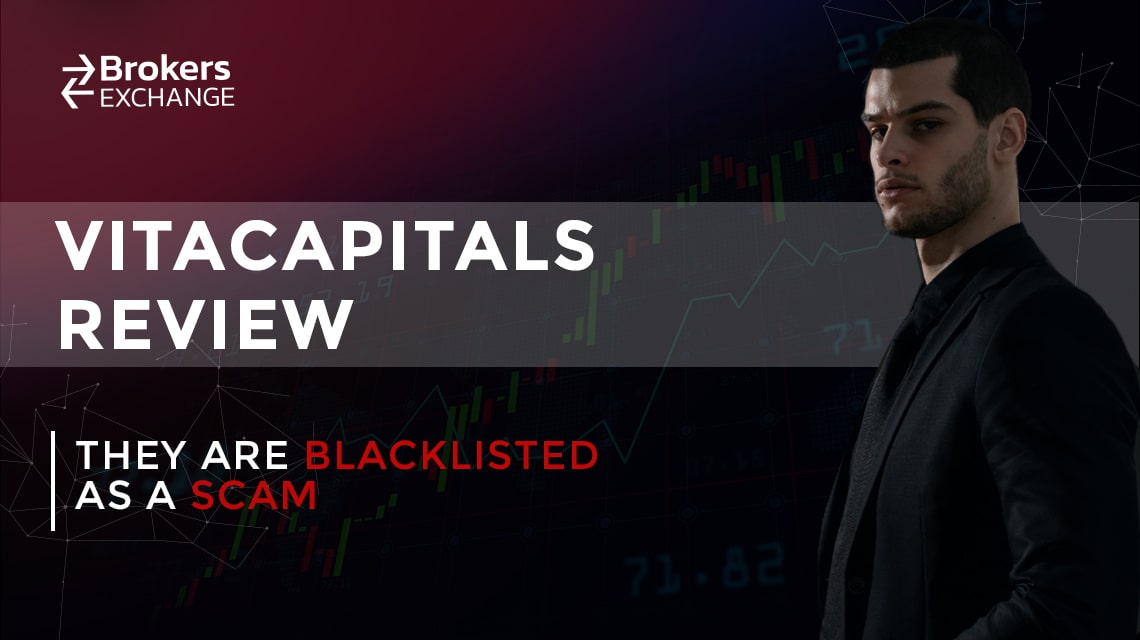 Vitacapitals is trying to deceive people with its purposely false and misleading claims. It reportedly has branches in Bulgaria and Liechtenstein and is allegedly regulated by MAS (Monetary Authority of Singapore) and FMA (Financial Market Authority of Liechtenstein).
Every offer, regardless of how it sounds compelling, should be demonstrated and not merely asserted. After comprehensively examining Vitacapitals, it yields that the company is an archetype of an investment scam. 
It's not only that MAS and FMA don't license Vitacapitals, but these two agencies have blacklisted it. Keep reading for complete information regarding the Vitacapitals scam.
Nevertheless, you should avoid trading with shady brokers such as CTmatador, BtcMarketCap, and AnalystQue.
| | |
| --- | --- |
| Company | Vitacapitals LLC, Rever LTD, Trinityfair LTD |
| Website | Vitacapitals.Com (expired domain), Weliux.Online, Weliux.Com |
| Address | Rever LTD, Bulgaria, Botevgrad, p.k. 2141, SARANSK, bl. 4, ent. A 7th-floor, apt. 38Dr. Grass-Strasse 12, 9490 Vaduz, Liechtenstein |
| Email | [email protected], [email protected] |
| Phone | N/A |
| Minimum Deposit | 250 EUR |
| Leverage | 1:200 |
| Bonuses | Yes |
| Regulation | No |
| Warning | FMA, MAS |
Vitacapitals Credibility: Regulation and Fund Security
When we dive into the open-source information about Vitacapitals, we have determined that this phony broker works without trading credentials. Worse, it openly proclaims itself as a licensed business.
Unequivocally, it's a warning sign and indicates Illegitimate enterprise. Now, let's examine some facts. Firstly, every licensing can be easily verified by checking the records of a respective regulatory body.
In this case, the firm professes it's authorized by MAS and FMA, yet, the only result in their registers about Vitacapitals is FAM warning against it and its place on the MAS investor alert list.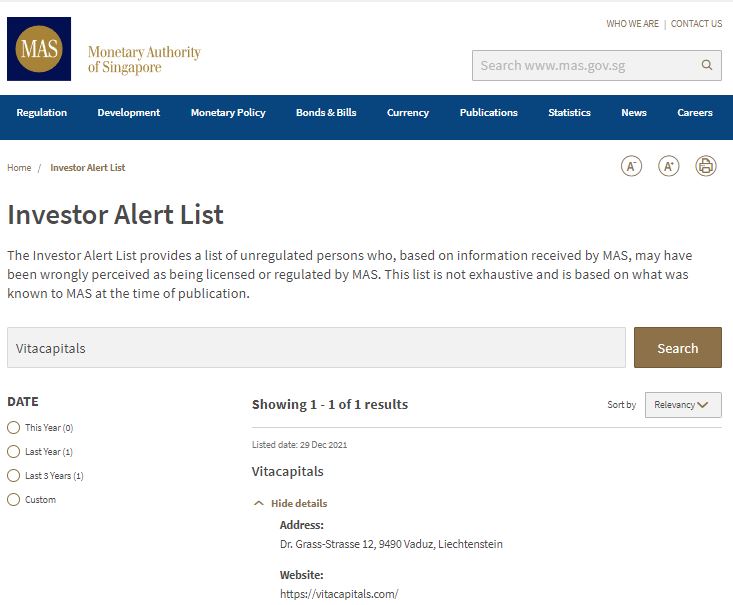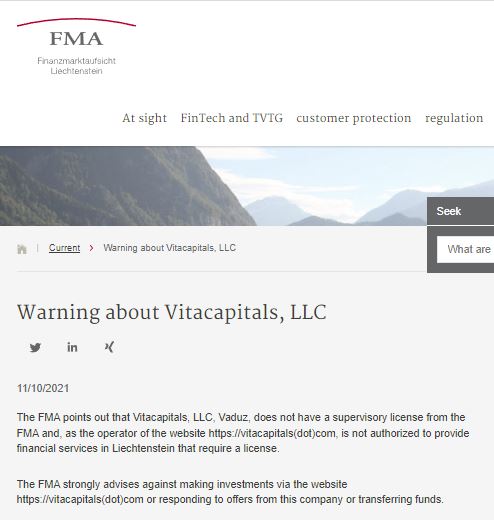 Next, depending on the jurisdiction, every broker must be accredited and supervised by relevant financial market regulators. So, with its office in Bulgaria, Vitacapitals must be certified by the Bulgarian FSC (Financial Supervision Commission), yet it isn't.
Operating without a financial permit is a crime. Moreover, it implies that a broker can't guarantee the service quality and the safety of your funds.
For instance, leading broker corporations are governed by high-ranking supervisory bodies like FCA, CySEC, ASIC, and others.
Why is this important? These agencies make sure that each legit broker meets and maintains high and stringent standards, protecting traders.
How are you covered? An approved brokerage must have sufficient operating funds (from several hundred thousand to a few million dollars), ensuring it's a sustainable business that won't go bankrupt quickly; even if it does, every trader will be compensated. For example, CySEC covers indemnity up to 20.000 EUR, while FCA offers it up to 85.000 GBP.
In addition, genuine forex providers must (per licensing requirements) keep their operating capital separated from customers' funds (aka, segregated accounts). This practice and negative balance protection keep your investment safe in a sudden, adverse situation (e.g., a broker's insolvency).
Trading Software Overview of Vitacapitals 
Predictably, Vitacapitals offers a basic level program for trading, which is nowhere near as good as typical trading platforms. For example, MT4 and MT5 are the industry's most widely used trading software; that's no wonder; they come with advanced trading tools like social trading, stop loss, and other helpful features allowing you successful trading. 
Thus, trading on a poor Vitacapitals platform is a recipe for failure. Alternatively, trade with reliable FX brokers with proven software and mobile trading apps.
Vitacapitals' Deposit and Withdrawal Options
Unlike valid companies, withdrawals and deposits are significant issues when dealing with scam brokers. The problem resides in not clearly defined and contradictory conditions. These bogus brokers keep the right to change the user agreement as they please. 
According to its terms of service, Vitacapitalis can reject withdrawal fund requests without reason. Under these circumstances, considering depositing funds with this brazen scheme is absurd.
Here's How They Execute the Scam
In our Vitacapitals review, we have ascertained that these financial swindlers are involved in a complex scammer network. This scheme involves several affiliated businesses with fake addresses; when exposed, they move to another domain and entity. 
They appear as a new company, approach old (defrauded) clients, and offer them assistance with money reimbursement that always includes advance, compulsory commission.
Con artists behind Vitacapitals entice people by offering low and tight spreads, high leverage, and bonuses. They reach people through advertisements on social media and Google ads, spam emails, and unsolicited phone calls. 
Once they convince you to invest, it doesn't stop here. They persist in persuading you to invest more money, offering more lucrative proposals. In case you want to withdraw, they won't let you. 
In addition, they impose withdrawal fees that must be paid in advance. Finally, they disappear without a trace if they fail in conning out more money from you.
Vitacapitals Summary
Our Vitacapitals broker review has provided substantial grounds for avoiding non-legit brokerage services, especially those that forge certificates.
Vitacapitals is a dishonest scam broker lying about licenses and luring people into its fraud schemes by offering unrealistic trading conditions and generous bonuses.
Bear in mind that FMA and MAS have listed this fake firm on a warning list. Considering it's based in Bulgaria and Liechtenstein, bonuses and promotions are banned in the EU. 
Leverage is capped at 1:30 in this jurisdiction, whereas, Vitacapitals offer it at 1:200. Not be forgotten that Vitacapitals requires 250 EUR for an initial deposit, and it doesn't allow withdrawals. 
So, everything points to the fact that Vitacapitals is an illicit forex provider that will jeopardize your investment. Therefore, consciously stay away from having anything with these people.
FAQs About Vitacapitals Broker
What Is The Vitacapitals Minimum Deposit Amount?

The minimum deposit amount demanded by Vitacapitals is 250 EUR, contrary to the $1 required by certain respectable brokers.
What Are the Deposit and Withdrawal Options for Vitacapitals?

Vitacapitals provides a little info about payment methods, but it reveals that the company reserves the right to change terms and decline withdrawal requests.
What Kind of Trading Platforms Does Vitacapitals Offer?

Vitacapitals provides its trading software with limited features; hence, it's inadequate for trading.