January 18, 2023
Reading Time:
5
min
Isaacs Partners Review: Do Not Deal With This Scam Broker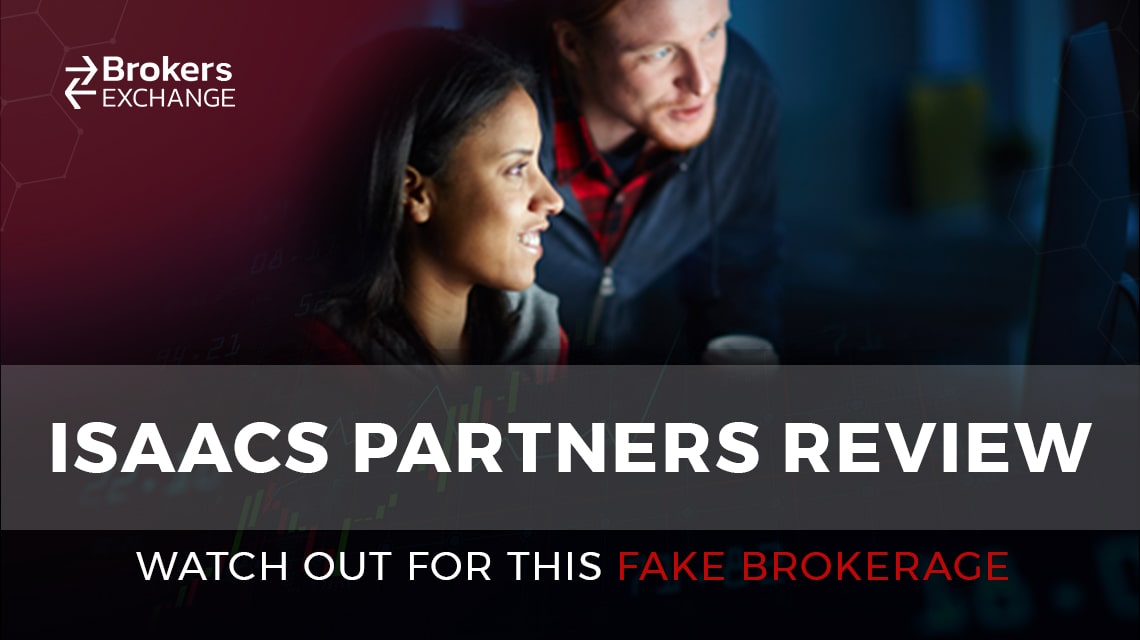 Isaacs Partners Review, Hunting for scam brokers brought us to Isaacs Partners, which tries to give the impression of a genuine company and instill confidence by giving a human touch to its services (naming its business after a person). From the moment of visiting its webpage—which seems like one of the legitimate-looking websites—you will come across many exaggerated and unproven statements.
According to the Isaacs Partners broker, it falsely promises to be "the world's best brokerage firm" providing a broad spectrum of trading instruments, convenient depositing and withdrawing, a variety of modern trading platforms, and lots of educational materials.
Also, this broker is a trading scam exposed by several financial market regulatory agencies, including Spanish CNMV, Belgian FSMA, Italian CONSOB, and Estonian FI. Please, continue reading our Isaacs Partners review and find out why you should watch out for this fake brokerage.
Nevertheless, you should avoid trading with shady brokers such as Northern Bits, Virtus Capital and GISCapital.
Company
Isaacs Partners Limited 
Website
IsaacsPartners.Com
Address
Marshall Islands 
Email

[email protected]

,

[email protected]

 

[email protected]

 
Phone
+44 7495 323898
Minimum Deposit
200 EUR 
Leverage
1:50
Bonuses
No
Regulation
No
Warning
CNMV, FSMA, CONSOB, FI
Isaacs Partners Regulation and Fund Security 
Based on its website, Isaacs Partners is registered in the Marshall Islands and allegedly licensed by Vanuatu Financial Services Commission (VFSC). However, VFSC hasn't done anything on the basis of a scam alert issued by numerous authorities against Isaacs Partners. Indicating that this supervising body is not capable enough to regulate offshore-based brokers.


Thus, Isaacs Partners must be treated with caution since it can be regarded as an unlicensed brokerage firm. In other words, it doesn't abide by any legislation, is unpredictable, and is untrustworthy.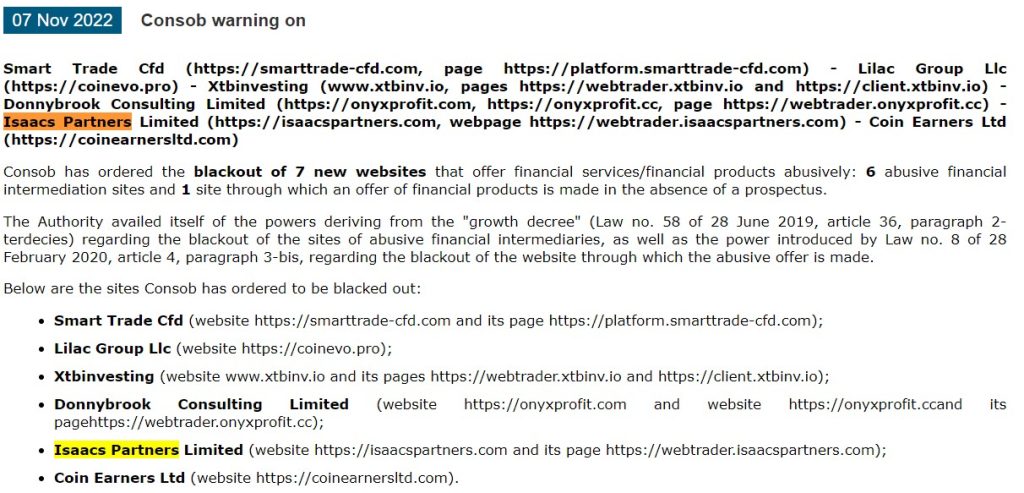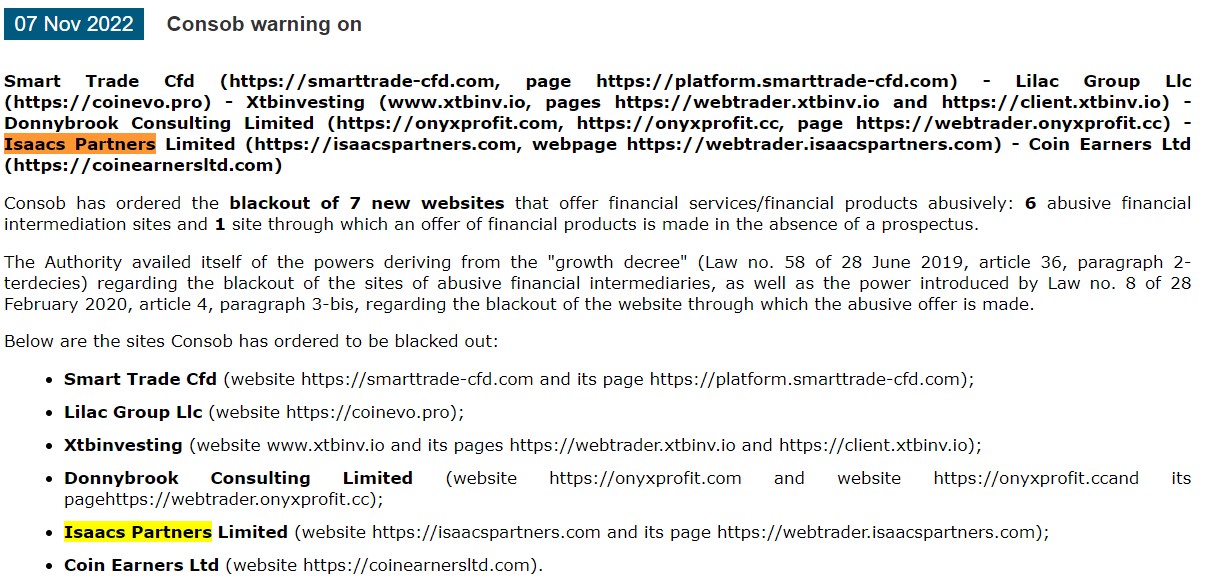 As a comparison, if an online financial trading company authorized by a reputable supervisory agency (e.g., CySEC, FCA, ASIC) was faced with scam allegations, it would be thoroughly investigated; if complaints against the broker were proved, it would be fined, prosecuted, and suspended.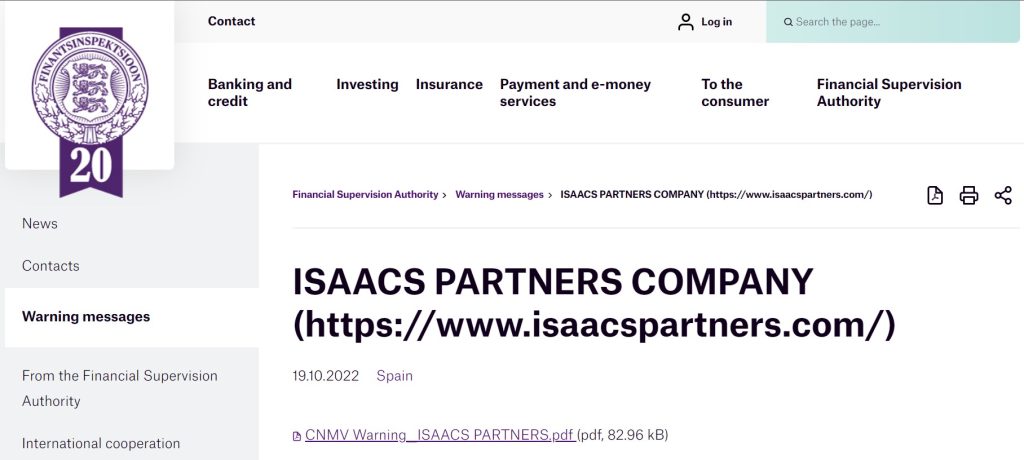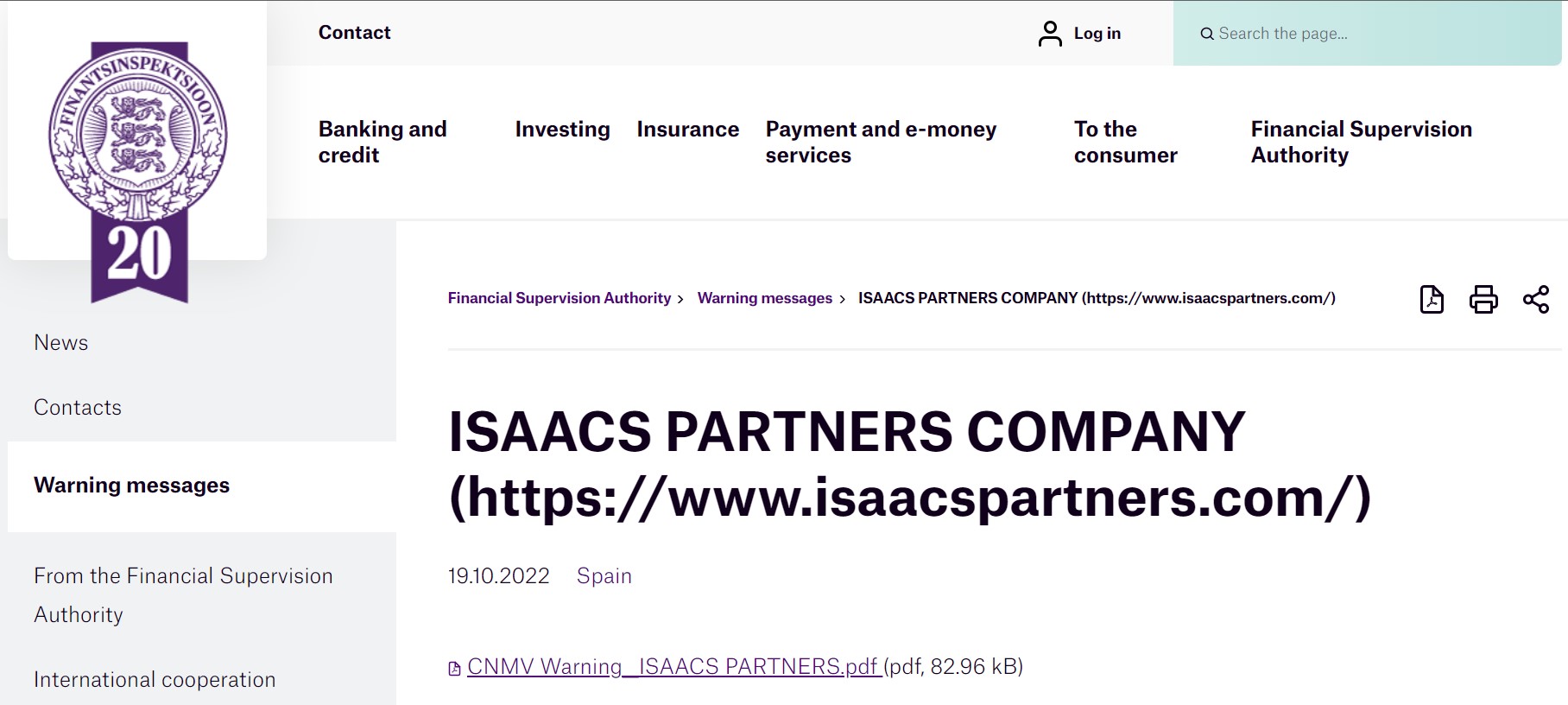 Therefore, you should always trade with a forex provider licensed under high-ranked financial authorities (like those in the UK, Switzerland, and Australia) for the sake of financial security. In addition, check the top-rated forex brokers later in this article.
Isaacs Partners Trading Software Overview 
When it comes to trading software, this bogus broker allegedly provides MT4 and Sirix, which are the two most reliable trading platforms. Along with MT5 (a successor of MT4) and cTrader, these powerful programs offer plenty of proven tools like stop loss, social trading, and expert advisors. Speaking of Isaacs Partners, it fabricates the truth, and in reality, there is no sign of any advanced trading software.
In relation to tradable assets, this broker scam guarantees access to global markets through its poor internet-based trading platform. Reportedly, it offers the following financial products.
Forex: EUR/USD, USD/GBP, GBP/EUR, AUD/CAD, NZD/JPY.
Stocks: Apple, Facebook, Google, Netflix, Vodafone.
Commodities: corn, crude oil, gold, natural gas, silver.
Indices: S&P 500, NASDAQ 100, Dow 30, Nikkei 225, UK 100.
Bonds: Eurodollar, T-bond, Ultra T-bond, Euro bund, Euro BTP.
No matter its offer and promises, don't forget that it is a shady brokerage firm involved in fraudulent trading activities.
Deposits and Withdrawals Procedure
Concerning funding methods, this phony broker promises quick and smooth deposits and withdrawals. The former is not an issue, this financial swindler can't wait to get its hands on your money. But, the latter is a problem since there are no money withdrawal guarantees with fraudsters. 
Although Isaacs Partners has put logos of popular means of payment on its website (Visa, MasterCard, PayPal, Skrill, Neteller, and bank transfers), it doesn't mean that it is possible to transfer funds to and from accounts via these methods.
Regarding trading accounts, there are several types at Isaacs Partners, outlined below.
Mini: 200 EUR deposit
Standard: 10,000 EUR
Gold: 25,000 EUR
Platinum: 100,000 EUR 
VIP++: 200,000 EUR
Each of these options comes with 1:50 leverage and negative balance protection. As for the former, it is limited to 1:30 in most jurisdictions, while we are skeptical about the availability of the latter since it is a financial swindler who doesn't care about your interests.
Lastly, on withdrawals, aside from the assurance that they are fast, Isaacs Partners doesn't give more info. So, it remains unclear whether and how much you will be charged for payoffs and what the processing time is. Keep in mind that with this investment scam, you can expect to have only withdrawal issues.
Isaacs Partners Offers Bonuses and Promotions
Surprisingly, this dishonest scam broker doesn't use generous bonuses to entice people. The vast majority of fraudsters employ this dirty trick to rope people into investing. That is why rewards are forbidden in most jurisdictions. But we are sure that legislation is not the reason why Isaacs Partners doesn't offer promotions.
Despite the fact that this bogus brokerage firm doesn't give bonuses, it doesn't make it less fraudulent since there are too many reasons why you shouldn't put your trust in this unscrupulous broker. 
How Is Fraud Carried Out?
Following the previous discussion on dirty tricks, apart from prizes, cyber fraud involves many malicious tactics to take advantage of people's interest in online trading. The same applies to the Isaacs Partners scam that tries in many ways to lure traders into its fraudulent project. 
These con artists impersonate trading specialists, claiming to have over 5M clients from more than a hundred countries that make a 35K+ USD turnover. All of this false representation is in order to achieve your liking. Once a victim deposits funds and starts trading at Isaacs Partners, it is almost guaranteed that the money is lost. 
First, it is because of unfavorable trading conditions and inadequate trading software; second, even if you make some profits, you won't be allowed to yield them. So, everything is a trap to steal your money.
Thereby, be careful about easy earnings and if you are defrauded by this or any other online trading scam, you should act immediately. Don't be embarrassed to report it to the relevant authorities. Also, cyber security experts can assist you with chargebacks that are possible with credit cards (within 540 days) and bank transfers (before your confirmation). Finally, don't forget to warn others by posting negative Isaacs Partners reviews.     
Isaacs Partners Summary
In the summary of this Isaacs Partners broker review, let's go through key aspects of this analysis. Although this offshore-based broker claims to be licensed by a financial supervisory agency (VFSC), it carries no weight. This also offshore-based regulator is not able to control brokerage firms and assure their compliance with the law. 
All of this implies that Isaacs Partners are not adequately regulated and free to commit crimes, which it does since many proven and capable financial regulatory bodies have warned against this fraudulent broker.
Not only that, this bogus brokerage firm lies about having advanced trading programs (MT4 and Sirix), in reality, its browser-based platform can't hold a candle to MT4, Sirix, and other powerful software.
The bottom line, your money is at stake if you trade with phony broker firms like Isaacs Partners. Don't fall for their falsehoods.
FAQs About Isaacs Partners Broker
How Secure is Isaacs Partners Trading Platform?

Its web trader is not appropriate for successful and safe trading due to its lacking many features. 
Does Isaacs Partners offer a Demo Account?

Allegedly, yes, there is a demo account option at Isaacs Partners, but it doesn't change the fact that it is a fraudster.
Are Payouts Subject to Taxes at Isaacs Partners?

No, they are not since it is an offshore-based broker, therefore, it is not in the tax system.