September 25, 2023
Reading Time:
4
min
Leom Market Review: Another Scam Brokerage Exposed In Vivid Detail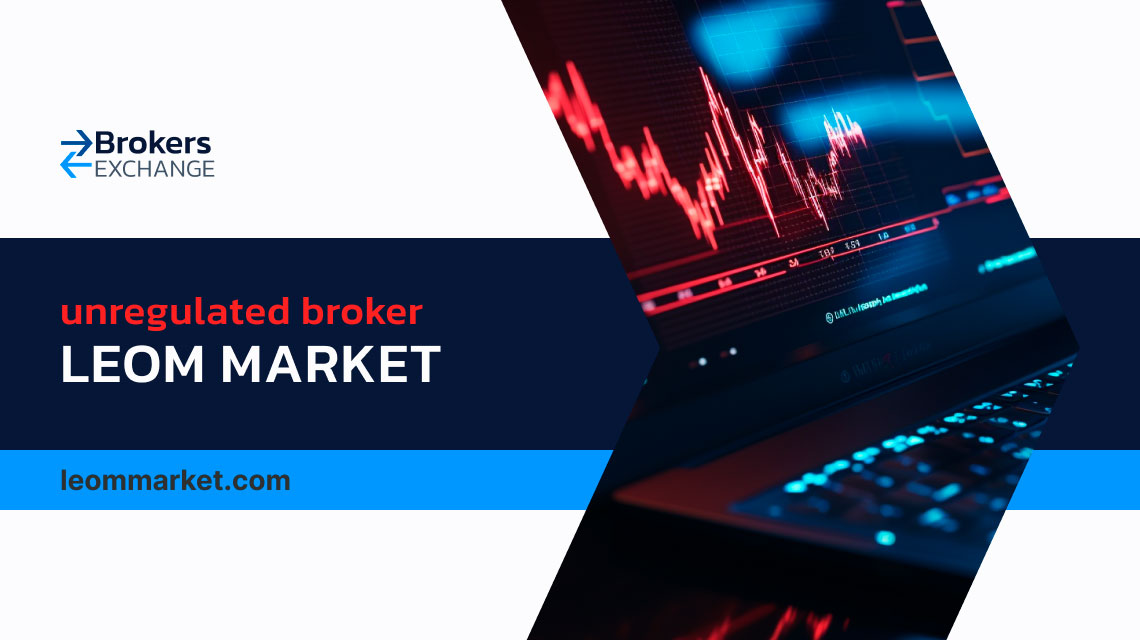 Despite making deals that appear too good to be true, LEOM MARKET is not a trustworthy broker for traders. Contrary to legitimate brokers, who always prominently show their credentials and licenses for traders to see, this broker's website didn't contain either firm addresses or regulatory information.
Keep reading our Leom Market review and learn everything there is about this broker and its operations and meanwhile, take a sneak peek at our BN93 evaluation for another broker you should add to your brokers-to-avoid list. 
Who Is Leom Market?
Leom Market exhibits every red flag of fraud. Headquartered in the UK, they aim at investors all around the globe. Since the brokerage is permanently closed, there is little to no information regarding the company's history, employees, or the year they were established. 
There is absolutely no doubt that we are dealing with scammers considering that the broker was also the target of a warning from the UK's financial authorities. Avoiding Leom Market and similar brokers is your best chance to experience profitable trading. 
| | | |
| --- | --- | --- |
| | Leom Market | Reliable Broker Must Have |
| Legal name | Leom Market LTD | Transparently displayed in the disclaimer or legal documents |
| Regulation | Unregulated | Within your legal jurisdiction – local regulator |
| Registered in | UK | Your country or the country whose license applies in your legal jurisdiction  |
| Established | N/A | The older the domain – the higher the possibility the company is trustworthy |
| Website | www.Leommarket.com  | Domain should be from local or international zones, no .xyz, etc. |
| Financial Authorities Warnings | | None |
| Contacts | N/A | Phone, email, social media, web form |
| If a withdrawal is possible | No | Yes |
| Fees | | Transparent fees – list of spread and commissions |
| If Active on Social Media | No | Often present on social media |
| Investor Protection | None | Compensation fund |
Regulation Info
Leom Market was not regulated by any financial authority while operational. Trading with unregulated brokers poses a risk to your funds so make sure to always check license information before investing. To make things even worse, the FCA published a warning that the broker was targeting UK investors. 
Remember, trading with unregulated brokers is risky, especially in this instance. If they go out of business, getting your funds back can be a real hassle and time-consuming. Instead, settle for licensed brokers even if they don't provide competitive spreads like the unregulated do. 
Leom Market Broker Profile
Without access to their website, it was difficult to see the trading environment they provide, including spreads, leverage, account types, and the minimum deposit. Just like Smart Trade CFD, they offered a well-designed website, however, that is not a benefit. 
Scammers indeed pay less attention to such details but you should never base your decisions on that. It's important to remember that even regulated brokers can sometimes appear reliable but in fact, they are not. 
Trading Platform

N/A

Account Types

Standard MT4

Financial Instruments On Offer

Forex

(EURUSD, EURGBP, USDNOK)

Stocks

(Apple, Amazon, Microsoft)

Cryptocurrencies

(BTC, ETH, XRP)

Indices

(S&P 500 Index, Dow Jones Industrial Average, FTSE 100 Index)

Commodities

(Crude Oil, Natural Gas, Corn)

Maximum leverage

1:500

Minimum Deposit

$100

Commissions/Bonuses

N/A

Mobile app

No

Desktop app

No

Autotrading

No

Demo account

N/A

Education or Extra tools

None
Is Leom Market Safe To Trade With?
Unfortunately, trading with Leom Market is very unsafe. The broker lied about being registered in the UK, it operated unregulated, and the lack of transparency is very concerning. Even while operational, information about spreads, leverage, or anything else beneficial was presented only after depositing. 
Reliable brokers would never try to reach you over apps like WhatsApp, instead, they invest their funds into marketing to reach more traders. Never trade with brokers who lack transparency and hide their fees and operations. 
How Was the Scam Carried Out?
The only way to make an account with Leom Market was through a referral code. If you didn't possess one, creating an account was impossible. There are reports that the broker used to contact traders on WhatsApp, pretending to be someone else and making them believe that trading with Leom Markets would bring them only profits. 
However, profits are not guaranteed and you should never believe these made-up stories. Leom Market targeted traders from the United Kingdom as a majority, Thailand, Vietnam, the United States, and Italy.
Deposits and Withdrawal Methods
Depositing your funds with brokers like Leom Market can only bring you a financial loss. If you do deposit, make sure to start with a small amount and then later, if the broker proves worthy, increase the limit and enjoy trading. 
Since the broker ceased operations, it is no longer possible to deposit or withdraw your funds. If you have had balance left on your account, make sure to file a chargeback on your card. If that doesn't work, reach out to us and we can get your money back. 
Can I Make Money While Trading Online?
Trading has become a very popular way for income, however, it's vital to remember that profits are earned and not guaranteed. Getting into trading blindly is never a good thing, which is why you need education, strategy, and a reliable broker to stand by you even during difficult times. 
However, the future of trading is here so everything can be less of a hassle. With our cutting-edge AI bot, trading has become more accessible and efficient than ever before. Our AI collects historical prices and data from charts, providing investors with informed insights. It analyzes market trends, offering buy or sell recommendations based on technical analysis.
Ready to start your profitable trading journey? For a certain period, we are providing a 20-day free trial of our AI bot to the quickest 100 traders who contact us. Don't pass up this opportunity to improve your trading abilities. Call us right away!
FAQ Section
What is Leom Market?
Leom Market was a scam brokerage company claiming to be located in the UK, however, the FCA warning says otherwise.
Is Leom Market Regulated?
No, Leom Market was not regulated by any financial authority while operational.
How Can I Get My Money From Leom Market?
Filing a chargeback on your credit/debit cards usually works, however, if that isn't possible, don't stress. The important thing to remember is that getting your money back is possible and while it may take us some time, there is no need to worry. Reach out today and get back what's stolen from you.