August 23, 2023
Reading Time:
5
min
LeonMarkets Review: Can You Trade With Confidence With This Broker?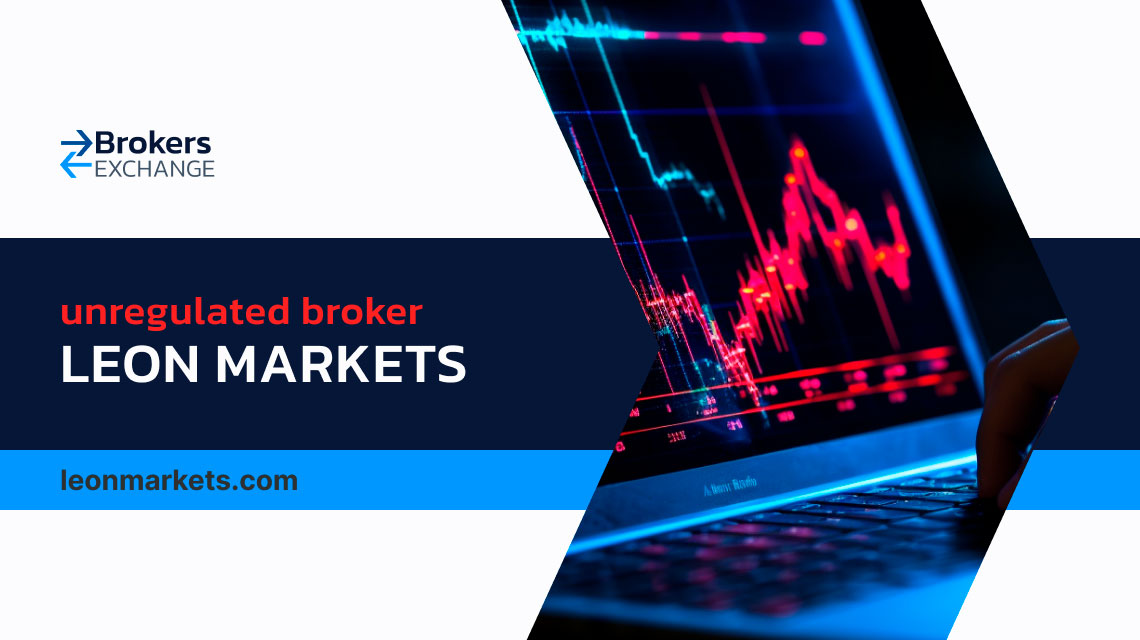 According to LeonMarkets, you can trade with confidence if you choose them. However, our LeonMarkets review will uncover the truth about this broker and whether or not he is reliable. So far, just by looking at their website, we can see so many red flags that suggest that this broker is an unreliable choice. 
Similar to IntraO, LeonMarkets is a recent scammer who is attempting to defraud investors. Their lack of regulation speaks for itself, but looking deeper into this LeonMarkets review will reveal even more issues. Find out by reading on. 
Who Is LeonMarkets? All About Leonmarkets.com
LeonMarkets tried to hide the year they are established but upon checking how old their domain is, it confirmed that they are established in 2023, making them very new in the market. They lack an important factor which is regulation, however, they claim they are registered in the Marshall Islands. 
The important thing to note is that due to the lack of regulation, there is no investor protection, and the hidden information regarding spreads and other fees raises even more questions. Luckily for you, our LeonMarkets review will uncover all of their lies. 
LeonMarkets
Reliable Broker Must Have
Legal name
Zoltect Solutions LTD

Transparently displayed in the disclaimer or legal documents

Regulation
Unregulated

Within your legal jurisdiction – local regulator

Registered in
Ajeltake Road, Ajeltake Island, Majuro, Marshall Islands, MH96960

Your country or the country whose license applies in your legal jurisdiction 

Established
2023

The older the domain – the higher the possibility the company is trustworthy

Website
www.leonmarkets.com

Domain should be from local or international zones, no .xyz, etc.

Financial Authorities Warnings
No official warnings

None

Contacts

[email protected]

 

Web Form

Phone, email, social media, web form

If a withdrawal is possible
Highly unlikely

Yes

Fees
Hidden fees

Transparent fees – list of spread and commissions

If Active on Social Media
No

Often present on social media

Investor Protection
None

Compensation fund
Regulation Info
LeonMarkets is a part of Zoltect Solutions LTD and both entities are not regulated by any financial authority. Regulation is important if you want to trade safely and without any concerns regarding your investments. Forex and cryptocurrencies are a risk already and adding the lack of regulation can make it an even bigger risk.
The broker mostly operates from Canada and the United Kingdom and to operate from these nations the broker would have to be regulated by the UK's Financial Conduct Authority (FCA) and the Investment Industry Regulatory Organization of Canada (IIROC).
Overall, LeonMarkets should be avoided because of their lack of regulation. If you think this is insufficient, keep reading our reviews to see other drawbacks for this broker surface.  
LeonMarkets Broker Profile 
The broker offers trading in forex, stocks, cryptocurrencies, indices, and commodities on their web trader. The maximum leverage is 1:400 and the minimum deposit required is $250. The broker also offers some promotions including the welcome bonus of $30 in initial trading funds. 
There are multiple account types on offer and all of them have different leverage, spreads, and other benefits. Overall, their excessive deposit amounts and the fact that they don't offer a demo account do raise concerns.
Trading Platform

Leon Markets' Web Trading Platform

Account Types

Standard, Silver, Gold, VIP

Financial Instruments On Offer

Forex

(EURUSD, EURGBP, USDNOK)

Stocks

(Apple, Amazon, Microsoft)

Cryptocurrencies

(BTC, ETH, XRP)

Indices

(S&P 500 Index, Dow Jones Industrial Average, FTSE 100 Index)

Commodities

(Crude Oil, Natural Gas, Corn)

Maximum leverage

1:400

Minimum Deposit

$250 – $100,000

Commissions/Bonuses

Welcome bonus of 30 USD/EURO in initial trading funds

Mobile app

No

Desktop app

No

Autotrading

No

Demo account

No

Education or Extra tools

e-Books
LeonMarkets Account Types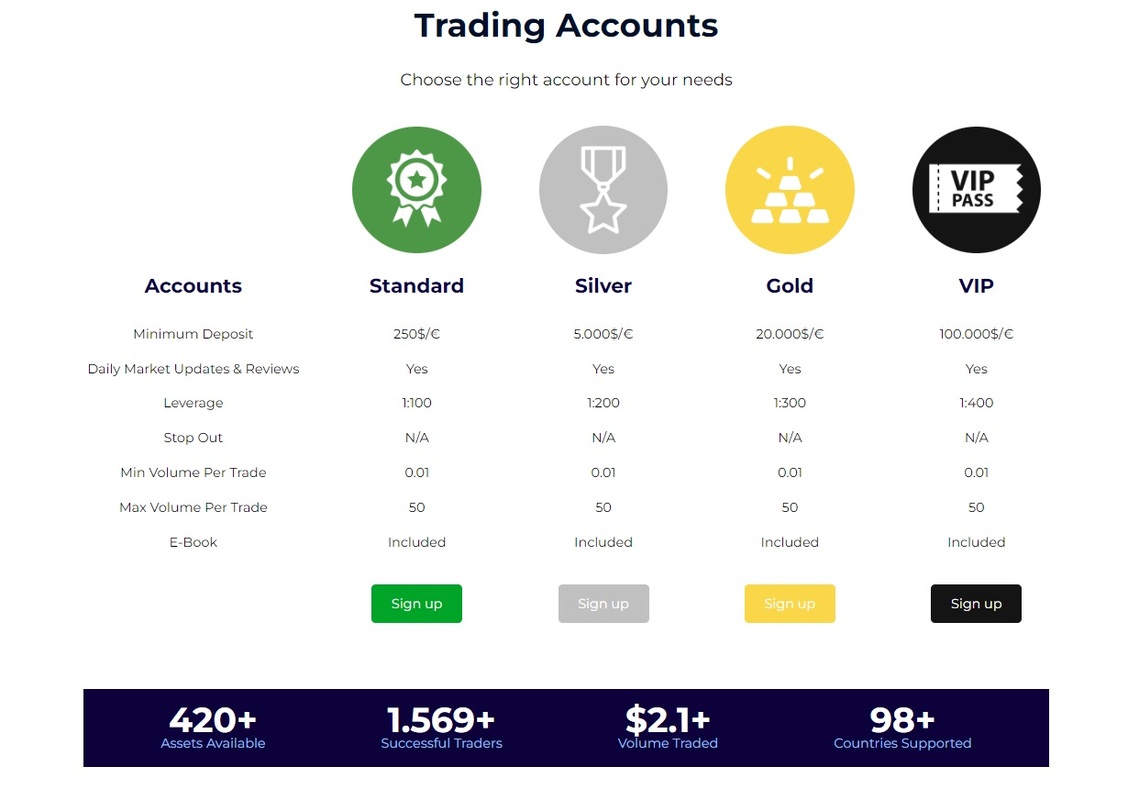 Here's a detailed list of LeonMarkets account types and their features.
Standard Account: 
Deposit $250

Leverage 1:100

Min Volume Per Trade 0.01

Max Volume Per Trade 50
Silver Account: 
Deposit $5,000

Leverage 1:200

Min Volume Per Trade 0.01

Max Volume Per Trade 50
Gold Account:
Deposit $20,000

Leverage 1:300

Min Volume Per Trade 0.01

Max Volume Per Trade 50
VIP Account: 
Deposit $100,000

Leverage 1:400

Min Volume Per Trade 0.01

Max Volume Per Trade 50
Is LeonMarkets Safe To Trade With? 
Unfortunately, considering multiple red flags that emerged during this LeonMarkets review including the lack of regulation and transparency, hidden fees, and other hidden information, the broker can't be considered reliable. 
It would be advisable for you to look for additional trustworthy solutions rather than falling for the LeonMarkets con. Brokers like LeonMarkets and Kapital Consult should be avoided because there are a lot of other, better, and more dependable brokers available for you and all you need to do is to reach out. 
LeonMarkets Review: Traders' Thoughts and Opinions
On Trustpilot, there are a total of five reviews, giving the broker an overall score of 3.5. Although, the broker represents a 4.5 Trustpilot rating on their website, which unfortunately is a lie. 40% of negative reviews focus on accusing the company of being a scam. 
This review caught our attention, saying:
"Don't trust anyone from this broker's support services. They will link you to a fraudster. I was contacted by a lady called Sofia A and from there she linked or reported my case to a scammer to scam me of my hard-earned money. If she thinks what I am saying is not true, then she should contact me and prove me wrong.

You are all wicked people out there who don't care about human life. Please don't fall victim to these fraudsters."
Overall, it is evident that the broker should be avoided due to being nothing more than a scam. Don't waste your time and money on brokers like this. Reach out to us and we will do all the work for you and recommend some of the best brokers out there. 
A Look at LeonMarkets's Traders They Serve
There are multiple promotions offered by the broker, including the welcome bonus, initial fees that are for new customers of the Company who confirm their details, and the withdraw profit promotions which offer withdrawing your trading profits using your own money and extra funds provided by the broker's promotions.
In addition to promotions, the broker attracts clients by offering false profits. LeonMarkets mostly operates in Canada and the UK. To operate from these nations, the broker would have to be regulated by the financial authorities we mentioned before but LeonMarkets is not regulated by any authority, which makes them unreliable to trade with. Reach out today and we will recommend the most reliable brokers on the market. 
Deposits and Withdrawal Methods
The broker offers different payment methods, including cards, wire transfers, e-wallets, and cryptocurrency. If you are already trading with this broker, it's important to use trackable payment methods such as cards and wire transfers and make sure to avoid cryptocurrencies. 
The withdrawal process is not explained, nor are the fees connected to it. Reliable brokers have no reason to avoid explaining the withdrawal process, especially when using an unknown platform. Overall, it is evident that the broker should be avoided. 
LeonMarkets Pros and Cons
Pros
Cons

None

Unregulated

No demo account

Hidden fees

Hidden spreads

Bad reviews

The withdrawal process is not explained
Conclusion
It is safe to conclude that LeonMarkets is unreliable owing to the absence of regulation, hidden fees, negative reviews, lack of a demo account, and many other warning signs. Although more investigation reveals that the broker's claim that they are registered in the Marshall Islands is unfounded. They also misrepresent their ratings in order to paint a better picture, but this review revealed them for what they truly are: a scam. 
Searching for a reliable broker to protect your investments? Reach out to us for professional advice and help to select the ideal broker for your needs. Our top concern is your financial stability.
FAQ Section
What Is LeonMarkets?
LeonMarkets is a brokerage company registered in the Marshall Islands, offering trading in forex, commodities, indices, cryptocurrencies, and stocks.
Is LeonMarkets Legit Or Scam?
LeonMarkets is a scam due to a lack of regulation and transparency, hidden fees, and reported scams from other traders.
How Do LeonMarkets Work?
Users can create a live account, deposit a minimum of $250, research options, place orders, and access additional features. It's important to note that different platforms have different features and fees.