January 04, 2023
Reading Time:
5
min
LitCrypto Review: Find Out Why LitCryptofx.com is a Scam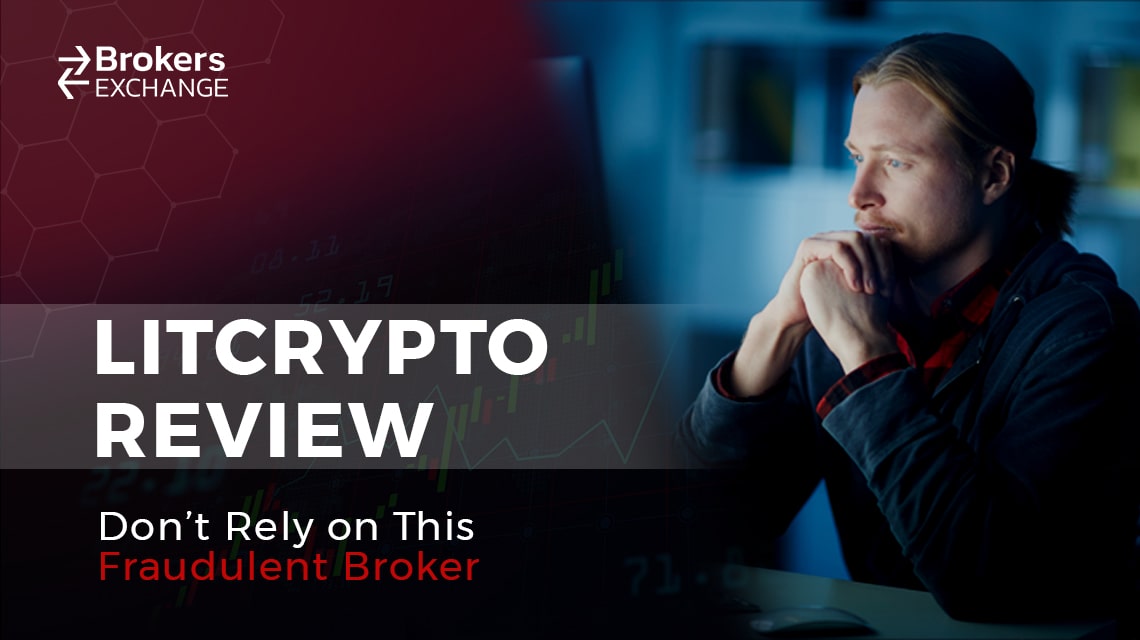 If you are an online trader interested in forex exchange markets—you need a reliable online financial trading company enabling you access to modern trading platforms, popular trading instruments, and favorable trading conditions. 
Something that you can never have with the LitCrypto broker. Regardless, you will find the most recommended forex brokers in this article.
Let's get back to LitCrypto; despite this bogus brokerage promises more than a hundred tradable assets, lots of education materials (webinars, video tutorials, ebooks, trading tools), and claims that it is a trustworthy broker regulated by several top-level financial authorities—all of this is just a pack of lies. 
So, in the next LitCrypto review, find out why LitCryptofx.com is a scam.
Working with unlicensed brokers, such as those described in the following paragraph, has the same risks as CM Trade, DigibitsFX, and Stonewall Fx
| | |
| --- | --- |
| Company | Lot Crypto Fx, P240 ltd |
| Website | LitCryptoFx.Com |
| Address | USA, Malta |
| Email | [email protected] |
| Phone | +12345660987 |
| Minimum Deposit | 300 USD  |
| Leverage | 1:200 |
| Bonuses | Yes |
| Regulation | No |
| Warning | MFSA, CONSOB |
LitCrypto Funds Safety and Regulation
Before starting trading with a broker, you should inspect its trading credentials, reputation (negative reviews), and other legal matters (terms and conditions, jurisdictions) to be sure that your funds are safe. 
Simply visiting a broker's website is not enough since many scam brokers like LitCrypto fabricate information. So you must check externally, e.g., the registers of a respective financial market regulator.
According to the LitCrypto web page—which unsuccessfully tries to give an impression of one of the legitimate-looking websites—this shady brokerage firm is allegedly based in Malta and licensed by the "US MFSA". 
First, MFSA is not a US supervising agency but a Maltese one that hasn't authorized LitCrypto. Likewise, there is no info about the company LitCrypto in the Malta Business Registry.
Not only that, this unscrupulous broker claims it is licensed by several other financial institutions such as British FCA, German BaFin, French AMF, and Italian CONSOB—which are considered tier-one regulatory bodies. Even the best trading companies don't hold so many premium licenses.
In addition, LitCrypto mentions another firm name (P240) on its website but without giving a clear explanation of their relationship. We can only assume that P240—which is reportedly headquartered in the United States—is a holding company.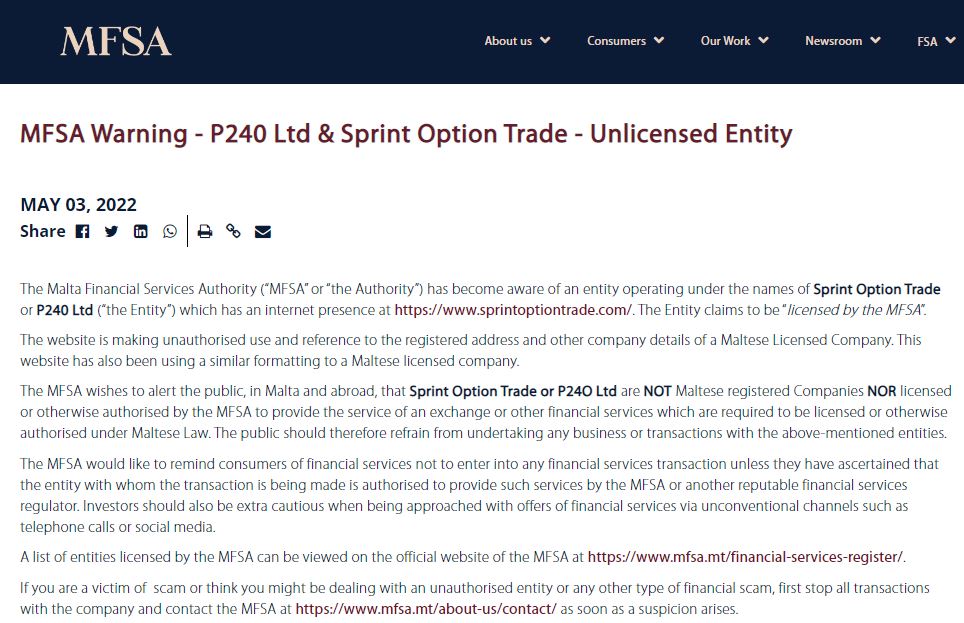 Anyway, investigating both entities, we have found that they are not just anonymous, unauthorized, and unlicensed brokerage firms but blacklisted by the same financial regulators that supposedly authorized them (e.g., Maltese MFSA, Italian CONSOB warns against P240).
Trading Platform They Used on Their Website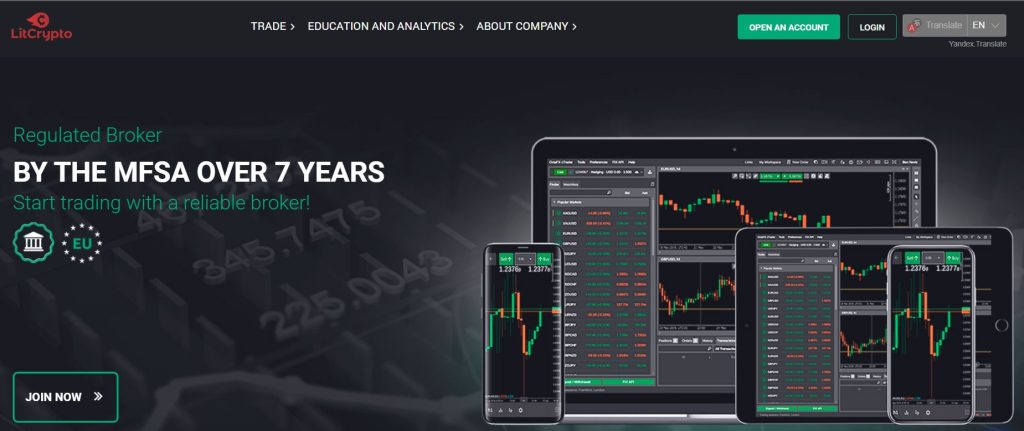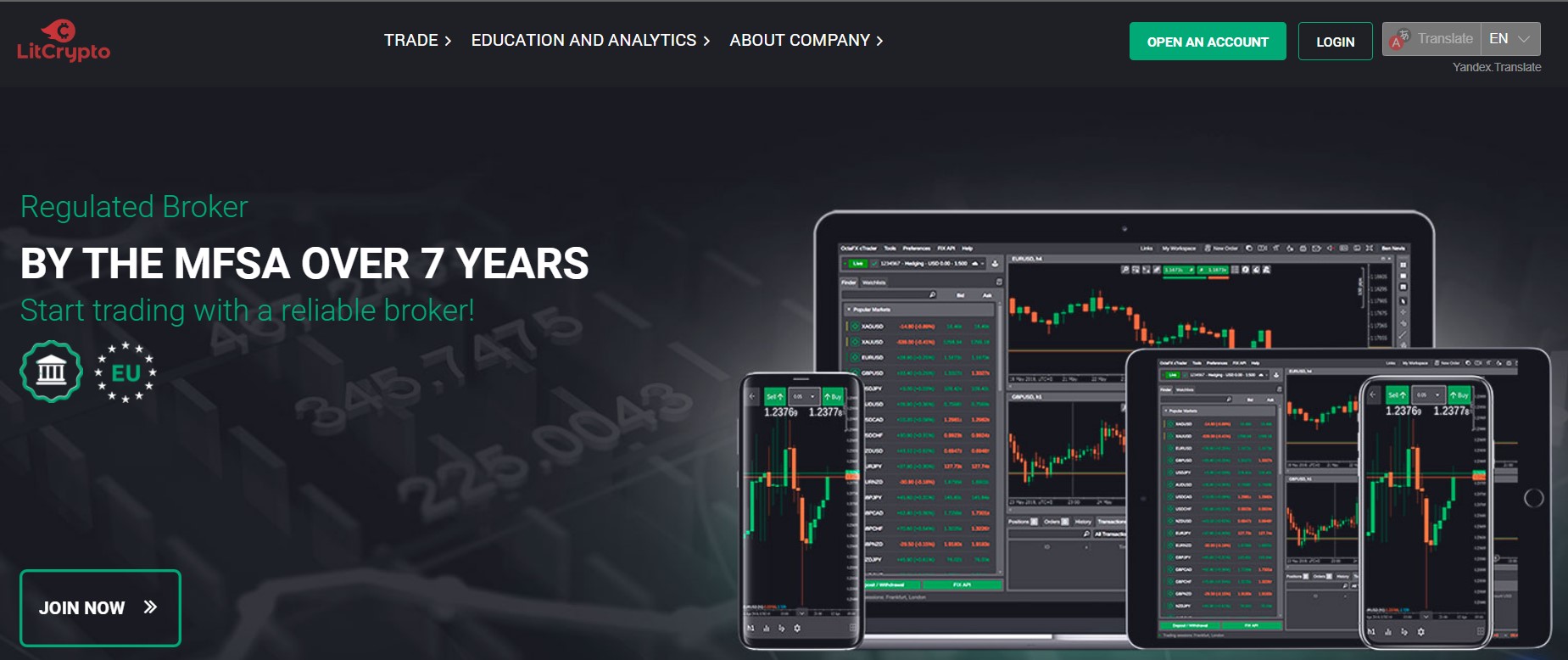 Speaking of trading platforms that enable traders to be successful in their endeavors, anyone engaged in online buying/selling knows that MetaTrader 5 (MT5) is one of the most advanced trading programs nowadays. 
Thus, leading companies across the world utilize this powerful software that comes with many useful features like ease of use, accessibility on different devices (browser-based platform or downloadable desktop/mobile version), lots of tools (copy trading, EAs, stop loss, rapid execution, market analysis, etc.). 
It comes as no surprise that many fraudsters claim they offer state-of-the-art technology to entice traders. The same goes for LitCrypto, which fakely promises MT5 to draw people's attention and defraud them. 
It also tries to hoax traders by promising access to a broad spectrum of trading products, including the following.
Forex (spreads from 3.0 to 250.0 pips, leverage to 1:200): EUR/USD, AUD/CAD, USD/JPY, EUR/HUF, and GBP/RON).
Commodity Futures (spreads from 5.0 to 30.0 pips, leverage 1:50): gold eur, silver eur, gold USA, silver USA.
Share indices (spreads from 2.0 to 22.0 pips, leverage 1:20): AUS200, CAC40, DAX30, FTSE100, and JPN225).
Energies (spread 6.0 pipes, leverage 1:10): UKOil and USoil.
LitCrypto Deposit and Withdrawal
When it comes to depositing and withdrawing funds, an investment scam like LitCrypto will give a fake warrant to lure unsuspecting victims into its fraudulent project. Allegedly, people can transfer money to and from their LitCrypto accounts via credit cards, bank transactions, and digital wallets (Skrill, Neteller, WebMoney, QiWi Wallet, Yandex Money, and cryptocurrencies).
In reality, LitCrypto only accepts funding through crypto payments (Bitcoin/BTC) since they are difficult to trace and revert. Credit/debit cards and wire transfers are possible to charge back and are pretty much safe, while payment gateways such as Skrill and Neteller don't work with scammers.
On the subject of deposits, LitCrypto doesn't levy any fees for depositing and requires a 300 USD minimum opening balance, which is a needless risk since you can start trading with a credible company for less than 10 USD. 
In addition, this forex provider doesn't reveal enough details on available live trading accounts (types, deposits, and conditions) and whether a demo account option is available.
Concerning withdrawals, this fraudulent broker claims that processing time is from instant to two business days. With regard to fees, its website directs you to an account manager, which is suspicious. Anyway, there are no money withdrawal guarantees but only withdrawal issues with untrustworthy firms like LitCrypto.
LitCrypto Offers Deposit Bonus
Bonuses are an integral part of an online trading scam. Although many jurisdictions ban them due to mishandling, bogus broker firms continue to offer a range of bonuses and promotions. Obviously, it is just one of their dirty tricks to rope people into investing. 
The most popular is a welcome bonus that is 100% of a deposit; so if you deposit 300 USD, LitCrypto will give you a 300 USD bonus. However, this always comes with some preconditions that are not in your favor. Nonetheless, don't test your luck with a financial swindler LitCrypto.
How this Brokerage Executed the Scam?
So we have already introduced one of the malicious tactics, i.e., bonuses. Now, let's see what other tricks this dishonest scam broker employs. First, LitCrypto uses deception to captivate your attention and build trust. 
Its big talk about being a legit business accredited by prominent agencies, based in Malta, having a US phone number, and offering cutting-edge platforms are just some examples. 
Next, when victims fall for its manipulations, this fraudster will be persistent to steal as much money as possible by offering lucrative investment opportunities and imposing hefty fees (e.g., to allow payoffs).
Therefore, don't buy the LitCrypto scam falsehood, and be careful about easy earnings. 
LitCrypto Summary
Some of the ultimate results of our LitCrypto broker review are as follows. LitCrypto is an obvious trading scam, and we must admit, not a good one but more like a clumsy one. This phony broker expects that people will take the bait of its unproven statements when all can be refuted thanks to open-source information. 
In that respect, by simply browsing the internet, you will get many negative LitCrypto reviews and alerts issued by MAFS and CONSOB–two of many financial regulatory agencies that allegedly regulated this illegal broker.
Therefore, you have all the evidence not to trade with LitCrypto. However, don't be ashamed if you have been defrauded by this cyber fraud. It can happen to anyone. 
It is essential to report it to the relevant authorities and seek advice from cyber security experts who can assist you with cashback. For future reference, think twice before taking any risks while investing money. Also, you can contact us for all forex trading-related topics.
FAQs About LitCrypto Broker
Is My Money Safe With LitCrypto?

No, it is not safe; your funds are at risk to be lost to this non-registered foreign organization blacklisted by several watchdogs.
What Is The Minimum Deposit for LitCrypto?

It is 300 USD, which is higher than what legitimate brokers require, i.e., for less than 10 USD, you can set up an account with them.
Does LitCrypto Offer Demo Account?

No, it doesn't, which is so typical for scammers; they don't offer free demo accounts since their intentions would be exposed in that case.