August 17, 2023
Reading Time:
6
min
Metaverxia Review: Unraveling the Truth Behind This Broker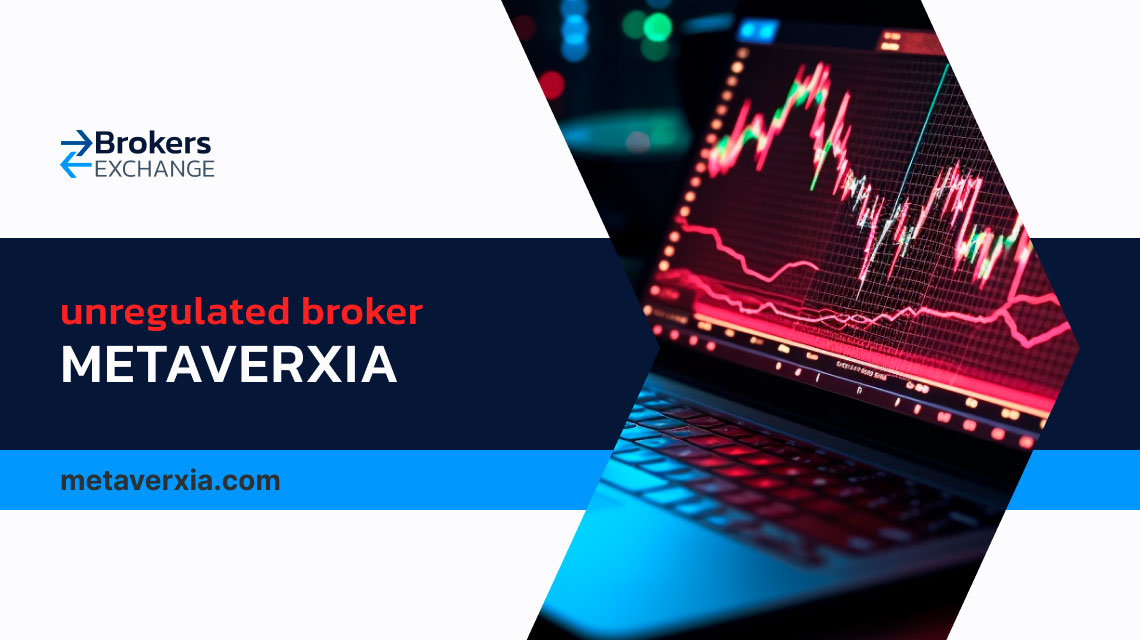 Meet Metaverxia, a broker with fictitious rules, unstated costs, and several warnings. If only their naughty behavior would stop at that point. This Metaverxia review delves into their profile to reveal the broker's true identity.
Our initial impression of their website revealed how terribly it is made. Scammers typically run poorly designed websites, which makes us think of GCB London. Without further ado, read the entire Metaverxia review so that you can make an informed choice. 
Who Is Metaverxia? All About metaverxia com
The registered office for Metaverxia is said to be at Suite 335, Ground Floor, Granby Street, Kingstown, St. Vincent and the Grenadines. They claim that the VFSC regulates them, although Metaverxia isn't included on the VFSC website, despite their claim. 
There is no information available about their business, but given how unskilled they are, we are left assuming that they are new to the industry. Overall, we were right there to gather the red flags that kept popping up. 
Metaverxia 
Reliable Broker Must Have
Legal name
Metaverxia LLC

Transparently displayed in the disclaimer or legal documents

Regulation
Unregulated

Within your legal jurisdiction – local regulator

Registered in
Suite 335, Ground Floor, Building, Granby Street, P.O.Box 8210, Kingstown, St. Vincent and the Grenadines

Your country or the country whose license applies in your legal jurisdiction 

Established
N/A

The older the domain – the higher the possibility the company is trustworthy

Website
www.metaverxia.com

Domain should be from local or international zones, no .xyz, etc.

Financial Authorities Warnings

CNMV – primary
IOSCO
CONSOB

None

Contacts

[email protected]

 

+357 25262022

Web form

Live chat

Phone, email, social media, web form

If a withdrawal is possible
Highly unlikely

Yes

Fees

Fees are presented only after depositing 
Spreads from 0.0 – 1.6 pips

Transparent fees – list of spread and commissions

If Active on Social Media
No

Often present on social media

Investor Protection
None

Compensation fund
Regulation Info
The website www.metaverxia.com is run by Metaverxia LLC, an investment company established in Saint Vincent and the Grenadines with registration number 1784 LLC 2022. However, despite their claims that they are governed by the Vanuatu Financial Services Commission (VFSC) as tied agents in CYSEC and holders of license number 16585, VFSC does not regulate them. 
A cautionary warning from CNMV raises concerns about this broker's legitimacy and highlights the risks associated with trading with them.
The Italian regulator CONSOB supports that warning: 
If only that was the end but IOSCO also supported the warning, providing a link to the CNMV press release:
Overall, traders are warned to avoid this broker due to multiple warnings and false information regarding their regulatory status. Don't fall prey to a Metaverxia or Isaacs Partners scam.
Metaverxia  Broker Profile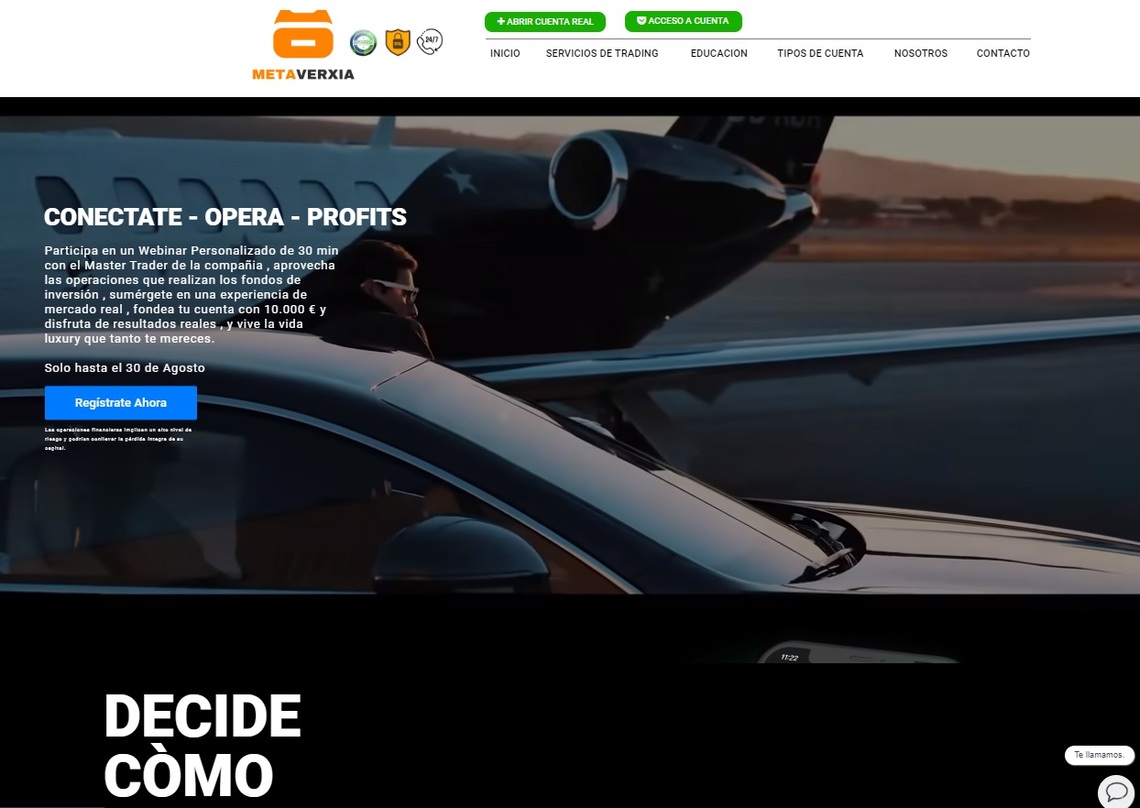 The Meta Trader 4 platform is available at Metaverxia for trading in forex, indices, and commodities. A $25 minimum deposit is required to begin trading, and a maximum leverage of 1:400 is available. Concerns are raised by the absence of a demo account since traders are compelled to begin trading with them blindly and without any testing.
Trading Platform

Meta Trader 4

Account Types

Basic, Standard, Silver, Gold, Platinum, VIP, Privelege

Financial Instruments On Offer

Forex

(EURUSD, EURGBP, USDNOK)

Indices

(S&P 500 Index, Dow Jones Industrial Average, FTSE 100 Index)

Commodities

(Crude Oil, Natural Gas, Corn)

Maximum leverage

1:400

Minimum Deposit

$25

Commissions/Bonuses

No commission (Basic, Standard), $5 per lot (Pro)

Mobile app

Yes

Desktop app

Yes

Autotrading

Yes

Demo account

No

Education or Extra tools

Economic Calendar, Knowledge base
Metaverxia  Account Types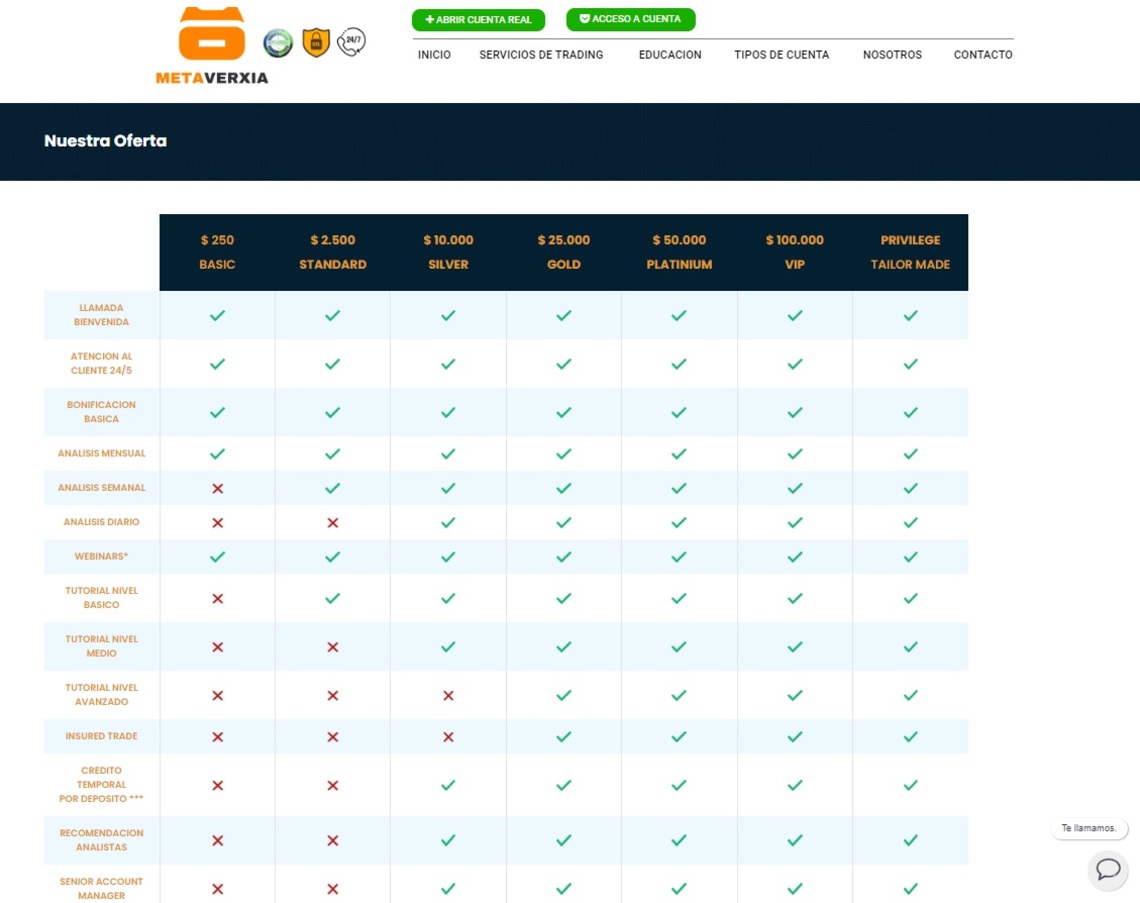 There are even 7 account types available at Metaverxia including: 
Basic $250

Standard $2,500

Silver $10,000

Gold $25,000

Platinum $50,000

VIP $100,000

Privilege – amount not specified
Customers should exercise caution, however, as the benefits provided for the money spent are minor, consisting solely of some extra educational materials, smaller spreads, and other unfavorable qualities. Their account types are unsatisfactory as a whole and don't offer any benefit.
Is Metaverxia  Safe To Trade With?
Given all the warning signs, Metaverxia is an extremely risky broker. First off, because they are unregulated, your money is in danger because there is no compensation fund. They have the ability to manipulate the platform so that you think you are generating huge gains when you are actually losing money. Our only responsibility is to do our best to safeguard ourselves as scams are growing more and more prevalent. 
They are lying about being regulated, and that speaks volumes about them. In addition, there are hidden costs, several cautions, and a lack of transparency. Do not wait to fall victim to fraud from brokers like Metaverxia and OneFX Trade. Contact us, and we'll do the work of locating a trustworthy broker for you. 
Metaverxia  Review: Traders' Thoughts and Opinions
We peeked at some of their Trustpilot ratings. They have received a score of 3.2 overall from more than 30 reviewers. Nearly 50% of the ratings are unfavorable, revealing the broker's true colors. They all concentrate on the same thing: withdrawal symptoms. If you deposit money, earn a profit, and then want to withdraw it, the broker and your money both disappear. 
One reviewer said:
"There is no telephone number, they do not contact me through the forms, my manager does not answer my emails. Nobody gives me an explanation of where my money is. They took more than 100,000 EUROS."
The Metaverxia scam is definitely real, and customers should stay away from the broker to avoid falling for it. By getting in touch with us, you can take the first step toward a fruitful trading experience. We'll take care of the rest. Reach out, and whether you are a novice or an experienced trader, we will make your trading appear simple. 
A Look at Metaverxia 's Traders They Serve
Since the broker doesn't control any social media platforms, we assume they draw clients by making untrue claims. Given that they don't run any advertising or programs and have a poorly designed website, we can only assume that they rely solely on word-of-mouth marketing. 
Fortunately for traders, the Metaverxia reviews will further enlighten you and demonstrate why you must stay away from them. The majority of their victims are from Bolivia, Argentina, Colombia, and Spain. It is crucial to remember that the broker is not governed by any financial authority and should not conduct business from any location. 
Deposits and Withdrawal Methods
Your trading account can be funded in a variety of ways. Some of these procedures can cost more. Please be aware that Metaverxia will not pay any exchange rates incurred if you deposit in a currency other than the one used to fund your bank account.
There are just two currencies that are accepted: USD and EUR. If you deposit in USD, there is a 5% commission; if you deposit in EUR, there is none. Credit and debit cards, wire transfers, and unspecified e-wallets are all acceptable payment options. 
Withdrawals in EUR can be made up to two business days in advance, while withdrawals in USD can be made up to 48 hours in advance or one business day. You can withdraw up to $1,000 and 16 EUR with a cap of 800 EUR for a charge of $30. 
Metaverxia  Pros and Cons
Pros
Cons

MT4

Unregulated

Insufficient information

No social networks

Lack of transparency

Lack of educational resources

Warnings from CNMV, IOSCO, and CONSOB

Hidden fees

Poorly designed website

False information regarding regulation

Lack of financial instruments
Long Story Short – Metaverxia
In conclusion, it is obvious that Metaverxia is only a scam, as evidenced by the numerous warning signs that surfaced during this Metaverxia review. Due to their unregulated state, they attempted to defraud consumers by falsely representing themselves as being controlled by the VFSC. The broker should be avoided since they conceal their costs, their website is badly constructed, and there have been numerous warnings from reliable authorities. 
Anyway, we hope that reading this Metaverxia review has given you more information so you can make an informed choice. Don't be afraid to call out if you're still having trouble; we'll give you some suggestions. You only need to get in touch with us and let us handle the search for the ideal broker for your needs. 
FAQ Section
Is Metaverxia Legit or a Scam?
Avoid Metaverxia; it's an unlicensed, fraudulent broker. This broker is risky to employ because there are far too many warning signs about them.
How To Withdraw From Metaverxia?
Log in to your client office and input the desired amount to withdraw money from your account. To get your money back, though, it is advisable to dispute the charge or get in touch with us as there have been some reported withdrawal complications.
What Are the Risks of Using Metaverxia?
They are unregulated, therefore that is where the risk begins. There is no compensation fund and no assurance that your money will be protected. In addition, they have the power to impose hidden fees, influence the trading platform, and cause problems with withdrawals.
What Should I Do If I Have Been Scammed by Metaverxia?
Bear your composure and bear in mind that you can get your money back if Metaverxia scammed you. Contact us, and we can recover your investments from the fictitious broker.