August 15, 2023
Reading Time:
6
min
MGMGlobal Review: An In-Depth Analysis of the Broker's Operations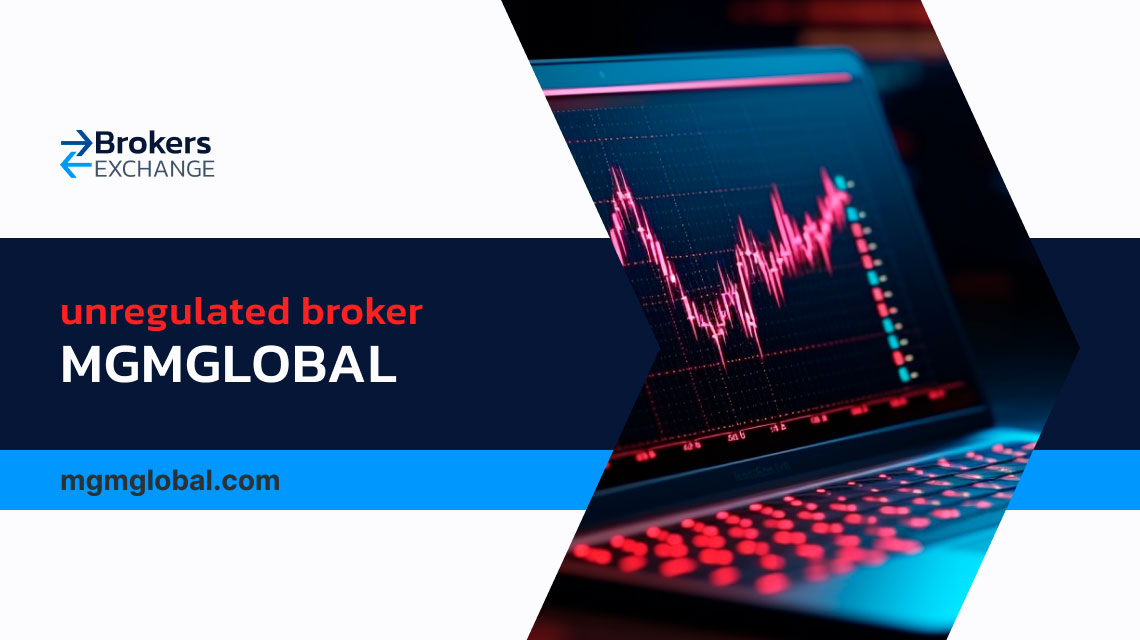 They indicate in their disclaimer that they are subject to regulation by numerous agencies, but they don't specify which ones, nor do they disclose registration numbers. This MGMGlobal review will demonstrate that the broker is not only unregulated but also deficient in several other areas. 
Although their website initially appears to be well-designed and packed with information, further investigation reveals MGM Global's true identity. To get all the information you need to cross this broker off your list, keep reading. Check out our Dashstamp review for more information on a different option to stay away from. 
Who Is MGMGlobal? All About mgmglobal.com
A brokerage firm called MGMGlobal claims to have a location at 5 Harbour Exchange in the UK, E14 9GE. Upon looking up the address, it appears that numerous businesses are registered there, which raises suspicions. 
We already think this broker is terrible news given all the hidden information regarding spreads, leverage, or fees in general. 
MGMGlobal
Reliable Broker Must Have
Legal name
MGM Global

Transparently displayed in the disclaimer or legal documents

Regulation
Unregulated

Within your legal jurisdiction – local regulator

Registered in
Not registered

Your country or the country whose license applies in your legal jurisdiction 

Established
N/A

The older the domain – the higher the possibility the company is trustworthy

Website
mgmglobal.com

Domain should be from local or international zones, no .xyz, etc.

Financial Authorities Warnings

None

Contacts
+442037693472

Web form

Phone, email, social media, web form

If a withdrawal is possible
Yes

Yes

Fees

5% withdrawal fee
Swaps
Dormant fees

Transparent fees – list of spread and commissions

If Active on Social Media
No

Often present on social media

Investor Protection
None

Compensation fund
Regulation Info
No financial body has any control on MGMGlobal. A little more digging led us to their privacy statement, where they claim:
"You'll see that even though we aren't a regulated broker, we act following the latest regulations and circulars regulated brokers adhere to." 
Regulated or not, trying to follow the rules while pretending to be regulated is dangerous for the broker. You never know who might be on the other side or when the broker might go out of business. It's vital to note that the broker is not subject to regulation by the following organizations because the majority of their clients are from Belgium, the United Kingdom, and Switzerland: 
The Financial Conduct Authority (FCA) in the UK 

The Financial Services and Markets Authority (FSMA) in Belgium

The Swiss Financial Market Supervisory Authority (FINMA) in Switzerland
You also need to join their telegram group if you want to participate in their VIP trade club. Social brokers, like those who utilize Telegram or WhatsApp, are never a smart idea. Trading professionals are urged to use caution. 
MGMGlobal Broker Profile
More red flags are raised by the broker's lack of use of MT4 or MT5, which is a trading platform. It won't be simple to influence those platforms because, as they say, they are outdated and everyone is accustomed to using them. On the MGM Global trading platform, you can use MGMGlobal trades in currencies, cryptocurrencies, commodities, indices, shares, and energies. 
Questions were made about the lack of educational resources, which are not even offered if your account type is upgraded. Overall, this broker reeks of dubiousness from a mile away, therefore traders are recommended to approach cautiously. 
Trading Platform

The MGM Global Trading Platform

Account Types

Bronze, Silver, Gold, Premium, Platinum

Financial Instruments On Offer

Forex

(EURUSD, EURGBP, USDNOK)

Cryptocurrencies

(BTC, ETH, XRP)

Metals

(Gold, Silver, Platinum)

Indices

(S&P 500 Index, Dow Jones Industrial Average, FTSE 100 Index)

Shares

(Facebook, Tesla, Netflix)

Energies

(Brent Crude Oil, WTI Crude Oil, Natural Gas)

Maximum leverage

N/A

Minimum Deposit

$300

Commissions/Bonuses

100% deposit bonus

Mobile app

No

Desktop app

No

Autotrading

No

Demo account

No

Education or Extra tools

None
MGMGlobal Account Types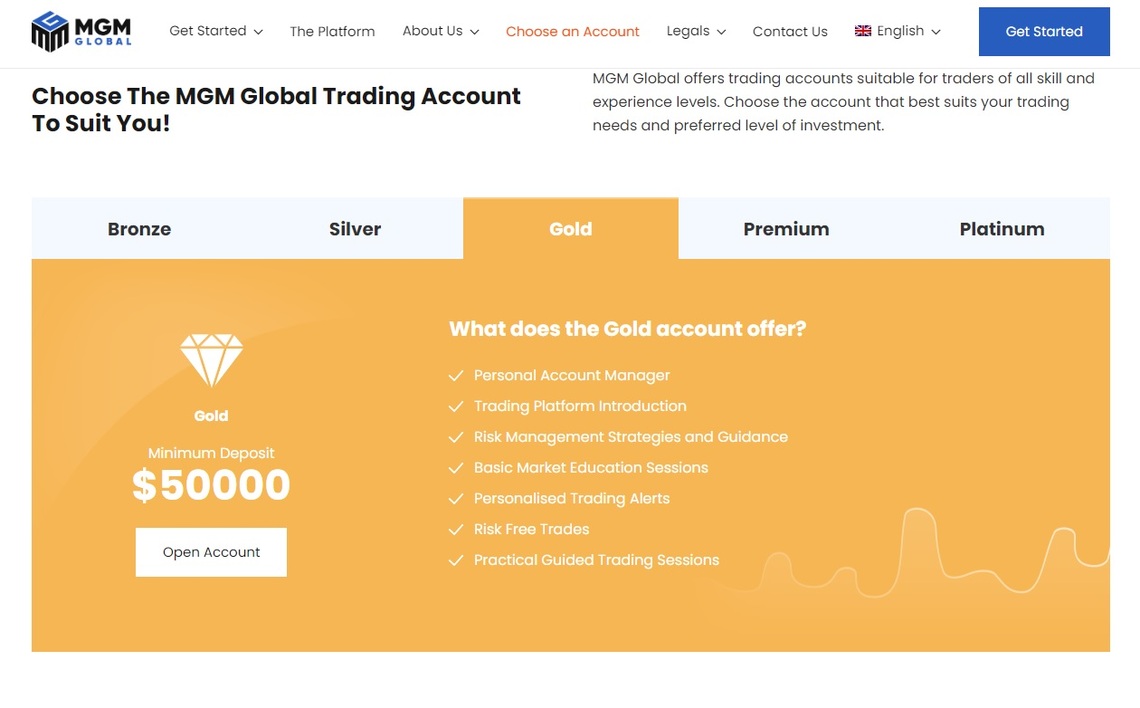 All account types include the following benefits: a Personal Account Manager, Trading Platform Introduction, Risk Management Strategies, Basic Market Education Sessions, Personalized Trading Alerts, and Risk-Free Trades. Nothing is offered and the money you pay is enormous. 
Bronze Account

: $10,000

Silver Account

: $25,000

Gold Account:

$50,000

Premium Account:

$100,000

Platinum Account:

$250,000

VIP

: $500,000+

VIP+

: $1,000,000+ 
MGM Global just made up the minimum deposit amount and set it. With a cap of $100,000, even fraudulent broker Delta Capitals performed better. Given that several brokers allow you to trade for as little as $1, the requirement of more than $1 million to reach the VIP+ seems excessive. Additionally, there is no demo account available for testing MGMGlobal's platform and services, which forces users to start trading with the company blindly. 
Is MGMGlobal Safe To Trade With?
Given that they are not regulated and, worse yet, are lying about it, MGMGlobal cannot be considered safe. They even tore up the "Our Regulation" portion of their website, where it is stated that the FCA, CySEC, and ASIC are responsible for regulating them. However, they are misleading people into thinking they are a reliable choice. 
We can already conclude that they are unreliable based on this, but there are more warning signs, such as information concerning leverage, spreads, or fees in general that are concealed, leaving traders in the dark about what to anticipate. Reliable brokers wouldn't conduct business in this way. If you stumbled across MGMGlobal, we advise crossing him off your list and getting in touch with us so we can suggest more suitable substitutes. 
MGMGlobal Review: Traders' Thoughts and Opinions
When we discovered that more than 500 reviewers had written positive things about MGMGlobal, we were shocked. Reviews are a significant component, but they are not the only thing to take into account. Even though some unregulated brokers may be trustworthy, your primary concern should be the security of your money. 
Surprisingly, the broker only has 2% of negative reviews, despite having a high overall Trustpilot rating of 4.9. Traders stated their displeasure about their losses and how, after contacting the broker by phone or email, they began to doubt its existence. 
Once trader expressed his frustration saying:
"I put in more than €3000 here because of the pushing by the specialist John. He always said if you deposit another €1300 then we can go high this and that and now he doesn't answer and he doesn't answer!!!!! I am trying to reach the service of MGM Global and that is not possible!!!"
Reviews are generally positive, and the broker secured his first benefit. Tradespeople are encouraged to exercise caution and consult a professional before cooperating with anyone because reviews can be faked and removed. 
A Look at MGMGlobal's Traders They Serve
MGMGlobal uses fraudulent strategies to entice traders, bragging falsely about their regulation and asserting that all profits flow to traders directly. The truth, meanwhile, is far different from what they portray, and working with such brokers can result in large financial losses. 
Despite this, a sizable portion of their clientele is from Switzerland, Belgium, and the United Kingdom, which emphasizes the significance of being cautious and knowledgeable when selecting a broker.
Safeguard your savings and steer clear of dodgy brokers. For your trading journey, opt for reliability and openness. Call us right now for professional advice and help to locate a dependable broker who can meet your needs. Don't put your future finances in danger by using shady platforms. Control your trading experience right away!
Deposits and Withdrawal Methods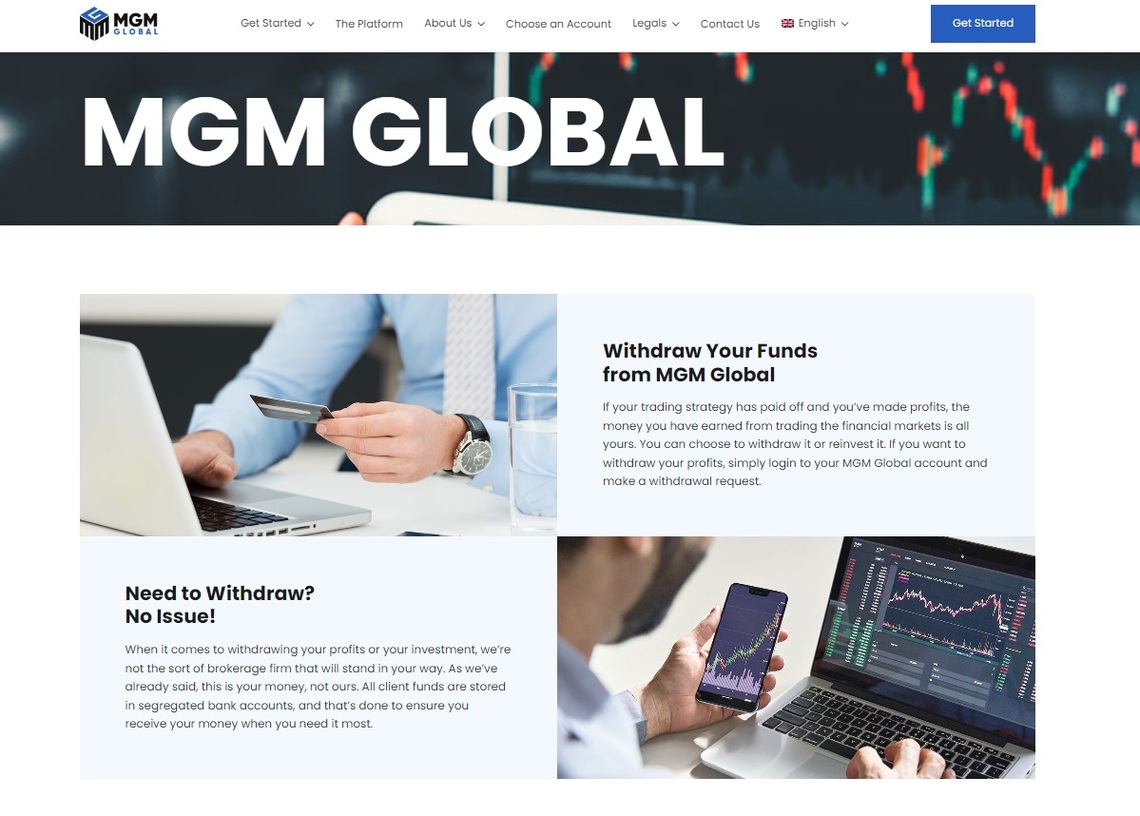 Wire transfers, popular e-wallets like Neteller and Skrill, credit/debit cards, and other easy payment options are all available through MGMGlobal. There are no fees for depositing funds but the broker applies a 5% withdrawal fee. 
Positive evaluations point to easy withdrawal processes, and the broker's website includes detailed descriptions of the withdrawal procedure, assuring transparency and convenience for its customers at least in that field. 
MGMGlobal Pros and Cons
Pros
Cons

Traders' reviews

Variety of financial instruments

No withdrawal issues were reported

Unregulated

No MT4 or MT5

False information provided regarding regulation

Hidden fees

Hidden information about leverage and spreads
Long Story Short – MGMGlobal
In conclusion, there are a few benefits and drawbacks to the broker that should be taken into account before choosing. Major red flags are raised by the fact that they are unregulated and then fabricate their regulation by prestigious agencies like the FCA and ASIC. Leverage spreads, and commission information is also absent. 
It would be smart to steer clear of this broker and think about more suitable options. There are a million brokers available, but only one of them will be ideal for you and your requirements. We can help you discover a broker if you contact us and schedule a free consultation. If you have already been a victim of fraud, seek help right now. Recovering your money is doable. 
FAQ Section
What Is MGMGlobal?
MGMGlobal is an unregulated brokerage company claiming to be located in the UK. On the MGM Global trading platform, you can use MGMGlobal to trade in currencies, cryptocurrencies, commodities, indices, shares, and energies.
Is MGMGlobal A Scam?
There are no reports that the MGMGlobal scam exists but traders are advised to proceed with caution considering the lack of regulation and transparency this broker has.
What Is MGMGlobal's Trading Platform?
The broker is employing the MGM Global Trading Platform, which can only be used online. It is advised to choose brokers that offer MT4 and MT5, as they are difficult to manipulate.